Monday, The Annunication
Morning Prayer

The Opening
Opening Sentence
If we say we have no sin, we deceive ourselves, and the truth is not in us; but if we confess our sins, God who is faithful and just, will forgive our sins and cleanse us from all unrighteousness. I John 1:8, 9
Hymn: The angel Gabriel
The angel Gabriel from heaven came
His wings as drifted snow
His eyes as flame
"All hail" said he "thou lowly maiden Mary,
Most highly favoured lady."
Gloria!
"For know a blessed mother thou shalt be,
All generations laud and honor thee,
Thy Son shall be Emanuel,
By seers foretold
Most highly favoured lady."
Gloria!
Then gentle Mary meekly bowed her head
"To me be as it pleaseth God," she said,
"My soul shall laud and magnify his holy name.
Most highly favoured lady."
Gloria!
Of her Emanuel, the Christ was born
In Bethlehem all on a Christmas morn
And Christian folk throughout the world will ever say,
"Most highly favoured lady."
Gloria!
Choir: All Angels
Music: Traditional
Words: Sabine Baring Gould
Confession
Let us confess our sins against God and our neighbor.
Most merciful God, we confess that we have sinned against you in thought, word, and deed, by what we have done, and by what we have left undone. We have not loved you with our whole heart; we have not loved our neighbors as ourselves. We are truly sorry and we humbly repent. For the sake of your Son Jesus Christ, have mercy on us and forgive us; that we may delight in your will, and walk in your ways, to the glory of your Name. Amen.
Almighty God have mercy on us, forgive us all our sins through our Lord Jesus Christ, strengthen us in all goodness, and by the power of the Holy Spirit keep us in eternal life. Amen.
Versicle and Response
Lord, open our lips.
And our mouth shall proclaim your praise
Glory to the Father,
and to the Son,
and to the Holy Spirit,
As it was in the beginning,
is now, and will be for ever. Amen.
Alleluia! Christ is risen.
The Lord is risen indeed. Alleluia!
Christ our Passover
1 Corinthians 5:7-8; Roans 6:9-11; 1 Corinthians 15:20-22
Pascha nostrum
Alleluia.
Christ our Passover has been sacrificed for us; *
therefore let us keep the feast,
Not with the old leaven, the leaven of malice and evil, *
but with the unleavened bread of sincerity and truth. Alleluia.
Christ being raised from the dead will never die again; *
death no longer has dominion over him.
The death that he dies, he dies to sin, once for all; *
but the life he lives, he lives to God.
So also consider yourselves dead to sin, *
and alive to God in Jesus Christ our Lord. Alleluia.
Christ has been raised from the dead, *
the first fruits of those who have fallen asleep.
For since by a man came death, *
by a man has come also the resurrection of the dead.
For as in Adam all die, *
so also in Christ shall all be made alive. Alleluia.
Glory to the Father, and to the Son, and the Holy Spirit
as it was in the beginning, is now, and will be forever.
Amen. Alleluia.
Cantor: The Rev. Philip N. Mayer
Antiphon
Alleluia. The Lord is risen indeed: Come let us adore him. Alleluia.
The Psalms
Psalm 85
or Coverdale
1 thee have been gracious to thy land, O LORD, *
thee have restored the good fortune of Jacob.
2 thee have forgiven the iniquity of thy people *
and blotted out all their sins.
3 thee have withdrawn all thy fury *
and turned thyself from thy wrathful indignation.
4 Restore us then, O God our Savior; *
let thy anger depart from us.
5 Will thee be displeased with us for ever? *
will thee prolong thy anger from age to age?
6 Will thee not give us life again, *
that thy people may rejoice in thee?
7 Show us thy mercy, O LORD, *
and grant us thy salvation.
8 I will listen to what the LORD God is saying, *
for he is speaking peace to his faithful people
and to those who turn their hearts to him.
9 Truly, his salvation is very near to those who fear him, *
that his glory may dwell in our land.
10 Mercy and truth have met together; *
righteousness and peace have kissed each other.
11 Truth shall spring up from the earth, *
and righteousness shall look down from heaven.
12 The LORD will indeed grant prosperity, *
and our land will yield its increase.
13 Righteousness shall go before him, *
and peace shall be a pathway for his feet.
Psalm 87
or Coverdale
1On the holy mountain stands the city he has founded;*
the LORD loves the gates of Zion
more than all the dwellings of Jacob.
2Glorious things are spoken of you,*
O city of our God.
3I count Egypt and Babylon among those who know me;*
behold Philistia, Tyre, and Ethiopia:
in Zion were they born.
4Of Zion it shall be said, "Everyone was born in her,*
and the Most High himself shall sustain her."
5The LORD will record as he enrolls the peoples, *
"These also were born there."
6The singers and the dancers will say,*
"All my fresh springs are in you."
Gloria Patri
Glory be to the Father, and to the Son, and to the Holy Ghost.
As it was in the beginning, is now, and ever shall be: world without end. Amen. Amen.
The Lessons
The Old Testament Reading
Isaiah 52:7-12
How beautiful upon the mountains are the feet of the messenger who announces peace, who brings good news, who announces salvation, who says to Zion, Your God reigns. Listen! Your sentinels lift up their voices, together they sing for joy; for in plain sight they see the return of the Lord to Zion. Break forth together into singing, you ruins of Jerusalem; for the Lord has comforted his people, he has redeemed Jerusalem. The Lord has bared his holy arm before the eyes of all the nations; and all the ends of the earth shall see the salvation of our God. Depart, depart, go out from there! Touch no unclean thing; go out from the midst of it, purify yourselves, you who carry the vessels of the Lord. For you shall not go out in haste, and you shall not go in flight; for the Lord will go before you, and the God of Israel will be your rearguard.
The Word of the Lord.
Thanks be to God.
Canticle 11 The Third Song of Isaiah
Isaiah 60:1-3, 11a, 14c, 18-19
Surge, illuminare
Arise, shine, for your light has come, *
and the glory of the Lord has dawned upon you.
For behold, darkness covers the land; *
deep gloom enshrouds the peoples.
But over you the Lord will rise, *
and his glory will appear upon you.
Nations will stream to your light, *
and kings to the brightness of your dawning.
Your gates will always be open; *
by day or night they will never be shut.
They will call you, The City of the Lord, *
The Zion of the Holy One of Israel.
Violence will no more be heard in your land, *
ruin or destruction within your borders.
You will call your walls, Salvation, *
and all your portals, Praise.
The sun will no more be your light by day; *
by night you will not need the brightness of the moon.
The Lord will be your everlasting light, *
and your God will be your glory.
Glory to the Father, and to the Son, and to the Holy Spirit
as it was in the beginning, is now, and will be for ever. Amen.
New Testament Reading
Hebrews 2:5-10
Now God did not subject the coming world, about which we are speaking, to angels. But someone has testified somewhere, What are human beings that you are mindful of them, or mortals, that you care for them? You have made them for a little while lower than the angels; you have crowned them with glory and honour, subjecting all things under their feet. Now in subjecting all things to them, God left nothing outside their control. As it is, we do not yet see everything in subjection to them, but we do see Jesus, who for a little while was made lower than the angels, now crowned with glory and honour because of the suffering of death, so that by the grace of God he might taste death for everyone. It was fitting that God, for whom and through whom all things exist, in bringing many children to glory, should make the pioneer of their salvation perfect through sufferings.
The Word of the Lord.
Thanks be to God.
Canticle 14 A Song of Penitence

Kyrie Pantokrator Prayer of Manasseh 1-2, 4, 6-7, 11-15
O Lord and Ruler of the hosts of heaven,*
God of Abraham, Isaac, and Jacob,
and of all their righteous offspring:
You made the heavens and the earth, *
with all their vast array.
All things quake with fear at your presence;*
they tremble because of your power.
But your merciful promise is beyond all measure;*
it surpasses all that our minds can fathom.
O Lord, you are full of compassion, *
long-suffering, and abounding in mercy.
You hold back your hand;*
you do not punish as we deserve.
In your great goodness, Lord,
you have promised forgiveness to sinners,*
that they may repent of their sin and be saved.
And now, O Lord, I bend the knee of my heart,*
and make my appeal, sure of your gracious goodness.
I have sinned, O Lord, I have sinned,*
and I know my wickedness only too well.
Therefore I make this prayer to you: *
Forgive me, Lord, forgive me.
Do not let me perish in my sin, *
nor condemn me to the depths of the earth.
For you, O Lord, are the God of those who repent,*
and in me you will show forth your goodness.
Unworthy as I am, you will save me,
in accordance with your great mercy,*
and I will praise you without ceasing all the days of my life.
For all the powers of heaven sing your praises,*
and yours is the glory to ages of ages. Amen.
The Commemoration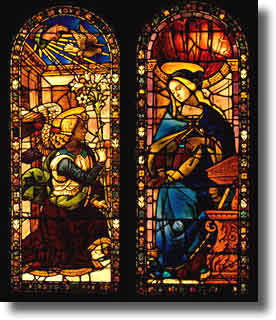 In the first chapter of Luke we read how the angel Gabriel announced to Mary that she had been chosen to be the mother of the Christ, and how Mary answered, "Here I am, the handmaid of the Lord. Let it be to me as you have said." It is reasonable to suppose that Our Lord was conceived immediately after this. Accordingly, since we celebrate His birth on 25 December, we celebrate the Annunciation nine months earlier, on 25 March.
For many centuries most European countries took 25 March, not 1 January, as the day when the number of the year changed, so that 24 March 1201 was followed by 25 March 1202. If you had asked a Christian of that time why the calendar year changed so awkwardly partway through a month, he would have answered: "Today we begin a new year of the Christian era, the era which began X years ago today when God was made man, when He took upon Himself a fleshly body and human nature in the womb of the Virgin."
The following paragraph is from Chapter 14 of the book Miracles, by C. S. Lewis.
...one of those features of the Christian story which is repulsive to the modern mind. To be quite frank, we do not at all like the idea of a "chosen people". Democrats by birth and education, we should prefer to think that all nations and individuals start level in the search for God, or even that all religions are equally true. It must be admitted at once that Christianity makes no concessions to this point of view. It does not tell of a human search for God at all, but of something done by God for, to, and about Man. And the way in which it is done is selective, undemocratic, to the highest degree. After the knowledge of God had been universally lost or obscured, one man from the whole earth (Abraham) is picked out. He is separated (miserably enough, we may suppose) from his natural surroundings, sent into a strange country, and made the ancestor of a nation who are to carry the knowledge of the true God. Within this nation there is further selection: some die in the desert, some remain behind in Babylon. There is further selection still. The process grows narrower and narrower, sharpens at last into one small bright point like the head of a spear. It is a Jewish girl at her prayers. All humanity (so far as concerns its redemption) has narrowed to that.
The following quotation is from Martin Luther's sermon "On the Magnificat" (the Song of Mary, Luke 1:46-55).
"For He that is mighty hath done great things for me, and Holy is His Name." (Luke 1:49)

The "great things" are nothing less than that she became the Mother of God, in which work so many and such great good things are bestowed upon her as pass man's understanding. For on this there follows all honor, all blessedness, and her unique place in the whole of mankind, among whom she has no equal, namely, that she had a child by the Father in Heaven, and such a child.

She herself is unable to find a name for this work, it is too exceedingly great; all she can do is break out in the fervent cry: "They are great things," impossible to describe or define. Hence men have crowded all her glory into a single word, calling her the Mother of God.

No one can say anything greater of her or to her, though he had as many tongues as there are leaves on the trees, or grass in the fields, or stars in the sky, or sand by the sea. It needs to be pondered in the heart, what it means to be the Mother of God.
Luther's Works, Vol. 21, p. 326, ed. Jaroslav Pelikan, Concordia Publishing House, 1956.
The Creed
The Apostle's Creed
I believe in God, the Father almighty,
creator of heaven and earth.
I believe in Jesus Christ, his only son, our Lord.
He was conceived by the power of the Holy Spirit
and born of the Virgin Mary.
He suffered under Pontius Pilate,
was crucified, died, and was buried.
He descended to the dead.
On the third day he rose again.
He ascended into heaven,
and is seated at the right hand of the Father.
He will come again to judge the living and the dead.
I believe in the Holy Spirit,
the holy catholic Church,
the communion of saints,
the forgiveness of sins,
the resurrection of the body,
and the life everlasting. Amen.
The Prayers
The Lord's Prayer
or traditional
Our Father in heaven,
hallowed be your Name,
your kingdom come,
your will be done,
on earth as in heaven.
Give us today our daily bread.
Forgive us our sins
as we forgive those
who sin against us.
Save us from the time of trial,
and deliver us from evil.
For the kingdom, the power,
and the glory are yours,
now and for ever. Amen.
Suffrages
Show us your mercy, O Lord;
And grant us your salvation.
Clothe your ministers with righteousness;
Let your people sing with joy.
Give peace, O Lord, in all the world;
For only in you can we live in safety.
Lord, keep this nation under your care;
And guide us in the way of justice and truth.
Let your way be known upon earth;
Your saving health among all nations.
Let not the needy, O Lord, be forgotten;
Nor the hope of the poor be taken away.
Create in us clean hearts, O God;
And sustain us with your Holy Spirit.
Collect of the Day: The Annunication
Pour your grace into our hearts, O Lord; that we who have known the incarnation of your Son Jesus Christ, announced by an angel to the Virgin Mary, may by his cross and passion be brought unto the glory of his resurrection; who lives and reigns with you, in the unity of the Holy Spirit, one God, now and for ever. Amen.
For Mission
O God, you have made of one blood all the peoples of the earth, and sent your blessed Son to preach peace to those who are far off and to those who are near: Grant that people everywhere may seek after you and find you; bring the nations into your fold; pour out your Spirit upon all flesh, and hasten the coming of your kingdom; through Jesus Christ our Lord. Amen.
World Cycle of Prayer
We pray for the people of Kenya.
Ecumenical Cycle of Prayer
We pray for our sisters and brothers members of the Communion of Christ the Redeemer.
A Collect for Peace
O God, the author of peace and lover of concord, to know you is eternal life and to serve you is perfect freedom: Defend us, your humble servants, in all assaults of our enemies; that we, surely trusting in your defense, may not fear the power of any adversaries; through the might of Jesus Christ our Lord. Amen.
Hymn: To my humble supplication
To my humble supplication
Lord, give ear and acceptation
Save thy servant, that hath none
Help nor hope but Thee alone. Amen.
Prayers and Intercessions
Let us pray now for our own needs and those of others.
Birthdays
Anniversaries
For Recovery from Sickness
For Travelers
For a Person in Trouble or Bereavement
For Those to be Baptized
For the Departed
Full list of prayers
For All Sorts and Conditions
O God, the creator and preserver of all, we humbly beseech you for all sorts and conditions of people; that you would be pleased to make your ways known unto them, your saving health unto all nations. More especially we pray for your holy Church universal; that it may be so guided and governed by your good Spirit, that all who profess and call themselves Christians may be led into the way of truth, and hold the faith in unity of spirit, in the bond of peace, and in righteousness of life. Finally, we commend to your fatherly goodness all those who are in any ways afflicted or distressed, in mind, body, or estate; that it may please you to comfort and relieve them according to their several necessities, giving them patience under their sufferings, and a happy issue out of all their afflictions. And this we beg for Jesus Christ's sake. Amen.
For the Poor and Neglected
Almighty and most merciful God, we remember before you all poor and neglected persons whom it would be easy for us to forget: the homeless and the destitute, the old and the sick, and all who have none to care for them. Help us to heal those who are broken in body or spirit, and to turn their sorrow into joy. Grant this, Father, for the love of your Son, who for our sake became poor, Jesus Christ our Lord. Amen.
For Those Who Live Alone
Almighty God, whose Son had nowhere to lay his head: Grant that those who live alone may not be lonely in their solitude, but that, following in his steps, they may find fulfillment in loving you and their neighbors; through Jesus Christ our Lord. Amen.
Hymn: My soul doth magnify the Lord / video
My soul doth magnify the Lord, Lord.
My soul doth magnify the Lord, Lord.
For he has done so many wonderful
and marvelous things
He reached down and saved me and
He changed my name.
My soul doth magnify the Lord, Lord.
My soul doth magnify the Lord, Lord.
For he has done so many wonderful
and marvelous things
He reached down and saved me and
He changed my name.
My soul doth magnify the Lord, Lord.
My soul doth magnify the Lord, Lord.
Do do do do a-do...
Wow wow wow wow wow...
Do wow do wow do wow...
do do...
My soul doth magnify the Lord.
Alleluia! Alleluia!
My soul doth magnify the Lord
Thank you, Jesus.
Thank you, Jesus.
My soul doth magnify the Lord
singers: O'Landa Draper and the Associates
words and music: O'Landa Draper
A Prayer of Self-Dedication
Almighty and eternal God,
so draw our hearts to you,
so guide our minds,
so fill our imaginations,
so control our wills,
that we may be wholly yours,
utterly dedicated unto you;
and then use us, we pray you, as you will,
and always to your glory and the welfare of your people;
through our Lord and Savior Jesus Christ. Amen.
General Thanksgiving
Almighty God, Father of all mercies, we your unworthy servants give you humble thanks for all your goodness and loving-kindness to us and to all whom you have made. We bless you for our creation, preservation, and all the blessings of this life; but above all for your immeasurable love in the redemption of the world by our Lord Jesus Christ; for the means of grace, and for the hope of glory. And, we pray, give us such an awareness of your mercies, that with truly thankful hearts we may show forth your praise, not only with our lips, but in our lives, by giving up our selves to your service, and by walking before you in holiness and righteousness all our days; through Jesus Christ our Lord, to whom, with you and the Holy Spirit, be honor and glory throughout all ages. Amen.
A Prayer of St. Chrysostom
Almighty God, you have given us grace at this time with one accord to make our common supplication to you; and you have promised through your well-beloved Son that when two or three are gathered together in his Name you will be in the midst of them: Fulfill now, O Lord, our desires and petitions as may be best for us; granting us in this world knowledge of your truth, and in the age to come life everlasting. Amen.
The Ending
Benediction
Let us bless the Lord. Alleluia. Alleluia.
Thanks be to God. Alleluia. Alleluia.
May the God of hope fill us with all joy and peace in believing through the power of the Holy Spirit. Amen. Romans 15:13
Hymn: God Be With You
God be with you till we meet again;
By his counsels guide, uphold you;
With his sheep securely fold you.
God be with you till we meet again.
Till we meet, till we meet,
Till we meet at Jesus' feet,
Till we meet, till we meet,
God be with you till we meet again.