Tuesday, 25 April
Morning Prayer
The Commemoration of Mark the Evangelist

The Opening
Opening Sentence
Their sound has gone out into all lands, and their message to the ends of the world. Psalm 19:4
Hymn: Ye watchers and ye holy ones
Ye watchers and ye holy ones,
Bright seraphs, cherubim and thrones,
Raise the glad strain, Alleluia!
Cry out, dominions, princedoms, powers,
Virtues, archangels, angels' choirs:
Alleluia! Alleluia!
Alleluia! Alleluia!
Alleluia!
O higher than the cherubim,
More glorious than the seraphim,
Lead their praises, Alleluia!
Thou bearer of th'eternal Word,
Most gracious, magnify the Lord.
Alleluia! Alleluia!
Alleluia! Alleluia!
Alleluia!
Respond, ye souls in endless rest,
Ye patriarchs and prophets blest,
Alleluia! Alleluia!
Ye holy twelve, ye martyrs strong,
All saints triumphant, raise the song.
Alleluia! Alleluia!
Alleluia! Alleluia!
Alleluia!
O friends, in gladness let us sing,
Supernal anthems echoing,
Alleluia! Alleluia!
To God the Father, God the Son,
And God the Spirit, Three in One.
Alleluia! Alleluia!
Alleluia! Alleluia!
Alleluia!
Singers: Choir of Belfast Cathedral
Words: John A.L. Riley
Confession
Let us confess our sins against God and our neighbor.
Most merciful God, we confess that we have sinned against you in thought, word, and deed, by what we have done, and by what we have left undone. We have not loved you with our whole heart; we have not loved our neighbors as ourselves. We are truly sorry and we humbly repent. For the sake of your Son Jesus Christ, have mercy on us and forgive us; that we may delight in your will, and walk in your ways, to the glory of your Name. Amen.
Almighty God have mercy on us, forgive us all our sins through our Lord Jesus Christ, strengthen us in all goodness, and by the power of the Holy Spirit keep us in eternal life. Amen.
Versicle and Response
Lord, open our lips.
And our mouth shall proclaim your praise.
Glory to the Father,
and to the Son,
and to the Holy Spirit:
as it was in the beginning,
is now, and will be forever Amen.
Alleluia. The Lord is glorious in his saints;: Come let us adore him. Alleluia.
Pascha Nostrum
Alleluia.
Christ our Passover has been sacrificed for us; *
therefore let us keep the feast,
Not with the old leaven, the leaven of malice and evil, *
but with the unleavened bread of sincerity and truth. Alleluia.
Christ being raised from the dead will never die again; *
death no longer has dominion over him.
The death that he dies, he dies to sin, once for all; *
but the life he lives, he lives to God.
So also consider yourselves dead to sin, *
and alive to God in Jesus Christ our Lord. Alleluia.
Christ has been raised from the dead, *
the first fruits of those who have fallen asleep.
For since by a man came death, *
by a man has come also the resurrection of the dead.
For as in Adam all die, *
so also in Christ shall all be made alive. Alleluia.
1 Corinthians 5:7-8; Romans 6:9-11; 1 Corinthians 15:20-22
Antiphon
Alleluia. The Lord is glorious in his saints;: Come let us adore him. Alleluia.
The Psalm
Psalm 145
or Coverdale
Exaltabo te, Deus

1 I will exalt you, O God my King, *
and bless your Name for ever and ever.
2 Every day will I bless you *
and praise your Name for ever and ever.
3 Great is the Lord and greatly to be praised; *
there is no end to his greatness.
4 One generation shall praise your works to another *
and shall declare your power.
5 I will ponder the glorious splendor of your majesty *
and all your marvelous works.
6 They shall speak of the might of your wondrous acts, *
and I will tell of your greatness.
7 They shall publish the remembrance of your great goodness; *
they shall sing of your righteous deeds.
8 The Lord is gracious and full of compassion, *
slow to anger and of great kindness.
9 The Lord is loving to everyone *
and his compassion is over all his works.
10 All your works praise you, O Lord, *
and your faithful servants bless you.
11 They make known the glory of your kingdom *
and speak of your power;
12 That the peoples may know of your power *
and the glorious splendor of your kingdom.
13 Your kingdom is an everlasting kingdom; *
your dominion endures throughout all ages.
14 The Lord is faithful in all his words *
and merciful in all his deeds.
15 The Lord upholds all those who fall; *
he lifts up those who are bowed down.
16 The eyes of all wait upon you, O Lord, *
and you give them their food in due season.
17 You open wide your hand *
and satisfy the needs of every living creature.
18 The Lord is righteous in all his ways *
and loving in all his works.
19 The Lord is near to those who call upon him, *
to all who call upon him faithfully.
20 He fulfills the desire of those who fear him; *
he hears their cry and helps them.
21 The Lord preserves all those who love him, *
but he destroys all the wicked.
22 My mouth shall speak the praise of the Lord; *
let all flesh bless his holy Name for ever and ever.
Gloria Patri
Glory be to the Father, and to the Son, and to the Holy Ghost.
As it was in the beginning, is now, and ever shall be: world without end. Amen. Amen.
The Lessons
The Old Testament Reading
Sirach 2:1-11
My child, when you come to serve the Lord,
prepare yourself for testing.
2 Set your heart right and be steadfast,
and do not be impetuous in time of calamity.
3 Cling to him and do not depart,
so that your last days may be prosperous.
4 Accept whatever befalls you,
and in times of humiliation be patient.
5 For gold is tested in the fire,
and those found acceptable, in the furnace of humiliation.
6 Trust in him, and he will help you;
make your ways straight, and hope in him.


7 You who fear the Lord, wait for his mercy;
do not stray, or else you may fall.
8 You who fear the Lord, trust in him,
and your reward will not be lost.
9 You who fear the Lord, hope for good things,
for lasting joy and mercy.
10 Consider the generations of old and see:
has anyone trusted in the Lord and been disappointed?
Or has anyone persevered in the fear of the Lord and been forsaken?
Or has anyone called upon him and been neglected?
11 For the Lord is compassionate and merciful;
he forgives sins and saves in time of distress.
The Word of the Lord.
Thanks be to God.
Canticle 13 A Song of Praise
Song of the Three Young Men, 29-34
Benedictus es, Domine
Glory to you, Lord God of our fathers; *
you are worthy of praise; glory to you.
Glory to you for the radiance of your holy Name; *
we will praise you and highly exalt you for ever.
Glory to you in the splendor of your temple; *
on the throne of your majesty, glory to you.
Glory to you, seated between the Cherubim; *
we will praise you and highly exalt you for ever.
Glory to you, beholding the depths; *
in the high vault of heaven, glory to you.
Glory to you, Father, Son, and Holy Spirit; *
we will praise you and highly exalt you for ever.
New Testament Reading
Acts 12:25-13:3
Acts 12
25Then after completing their mission Barnabas and Saul returned to Jerusalem and brought with them John, whose other name was Mark.
Acts 13
1 Now in the church at Antioch there were prophets and teachers: Barnabas, Simeon who was called Niger, Lucius of Cyrene, Manaen a member of the court of Herod the ruler, and Saul. 2While they were worshipping the Lord and fasting, the Holy Spirit said, 'Set apart for me Barnabas and Saul for the work to which I have called them.' 3Then after fasting and praying they laid their hands on them and sent them off.
The Word of the Lord.
Thanks be to God.
Canticle 18 A Song to the Lamb
Revelation 4:11, 5:9-10, 13
Dignus es
Splendor and honor and kingly power *
are yours by right, O Lord our God,
For you created everything that is, *
and by your will they were created and have their being;
And yours by right, O Lamb that was slain, *
for with your blood you have redeemed for God,
From every family, language, people, and nation, *
a kingdom of priests to serve our God.
And so, to him who sits upon the throne, *
and to Christ the Lamb,
Be worship and praise, dominion and splendor, *
for ever and for ever more.
Glory to the Father, and to the Son, and to the Holy Spirit
as it was in the beginning, is now, and will be for ever. Amen.
The Commemoration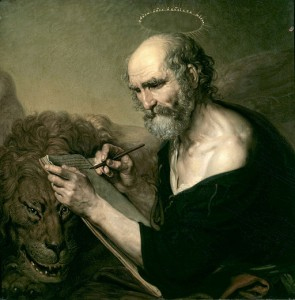 The book of Acts mentions a Mark, or John Mark, a kinsman of Barnabas (Col 4:10). The house of his mother Mary was a meeting place for Christians in Jerusalem (Acts 12:12). When Paul and Barnabas, who had been in Antioch, came to Jerusalem, they brought Mark back to Antioch with them (12:25), and he accompanied them on their first missionary journey (13:5), but left them prematurely and returned to Jerusalem (13:13). When Paul and Barnabas were about to set out on a second missionary journey, Barnabas proposed to take Mark, but Paul thought him unreliable, so that eventually Barnabas made one journey taking Mark, and Paul another journey taking Silas (15:36-40). Mark is not mentioned again in Acts. However, it appears that he became more reliable, for Paul mentions him as a trusted assistant in Colossians 4:10 and again in 2 Timothy 4:11.
The Apostle Peter had a co-worker whom he refers to as "my son Mark" (1 Peter 5:13). Papias, an early second century writer, in describing the origins of the Gospels, tells us that Mark was the "interpreter" of Peter, and that he wrote down ("but not in order") the stories that he had heard Peter tell in his preaching about the life and teachings of Jesus.
The Gospel of Mark, in describing the arrest of Jesus (14:51f), speaks of a young man who followed the arresting party, wearing only a linen cloth wrapped around his body, whom the arresting party tried to seize, but who left the cloth in their hands and fled naked. It is speculated that this young man was the writer himself, since the detail is hardly worth mentioning if he were not.
Tradition has it that after the death of Peter, Mark left Rome and went to preach in Alexandria, Egypt, where he was eventually martyred.
It is natural to identify the John Mark of Acts with the Gospel-writer and interpreter of Peter, and this identification is standard in liturgical references to Mark. However, "Mark" is the commonest of Latin first names, and they may well have been separate persons.
Mark's symbol in art is a Lion, usually winged. In the book of Revelation, the visionary sees about the throne of God four winged creatures: a lion, an ox, a man, and an eagle. (Compare with the cherubs in Ezek 1 and 10.) It has customarily been supposed that these represent the four Gospels, or the four Evangelists (Gospel-writers). One way of matching them is to say that the man stands for Matthew, whose narrative begins with the human genealogy of Jesus; that the lion stands for Mark, whose narrative begins with John the Baptist crying out in the desert (a lion roars in the desert); that the ox, a sacrificial animal, stands for Luke, whose narrative begins in the Temple, and that the eagle stands for John, whose narrative begins in Heaven, with the eternal Word. How old this correspondence is I do not know. I have seen it in an illustrated Gospel-book from the early 800's. An alternative assignment, which I think to be far more recent, calls Matthew the lion (because he portrays Christ as the Messiah, the fulfilment of Jewish prophecy, "the lion of the tribe of Judah"), Mark the ox (because he portrays Christ the servant, constantly doing the work for which he was sent), Luke the man (because he portrays the humanity and compassion of Christ), and John the eagle (because he portrays Christ as the eternal Word, who came down from Heaven).
written by James Kiefer
The Creed
The Apostle's Creed
I believe in God, the Father almighty,
creator of heaven and earth.
I believe in Jesus Christ, his only son, our Lord.
He was conceived by the power of the Holy Spirit
and born of the Virgin Mary.
He suffered under Pontius Pilate,
was crucified, died, and was buried.
He descended to the dead.
On the third day he rose again.
He ascended into heaven,
and is seated at the right hand of the Father.
He will come again to judge the living and the dead.
I believe in the Holy Spirit,
the holy catholic Church,
the communion of saints,
the forgiveness of sins,
the resurrection of the body,
and the life everlasting. Amen.
The Prayers
The Lord's Prayer
or traditional
Our Father in heaven,
hallowed be your Name,
your kingdom come,
your will be done,
on earth as in heaven.
Give us today our daily bread.
Forgive us our sins
as we forgive those
who sin against us.
Save us from the time of trial,
and deliver us from evil.
For the kingdom, the power,
and the glory are yours,
now and for ever. Amen.
Suffrages
Show us your mercy, O Lord;
And grant us your salvation.
Clothe your ministers with righteousness;
Let your people sing with joy.
Give peace, O Lord, in all the world;
For only in you can we live in safety.
Lord, keep this nation under your care;
And guide us in the way of justice and truth.
Let your way be known upon earth;
Your saving health among all nations.
Let not the needy, O Lord, be forgotten;
Nor the hope of the poor be taken away.
Create in us clean hearts, O God;
And sustain us with your Holy Spirit.
Collect of the Day: Mark the Evangelist
Almighty God, who by the hand of Mark the evangelist have given to your Church the Gospel of Jesus Christ the Son of God: We thank you for this witness, and pray that we may be firmly grounded in its truth; through Jesus Christ our Lord, who lives and reigns with you and the Holy Spirit, one God, for ever and ever.
For Mission
O God and Father of all, whom the whole heavens adore: Let the whole earth also worship you, all nations obey you, all tongues confess and bless you, and men and women everywhere love you and serve you in peace; through Jesus Christ our Lord. Amen.
World Cycle of Prayer
We pray for the people of Laos.
Ecumenical Cycle of Prayer
We pray for our sisters and brothers members of the American Baptist Churches USA.
A Collect for Guidance
Heavenly Father, in you we live and move and have our being: We humbly pray you so to guide and govern us by your Holy Spirit, that in all the cares and occupations of our life we may not forget you, but may remember that we are ever walking in your sight; through Jesus Christ our Lord. Amen.
Hymn: To my humble supplication
To my humble supplication
Lord, give ear and acceptation
Save thy servant, that hath none
Help nor hope but Thee alone. Amen.
Prayers and Intercessions
Let us pray now for our own needs and those of others.
Birthdays
Anniversaries
For Recovery from Sickness
For Travelers
For a Person in Trouble or Bereavement
For Those to be Baptized
For the Departed
Full list of prayers
For the Human Family
O God, you made us in your own image and redeemed us through Jesus your Son: Look with compassion on the whole human family; take away the arrogance and hatred which infect our hearts; break down the walls that separate us; unite us in bonds of love; and work through our struggle and confusion to accomplish your purposes on earth; that, in your good time, all nations and races may serve you in harmony around your heavenly throne; through Jesus Christ our Lord. Amen.
For Prisons and Correctional Institutions
Lord Jesus, for our sake you were condemned as a criminal: Visit our jails and prisons with your pity and judgment. Remember all prisoners, and bring the guilty to repentance and amendment of life according to your will, and give them hope for their future. When any are held unjustly, bring them release; forgive us, and teach us to improve our justice. Remember those who work in these institutions; keep them humane and compassionate; and save them from becoming brutal or callous. And since what we do for those in prison, O Lord, we do for you, constrain us to improve their lot. All this we ask for your mercy's sake. Amen.
For the Victims of Addiction
Blessed Lord, you ministered to all who came to you: Look with compassion upon all who through addiction have lost their health and freedom. Restore to them the assurance of your unfailing mercy; remove from them the fears that beset them; strengthen them in the work of their recovery; and to those who care for them, give patient understanding and persevering love. Amen.
Hymn: Where charity and love prevail
Where charity and love prevail,
there God is ever found;
Brought here together by Christ's love,
by love are we thus bound.
With grateful joy and holy fear
God's charity we learn;
Let us with heart and mind and soul
now love God in return.
Forgive we now each other's faults
as we our faults confess;
And let us love each other well
in Christian holiness.
Let strife among us be unknown,
let all contention cease;
Be God's the glory that we seek,
be ours God's holy peace.
Let us recall that in our midst
dwells God's begotten Son;
As members of his body joined,
we are in Christ made one.
No race or creed can love exclude,
if honored be God's name;
Our family embraces all
whose Father is the same.
Words: Ubi Caritas, tr. Omer Westendorf
Music: Paul Benoit
Tune: Christian Love

A Prayer Attributed to St. Francis
Lord, make us instruments of your peace. Where there is hatred, let us sow love; where there is injury, pardon; where there is discord, union; where there is doubt, faith; where there is despair, hope; where there is darkness, light; where there is sadness, joy. Grant that we may not so much seek to be consoled as to console; to be understood as to understand; to be loved as to love. For it is in giving that we receive; it is in pardoning that we are pardoned; and it is in dying that we are born to eternal life. Amen.
General Thanksgiving
Almighty God, Father of all mercies, we your unworthy servants give you humble thanks for all your goodness and loving-kindness to us and to all whom you have made. We bless you for our creation, preservation, and all the blessings of this life; but above all for your immeasurable love in the redemption of the world by our Lord Jesus Christ; for the means of grace, and for the hope of glory. And, we pray, give us such an awareness of your mercies, that with truly thankful hearts we may show forth your praise, not only with our lips, but in our lives, by giving up our selves to your service, and by walking before you in holiness and righteousness all our days; through Jesus Christ our Lord, to whom, with you and the Holy Spirit, be honor and glory throughout all ages. Amen.
A Prayer of St. Chrysostom
Almighty God, you have given us grace at this time with one accord to make our common supplication to you; and you have promised through your well-beloved Son that when two or three are gathered together in his Name you will be in the midst of them: Fulfill now, O Lord, our desires and petitions as may be best for us; granting us in this world knowledge of your truth, and in the age to come life everlasting. Amen.
The Ending
Benediction
Let us bless the Lord. Alleluia. Alleluia.
Thanks be to God. Alleluia. Alleluia.
May the God of hope fill us with all joy and peace in believing through the power of the Holy Spirit. Amen. Romans 15:13
Hymn: God Be With You
God be with you till we meet again;
By his counsels guide, uphold you;
With his sheep securely fold you.
God be with you till we meet again.
Till we meet, till we meet,
Till we meet at Jesus' feet,
Till we meet, till we meet,
God be with you till we meet again.