Tuesday
Morning Prayer
The Commemoration of Stephen the Deacon
Prelude Hymn to St. Stephen (video)
The Opening
Opening Sentence
Their sound has gone out into all lands, and their message to the ends of the world. Psalm 19:4
Hymn: Saint Stephen was a holy man
Saint Stephen was a holy man
Endued with heavenly might,
And many wonders he did work
All in the people's sight;
And by the holy Spirit of God,
Which did his heart inflame,
He spard not, in every place,
To preach God's holy name.
O man, do never faint nor fear,
When God the truth shall try;
But mark how Stephen, for Christ's sake,
Was a-willing for to die.
Before the elders he was brought,
His answers for to make,
But they could not the spirit withstand
Whereby this man did speak.
While this was told, the multitude
Beholding him aright,
His comely face began to shine
Most like an angel bright.
O man, do never faint nor fear,
When God the truth shall try;
But mark how Stephen, for Christ's sake,
Was a-willing for to die.
Then Stephen did put forth his voice,
And he did first unfold
The wond'rous works which God had wrought
Even for their fathers old;
That they thereby might plainly know
Christ Jesus should here be
That from the burden of the law
Should quit us frank and free.
O man, do never faint nor fear,
When God the truth shall try;
But mark how Stephen, for Christ's sake,
Was a-willing for to die.
But, oh! quoth he, you wicked men,
Which of your fathers all
Did not the prophets persecute,
And keep in woeful thrall?
But when they heard him so to say,
Upon him they all ran,
And there without the city gates
They stoned this holy man.
O man, do never faint nor fear,
When God the truth shall try;
But mark how Stephen, for Christ's sake,
Was a-willing for to die.
There he most meekly on his knees
To God did pray at large
Desiring that He should not lay
This sin unto their charge;
Then yielding up his soul to God,
Who had it dearly bought,
He lost his life, and his body then
To the grave was seemly brought.
O man, do never faint nor fear,
When God the truth shall try;
But mark how Stephen, for Christ's sake,
Was a-willing for to die.
Singers and musicians: Magpie Lane
Confession
Let us confess our sins against God and our neighbor.
Most merciful God, we confess that we have sinned against you in thought, word, and deed, by what we have done, and by what we have left undone. We have not loved you with our whole heart; we have not loved our neighbors as ourselves. We are truly sorry and we humbly repent. For the sake of your Son Jesus Christ, have mercy on us and forgive us; that we may delight in your will, and walk in your ways, to the glory of your Name. Amen.
Almighty God have mercy on us, forgive us all our sins through our Lord Jesus Christ, strengthen us in all goodness, and by the power of the Holy Spirit keep us in eternal life. Amen.
Versicle and Response
Lord, open our lips.
And our mouth shall proclaim your praise.
Glory to the Father,
and to the Son,
and to the Holy Spirit,
As it was in the beginning,
is now, and will be for ever. Amen.
Alleluia. The Lord is glorious in his saints:
Come let us adore him. Alleluia.
Venite
Come let us sing to the Lord;*
let us shout for joy to the Rock of our salvation.
Let us come before his presence with thanksgiving*
and raise a loud shout to him with psalms.
For the Lord is a great God,*
and a great King above all gods.
In his hand are the caverns of the earth,*
and the heights of the hills are his also.
The sea is his, for he made it,*
and his hands have molded the dry land.
Come, let us bow down, and bend the knee,*
and kneel before the Lord our Maker.
For he is our God,
and we are the people of his pasture and the sheep of his hand.*
Oh, that today you would hearken to his voice!
Antiphon
Alleluia. The Lord is glorious in his saints:
Come let us adore him. Alleluia.
The Psalms
Psalm 28
or Coverdale

1O LORD, I call to you;
my Rock, do not be deaf to my cry; *
lest, if you do not hear me,
I become like those who go down to the Pit.
2 Hear the voice of my prayer when I cry out to you, *
when I lift up my hands to your holy of holies.
3 Do not snatch me away with the wicked or with the evildoers, *
who speak peaceably with their neighbors,
while strife is in their hearts.
4 Repay them according to their deeds, *
and according to the wickedness of their actions.
5 According to the work of their hands repay them, *
and give them their just deserts.
6 They have no understanding of the LORD'S doings,
nor of the works of his hands; *
therefore he will break them down and not build them up.
7 Blessed is the LORD! *
for he has heard the voice of my prayer.
8 The LORD is my strength and my shield; *
my heart trusts in him, and I have been helped;
9 Therefore my heart dances for joy, *
and in my song will I praise him.
10 The LORD is the strength of his people, *
a safe refuge for his anointed.
11 Save your people and bless your inheritance; *
shepherd them and carry them for ever.
Psalm 30
or Coverdale
1 I will exalt you, O LORD,
because you have lifted me up *
and have not let my enemies triumph over me.
2 O LORD my God, I cried out to you, *
and you restored me to health.
3 You brought me up, O LORD, from the dead; *
you restored my life as I was going down to the grave.
4 Sing to the LORD, you servants of his; *
give thanks for the remembrance of his holiness.
5 For his wrath endures but the twinkling of an eye, *
his favor for a lifetime.
6 Weeping may spend the night, *
but joy comes in the morning.
7 While I felt secure, I said,
"I shall never be disturbed. *
You, LORD, with your favor, made me as strong as the mountains."
8 Then you hid your face, *
and I was filled with fear.
9 I cried to you, O LORD; *
I pleaded with the Lord, saying,
10 "What profit is there in my blood, if I go down to the Pit? *
will the dust praise you or declare your faithfulness?
11 Hear, O LORD, and have mercy upon me; *
O LORD, be my helper."
12 You have turned my wailing into dancing; *
you have put off my sack-cloth and clothed me with joy.
13 Therefore my heart sings to you without ceasing; *
O LORD my God, I will give you thanks for ever.
Gloria Patri
Glory be to the Father, and to the Son, and to the Holy Ghost.
As it was in the beginning, is now, and ever shall be: world without end. Amen. Amen.
The Lessons
The Old Testament Reading
2 Chronicles 24:17-22
17Now after the death of Jehoiada the officials of Judah came and did obeisance to the king; then the king listened to them. 18They abandoned the house of the Lord, the God of their ancestors, and served the sacred poles and the idols. And wrath came upon Judah and Jerusalem for this guilt of theirs. 19Yet he sent prophets among them to bring them back to the Lord; they testified against them, but they would not listen.
20Then the spirit of God took possession of Zechariah son of the priest Jehoiada; he stood above the people and said to them, Thus says God: Why do you transgress the commandments of the Lord, so that you cannot prosper? Because you have forsaken the Lord, he has also forsaken you. 21But they conspired against him, and by command of the king they stoned him to death in the court of the house of the Lord. 22King Joash did not remember the kindness that Jehoiada, Zechariahs father, had shown him, but killed his son. As he was dying, he said, May the Lord see and avenge!
The Word of the Lord.
Thanks be to God.
Canticle 10 The Second Song of Isaiah
Isaiah 55:6-11
Quaerite Dominum
Seek the Lord while he wills to be found; *
call upon him when he draws near.
Let the wicked forsake their ways *
and the evil ones their thoughts;
And let them turn to the Lord, and he will have compassion, *
and to our God, for he will richly pardon.
For my thoughts are not your thoughts, *
nor your ways my ways, says the Lord.
For as the heavens are higher than the earth, *
so are my ways higher than your ways,
and my thoughts than your thoughts.
For as rain and snow fall from the heavens *
and return not again, but water the earth,
Bringing forth life and giving growth, *
seed for sowing and bread for eating,
So is my word that goes forth from my mouth; *
it will not return to me empty;
But it will accomplish that which I have purposed, *
and prosper in that for which I sent it.
Glory to the Father, and to the Son, and to the Holy Spirit
as it was in the beginning, is now, and will be for ever. Amen.
New Testament Reading
Acts 6:1-7
1Now during those days, when the disciples were increasing in number, the Hellenists complained against the Hebrews because their widows were being neglected in the daily distribution of food. 2And the twelve called together the whole community of the disciples and said, It is not right that we should neglect the word of God in order to wait at tables. 3Therefore, friends, select from among yourselves seven men of good standing, full of the Spirit and of wisdom, whom we may appoint to this task, 4while we, for our part, will devote ourselves to prayer and to serving the word. 5What they said pleased the whole community, and they chose Stephen, a man full of faith and the Holy Spirit, together with Philip, Prochorus, Nicanor, Timon, Parmenas, and Nicolaus, a proselyte of Antioch. 6They had these men stand before the apostles, who prayed and laid their hands on them.
7The word of God continued to spread; the number of the disciples increased greatly in Jerusalem, and a great many of the priests became obedient to the faith.
The Word of the Lord.
Thanks be to God.
Canticle 18 A Song to the Lamb
Revelation 4:11, 5:9-10, 13
Dignus es
Splendor and honor and kingly power *
are yours by right, O Lord our God,
For you created everything that is, *
and by your will they were created and have their being;
And yours by right, O Lamb that was slain, *
for with your blood you have redeemed for God,
From every family, language, people, and nation, *
a kingdom of priests to serve our God.
And so, to him who sits upon the throne, *
and to Christ the Lamb,
Be worship and praise, dominion and splendor, *
for ever and for ever more.
Glory to the Father, and to the Son, and to the Holy Spirit
as it was in the beginning, is now, and will be for ever. Amen.
The Commemoration: St. Stephen the Deacon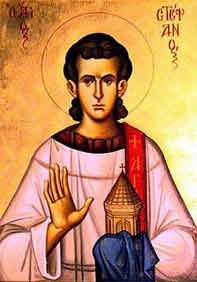 All that we know about Stephen the Protomartyr (that is, the first martyr of the Christian Church) is found in chapters 6 and 7 of the Book of Acts.
The early Christian congregations, like the Jewish synagogues, had a program of assistance for needy widows, and some of the Greek-speaking Jews in the Jerusalem congregation complained that their widows were being neglected. The apostles replied: "We cannot both preach and administer financial matters. Choose seven men from among yourselves, respected, Spirit-filled, and of sound judgement, and let them be in charge of the accounts, and we will devote ourselves to prayer and the ministry of the word." The people accordingly chose seven men, including Stephen, and the apostles laid their hands on them. They are traditionally considered to be the first deacons, although the Scriptures do not use the word to describe them. (The Scriptures do refer to officials called deacons in the local congregations, without being very specific about their duties; and a century or more later, we find the organized charities of each local congregation in the hands of its deacons.)
Stephen was an eloquent and fiery speaker, and a provocative one. (Some readers have speculated that some of his fellow Christians wanted to put him in charge of alms in the hope that he would administer more and talk less.) His blunt declarations that the Temple service was no longer the means by which penitent sinners should seek reconciliation with God enraged the Temple leaders, who caused him to be stoned to death. As he died, he said, "Lord, do not hold this sin against them." One of those who saw the stoning and approved of it was Saul (or Paul) of Tarsus, who took an active part in the general persecution of Christians that followed the death of Stephen, but who was later led to become a Christian himself.
We remember Stephen on December 26, the day after Christmas. Hence the song
Good King Wenceslas looked out
On the feast of Stephen,
describes an action of the king on the day after Christmas Day. The tune used with this song is older than the words and was previously used with a hymn often sung on the feasts of Stephen and other martyrs. It begins:
Christian friends, your voices raise.
Wake the day with gladness.
God himself to joy and praise
turns our human sadness:
Joy that martyrs won their crown,
opened heaven's bright portal,
when they laid the mortal down
for the life immortal.
written by James Kiefer

The Creed
The Apostle's Creed
I believe in God, the Father almighty,
creator of heaven and earth.
I believe in Jesus Christ, his only son, our Lord.
He was conceived by the power of the Holy Spirit
and born of the Virgin Mary.
He suffered under Pontius Pilate,
was crucified, died, and was buried.
He descended to the dead.
On the third day he rose again.
He ascended into heaven,
and is seated at the right hand of the Father.
He will come again to judge the living and the dead.
I believe in the Holy Spirit,
the holy catholic Church,
the communion of saints,
the forgiveness of sins,
the resurrection of the body,
and the life everlasting. Amen.
The Prayers
The Lord's Prayer
Our Father in heaven,
hallowed be your Name,
your kingdom come,
your will be done,
on earth as in heaven.
Give us today our daily bread.
Forgive us our sins
as we forgive those
who sin against us.
Save us from the time of trial,
and deliver us from evil.
For the kingdom, the power,
and the glory are yours,
now and for ever. Amen.
Suffrages
Show us your mercy, O Lord;
And grant us your salvation.
Clothe your ministers with righteousness;
Let your people sing with joy.
Give peace, O Lord, in all the world;
For only in you can we live in safety.
Lord, keep this nation under your care;
And guide us in the way of justice and truth.
Let your way be known upon earth;
Your saving health among all nations.
Let not the needy, O Lord, be forgotten;
Nor the hope of the poor be taken away.
Create in us clean hearts, O God;
And sustain us with your Holy Spirit.
Collect of the Day: St. Stephen the Deacon
We give you thanks, O Lord of glory, for the example of the first martyr Stephen, who looked up to heaven and prayed for his persecutors to your Son Jesus Christ, who stands at your right hand: where he lives and reigns with you and the Holy Spirit, one God, in glory everlasting. Amen.
For Mission
Lord Jesus Christ, you stretched out your arms of love on the hard wood of the cross that everyone might come within the reach of your saving embrace: So clothe us in your Spirit that we, reaching forth our hands in love, may bring those who do not know you to the knowledge and love of you; for the honor of your Name. Amen.
World Cycle of Prayer
We pray for the people ofEquatorial Guinea.
Ecumenical Cycle of Prayer
We pray for our sisters and brothers members of the Cooperative Baptist Fellowship.
A Collect for Fridays
Almighty God, whose most dear Son went not up to joy but first he suffered pain, and entered not into glory before he was crucified: Mercifully grant that we, walking in the way of the cross, may find it none other than the way of life and peace; through Jesus Christ your Son our Lord. Amen.
Hymn: To my humble supplication
To my humble supplication
Lord, give ear and acceptation
Save thy servant, that hath none
Help nor hope but Thee alone. Amen.
Prayers and Intercessions
Let us pray now for our own needs and those of others.
Birthdays
Anniversaries
For Recovery from Sickness
For Travelers
For a Person in Trouble or Bereavement
For Those to be Baptized
For the Departed
Full list of prayers
For Joy in God's Creation
O heavenly Father, who has filled the world with beauty: Open our eyes to behold your gracious hand in all your works; that, rejoicing in your whole creation, we may learn to serve you with gladness; for the sake of him through whom all things were made, your Son Jesus Christ our Lord. Amen.
For the Good Use of Leisure
O God, in the course of this busy life, give us times of refreshment and peace; and grant that we may so use our leisure to rebuild our bodies and renew our minds, that our spirits may be opened to the goodness of your creation; through Jesus Christ our Lord. Amen.
For the Unemployed
Heavenly Father, we remember before you those who suffer want and anxiety from lack of work. Guide the people of this land so to use our public and private wealth that all may find suitable and fulfilling employment, and receive just payment for their labor; through Jesus Christ our Lord. Amen.
Hymn: An earthly tree
An earthly tree a heavenly fruit it bear,
A case of clay contained a crown immortal
A crown of crowns, a King whose cost and care
Redeemed poor man, whose race before was thrall
To death, to doom, to pains of everlasting,
By His sweet death, scorns, stripes, and often fasting.
A star above the stars, a sun of light,
Whose blessed beams this wretched earth bespread
With hope of heaven and of God's Son the sight,
Which in our flesh and sinful soul lay dead.
O faith, O hope, O joys renowned for ever,
O lively life that deathless shall persever.
Then let us sing the lullabys of sleep
To this sweet babe, born to awake us all
From drowsy sin that made old Adam weep,
And by his fault gave to mankind the fall.
For lo! this day, the birth day, day of days,
Summons our songs to give Him laud and praise.
Singers: The Choir of Magdalen College Chapel, Oxford, under the direction of Grayston (Bill) Ives | Music and words: William Byrd
A Prayer of Self-Dedication
Almighty and eternal God, so draw our hearts to you, so guide our minds, so fill our imaginations, so control our wills, that we may be wholly yours, utterly dedicated unto you; and then use us, we pray you, as you will, and always to your glory and the welfare of your people; through our Lord and Savior Jesus Christ. Amen.
General Thanksgiving
Almighty God, Father of all mercies, we your unworthy servants give you humble thanks for all your goodness and loving-kindness to us and to all whom you have made. We bless you for our creation, preservation, and all the blessings of this life; but above all for your immeasurable love in the redemption of the world by our Lord Jesus Christ; for the means of grace, and for the hope of glory. And, we pray, give us such an awareness of your mercies, that with truly thankful hearts we may show forth your praise, not only with our lips, but in our lives, by giving up our selves to your service, and by walking before you in holiness and righteousness all our days; through Jesus Christ our Lord, to whom, with you and the Holy Spirit, be honor and glory throughout all ages. Amen.
A Prayer of St. Chrysostom
Almighty God, you have given us grace at this time with one accord to make our common supplication to you; and you have promised through your well-beloved Son that when two or three are gathered together in his Name you will be in the midst of them: Fulfill now, O Lord, our desires and petitions as may be best for us; granting us in this world knowledge of your truth, and in the age to come life everlasting. Amen.
The Ending
Benediction
Let us bless the Lord. Alleluia. Alleluia.
Thanks be to God. Alleluia. Alleluia.
Glory to God whose power, working in us, can do infinitely more than we can ask or imagine: Glory to him from generation to generation in the Church, and in Christ Jesus for ever and ever. Amen.
Ephesians 3:20,21
Hymn: God Be With You
God be with you till we meet again;
By his counsels guide, uphold you;
With his sheep securely fold you.
God be with you till we meet again.
Till we meet, till we meet,
Till we meet at Jesus' feet,
Till we meet, till we meet,
God be with you till we meet again.