Wednesday, 1 February
Morning Prayer
Brigid

The Opening
Opening Sentence
I will give you as a light to the nations, that my salvation may reach to the end of the earth. Isaiah 49:6b
Hymn: Awake, awake to love and work!
Awake, awake to love and work!
The lark is in the sky;
The fields are wet with diamond dew;
The worlds awake to cry
Their blessings on the Lord of life,
As He goes meekly by.
Come, let thy voice be one with theirs,
Shout with their shout of praise;
See how the giant sun soars up,
Great lord of years and days!
So let the love of Jesus come
And set thy soul ablaze.
To give and give, and give again,
What God hath given thee;
To spend thyself nor count the cost;
To serve right gloriously
The God Who gave all worlds that are,
And all that are to be.
Confession
Let us confess our sins against God and our neighbor.
Most merciful God, we confess that we have sinned against you in thought, word, and deed, by what we have done, and by what we have left undone. We have not loved you with our whole heart; we have not loved our neighbors as ourselves. We are truly sorry and we humbly repent. For the sake of your Son Jesus Christ, have mercy on us and forgive us; that we may delight in your will, and walk in your ways, to the glory of your Name. Amen.
Almighty God have mercy on us, forgive us all our sins through our Lord Jesus Christ, strengthen us in all goodness, and by the power of the Holy Spirit keep us in eternal life. Amen.
Versicle and Response
Lord, open our lips.
And our mouth shall proclaim your praise.
Glory to the Father,
and to the Son,
and to the Holy Spirit:
as it was in the beginning,
is now, and will be forever Amen.
The Lord has shown forth his glory:
Come let us adore him.
Venite
Psalm 95:1-7
Come let us sing to the Lord;*
let us shout for joy to the Rock of our salvation.
Let us come before his presence with thanksgiving*
and raise a loud shout to him with psalms.
For the Lord is a great God,*
and a great King above all gods.
In his hand are the caverns of the earth,*
and the heights of the hills are his also.
The sea is his, for he made it,*
and his hands have molded the dry land.
Come, let us bow down, and bend the knee,*
and kneel before the Lord our Maker.
For he is our God, and we are the people of his pasture
and the sheep of his hand.*
Oh, that today you would hearken to his voice!
The Psalms
Psalm 72
or Coverdale
1 Give the King your justice, O God, *
and your righteousness to the King's son;
2 That he may rule your people righteously *
and the poor with justice.
3 That the mountains may bring prosperity to the people, *
and the little hills bring righteousness.
4 He shall defend the needy among the people; *
he shall rescue the poor and crush the oppressor.
5 He shall live as long as the sun and moon endure, *
from one generation to another.
6 He shall come down like rain upon the mown field, *
like showers that water the earth.
7 In his time shall the righteous flourish; *
there shall be abundance of peace till the moon shall be no more.
8 He shall rule from sea to sea, *
and from the River to the ends of the earth.
9 His foes shall bow down before him, *
and his enemies lick the dust.
10 The kings of Tarshish and of the isles shall pay tribute, *
and the kings of Arabia and Saba offer gifts.
11 All kings shall bow down before him, *
and all the nations do him service.
12 For he shall deliver the poor who cries out in distress, *
and the oppressed who has no helper.
13 He shall have pity on the lowly and poor; *
he shall preserve the lives of the needy.
14 He shall redeem their lives from oppression and violence, *
and dear shall their blood be in his sight.
15 Long may he live!
and may there be given to him gold from Arabia; *
may prayer be made for him always,
and may they bless him all the day long.
16 May there be abundance of grain on the earth,
growing thick even on the hilltops; *
may its fruit flourish like Lebanon,
and its grain like grass upon the earth.
17 May his Name remain for ever
and be established as long as the sun endures; *
may all the nations bless themselves in him and call him blessed.

18 Blessed be the Lord GOD, the God of Israel, *
who alone does wondrous deeds!
19 And blessed be his glorious Name for ever! *
and may all the earth be filled with his glory. Amen. Amen.
Gloria Patri
Glory be to the Father, and to the Son, and to the Holy Ghost.
As it was in the beginning, is now, and ever shall be: world without end. Amen. Amen.
The Lessons
The Old Testament Reading
Isaiah 54: 1-10
1Sing, O barren one who did not bear;
burst into song and shout,
you who have not been in labour!
For the children of the desolate woman will be more
than the children of her that is married, says the Lord.
2 Enlarge the site of your tent,
and let the curtains of your habitations be stretched out;
do not hold back; lengthen your cords
and strengthen your stakes.
3 For you will spread out to the right and to the left,
and your descendants will possess the nations
and will settle the desolate towns.
4 Do not fear, for you will not be ashamed;
do not be discouraged, for you will not suffer disgrace;
for you will forget the shame of your youth,
and the disgrace of your widowhood you will remember no more.
5 For your Maker is your husband,
the Lord of hosts is his name;
the Holy One of Israel is your Redeemer,
the God of the whole earth he is called.
6 For the Lord has called you
like a wife forsaken and grieved in spirit,
like the wife of a mans youth when she is cast off,
says your God.
7 For a brief moment I abandoned you,
but with great compassion I will gather you.
8 In overflowing wrath for a moment
I hid my face from you,
but with everlasting love I will have compassion on you,
says the Lord, your Redeemer.
9 This is like the days of Noah to me:
Just as I swore that the waters of Noah
would never again go over the earth,
so I have sworn that I will not be angry with you
and will not rebuke you.
10 For the mountains may depart
and the hills be removed,
but my steadfast love shall not depart from you,
and my covenant of peace shall not be removed,
says the Lord, who has compassion on you.
11 O afflicted one, storm-tossed, and not comforted,
I am about to set your stones in antimony,
and lay your foundations with sapphires.*
12 I will make your pinnacles of rubies,
your gates of jewels,
and all your wall of precious stones.
13 All your children shall be taught by the Lord,
and great shall be the prosperity of your children.
14 In righteousness you shall be established;
you shall be far from oppression, for you shall not fear;
and from terror, for it shall not come near you.
15 If anyone stirs up strife,
it is not from me;
whoever stirs up strife with you
shall fall because of you.
16 See, it is I who have created the smith
who blows the fire of coals,
and produces a weapon fit for its purpose;
I have also created the ravager to destroy.
17 No weapon that is fashioned against you shall prosper,
and you shall confute every tongue that rises against you in judgement.
This is the heritage of the servants of the Lord
and their vindication from me, says the Lord.
The Word of the Lord.
Thanks be to God.
Canticle 11 The Third Song of Isaiah
Isaiah 60:1-3, 11a, 14c, 18-19
Surge, illuminare
Arise, shine, for your light has come, *
and the glory of the Lord has dawned upon you.
For behold, darkness covers the land; *
deep gloom enshrouds the peoples.
But over you the Lord will rise, *
and his glory will appear upon you.
Nations will stream to your light, *
and kings to the brightness of your dawning.
Your gates will always be open; *
by day or night they will never be shut.
They will call you, The City of the Lord, *
The Zion of the Holy One of Israel.
Violence will no more be heard in your land, *
ruin or destruction within your borders.
You will call your walls, Salvation, *
and all your portals, Praise.
The sun will no more be your light by day; *
by night you will not need the brightness of the moon.
The Lord will be your everlasting light, *
and your God will be your glory.
Glory to the Father, and to the Son, and to the Holy Spirit
as it was in the beginning, is now, and will be for ever. Amen.
New Testament Reading
Galatians 4:21-31
21 Tell me, you who desire to be subject to the law, will you not listen to the law? 22For it is written that Abraham had two sons, one by a slave woman and the other by a free woman. 23One, the child of the slave, was born according to the flesh; the other, the child of the free woman, was born through the promise. 24Now this is an allegory: these women are two covenants. One woman, in fact, is Hagar, from Mount Sinai, bearing children for slavery. 25Now Hagar is Mount Sinai in Arabia and corresponds to the present Jerusalem, for she is in slavery with her children. 26But the other woman corresponds to the Jerusalem above; she is free, and she is our mother. 27For it is written,
'Rejoice, you childless one, you who bear no children,
burst into song and shout, you who endure no birth pangs;
for the children of the desolate woman are more numerous
than the children of the one who is married.'
28Now you, my friends, are children of the promise, like Isaac. 29But just as at that time the child who was born according to the flesh persecuted the child who was born according to the Spirit, so it is now also. 30But what does the scripture say? 'Drive out the slave and her child; for the child of the slave will not share the inheritance with the child of the free woman.' 31So then, friends, we are children, not of the slave but of the free woman.
The Word of the Lord.
Thanks be to God.
Canticle 16 The Song of Zechariah
Luke 1:68-79
Benedictus Dominus Deus
Blessed be the Lord, the God of Israel;*
he has come to his people and set them free.
He has raised up for us a mighty savior,*
born of the house of his servant David.
Through his holy prophets he promised of old,
that he would save us from our enemies,*
from the hands of all who hate us.
he promised to show mercy to our fathers*
and to remember his holy covenant.
This was the oath he swore to our father Abraham,*
to set us free from the hands of our enemies,
Free to worship him without fear,*
holy and righteous in his sight
all the days of our life.
You, my child, shall be called the prophet of the Most High,*
for you will go before the Lord to prepare his way,
To give his people knowledge of salvation*
by the forgiveness of their sins.
In the tender compassion of our God*
the dawn from on high shall break upon us,
To shine on those who dwell in darkness and the shadow of death,*
and to guide our feet into the way of peace.
Glory to the Father, and to the Son, and to the Holy Spirit
as it was in the beginning, is now, and will be for ever. Amen.
The Gospel
Mark 8-11-26
11 The Pharisees came and began to argue with him, asking him for a sign from heaven, to test him. 12And he sighed deeply in his spirit and said, 'Why does this generation ask for a sign? Truly I tell you, no sign will be given to this generation.' 13And he left them, and getting into the boat again, he went across to the other side.
14 Now the disciples had forgotten to bring any bread; and they had only one loaf with them in the boat. 15And he cautioned them, saying, 'Watch out-beware of the yeast of the Pharisees and the yeast of Herod.' 16They said to one another, 'It is because we have no bread.' 17And becoming aware of it, Jesus said to them, 'Why are you talking about having no bread? Do you still not perceive or understand? Are your hearts hardened? 18Do you have eyes, and fail to see? Do you have ears, and fail to hear? And do you not remember? 19When I broke the five loaves for the five thousand, how many baskets full of broken pieces did you collect?' They said to him, 'Twelve.' 20'And the seven for the four thousand, how many baskets full of broken pieces did you collect?' And they said to him, 'Seven.' 21Then he said to them, 'Do you not yet understand?'
22 They came to Bethsaida. Some people brought a blind man to him and begged him to touch him. 23He took the blind man by the hand and led him out of the village; and when he had put saliva on his eyes and laid his hands on him, he asked him, 'Can you see anything?' 24And the man looked up and said, 'I can see people, but they look like trees, walking.' 25Then Jesus laid his hands on his eyes again; and he looked intently and his sight was restored, and he saw everything clearly. 26Then he sent him away to his home, saying, 'Do not even go into the village.'
The Word of the Lord.
Thanks be to God.
The Commemoration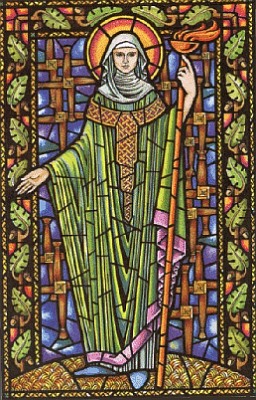 Bridget (Brigid, Bride, Bridey) of Kildare was born around 450 into a Druid family, being the daughter of Dubhthach, court poet to King Loeghaire.
At an early age, she decided to become a Christian, and she eventually took vows as a nun. Together with a group of other women, she established a nunnery at Kildare. She was later joined by a community of monks led by Conlaed.
Kildare had formerly been a pagan shrine where a sacred fire was kept perpetually burning, and Bridget and her nuns, instead of stamping out the fire, kept it going but gave it a Christian interpretation. (This was in keeping with the general process whereby Druidism in Ireland gave way to Christianity with very little opposition, the Druids for the most part saying that their own beliefs were a partial and tentative insight into the nature of God, and that they recognized in Christianity what they had been looking for.)
Bridget as an abbess participated in several Irish councils, and her influence on the policies of the Church in Ireland was considerable.
Many stories of her younger days deal with her generosity toward the needy. This aspect of her character has been the subject of a poem:
"The Giveaway" (from The Love Letters of Phyllis Mcginley, New York, Viking Press, 1957)
Saint Bridget was
A problem child.
Although a lass
Demure and mild,
And one who strove
To please her dad,
Saint Bridget drove
The family mad.
For here's the fault in Bridget lay:
She Would give everything away.
To any soul
Whose luck was out
She'd give her bowl
Of stir about;
She'd give her shawl,
Divide her purse
With one or all.
And what was worse,
When she ran out of things to give
She'd borrow from a relative.
Her father's gold,
Her grandsire's dinner,
She'd hand to cold
and hungry sinner;
Give wine, give meat,
No matter whose;
Take from her feet
The very shoes,
And when her shoes had gone to others,
Fetch forth her sister's and her mother's.
She could not quit.
She had to share;
Gave bit by bit
The silverware,
The barnyard geese,
The parlor rug,
Her little niece-
's christening mug,
Even her bed to those in want,
And then the mattress of her aunt.
An easy touch
For poor and lowly,
She gave so much
And grew so holy
That when she died
Of years and fame,
The countryside
Put on her name,
And still the Isles of Erin fidget
With generous girls named Bride or Bridget.

Well, one must love her.
Nonetheless,
In thinking of her
Givingness,
There's no denial
She must have been
A sort of trial
Unto her kin.
The moral, too, seems rather quaint.
WHO had the patience of a saint,
From evidence presented here?
Saint Bridget? Or her near and dear?
It is reported of Francis of Assisi that as a young man he had a dream in which God said to him, "Francis, repair my church." He took this to refer to a church building near Assisi (in Italian; Google translation: Assisi) which was in need of repair, and he sold a bale of silk from his father's warehouse to obtain building materials. His father was furious. Francis had not asked for permission: he simply took it for granted that his father would wish to contribute to such a worthy cause. It is said of Bridget that as a young girl she made similar assumptions about her family.
There is a problem here. On the one hand, it can be argued that if our family members do not choose to make sacrifices for God we have no right to make that choice for them. Some time ago, if I remember aright, one list member wrote in considerable bitterness about a childhood that had been blighted by the decision of the father that it would be nice if the whole family lived in Christian Poverty. (Said list member found no spiritual blessings in the experience, and saw no sign that anyone else did, emphatically including said father.)
On the other hand, I far more frequently hear Christians argue that their sacred duty to keep everything nice for their spouses and children prevents them, not only from going as missionaries to distant shores, but also from volunteering even quite moderate amounts of their time and money for worthy causes down the block. (Not that all unattached Christians are blameless in this regard.) You will note that Saint Paul, writing to the Corinthians, told them that marriage, while instituted of God and a sign of the union between Christ and His Church, was not without its dangers to the spiritual life of the Christian. But the danger he saw had nothing to do with sex. He was concerned instead that the married are tempted to overvalue security, to feel that they cannot afford, for their families' sakes, to take chances. And since he expected Christians to be facing persecution soon, he saw this as a matter of urgency.
So, as I said, there is a problem here. I have no final answer to give, but commend it to your consideration.
written by James Kiefer
Prayer
Everliving God, we rejoice today in the fellowship of your Blessed servant Brigid, and we give you thanks for her life of devoted service. Inspire us with life and light, and give us perseverance to serve you all our days; through Jesus Christ our Lord, who with you and the Holy Spirit lives and reigns, one God, world without end. Amen.
Alternate Psalm and Readings
Psalm 138
Judges 4:4-9
1 Corinthians 1:26-31
Matthew 6:25-33
The Creed
The Apostle's Creed
I believe in God, the Father almighty,
creator of heaven and earth.
I believe in Jesus Christ, his only son, our Lord.
He was conceived by the power of the Holy Spirit
and born of the Virgin Mary.
He suffered under Pontius Pilate,
was crucified, died, and was buried.
He descended to the dead.
On the third day he rose again.
He ascended into heaven,
and is seated at the right hand of the Father.
He will come again to judge the living and the dead.
I believe in the Holy Spirit,
the holy catholic Church,
the communion of saints,
the forgiveness of sins,
the resurrection of the body,
and the life everlasting. Amen.
The Prayers
The Lord's Prayer
or traditional
Our Father in heaven,
hallowed be your Name,
your kingdom come,
your will be done,
on earth as in heaven.
Give us today our daily bread.
Forgive us our sins
as we forgive those
who sin against us.
Save us from the time of trial,
and deliver us from evil.
For the kingdom, the power,
and the glory are yours,
now and for ever. Amen.
Suffrages
Show us your mercy, O Lord;
And grant us your salvation.
Clothe your ministers with righteousness;
Let your people sing with joy.
Give peace, O Lord, in all the world;
For only in you can we live in safety.
Lord, keep this nation under your care;
And guide us in the way of justice and truth.
Let your way be known upon earth;
Your saving health among all nations.
Let not the needy, O Lord, be forgotten;
Nor the hope of the poor be taken away.
Create in us clean hearts, O God;
And sustain us with your Holy Spirit.
Collect of the Day: The Fourth Sunday after the Epiphany
Almighty and everlasting God, you govern all things both in heaven and on earth: Mercifully hear the supplications of your people, and in our time grant us your peace; through Jesus Christ our Lord, who lives and reigns with you and the Holy Spirit, one God, for ever and ever. Amen.
For Mission
O God and Father of all, whom the whole heavens adore: Let the whole earth also worship you, all nations obey you, all tongues confess and bless you, and men and women everywhere love you and serve you in peace; through Jesus Christ our Lord. Amen.
World Cycle of Prayer
We pray for the people of Armenia.
Ecumenical Cycle of Prayer
We pray for our sisters and brothers members of the Reformed Presbyterian Church Hanover Presbytery.
A Collect for Peace
Eternal God, in whose perfect kingdom no sword is drawn but the sword of righteousness, no strength known but the strength of love: So mightily spread abroad your Spirit, that all peoples may be gathered under the banner of the Prince of Peace, as children of one Father; to whom be dominion and glory, now and for ever. Amen.
Hymn: To my humble supplication
To my humble supplication
Lord, give ear and acceptation
Save thy servant, that hath none
Help nor hope but Thee alone. Amen.
Prayers and Intercessions
Let us pray now for our own needs and those of others.
Birthdays
Anniversaries
For Recovery from Sickness
For Travelers
For a Person in Trouble or Bereavement
For Those to be Baptized
For the Departed
Full list of prayers
For our Country
Almighty God, who has given us this good land for our heritage: We humbly beseech you that we may always prove ourselves a people mindful of your favor and glad to do your will. Bless our land with honorable industry, sound learning, and pure manners. Save us from violence, discord, and confusion; from pride and arrogance, and from every evil way. Defend our liberties, and fashion us into one united people. Endue with the spirit of wisdom those to whom in your Name we entrust the authority of government, that there may be justice and peace at home, and that, through obedience to your law, we may show forth your praise among the nations of the earth. In the time of prosperity, fill our hearts with thankfulness, and in the day of trouble, suffer not our trust in you to fail; all which we ask through Jesus Christ our Lord. Amen.
For the President of the
United States
and all in Civil Authority
O Lord our Governor, whose glory is in all the world: We commend this nation to your merciful care, that, being guided by your Providence, we may dwell secure in your peace. Grant to the President of the United States, the Governor of this State (or, Commonwealth), and to all in authority, wisdom and strength to know and to do your will. Fill them with the love of truth and righteousness, and make them ever mindful of their calling to serve this people in your fear; through Jesus Christ our Lord, who lives and reigns with you and the Holy Spirit, one God, world without end. Amen.
A mighty fortress is our God
A mighty fortress is our God,
a bulwark never failing;
Our helper He, amid the flood
of mortal ills prevailing:
For still our ancient foe
doth seek to work us woe;
His craft and power are great,
and, armed with cruel hate,
On Earth is not his equal.
Did we in our own strength confide,
our striving would be losing;
Were not the right Man on our side,
the Man of God's own choosing:
Dost ask who that may be?
Christ Jesus, it is He;
Lord Sabaoth, His Name,
from age to age the same,
And He must win the battle.
That word above all earthly powers,
no thanks to them, abideth;
The Spirit and the gifts are ours
through Him Who with us sideth:
Let goods and kindred go,
this mortal life also;
The body they may kill:
God's truth abideth still,
His kingdom is forever.
Words and Music: Martin Luther | Tune: Ein feste Burg
A Prayer of Self-Dedication
Almighty and eternal God,
so draw our hearts to you,
so guide our minds,
so fill our imaginations,
so control our wills,
that we may be wholly yours,
utterly dedicated unto you;
and then use us, we pray you, as you will,
and always to your glory and the welfare of your people;
through our Lord and Savior Jesus Christ. Amen.
General Thanksgiving
Almighty God, Father of all mercies, we your unworthy servants give you humble thanks for all your goodness and loving-kindness to us and to all whom you have made. We bless you for our creation, preservation, and all the blessings of this life; but above all for your immeasurable love in the redemption of the world by our Lord Jesus Christ; for the means of grace, and for the hope of glory. And, we pray, give us such an awareness of your mercies, that with truly thankful hearts we may show forth your praise, not only with our lips, but in our lives, by giving up our selves to your service, and by walking before you in holiness and righteousness all our days; through Jesus Christ our Lord, to whom, with you and the Holy Spirit, be honor and glory throughout all ages. Amen.
A Prayer of St. Chrysostom
Almighty God, you have given us grace at this time with one accord to make our common supplication to you; and you have promised through your well-beloved Son that when two or three are gathered together in his Name you will be in the midst of them: Fulfill now, O Lord, our desires and petitions as may be best for us; granting us in this world knowledge of your truth, and in the age to come life everlasting. Amen.
The Ending
Benediction
Let us bless the Lord.
Thanks be to God.
May the God of hope fill us with all joy and peace in believing through the power of the Holy Spirit. Amen. Romans 15:13
Hymn: God Be With You
God be with you till we meet again;
By his counsels guide, uphold you;
With his sheep securely fold you.
God be with you till we meet again.
Till we meet, till we meet,
Till we meet at Jesus' feet,
Till we meet, till we meet,
God be with you till we meet again.