Thursday, 2 February
Morning Prayer
The Presentation/Candlemas Day
The Opening
Opening Sentence
From the rising of the sun to its setting my Name shall be great among the nations, and in every place incense shall be offered to my Name, and a pure offering: for my Name shall be great among the nations, says the Lord of hosts. Malachi 1:11
Awake, my soul, stretch every nerve
Awake, my soul, stretch every nerve,
And press with vigor on;
A heavenly race demands thy zeal,
And an immortal crown.
'Tis God's all animating voice,
That calls thee from on high;
'Tis his own hand presents the prize
To thine aspiring eye.
A cloud of witnesses around,
Hold thee in full survey;
Forget the steps already trod,
And onward urge thy way.
Blessed Savior, introduced by thee,
Have we our race begun;
And crown'd with victory, at thy feet
We lay our trophies down.
Strand Seventh Day Adventist Church on the 31 March 2012. Cape Town, South Africa
Confession
Let us confess our sins against God and our neighbor.
Most merciful God, we confess that we have sinned against you in thought, word, and deed, by what we have done, and by what we have left undone. We have not loved you with our whole heart; we have not loved our neighbors as ourselves. We are truly sorry and we humbly repent. For the sake of your Son Jesus Christ, have mercy on us and forgive us; that we may delight in your will, and walk in your ways, to the glory of your Name. Amen.
Almighty God have mercy on us, forgive us all our sins through our Lord Jesus Christ, strengthen us in all goodness, and by the power of the Holy Spirit keep us in eternal life. Amen.
Versicle and Response
Lord, open our lips.
And our mouth shall proclaim your praise.
Glory to the Father,
and to the Son,
and to the Holy Spirit:
as it was in the beginning,
is now, and will be forever Amen.
The Lord has shown forth his glory:
Come let us adore him.
Venite
Psalm 95:1-7
Come let us sing to the Lord;*
let us shout for joy to the Rock of our salvation.
Let us come before his presence with thanksgiving*
and raise a loud shout to him with psalms.
For the Lord is a great God,*
and a great King above all gods.
In his hand are the caverns of the earth,*
and the heights of the hills are his also.
The sea is his, for he made it,*
and his hands have molded the dry land.
Come, let us bow down, and bend the knee,*
and kneel before the Lord our Maker.
For he is our God, and we are the people of his pasture
and the sheep of his hand.*
Oh, that today you would hearken to his voice!
The Psalms
Psalm 42 or
Coverdale
Quemadmodum
1As the deer longs for the water-brooks, *
so longs my soul for you, O God.
2My soul is athirst for God, athirst for the living God; *
when shall I come to appear before the presence of God?
3My tears have been my food day and night, *
while all day long they say to me,
Where now is your God?"
4I pour out my soul when I think on these things; *
how I went with the multitude and led them into the
house of God,
5With the voice of praise and thanksgiving, *
among those who keep holy-day.
6Why are you so full of heaviness, O my soul? *
and why are you so disquieted within me?
7Put your trust in God; *
for I will yet give thanks to him,
who is the help of my countenance, and my God.
8My soul is heavy within me; *
therefore I will remember you from the land of Jordan,
and from the peak of Mizar among the heights of Hermon.
9One deep calls to another in the noise of your cataracts; *
all your rapids and floods have gone over me.
10The LORD grants his loving-kindness in the daytime; *
in the night season his song is with me,
a prayer to the God of my life.
11I will say to the God of my strength,
"Why have you forgotten me? *
and why do I go so heavily while the enemy
oppresses me?"
12While my bones are being broken, *
my enemies mock me to my face;
13All day long they mock me *
and say to me, "Where now is your God?"
14Why are you so full of heaviness, O my soul? *
and why are you so disquieted within me?
15Put your trust in God; *
for I will yet give thanks to him,
who is the help of my countenance, and my God.
Psalm 43 or
Coverdale
Judica me, Deus
1Give judgment for me, O God,
and defend my cause against an ungodly people; *
deliver me from the deceitful and the wicked.
2For you are the God of my strength;
why have you put me from you? *
and why do I go so heavily while the enemy
oppresses me?
3Send out your light and your truth, that they may lead me, *
and bring me to your holy hill
and to your dwelling;
4That I may go to the altar of God,
to the God of my joy and gladness; *
and on the harp I will give thanks to you, O God my God.
5Why are you so full of heaviness, O my soul? *
and why are you so disquieted within me?
6Put your trust in God; *
for I will yet give thanks to him,
who is the help of my countenance, and my God.
Gloria Patri
Glory be to the Father, and to the Son, and to the Holy Ghost.
As it was in the beginning, is now, and ever shall be: world without end. Amen. Amen.
The Lessons
The Old Testament Reading
1 Samuel 2:1-10
1Hannah prayed and said,
'My heart exults in the Lord;
my strength is exalted in my God.
My mouth derides my enemies,
because I rejoice in my victory.
2 'There is no Holy One like the Lord,
no one besides you;
there is no Rock like our God.
3 Talk no more so very proudly,
let not arrogance come from your mouth;
for the Lord is a God of knowledge,
and by him actions are weighed.
4 The bows of the mighty are broken,
but the feeble gird on strength.
5 Those who were full have hired themselves out for bread,
but those who were hungry are fat with spoil.
The barren has borne seven,
but she who has many children is forlorn.
6 The Lord kills and brings to life;
he brings down to Sheol and raises up.
7 The Lord makes poor and makes rich;
he brings low, he also exalts.
8 He raises up the poor from the dust;
he lifts the needy from the ash heap,
to make them sit with princes
and inherit a seat of honour.
For the pillars of the earth are the Lord's,
and on them he has set the world.
9 'He will guard the feet of his faithful ones,
but the wicked shall be cut off in darkness;
for not by might does one prevail.
10 The Lord! His adversaries shall be shattered;
the Most High will thunder in heaven.
The Lord will judge the ends of the earth;
he will give strength to his king,
and exalt the power of his anointed.'
The Word of the Lord.
Thanks be to God.
Canticle 8 The Song of Moses
Exodus 15:1-6, 11-13, 17-18
Cantemus Domino
I will sing to the Lord, for he is lofty and uplifted; *
the horse and its rider has he hurled into the sea.
The Lord is my strength and my refuge; *
the Lord has become my Savior.
This is my God and I will praise him, *
the God of my people and I will exalt him.
The Lord is a mighty warrior; *
Yahweh is his Name.
The chariots of Pharaoh and his army has he hurled into the sea; *
the finest of those who bear armor have been
drowned in the Red Sea.
The fathomless deep has overwhelmed them; *
they sank into the depths like a stone.
Your right hand, O Lord, is glorious in might; *
your right hand, O Lord, has overthrown the enemy.
Who can be compared with you, O Lord, among the gods? *
who is like you, glorious in holiness,
awesome in renown, and worker of wonders?
You stretched forth your right hand; *
the earth swallowed them up.
With your constant love you led the people you redeemed; *
with your might you brought them in safety to
your holy dwelling.
You will bring them in and plant them *
on the mount of your possession,
The resting-place you have made for yourself, O Lord, *
the sanctuary, O Lord, that your hand has established.
The Lord shall reign *
for ever and for ever.
Glory to the Father, and to the Son, and to the Holy Spirit: *
as it was in the beginning, is now, and will be for ever. Amen.
The Gospel
John 8:31-36
31 Then Jesus said to the Jews who had believed in him, 'If you continue in my word, you are truly my disciples; 32and you will know the truth, and the truth will make you free.' 33They answered him, 'We are descendants of Abraham and have never been slaves to anyone. What do you mean by saying, "You will be made free"?'
34 Jesus answered them, 'Very truly, I tell you, everyone who commits sin is a slave to sin. 35The slave does not have a permanent place in the household; the son has a place there for ever. 36So if the Son makes you free, you will be free indeed.
The Word of the Lord.
Thanks be to God.
Canticle 19 The Song of the Redeemed
Revelation 15:3-4
Magna et mirabilia
O ruler of the universe, Lord God,
great deeds are they that you have done, *
surpassing human understanding.
Your ways are ways of righteousness and truth, *
O King of all the ages
Who can fail to do you homage, Lord
and sing the praises of your Name
for you only are the Holy One.
All nations will draw near and fall down before you
because your just and holy works have been revealed.
Glory to the Father, and to the Son, and to the Holy Spirit
as it was in the beginning, is now, and will be for ever. Amen.
The Commemoration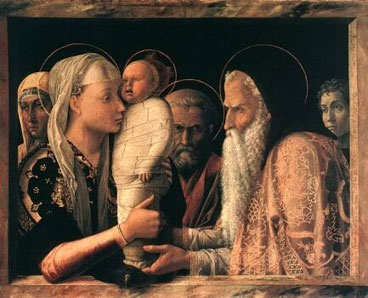 The Presentation in the Temple/Candlemas Day
Counting forward from December 25 as Day One, we find that Day Forty is February 2. A Jewish woman is in semi-seclusion for 40 days after giving birth to a son, and accordingly it is on February 2 that we celebrate the coming of Mary and Joseph with the infant Jesus to the Temple at Jerusalem to offer sacrifice, both on behalf of Mary and on behalf of Jesus as a first-born male. As they did so, they were greeted by the aged Simeon.
In a Sunday-School pageant, I once saw, the narrator said, "And now Simeon bursts into a spontaneous song of praise, assisted by the Temple Choir." His song, called the Nunc Dimittis, has always had a prominent role in Christian worship. It has often been rendered in verse. I append one example.
Lord God, thou now hast set thy servant free, G-GGAGceddc--
to part in peace according to thy word. eefgGcBAAG--
Mine eyes have seen the Saviour, Christ the Lord ddef--cccfed--
prepared by thee for all the worlds to see; dpdBGceddc--
to shine on nations lost in darkest night, cfgaadggrg--
the glory of thy people, and their light. Gcdedfeddc--
(The versification is by Rae E. Whitney, found in the Episcopal Hymnal 1982. The melody shown at the right is Song 1 by Orlando Gibbons (1583-1625). Note that:
We denote two octaves of white keys by CDEFGABcdefgab.
We denote black keys (beginning with c sharp) by pqrst.
We use a dash to continue the previous note for another beat.)
Because an old reading for this festival contains the line (Zephaniah 1:12), "I will search Jerusalem with candles," the day is also known as Candlemas, and sometimes observed with a candle-lit procession.
On the other hand, Groundhog Day ("If the groundhog (or woodchuck, a kind of marmot, which burrows and hibernates) sees his shadow on 2 February, there will be six more weeks of winter.") is strictly a secular holiday, confined, as far as I know, to the United States.
written by James Kiefer
---

Candlemas Day
First, some history
By the seventh century it had become the custom to begin the worship service on February 2 with candlelighting by the congregation gathered outside the worship area followed by a procession into the Church with all carrying their lighted candles. This was to relive Simeon's experience of meeting the "light of nations" at the temple. The pastor Sophronius wrote in that century
Everyone should be eager to join the procession and to carry a light.
Our lighted candles are a sign of the divine splendor of the one who came to expel the dark shadows of evil and to make the whole universe radiant with the brilliance of his eternal light. Our candles also show how bright our souls should be when we go to meet Christ.
So let us hasten to meet our God.
The custom of beginning the worship on this festival with a candlelight procession is the origin of the day's other name, "Candlemas."
The festival day's position at midwinter—exactly midway between the winter solstice December 21 or 22 each year in the Northern Hemisphere, and June 20 or 21 in the Southern Hemisphere. and the spring equinox the day when daylight lasts for exactly 12 hours—caused it to be a time for taking inventory of one's winter supplies. One English poem goes:
The provident farmer on Candlemas Day,
Hath half of his fires and half of his hay.
The day's emphasis on light and life at midwinter gave rise to many superstitions and legends. Some believed that "if the day be clear and sunshiny, it portends a hard weather to come; if cloudy and lowing, mild and gentle season ensuing." From that piece of weather folklore it is not too difficult to understand how our Pennsylvania Dutch descendants of Germanic peoples who emigrated to the United States (primarily to Pennsylvania), from Germany, Switzerland and The Low Countries prior to 1800 legend of Groundhog Day began.
By the seventeenth century the Presentation of Our Lord was understood to be the absolute end of the Christmas season. Indeed, Ash Wednesday the first day in the season of Lent can follow as early as just two days later on February 4. As the end of the Christmas festivities, it was the day to complete the removal of all the holiday decorations. This, too, became the cause of superstition:
Down with Rosemary, and so
Down with Bays and Mistletoe;
Down with Holly, Ivy, all
Where with ye drest the Christmas Hall;
That to the superstitious find
Not one least Branch there left behind
For look, how many leaves there be
Neglected there, maids, trust to me,
So many goblins you shall see.
(sheet music and links to audio)
Second, a meditation
The change has been slow, yet unrelenting. Since the winter solstice, the sun's setting has daily delayed, if even by one minute, so that journeys and chores once completed in darkness now are accompanied by brilliant twilight.
Yet, even as this change in evening's day length has been progressing, mornings remain as dark and foreboding as they had a month before. Morning journeys and chores are still completed in darkness. The morning darkness has been unrelenting and slow to change.
But just at the time you receive this newsletter, the mornings too will brighten. With increasing rapidity the sunrise will advance, first by five minutes each week, then nearly by ten. The lengthening of the daylight at morning and night will become obvious.
Because the lengthening of the morning light first becomes obvious around the beginning of February, it is very probable that this helped inspire the tradition of candlelighting that begins the festival of the Presentation of Our Lord on February 2. Surely the brightening of the morning sky would add cheer to the day when the faithful—like the Biblical Simeon—hail Jesus as "the light of all nations and the glory of Israel" (Luke 2:32). As the great hymnwriter Charles Wesley has declared:
Christ, whose glory fills the skies,
Christ the true and only light,
Sun of righteousness, arise,
Triumph o'er the shades of night.
Dayspring from on high, be near,
Daystar, in my heart appear.
This annual return of morning light and lengthening of the daylight in the Northern Hemisphere certainly influenced our forbearers in the faith as they developed the cycle of feasts and fasts that we know as the Church year. Indeed, the season of preparation for the Paschal (of or relating to Passover or Easter Feast of Easter)—Lent—derives its name from lengthen, a reference to the lengthening of the daylight.
There is a terrible irony that just as astronomical days grow longer we are very starkly and visibly reminded that our anatomical days grow shorter. As the first buds begin to swell and the first hints of green plants appear our brows are smudged with the residue of lifeless plants and we are told that truth that we would like to deny and yet can never defy: "Remember, you are dust, and to dust you will return." That change back to the dust of the earth from which we were made is also one that is slow, yet unrelenting.
It is this inevitability that gives Lent and its disciplines such urgency. Knowing not when shall be our last day or hour, we hear all the more sharply the words of St. Paul addressed to the congregation at Corinth:
We entreat you on behalf of Christ, be reconciled to God. For our sake he made him to be sin who knew no sin so that in him we might become the righteousness of God. As we work together with him, we urge you not to receive the grace of God in vain. For he says, "At an acceptable time I have listened to you, and on a day of salvation I have helped you." See, now is the acceptable time; see, now is the day of salvation!
2 Corinthians 5:20b-6:2 (Epistle for Ash Wednesday)
The Apostle pleads for his people not to delay in repenting of their sins or in redirecting their lives. The day of salvation may be at hand at any time.
And when it is at hand, will we greet it with the joy and faith that inspired Simeon of old to take the forty-day old Christ child, the "light of nations" in his arms and bless God because now, as it had been promised to him, he could die in peace?
For we know that without Christ, the day of the Lord brings darkness and no light. Again, to quote Wesley's hymn:
Dark and cheerless is the morn,
Unaccompanied by thee,
Joyless is the day's return,
Till thy mercy's beams I see,
Till they inward light impart,
Glad my eyes, and warm my heart.
So it is then, that we should anticipate the lengthening of the daylight and the shortening of our days with the Lenten disciplines of fasting, prayer, and almsgiving to encourage that gift of heart-warming grace. And so it is that we should greet the lengthening of the daylight and the shortening of our days with the final verse of Wesley's hymn:
Visit then, this soul of mine.
Pierce the gloom of sin and grief;
Fill me, radiancy divine,
Scatter all my unbelief;
More and more thyself display,
Shining to the perfect day.
So may we pray. So may we fast. So may we give alms. So may we change slowly and unrelentingly.
I hope that this can be of inspiration to you and others.
by the Rev. J. Thomas Shelley, STS
The Creed
The Apostle's Creed
I believe in God, the Father alvmighty,
creator of heaven and earth.
I believe in Jesus Christ, his only son, our Lord.
He was conceived by the power of the Holy Spirit
and born of the Virgin Mary.
He suffered under Pontius Pilate,
was crucified, died, and was buried.
He descended to the dead.
On the third day he rose again.
He ascended into heaven,
and is seated at the right hand of the Father.
He will come again to judge the living and the dead.
I believe in the Holy Spirit,
the holy catholic Church,
the communion of saints,
the forgiveness of sins,
the resurrection of the body,
and the life everlasting. Amen.
The Prayers
The Lord's Prayer
or traditional
Our Father in heaven,
hallowed be your Name,
your kingdom come,
your will be done,
on earth as in heaven.
Give us today our daily bread.
Forgive us our sins
as we forgive those
who sin against us.
Save us from the time of trial,
and deliver us from evil.
For the kingdom, the power,
and the glory are yours,
now and for ever. Amen.
Suffrages
Show us your mercy, O Lord;
And grant us your salvation.
Clothe your ministers with righteousness;
Let your people sing with joy.
Give peace, O Lord, in all the world;
For only in you can we live in safety.
Lord, keep this nation under your care;
And guide us in the way of justice and truth.
Let your way be known upon earth;
Your saving health among all nations.
Let not the needy, O Lord, be forgotten;
Nor the hope of the poor be taken away.
Create in us clean hearts, O God;
And sustain us with your Holy Spirit.
Collect of the Day: The Presentation
Almighty and everliving God, we humbly pray that, as your only-begotten Son was this day presented in the temple, so we may be presented to you with pure and clean hearts by Jesus Christ our Lord; who lives and reigns with you and the Holy Spirit, one God, now and for ever. Amen
For Mission
Almighty and everlasting God,
by whose Spirit the whole body of your faithful people
is governed and sanctified:
Receive our supplications and prayers
which we offer before you for
all members of your holy Church,
that in their vocation and ministry
they may truly and devoutly serve you;
through our Lord and Savior Jesus Christ. Amen.
World Cycle of Prayer
We pray for the people of Australia.
Ecumenical Cycle of Prayer
We pray for our sisters and brothers members of the Reformed Presbyterian Church of Australia.
A Collect for the Renewal of Life
O God, the King eternal,
who divides the day from the night
and turns the shadow of death into the morning:
Drive far from us all wrong desires,
incline our hearts to keep your law,
and guide our feet into the way of peace;
that, having done your will with cheerfulness while it was day,
we may, when night comes,
rejoice to give you thanks;
through Jesus Christ our Lord. Amen.
Hymn: To my humble supplication
To my humble supplication
Lord, give ear and acceptation
Save thy servant, that hath none
Help nor hope but Thee alone. Amen.
Prayers and Intercessions
Let us pray now for our own needs and those of others.
Birthdays
Anniversaries
For Recovery from Sickness
For Travelers
For a Person in Trouble or Bereavement
For Those to be Baptized
For the Departed
Full list of prayers
For Peace Among Nations
Almighty God our heavenly Father,
guide the nations of the world
into the way of justice and truth,
and establish among them that peace
which is the fruit of righteousness,
that they may become the kingdom
of our Lord and Savior Jesus Christ. Amen.
For Those in the Armed Forces of Our Country
Almighty God,
we commend to your gracious care and keeping
all the men and women of our armed forces
at home and abroad.
Defend them day by day with your heavenly grace;
strengthen them in their trials and temptations;
give them courage to face the perils which beset them;
and grant them a sense of your abiding presence
wherever they may be;
through Jesus Christ our Lord. Amen.
For the Conservation of Natural Resources
Almighty God, in giving us
dominion over things on earth,
you made us fellow workers in your creation:
Give us wisdom and reverence
so to use the resources of nature,
that no one may suffer from our abuse of them,
and that generations yet to come
may continue to praise you for your bounty;
through Jesus Christ our Lord. Amen.
Alleluia! sing to Jesus!
Alleluia! sing to Jesus!
His the scepter, his the throne;
Alleluia! his the triumph, his the victory alone;
Hark! the songs of peaceful Zion
thunder like a mighty flood;
Jesus out of every nation
hath redeemed us by his blood.
Alleluia! not as orphans
are we left in sorrow now;
Alleluia! he is near us,
faith believes, nor questions how:
though the cloud from sight received him,
when the forty days were o'er,
shall our hearts forget his promise,
"I am with you evermore"?
Alleluia! Bread of Heaven,
thou on earth our food, our stay!
Alleluia! here the sinful flee to thee from day to day;
Intercessor, friend of sinners,
earth's Redeemer, plead for me,
where the songs of all the sinless
sweep across the crystal sea.
Alleluia! King eternal,
thee the Lord of lords we own:
Alleluia! born of Mary,
earth thy footstoll, heaven thy throne:
thou within the veil hast entered,
robed in flesh, our great High Priest:
thou on earth both priest and victim
in the eucharistic feast.
Alleluia! sing to Jesus!
His the scepter, his the throne;
Alleluia! his the triumph, his the victory alone;
Hark! the songs of peaceful Zion
thunder like a mighty flood;
Jesus out of every nation
hath redeemed us by his blood.
Words: William Chatterton Dix | Music: Rowland Hugh Prichard | Tune: Hyfrydol
A Prayer Attributed to St. Francis
Lord, make us instruments of your peace. Where there is hatred, let us sow love; where there is injury, pardon; where there is discord, union; where there is doubt, faith; where there is despair, hope; where there is darkness, light; where there is sadness, joy. Grant that we may not so much seek to be consoled as to console; to be understood as to understand; to be loved as to love. For it is in giving that we receive; it is in pardoning that we are pardoned; and it is in dying that we are born to eternal life. Amen.
General Thanksgiving
Almighty God, Father of all mercies, we your unworthy servants give you humble thanks for all your goodness and loving-kindness to us and to all whom you have made. We bless you for our creation, preservation, and all the blessings of this life; but above all for your immeasurable love in the redemption of the world by our Lord Jesus Christ; for the means of grace, and for the hope of glory. And, we pray, give us such an awareness of your mercies, that with truly thankful hearts we may show forth your praise, not only with our lips, but in our lives, by giving up our selves to your service, and by walking before you in holiness and righteousness all our days; through Jesus Christ our Lord, to whom, with you and the Holy Spirit, be honor and glory throughout all ages. Amen.
A Prayer of St. Chrysostom
Almighty God, you have given us grace at this time with one accord to make our common supplication to you; and you have promised through your well-beloved Son that when two or three are gathered together in his Name you will be in the midst of them: Fulfill now, O Lord, our desires and petitions as may be best for us; granting us in this world knowledge of your truth, and in the age to come life everlasting. Amen.
The Ending
Benediction
Let us bless the Lord.
Thanks be to God.
May the God of hope fill us with all joy and peace in believing through the power of the Holy Spirit. Amen. Romans 15:13
Hymn: God Be With You
God be with you till we meet again;
By his counsels guide, uphold you;
With his sheep securely fold you.
God be with you till we meet again.
Till we meet, till we meet,
Till we meet at Jesus' feet,
Till we meet, till we meet,
God be with you till we meet again.