Friday, 3 February
Morning Prayer
The Chaplains of the USS Dorchester
The Opening
Opening Sentence
I will give you as a light to the nations, that my salvation may reach to the end of the earth. Isaiah 49:6b
Hymn: Christ, whose glory fills the skies
Christ, whose glory fills the skies,
Christ, the true, the only Light,
Sun of Righteousness, arise,
Triumph o'er the shades of night;
Dayspring from on high, be near;
Day-star, in my heart appear.
Dark and cheerless is the morn
Unaccompanied by Thee;
Joyless is the day's return
Till Thy mercy's beams I see;
Till they inward light impart,
Glad my eyes, and warm my heart.
Visit then this soul of mine,
Pierce the gloom of sin and grief;
Fill me, Radiancy divine,
Scatter all my unbelief;
More and more Thyself display,
Shining to the perfect day.
Words: Charles Wesley
Confession
Let us confess our sins against God and our neighbor.
Most merciful God, we confess that we have sinned against you in thought, word, and deed, by what we have done, and by what we have left undone. We have not loved you with our whole heart; we have not loved our neighbors as ourselves. We are truly sorry and we humbly repent. For the sake of your Son Jesus Christ, have mercy on us and forgive us; that we may delight in your will, and walk in your ways, to the glory of your Name. Amen.
Almighty God have mercy on us, forgive us all our sins through our Lord Jesus Christ, strengthen us in all goodness, and by the power of the Holy Spirit keep us in eternal life. Amen.
Versicle and Response
Lord, open our lips.
And our mouth shall proclaim your praise.
Glory to the Father,
and to the Son,
and to the Holy Spirit,
As it was in the beginning,
is now, and will be for ever. Amen.
The Lord has shown forth his glory:
Come let us adore him.
Venite
Come let us sing to the Lord;*
let us shout for joy to the Rock of our salvation.
Let us come before his presence with thanksgiving*
and raise a loud shout to him with psalms.
For the Lord is a great God,*
and a great King above all gods.
In his hand are the caverns of the earth,*
and the heights of the hills are his also.
The sea is his, for he made it,*
and his hands have molded the dry land.
Come, let us bow down, and bend the knee,*
and kneel before the Lord our Maker.
For he is our God,
and we are the people of his pasture and the sheep of his hand.*
Oh, that today you would hearken to his voice!
Antiphon
The Lord has shown forth his glory:
Come let us adore him.
The Psalms
Psalm 69:1-23(24-30)31-38
or Coverdale
1Save me, O God,*
for the waters have risen up to my neck.
2I am sinking in deep mire,*
and there is no firm ground for my feet.
3I have come into deep waters,*
and the torrent washes over me.
4I have grown weary with my crying;
my throat is inflamed;*
my eyes have failed from looking for my God.
5Those who hate me without a cause are more than the hairs of my head;
my lying foes who would destroy me are mighty. *
Must I then give back what I never stole?
6O God, you know my foolishness,*
and my faults are not hidden from you.
7Let not those who hope in you be put to shame through me, Lord GOD of hosts;*
let not those who seek you be disgraced because of me, O God of Israel.
8Surely, for your sake have I suffered reproach, *
and shame has covered my face.
9I have become a stranger to my own kindred, *
an alien to my mother's children.
10Zeal for your house has eaten me up;*
the scorn of those who scorn you has fallen upon me.
11I humbled myself with fasting,*
but that was turned to my reproach.
12I put on sack-cloth also,*
and became a byword among them.
13Those who sit at the gate murmur against me,*
and the drunkards make songs about me.
14But as for me, this is my prayer to you, *
at the time you have set, O LORD:
15"In your great mercy, O God,*
answer me with your unfailing help.
16Save me from the mire; do not let me sink; *
let me be rescued from those who hate me
and out of the deep waters.
17Let not the torrent of waters wash over me,
neither let the deep swallow me up;*
do not let the Pit shut its mouth upon me.
18Answer me, O LORD, for your love is kind; *
in your great compassion, turn to me."
19"Hide not your face from your servant; *
be swift and answer me, for I am in distress.
20Draw near to me and redeem me;*
because of my enemies deliver me.
21You know my reproach, my shame, and my dishonor; *
my adversaries are all in your sight."
22Reproach has broken my heart, and it cannot be healed;*
I looked for sympathy, but there was none,
for comforters, but I could find no one.
23They gave me gall to eat,*
and when I was thirsty, they gave me vinegar to drink.
24Let the table before them be a trap *
and their sacred feasts a snare.
25Let their eyes be darkened, that they may not see,*
and give them continual trembling in their loins.
26Pour out your indignation upon them,*
and let the fierceness of your anger overtake them.
27Let their camp be desolate,*
and let there be none to dwell in their tents.
28For they persecute him whom you have stricken *
and add to the pain of those whom you have pierced.
29Lay to their charge guilt upon guilt,*
and let them not receive your vindication.
30Let them be wiped out of the book of the living *
and not be written among the righteous.
31As for me, I am afflicted and in pain;*
your help, O God, will lift me up on high.
32I will praise the Name of God in song;*
I will proclaim his greatness with thanksgiving.
33This will please the LORD more than an offering of oxen,*
more than bullocks with horns and hoofs.
34The afflicted shall see and be glad;*
you who seek God, your heart shall live.
35For the LORD listens to the needy,*
and his prisoners he does not despise.
36Let the heavens and the earth praise him, *
the seas and all that moves in them;
37For God will save Zion and rebuild the cities of Judah;*
they shall live there and have it in possession.
38The children of his servants will inherit it,*
and those who love his Name will dwell therein.
Gloria Patri
Glory be to the Father, and to the Son, and to the Holy Ghost.
As it was in the beginning, is now, and ever shall be: world without end. Amen. Amen.
The Lessons
The Old Testament Reading
Isaiah 56:1-8
1Thus says the Lord:
Maintain justice, and do what is right,
for soon my salvation will come,
and my deliverance be revealed.
2 Happy is the mortal who does this,
the one who holds it fast,
who keeps the sabbath, not profaning it,
and refrains from doing any evil.
3 Do not let the foreigner joined to the Lord say,
The Lord will surely separate me from his people;
and do not let the eunuch say,
I am just a dry tree.
4 For thus says the Lord:
To the eunuchs who keep my sabbaths,
who choose the things that please me
and hold fast my covenant,
5 I will give, in my house and within my walls,
a monument and a name
better than sons and daughters;
I will give them an everlasting name
that shall not be cut off.
6 And the foreigners who join themselves to the Lord,
to minister to him, to love the name of the Lord,
and to be his servants,
all who keep the sabbath, and do not profane it,
and hold fast my covenant
7 these I will bring to my holy mountain,
and make them joyful in my house of prayer;
their burnt-offerings and their sacrifices
will be accepted on my altar;
for my house shall be called a house of prayer
for all peoples.
8 Thus says the Lord God,
who gathers the outcasts of Israel,
I will gather others to them
besides those already gathered.
The Word of the Lord.
Thanks be to God.
Canticle 10 The Second Song of Isaiah
Isaiah 55:6-11
Quaerite Dominum
Seek the Lord while he wills to be found; *
call upon him when he draws near.
Let the wicked forsake their ways *
and the evil ones their thoughts;
And let them turn to the Lord, and he will have compassion, *
and to our God, for he will richly pardon.
For my thoughts are not your thoughts, *
nor your ways my ways, says the Lord.
For as the heavens are higher than the earth, *
so are my ways higher than your ways,
and my thoughts than your thoughts.
For as rain and snow fall from the heavens *
and return not again, but water the earth,
Bringing forth life and giving growth, *
seed for sowing and bread for eating,
So is my word that goes forth from my mouth; *
it will not return to me empty;
But it will accomplish that which I have purposed, *
and prosper in that for which I sent it.
Glory to the Father, and to the Son, and to the Holy Spirit
as it was in the beginning, is now, and will be for ever. Amen.
New Testament Reading
Galatians 5:16-24
16 Live by the Spirit, I say, and do not gratify the desires of the flesh. 17For what the flesh desires is opposed to the Spirit, and what the Spirit desires is opposed to the flesh; for these are opposed to each other, to prevent you from doing what you want. 18But if you are led by the Spirit, you are not subject to the law. 19Now the works of the flesh are obvious: fornication, impurity, licentiousness, 20idolatry, sorcery, enmities, strife, jealousy, anger, quarrels, dissensions, factions, 21envy, drunkenness, carousing, and things like these. I am warning you, as I warned you before: those who do such things will not inherit the kingdom of God.
22 By contrast, the fruit of the Spirit is love, joy, peace, patience, kindness, generosity, faithfulness, 23gentleness, and self-control. There is no law against such things. 24And those who belong to Christ Jesus have crucified the flesh with its passions and desires.
The Word of the Lord.
Thanks be to God.
Canticle 14 A Song of Penitence

Kyrie Pantokrator Prayer of Manasseh 1-2, 4, 6-7, 11-15
O Lord and Ruler of the hosts of heaven,*
God of Abraham, Isaac, and Jacob,
and of all their righteous offspring:
You made the heavens and the earth, *
with all their vast array.
All things quake with fear at your presence;*
they tremble because of your power.
But your merciful promise is beyond all measure;*
it surpasses all that our minds can fathom.
O Lord, you are full of compassion, *
long-suffering, and abounding in mercy.
You hold back your hand;*
you do not punish as we deserve.
In your great goodness, Lord,
you have promised forgiveness to sinners,*
that they may repent of their sin and be saved.
And now, O Lord, I bend the knee of my heart,*
and make my appeal, sure of your gracious goodness.
I have sinned, O Lord, I have sinned,*
and I know my wickedness only too well.
Therefore I make this prayer to you: *
Forgive me, Lord, forgive me.
Do not let me perish in my sin, *
nor condemn me to the depths of the earth.
For you, O Lord, are the God of those who repent,*
and in me you will show forth your goodness.
Unworthy as I am, you will save me,
in accordance with your great mercy,*
and I will praise you without ceasing all the days of my life.
For all the powers of heaven sing your praises,*
and yours is the glory to ages of ages. Amen.
The Gospel
Mark 9:2-13
2 Six days later, Jesus took with him Peter and James and John, and led them up a high mountain apart, by themselves. And he was transfigured before them, 3and his clothes became dazzling white, such as no one on earth could bleach them. 4And there appeared to them Elijah with Moses, who were talking with Jesus. 5Then Peter said to Jesus, 'Rabbi, it is good for us to be here; let us make three dwellings, one for you, one for Moses, and one for Elijah.' 6He did not know what to say, for they were terrified. 7Then a cloud overshadowed them, and from the cloud there came a voice, 'This is my Son, the Beloved; listen to him!' 8Suddenly when they looked around, they saw no one with them any more, but only Jesus.
9 As they were coming down the mountain, he ordered them to tell no one about what they had seen, until after the Son of Man had risen from the dead. 10So they kept the matter to themselves, questioning what this rising from the dead could mean. 11Then they asked him, 'Why do the scribes say that Elijah must come first?' 12He said to them, 'Elijah is indeed coming first to restore all things. How then is it written about the Son of Man, that he is to go through many sufferings and be treated with contempt? 13But I tell you that Elijah has come, and they did to him whatever they pleased, as it is written about him.'
The Word of the Lord.
Thanks be to God.
The Commemoration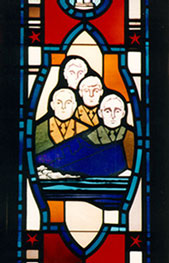 The Four Chaplains were four United States Army chaplains who gave their lives to save other soldiers during the sinking of the USAT Dorchester during World War II. They helped other soldiers board lifeboats and gave up their own life jackets when the supply ran out; 230 of the 904 men aboard the ship were rescued. Life jackets offered little protection from hypothermia which killed most men in the water. Water temperature was 34 F (1 C) and air temperature was 36 F (2 C). By the time additional rescue ships arrived "...hundreds of dead bodies were seen floating on the water, kept up by their life jackets."
The chaplains, who all held the rank of lieutenant, were the Methodist Reverend George L. Fox, the Jewish Rabbi Alexander D. Goode, the Roman Catholic Priest John P. Washington and the Reformed Church in America Reverend Clark V. Poling. They were sailing on the USAT Dorchester troop transport on February 3, 1943, when the vessel, travelling in convoy, was torpedoed by the German submarine U-223 in the North Atlantic. As the vessel sank, the four chaplains calmed the frightened soldiers and sailors, aided in the evacuation of the ship, and helped guide wounded men to safety. The chaplains also gave up their own life jackets.
As I swam away from the ship, I looked back. The flares had lighted everything. The bow came up high and she slid under. The last thing I saw, the Four Chaplains were up there praying for the safety of the men. They had done everything they could. I did not see them again. They themselves did not have a chance without their life jackets.Grady Clark, survivor
On December 19, 1944, all four chaplains were posthumously awarded the Purple Heart and the Distinguished Service Cross. The Four Chaplains' Medal was established by act of Congress on July 14, 1960, and was presented posthumously to their next of kin by Secretary of the Army Wilber M. Brucker at Ft. Myer, Virginia on January 18, 1961.
The chaplains were also honored with a stamp, issued in 1948 and by an act of Congress designating February 3 as "Four Chaplains Day."
Goode, Poling and Washington had served as leaders in the Boy Scouts of America.
from Wikiopedia
Prayer
Holy God, you inspired the Dorchester chaplains to be models of steadfast sacrificial love in a tragic and terrifying time: Help us to follow their example, that their courageous ministry may inspire chaplains and all who serve, to recognize your presence in the midst of peril; through Jesus Christ our Savior, who lives and reigns with you and the Holy Spirit, one God, for ever and ever. Amen.
Alternate Psalm and Readings
Psalm 46
Joel 2:28-32
Romans 8:15b-19, 38-39
John 15:9-14
The Creed
The Apostle's Creed
I believe in God, the Father almighty,
creator of heaven and earth.
I believe in Jesus Christ, his only son, our Lord.
He was conceived by the power of the Holy Spirit
and born of the Virgin Mary.
He suffered under Pontius Pilate,
was crucified, died, and was buried.
He descended to the dead.
On the third day he rose again.
He ascended into heaven,
and is seated at the right hand of the Father.
He will come again to judge the living and the dead.
I believe in the Holy Spirit,
the holy catholic Church,
the communion of saints,
the forgiveness of sins,
the resurrection of the body,
and the life everlasting. Amen.
The Prayers
The Lord's Prayer
or traditional
Our Father in heaven,
hallowed be your Name,
your kingdom come,
your will be done,
on earth as in heaven.
Give us today our daily bread.
Forgive us our sins
as we forgive those
who sin against us.
Save us from the time of trial,
and deliver us from evil.
For the kingdom, the power,
and the glory are yours,
now and for ever. Amen.
Suffrages
Show us your mercy, O Lord;
And grant us your salvation.
Clothe your ministers with righteousness;
Let your people sing with joy.
Give peace, O Lord, in all the world;
For only in you can we live in safety.
Lord, keep this nation under your care;
And guide us in the way of justice and truth.
Let your way be known upon earth;
Your saving health among all nations.
Let not the needy, O Lord, be forgotten;
Nor the hope of the poor be taken away.
Create in us clean hearts, O God;
And sustain us with your Holy Spirit.
Collect of the Day: The Fourth Sunday after the Epiphany
Almighty and everlasting God, you govern all things both in heaven and on earth: Mercifully hear the supplications of your people, and in our time grant us your peace; through Jesus Christ our Lord, who lives and reigns with you and the Holy Spirit, one God, for ever and ever. Amen.
For Mission
Lord Jesus Christ, you stretched out your arms of love on the hard wood of the cross that everyone might come within the reach of your saving embrace: So clothe us in your Spirit that we, reaching forth our hands in love, may bring those who do not know you to the knowledge and love of you; for the honor of your Name. Amen.
World Cycle of Prayer
We pray for the people of Austria.
Ecumenical Cycle of Prayer
We pray for our sisters and brothers members of the Reformed Presbyterian Church of Ireland.
A Collect for Fridays
Almighty God, whose most dear Son went not up to joy but first he suffered pain, and entered not into glory before he was crucified: Mercifully grant that we, walking in the way of the cross, may find it none other than the way of life and peace; through Jesus Christ your Son our Lord. Amen.
Hymn: To my humble supplication
To my humble supplication
Lord, give ear and acceptation
Save thy servant, that hath none
Help nor hope but Thee alone. Amen.
Prayers and Intercessions
Let us pray now for our own needs and those of others.
Birthdays
Anniversaries
For Recovery from Sickness
For Travelers
For a Person in Trouble or Bereavement
For Those to be Baptized
For the Departed
Full list of prayers
For Our Enemies
O God, the Father of all, whose Son commanded us to love our enemies: Lead them and us from prejudice to truth; deliver them and us from hatred, cruelty, and revenge; and in your good time enable us all to stand reconciled before you; through Jesus Christ our Lord. Amen.
For Social Justice
Grant, O God, that your holy and life-giving Spirit may so move every human heart, that barriers which divide us may crumble, suspicions disappear, and hatreds cease; that our divisions being healed, we may live in justice and peace; through Jesus Christ our Lord. Amen.
For Young Persons
God our Father, you see your children growing up in an unsteady and confusing world: Show them that your ways give more life than the ways of the world, and that following you is better than chasing after selfish goals. Help them to take failure, not as a measure of their worth, but as a chance for a new start. Give them strength to hold their faith in you, and to keep alive their joy in your creation; through Jesus Christ our Lord. Amen.
All things bright and beautiful
All things bright and beautiful,
All creatures great and small,
All things wise and wonderful:
The Lord God made them all.
Each little flower that opens,
Each little bird that sings,
God made their glowing colors,
And made their tiny wings.
All things bright and beautiful,
All creatures great and small,
All things wise and wonderful:
The Lord God made them all.
The purple headed mountains,
The river running by,
The sunset and the morning
That brightens up the sky.
All things bright and beautiful,
All creatures great and small,
All things wise and wonderful:
The Lord God made them all.
The cold wind in the winter,
The pleasant summer sun,
The ripe fruits in the garden:
God made them every one.
All things bright and beautiful,
All creatures great and small,
All things wise and wonderful:
The Lord God made them all.
God gave us eyes to see them,
And lips that we might tell
How great is God Almighty,
Who has made all things well.
All things bright and beautiful,
All creatures great and small,
All things wise and wonderful:
The Lord God made them all.
Words: Cecil Frances Alexander | Tune: Royal Oak
A Prayer of Self-Dedication
Almighty and eternal God, so draw our hearts to you, so guide our minds, so fill our imaginations, so control our wills, that we may be wholly yours, utterly dedicated unto you; and then use us, we pray you, as you will, and always to your glory and the welfare of your people; through our Lord and Savior Jesus Christ. Amen.
General Thanksgiving
Almighty God, Father of all mercies, we your unworthy servants give you humble thanks for all your goodness and loving-kindness to us and to all whom you have made. We bless you for our creation, preservation, and all the blessings of this life; but above all for your immeasurable love in the redemption of the world by our Lord Jesus Christ; for the means of grace, and for the hope of glory. And, we pray, give us such an awareness of your mercies, that with truly thankful hearts we may show forth your praise, not only with our lips, but in our lives, by giving up our selves to your service, and by walking before you in holiness and righteousness all our days; through Jesus Christ our Lord, to whom, with you and the Holy Spirit, be honor and glory throughout all ages. Amen.
A Prayer of St. Chrysostom
Almighty God, you have given us grace at this time with one accord to make our common supplication to you; and you have promised through your well-beloved Son that when two or three are gathered together in his Name you will be in the midst of them: Fulfill now, O Lord, our desires and petitions as may be best for us; granting us in this world knowledge of your truth, and in the age to come life everlasting. Amen.
The Ending
Benediction
Let us bless the Lord.
Thanks be to God.
Glory to God whose power, working in us, can do infinitely more than we can ask or imagine: Glory to him from generation to generation in the Church, and in Christ Jesus for ever and ever. Amen.
Ephesians 3:20,21
Hymn: God Be With You
God be with you till we meet again;
By his counsels guide, uphold you;
With his sheep securely fold you.
God be with you till we meet again.
Till we meet, till we meet,
Till we meet at Jesus' feet,
Till we meet, till we meet,
God be with you till we meet again.