Wednesday, 8 February
Morning Prayer
The Opening
Opening Sentence
I will give you as a light to the nations, that my salvation may reach to the end of the earth. Isaiah 49:6b
Hymn: New every morning is the love
New every morning is the love
our wakening and uprising prove;
through sleep and darkness safely brought,
restored to life and power and thought.
New mercies, each returning day,
hover around us while we pray;
new perils past, new sins forgiven,
new thoughts of God, new hopes of heaven.
If on our daily course our mind
be set to hallow all we find,
new treasures still, of countless price,
God will provide for sacrifice.
The trivial round, the common task,
will furnish all we ought to ask:
room to deny ourselves; a road
to bring us daily nearer God.
Only, O Lord, in thy dear love,
fit us for perfect rest above;
and help us, this and every day,
to live more nearly as we pray.
Author: St. Ambrose
Confession
Let us confess our sins against God and our neighbor.
Most merciful God, we confess that we have sinned against you in thought, word, and deed, by what we have done, and by what we have left undone. We have not loved you with our whole heart; we have not loved our neighbors as ourselves. We are truly sorry and we humbly repent. For the sake of your Son Jesus Christ, have mercy on us and forgive us; that we may delight in your will, and walk in your ways, to the glory of your Name. Amen.
Almighty God have mercy on us, forgive us all our sins through our Lord Jesus Christ, strengthen us in all goodness, and by the power of the Holy Spirit keep us in eternal life. Amen.
Versicle and Response
Lord, open our lips.
And our mouth shall proclaim your praise.
Glory to the Father,
and to the Son,
and to the Holy Spirit:
as it was in the beginning,
is now, and will be forever Amen.
The Lord has shown forth his glory:
Come let us adore him.
Venite
Psalm 95:1-7
Come let us sing to the Lord;*
let us shout for joy to the Rock of our salvation.
Let us come before his presence with thanksgiving*
and raise a loud shout to him with psalms.
For the Lord is a great God,*
and a great King above all gods.
In his hand are the caverns of the earth,*
and the heights of the hills are his also.
The sea is his, for he made it,*
and his hands have molded the dry land.
Come, let us bow down, and bend the knee,*
and kneel before the Lord our Maker.
For he is our God, and we are the people of his pasture
and the sheep of his hand.*
Oh, that today you would hearken to his voice!
Antiphon
The Lord has shown forth his glory:
Come let us adore him.
The Psalms
Psalm 119:97-120
or Coverdale
Quomodo dilexi!
Mem
97 Oh, how I love your law!*
all the day long it is in my mind.
98 Your commandment has made me wiser than my enemies,*
and it is always with me.
99 I have more understanding than all my teachers,*
for your decrees are my study.
100 I am wiser than the elders,*
because I observe your commandments.
101 I restrain my feet from every evil way,*
that I may keep your word.
102 I do not shrink from your judgments,*
because you yourself have taught me.
103 How sweet are your words to my taste!*
they are sweeter than honey to my mouth.
104 Through your commandments I gain understanding;*
therefore I hate every lying way.
Nun
Lucerna pedibus meis
105 Your word is a lantern to my feet*
and a light upon my path.
106 I have sworn and am determined*
to keep your righteous judgments.
107 I am deeply troubled;*
preserve my life, O LORD, according to your word.
108 Accept, O LORD, the willing tribute of my lips,*
and teach me your judgments.
109 My life is always in my hand,*
yet I do not forget your law.
110 The wicked have set a trap for me,*
but I have not strayed from your commandments.
111 Your decrees are my inheritance for ever;*
truly, they are the joy of my heart.
112 I have applied my heart to fulfill your statutes*
for ever and to the end.
Samekh
Iniquos odio habui
113 I hate those who have a divided heart,*
but your law do I love.
114 You are my refuge and shield;*
my hope is in your word.
115 Away from me, you wicked!*
I will keep the commandments of my God.
116 Sustain me according to your promise, that I may live,*
and let me not be disappointed in my hope.
117 Hold me up, and I shall be safe,*
and my delight shall be ever in your statutes.
118 You spurn all who stray from your statutes;*
their deceitfulness is in vain.
119 In your sight all the wicked of the earth are but dross;*
therefore I love your decrees.
120 My flesh trembles with dread of you;*
I am afraid of your judgments.
Gloria Patri
Glory be to the Father, and to the Son, and to the Holy Ghost.
As it was in the beginning, is now, and ever shall be: world without end. Amen. Amen.
The Lessons
The Old Testament Reading
Isaiah 59:15b-21
The LORD saw it, and it displeased him that there was no justice. He saw that there was no one, and was appalled that there was no one to intervene; so his own arm brought him victory, and his righteousness upheld him. He put on righteousness like a breastplate, and a helmet of salvation on his head; he put on garments of vengeance for clothing, and wrapped himself in fury as in a mantle. According to their deeds, so will he repay; wrath to his adversaries, requital to his enemies; to the coastlands he will render requital. So those in the west shall fear the name of the LORD, and those in the east, his glory; for he will come like a pent-up stream that the wind of the LORD drives on. And he will come to Zion as Redeemer, to those in Jacob who turn from transgression, says the LORD. And as for me, this is my covenant with them, says the LORD: my spirit that is upon you, and my words that I have put in your mouth, shall not depart out of your mouth, or out of the mouths of your children, or out of the mouths of your children's children, says the LORD, from now on and forever.
The Word of the Lord.
Thanks be to God.
Canticle 11 The Third Song of Isaiah
Isaiah 60:1-3, 11a, 14c, 18-19
Surge, illuminare
Arise, shine, for your light has come, *
and the glory of the Lord has dawned upon you.
For behold, darkness covers the land; *
deep gloom enshrouds the peoples.
But over you the Lord will rise, *
and his glory will appear upon you.
Nations will stream to your light, *
and kings to the brightness of your dawning.
Your gates will always be open; *
by day or night they will never be shut.
They will call you, The City of the Lord, *
The Zion of the Holy One of Israel.
Violence will no more be heard in your land, *
ruin or destruction within your borders.
You will call your walls, Salvation, *
and all your portals, Praise.
The sun will no more be your light by day; *
by night you will not need the brightness of the moon.
The Lord will be your everlasting light, *
and your God will be your glory.
Glory to the Father, and to the Son, and to the Holy Spirit
as it was in the beginning, is now, and will be for ever. Amen.
New Testament Reading
2 Timothy 1:15-2:13
Timothy You are aware that all who are in Asia have turned away from me, including Phygelus and Hermogenes. May the Lord grant mercy to the household of Onesiphorus, because he often refreshed me and was not ashamed of my chain; when he arrived in Rome, he eagerly searched for me and found me -may the Lord grant that he will find mercy from the Lord on that day! And you know very well how much service he rendered insus. Timothy You then, my child, be strong in the grace that is in Christ Jesus; and what you have heard from me through many witnesses entrust to faithful people who will be able to teach others as well. Share in suffering like a good soldier of Christ Jesus. No one serving in the army gets entangled in everyday affairs; the soldier's aim is to please the enlisting officer. And in the case of an athlete, no one is crowned without competing according to the rules. It is the farmer who does the work who ought to have the first share of the crops. Think over what I say, for the Lord will give you understanding in all things. Remember Jesus Christ, raised from the dead, a descendant of David-that is my gospel, for which I suffer hardship, even to the point of being chained like a criminal. But the word of God is not chained. Therefore I endure everything for the sake of the elect, so that they may also obtain the salvation that is in Christ Jesus, with eternal glory. The saying is sure: If we have died with him, we will also live with him; if we endure, we will also reign with him; if we deny him, he will also deny us; if we are faithless, he remains faithful- for he cannot deny himself.
The Word of the Lord.
Thanks be to God.
Canticle 16 The Song of Zechariah
Luke 1:68-79
Benedictus Dominus Deus
Blessed be the Lord, the God of Israel;*
he has come to his people and set them free.
He has raised up for us a mighty savior,*
born of the house of his servant David.
Through his holy prophets he promised of old,
that he would save us from our enemies,*
from the hands of all who hate us.
he promised to show mercy to our fathers*
and to remember his holy covenant.
This was the oath he swore to our father Abraham,*
to set us free from the hands of our enemies,
Free to worship him without fear,*
holy and righteous in his sight
all the days of our life.
You, my child, shall be called the prophet of the Most High,*
for you will go before the Lord to prepare his way,
To give his people knowledge of salvation*
by the forgiveness of their sins.
In the tender compassion of our God*
the dawn from on high shall break upon us,
To shine on those who dwell in darkness and the shadow of death,*
and to guide our feet into the way of peace.
Glory to the Father, and to the Son, and to the Holy Spirit
as it was in the beginning, is now, and will be for ever. Amen.
The Gospel
Mark 10:1-16
He left that place and went to the region of Judea and beyond the Jordan. And crowds again gathered around him; and, as was his custom, he again taught them. Some Pharisees came, and to test him they asked, "Is it lawful for a man to divorce his wife?" He answered them, "What did Moses command you?" They said, "Moses allowed a man to write a certificate of dismissal and to divorce her." But Jesus said to them, "Because of your hardness of heart he wrote this commandment for you. But from the beginning of creation, 'God made them male and female.' 'For this reason a man shall leave his father and mother and be joined to his wife, and the two shall become one flesh.' So they are no longer two, but one flesh. Therefore what God has joined together, let no one separate." Then in the house the disciples asked him again about this matter. He said to them, "Whoever divorces his wife and marries another commits adultery against her; and if she divorces her husband and marries another, she commits adultery." People were bringing little children to him in order that he might touch them; and the disciples spoke sternly to them. But when Jesus saw this, he was indignant and said to them, "Let the little children come to me; do not stop them; for it is to such as these that the kingdom of God belongs. Truly I tell you, whoever does not receive the kingdom of God as a little child will never enter it." And he took them up in his arms, laid his hands on them, and blessed them. Hear what the Spirit is saying to the Church.
The Word of the Lord.
Thanks be to God.
The Commemoration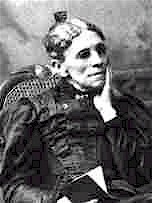 Frances Jane Crosby (March 24 1820 February 12 1915) usually known as Fanny Crosby, was an American lyricist best known for her Protestant Christian hymns. A lifelong Methodist, she was one of the most prolific hymnists in history, writing over 8,000 despite being blind since infancy. Also known for her preaching and speaking, during her lifetime Fanny Crosby was one of the best known women in the United States.
To this day, the vast majority of American hymnals contain her work [but not the 1982 Episcopal Church Hymnal]. Some of her best known songs include "Blessed Assurance", "Jesus Is Tenderly Calling You Home", "Praise Him, Praise Him", and "To God Be the Glory". Because some publishers were hesitant to have so many hymns by one person in their hymnals, Crosby used nearly 100 different pseudonyms during her career.
Crosby wrote her first hymn in 1863 for the composer William B. Bradbury, a respected musician and publisher. It was called "There's a Cry from Macedonia". Over the years she wrote for Bradbury and for other composers, including Philip Phillips, Hubert P. Main, Robert Lowry, W. H. Doane, Ira D. Sankey, Philip P. Bliss, Mr. W. F. Sherwin, and Phoebe Knapp.
Crosby was very well known during her time and often met with presidents, generals, and other dignitaries. She played the hymn "Safe in the Arms of Jesus" at President Grant's funeral in 1885. In her later years, she also became a popular public speaker.
When she died, her tombstone carried the words, "Aunt Fanny" and "Blessed assurance, Jesus is mine. Oh, what a foretaste of glory divine."
Selected Works:
"All the Way My Savior Leads Me"bef. 1875, music by Robert Wadsworth Lowry
"Blessed Assurance"1873, music by Phoebe Knapp
"The Bright Forever"1871, music by Hubert P. Main
"Close to Thee"1874, music by Silas J. Vail
"Jesus Is Tenderly Calling You Home"1883, music by George C. Stebbins
"I Am Thine, O Lord"bef. 1875, music by W. Howard Doane
"My Savior First of All"1891, music by John R. Sweney
"Near the Cross"bef. 1869, music by W. Howard Doane
"Pass Me Not, O Gentle Saviour"1868, music by W. Howard Doane
"Praise Him, Praise Him"bef. 1869, music by Chester G. Allen
"Redeemed, How I Love to Proclaim It"bef. 1882, William J. Kirkpatrick
"Rescue the Perishing"1869, music by W. Howard Doane
"Safe in the Arms of Jesus"1878, music by W. Howard Doane
"Saviour, More Than Life to Me"1875, music by W. Howard Doane
"Tell Me the Story of Jesus"bef. 1880, music by John R. Sweney
"To God Be the Glory"1875, music by W. Howard Doane
"Draw me Nearer"1875, words by Fanny Crosby
[Words and music for these and some 500 more of her hymns may be found at the Cyberhymnal.]
from Wikipedia
Prayer
O God, the blessed assurance of all who trust in you: We give you thanks for your servant Fanny Crosby, who, though blind from infancy, beheld your glory with great clarity of vision and spent her life giving voice to your peoples heartfelt praise; and we pray that we, inspired by her words and example, may rejoice to sing of your love, praising our Savior all the day long; who lives and reigns with you and the Holy Spirit, one God in perfect harmony, now and for ever. Amen.
Alternate Psalm and Readings
Psalm 108:1-6
Isaiah 42:10-12, 16
1 Peter 1:3-9
John 9:35-39
The Creed
The Apostle's Creed
I believe in God, the Father almighty,
creator of heaven and earth.
I believe in Jesus Christ, his only son, our Lord.
He was conceived by the power of the Holy Spirit
and born of the Virgin Mary.
He suffered under Pontius Pilate,
was crucified, died, and was buried.
He descended to the dead.
On the third day he rose again.
He ascended into heaven,
and is seated at the right hand of the Father.
He will come again to judge the living and the dead.
I believe in the Holy Spirit,
the holy catholic Church,
the communion of saints,
the forgiveness of sins,
the resurrection of the body,
and the life everlasting. Amen.
The Prayers
The Lord's Prayer
or traditional
Our Father in heaven,
hallowed be your Name,
your kingdom come,
your will be done,
on earth as in heaven.
Give us today our daily bread.
Forgive us our sins
as we forgive those
who sin against us.
Save us from the time of trial,
and deliver us from evil.
For the kingdom, the power,
and the glory are yours,
now and for ever. Amen.
Suffrages
Show us your mercy, O Lord;
And grant us your salvation.
Clothe your ministers with righteousness;
Let your people sing with joy.
Give peace, O Lord, in all the world;
For only in you can we live in safety.
Lord, keep this nation under your care;
And guide us in the way of justice and truth.
Let your way be known upon earth;
Your saving health among all nations.
Let not the needy, O Lord, be forgotten;
Nor the hope of the poor be taken away.
Create in us clean hearts, O God;
And sustain us with your Holy Spirit.
Collect of the Day: The Fourth Sunday after the Epiphany
Almighty and everlasting God, you govern all things both in heaven and on earth: Mercifully hear the supplications of your people, and in our time grant us your peace; through Jesus Christ our Lord, who lives and reigns with you and the Holy Spirit, one God, for ever and ever. Amen.
For Mission
O God and Father of all, whom the whole heavens adore: Let the whole earth also worship you, all nations obey you, all tongues confess and bless you, and men and women everywhere love you and serve you in peace; through Jesus Christ our Lord. Amen.
World Cycle of Prayer
We pray for the people of Barbados.
Ecumenical Cycle of Prayer
We pray for our sisters and brothers members of the Renewed Presbyterian Church in Brazil.
A Collect for Peace
Eternal God, in whose perfect kingdom no sword is drawn but the sword of righteousness, no strength known but the strength of love: So mightily spread abroad your Spirit, that all peoples may be gathered under the banner of the Prince of Peace, as children of one Father; to whom be dominion and glory, now and for ever. Amen.
Hymn: To my humble supplication
To my humble supplication
Lord, give ear and acceptation
Save thy servant, that hath none
Help nor hope but Thee alone. Amen.
Prayers and Intercessions
Let us pray now for our own needs and those of others.
Birthdays
Anniversaries
For Recovery from Sickness
For Travelers
For a Person in Trouble or Bereavement
For Those to be Baptized
For the Departed
Full list of prayers
For our Country
Almighty God, who has given us this good land for our heritage: We humbly beseech you that we may always prove ourselves a people mindful of your favor and glad to do your will. Bless our land with honorable industry, sound learning, and pure manners. Save us from violence, discord, and confusion; from pride and arrogance, and from every evil way. Defend our liberties, and fashion us into one united people. Endue with the spirit of wisdom those to whom in your Name we entrust the authority of government, that there may be justice and peace at home, and that, through obedience to your law, we may show forth your praise among the nations of the earth. In the time of prosperity, fill our hearts with thankfulness, and in the day of trouble, suffer not our trust in you to fail; all which we ask through Jesus Christ our Lord. Amen.
For the President of the
United States
and all in Civil Authority
O Lord our Governor, whose glory is in all the world: We commend this nation to your merciful care, that, being guided by your Providence, we may dwell secure in your peace. Grant to the President of the United States, the Governor of this State (or, Commonwealth), and to all in authority, wisdom and strength to know and to do your will. Fill them with the love of truth and righteousness, and make them ever mindful of their calling to serve this people in your fear; through Jesus Christ our Lord, who lives and reigns with you and the Holy Spirit, one God, world without end. Amen.
Hymn: Blessèd Jesus, at Thy Word
Blessèd Jesus, at Thy Word
We are gathered all to hear Thee;
Let our hearts and souls be stirred
Now to seek and love and fear Thee,
By Thy teachings sweet and holy,
Drawn from earth to love Thee solely.
All our knowledge, sense and sight
Lie in deepest darkness shrouded,
Til Thy Spirit breaks our night
With the beams of truth unclouded.
Thou alone to God canst win us;
Thou must work all good within us.
Glorious Lord, Thyself impart!
Light of light, from God proceeding,
Open Thou our ears and heart;
Help us by Thy Spirit's pleading;
Hear the cry Thy people raises;
Hear and bless our prayers and praises.
Father, Son, and Holy Ghost,
Praise to Thee and adoration!
Grant that we Thy Word may trust
And obtain true consolation
While we here below must wander,
Till we sing Thy praises yonder.
Words: Tobias Clausnitzer Choir of Christ Covenant Church
A Prayer of Self-Dedication
Almighty and eternal God,
so draw our hearts to you,
so guide our minds,
so fill our imaginations,
so control our wills,
that we may be wholly yours,
utterly dedicated unto you;
and then use us, we pray you, as you will,
and always to your glory and the welfare of your people;
through our Lord and Savior Jesus Christ. Amen.
General Thanksgiving
Almighty God, Father of all mercies, we your unworthy servants give you humble thanks for all your goodness and loving-kindness to us and to all whom you have made. We bless you for our creation, preservation, and all the blessings of this life; but above all for your immeasurable love in the redemption of the world by our Lord Jesus Christ; for the means of grace, and for the hope of glory. And, we pray, give us such an awareness of your mercies, that with truly thankful hearts we may show forth your praise, not only with our lips, but in our lives, by giving up our selves to your service, and by walking before you in holiness and righteousness all our days; through Jesus Christ our Lord, to whom, with you and the Holy Spirit, be honor and glory throughout all ages. Amen.
A Prayer of St. Chrysostom
Almighty God, you have given us grace at this time with one accord to make our common supplication to you; and you have promised through your well-beloved Son that when two or three are gathered together in his Name you will be in the midst of them: Fulfill now, O Lord, our desires and petitions as may be best for us; granting us in this world knowledge of your truth, and in the age to come life everlasting. Amen.
The Ending
Benediction
Let us bless the Lord.
Thanks be to God.
May the God of hope fill us with all joy and peace in believing through the power of the Holy Spirit. Amen. Romans 15:13
Hymn: God Be With You
God be with you till we meet again;
By his counsels guide, uphold you;
With his sheep securely fold you.
God be with you till we meet again.
Till we meet, till we meet,
Till we meet at Jesus' feet,
Till we meet, till we meet,
God be with you till we meet again.