Tuesday, 14 February
Morning Prayer
Cyril and Methodius

The Opening
Opening Sentence
I will arise and go to my father, and I will say to him, "Father, I have sinned against heaven, and before you; I am no longer worthy to be called your son." Luke 15:18, 19
Hymn: Christ, whose glory fills the skies
Christ, whose glory fills the skies,
Christ, the true, the only Light,
Sun of Righteousness, arise,
Triumph o'er the shades of night;
Dayspring from on high, be near;
Day-star, in my heart appear.
Dark and cheerless is the morn
Unaccompanied by Thee;
Joyless is the day's return
Till Thy mercy's beams I see;
Till they inward light impart,
Glad my eyes, and warm my heart.
Visit then this soul of mine,
Pierce the gloom of sin and grief;
Fill me, Radiancy divine,
Scatter all my unbelief;
More and more Thyself display,
Shining to the perfect day.
Words: Charles Wesley
Confession
Let us confess our sins against God and our neighbor.
Most merciful God, we confess that we have sinned against you in thought, word, and deed, by what we have done, and by what we have left undone. We have not loved you with our whole heart; we have not loved our neighbors as ourselves. We are truly sorry and we humbly repent. For the sake of your Son Jesus Christ, have mercy on us and forgive us; that we may delight in your will, and walk in your ways, to the glory of your Name. Amen.
Almighty God have mercy on us, forgive us all our sins through our Lord Jesus Christ, strengthen us in all goodness, and by the power of the Holy Spirit keep us in eternal life. Amen.
Versicle and Response
Lord, open our lips.
And our mouth shall proclaim your praise.
Glory to the Father,
and to the Son,
and to the Holy Spirit:
as it was in the beginning,
is now, and will be forever Amen.
The Lord has shown forth his glory:
Come let us adore him.
Jubilate
Be joyful in the Lord, all you lands;
serve the Lord with gladness
and come before his presence with a song.
Know this: The Lord himself is God;
he himself has made us, and we are his;
we are his people and the sheep of his pasture.
Enter his gates with thanksgiving;
go into his courts with praise;
give thanks to him and call upon his Name.
For the Lord is good;
his mercy is everlasting;
and his faithfulness endures from age to age.
The Psalms
Psalm 97 or
Coverdale
Dominus regnavit
1The LORD is King;
let the earth rejoice; *
let the multitude of the isles be glad.
2Clouds and darkness are round about him, *
righteousness and justice are the foundations of his throne.
3A fire goes before him *
and burns up his enemies on every side.
4His lightnings light up the world; *
the earth sees it and is afraid.
5The mountains melt like wax at the presence of the LORD, *
at the presence of the Lord of the whole earth.
6The heavens declare his righteousness, *
and all the peoples see his glory.
7Confounded be all who worship carved images
and delight in false gods! *
Bow down before him, all you gods.
8Zion hears and is glad, and the cities of Judah rejoice, *
because of your judgments, O LORD.
9For you are the LORD,
most high over all the earth; *
you are exalted far above all gods.
10The LORD loves those who hate evil; *
he preserves the lives of his saints
and delivers them from the hand of the wicked.
11Light has sprung up for the righteous, *
and joyful gladness for those who are truehearted.
12Rejoice in the LORD, you righteous, *
and give thanks to his holy Name.
Psalm 99 or
Coverdale
Dominus regnavit
1The LORD is King;
let the people tremble; *
he is enthroned upon the cherubim;
let the earth shake.
2The LORD is great in Zion; *
he is high above all peoples.
3Let them confess his Name, which is great and awesome; *
he is the Holy One.
4"O mighty King, lover of justice,
you have established equity; *
you have executed justice and righteousness in Jacob."
5Proclaim the greatness of the LORD our God
and fall down before his footstool; *
he is the Holy One.
6Moses and Aaron among his priests,
and Samuel among those who call upon his Name, *
they called upon the LORD, and he answered them.
7He spoke to them out of the pillar of cloud; *
they kept his testimonies and the decree that he gave them.
8"O LORD our God, you answered them indeed; *
you were a God who forgave them,
yet punished them for their evil deeds."
9Proclaim the greatness of the LORD our God
and worship him upon his holy hill; *
for the LORD our God is the Holy One.
Gloria Patri
Glory be to the Father, and to the Son, and to the Holy Ghost.
As it was in the beginning, is now, and ever shall be: world without end. Amen. Amen.
The Lessons
The Old Testament Reading
Isaiah 63:7-14
7 I will recount the gracious deeds of the Lord,
the praiseworthy acts of the Lord,
because of all that the Lord has done for us,
and the great favour to the house of Israel
that he has shown them according to his mercy,
according to the abundance of his steadfast love. 8 For he said, 'Surely they are mypeople,
children who will not deal falsely';
and he became their saviour
9in all their distress.
It was no messenger or angel
but his presence that saved them;
in his love and in his pity he redeemed them;
he lifted them up and carried them all the days of old.
10 But they rebelled
and grieved his holy spirit;
therefore he became their enemy;
he himself fought against them. 11 Then they remembered the days of old,
of Moses his servant.
Where is the one who brought them up out of the sea
with the shepherds of his flock?
Where is the one who put withinthem
his holy spirit, 12 who caused his glorious arm
to march at the right hand ofMoses,
who divided the waters before them
to make for himself an everlasting name,
13who led them through the depths?
Like a horse in the desert,
they did not stumble. 14 Like cattle that go down into thevalley,
the spirit of the Lord gave themrest.
Thus you led your people,
to make for yourself a glorious name.
The Word of the Lord.
Thanks be to God.
Canticle 13 A Song of Praise
Song of the Three Young Men, 29-34
Benedictus es, Domine
Glory to you, Lord God of our fathers; *
you are worthy of praise; glory to you.
Glory to you for the radiance of your holy Name; *
we will praise you and highly exalt you for ever.
Glory to you in the splendor of your temple; *
on the throne of your majesty, glory to you.
Glory to you, seated between the Cherubim; *
we will praise you and highly exalt you for ever.
Glory to you, beholding the depths; *
in the high vault of heaven, glory to you.
Glory to you, Father, Son, and Holy Spirit; *
we will praise you and highly exalt you for ever.
New Testament Reading
1 Timothy 1:18-2:8
1I am giving you these instructions, Timothy, my child, in accordance with the prophecies made earlier about you, so that by following them you may fight the good fight, 19having faith and a good conscience. By rejecting conscience, certain persons have suffered shipwreck in the faith; 20among them are Hymenaeus and Alexander, whom I have turned over to Satan, so that they may learn not to blaspheme.
1First of all, then, I urge that supplications, prayers, intercessions, and thanksgivings should be made for everyone, 2for kings and all who are in high positions, so that we may lead a quiet and peaceable life in all godliness and dignity. 3This is right and is acceptable in the sight of God our Saviour, 4who desires everyone to be saved and to come to the knowledge of the truth. 5For
there is one God;
there is also one mediator between God and humankind,
Christ Jesus, himself human,
6who gave himself a ransom forall
this was attested at the right time. 7For this I was appointed a herald and an apostle (I am telling the truth, I am not lying), a teacher of the Gentiles in faith and truth.
8I desire, then, that in every place the men should pray, lifting up holy hands without anger or argument; 9also that the women should dress themselves modestly and decently in suitable clothing, not with their hair braided, or with gold, pearls, or expensive clothes, 10but with good works, as is proper for women who profess reverence for God. 11Let a woman learn in silence with full submission. 12I permit no woman to teach or to have authority over a man; she is to keep silent. 13For Adam was formed first, then Eve; 14and Adam was not deceived, but the woman was deceived and became a transgressor. 15Yet she will be saved through childbearing, provided they continue in faith and love and holiness, with modesty.
The Word of the Lord.
Thanks be to God.
Canticle 18 A Song to the Lamb
Revelation 4:11, 5:9-10, 13
Dignus es
Splendor and honor and kingly power *
are yours by right, O Lord our God,
For you created everything that is, *
and by your will they were created and have their being;
And yours by right, O Lamb that was slain, *
for with your blood you have redeemed for God,
From every family, language, people, and nation, *
a kingdom of priests to serve our God.
And so, to him who sits upon the throne, *
and to Christ the Lamb,
Be worship and praise, dominion and splendor, *
for ever and for ever more.
Glory to the Father, and to the Son, and to the Holy Spirit
as it was in the beginning, is now, and will be for ever. Amen.
The Gospel
Mark 11:12-26
12On the following day, when they came from Bethany, he was hungry. 13Seeing in the distance a fig tree in leaf, he went to see whether perhaps he would find anything on it. When he came to it, he found nothing but leaves, for it was not the season for figs. 14He said to it, 'May no one ever eat fruit from you again.' And his disciples heard it.
15Then they came to Jerusalem. And he entered the temple and began to drive out those who were selling and those who were buying in the temple, and he overturned the tables of the money-changers and the seats of those who sold doves; 16and he would not allow anyone to carry anything through the temple. 17He was teaching and saying, 'Is it not written,
"My house shall be called a house of prayer for all the nations"?
But you have made it a den ofrobbers.'
18And when the chief priests and the scribes heard it, they kept looking for a way to kill him; for they were afraid of him, because the whole crowd was spellbound by his teaching. 19And when evening came, Jesus and his disciples went out of the city.
20In the morning as they passed by, they saw the fig tree withered away to its roots. 21Then Peter remembered and said to him, 'Rabbi, look! The fig tree that you cursed has withered.' 22Jesus answered them, 'Have faith in God. 23Truly I tell you, if you say to this mountain, "Be taken up and thrown into the sea", and if you do not doubt in your heart, but believe that what you say will come to pass, it will be done for you. 24So I tell you, whatever you ask for in prayer, believe that you have received it, and it will be yours.
25'Whenever you stand praying, forgive, if you have anything against anyone; so that your Father in heaven may also forgive you your trespasses.'
The Word of the Lord.
Thanks be to God.
The Commemoration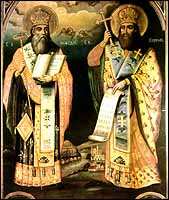 Cyril (originally Constantine) and Methodius were brothers, from a noble family in Thessalonika, a district in northeastern Greece. Constantine was the younger, born in about 827, and his brother Methodius in about 825. They both entered the priesthood. Constantine undertook a mission to the Arabs, and then became a professor of philosophy at the imperial school in Constantinople and librarian at the cathedral of Santa Sophia. Methodius became governor of a district that had been settled by Slavs. Both brothers then retired to monastic life. In about 861, the Emperor Michel III sent them to work with the Khazars northeast of the Black Sea in the Dnieper-Volga region of what was later Russia. They learned the Khazar language and made many converts, and discovered what were believed to be relics of Clement, an early Bishop of Rome.
In about 863, Prince Rotislav, the ruler of Great Moravia (an area including much of what was later Czechoslovakia), asked the emperor for missionaries, specifying that he wanted someone who would teach his people in their own language (he had western missionaries, but they used only Latin). The emperor and the Patriarch Photius sent Methodius and his brother Constantine, who translated the Liturgy and much of the Scriptures into Slavonic.
Since Slavonic had no written form, they invented an alphabet for it, the Glagolitic alphabet, which gave rise to the Cyrillic alphabet (named for Constantine aka Cyril), which is used to write Russian and (with modifications) several related languages today. They used the Greek alphabet as their basis, writing a letter in two forms when two similar sounds in Slavonic each needed a letter (hence, in modern Russian, we have "plain a" written "A" and "fancy a" written like a backward "R" representing the sounds of hard and soft (or unpalatalized and palatalized) a, represented approximately in English by "ah" and "yah"). When no Greek letter was close, then they borrowed from Hebrew (the letter TZADDI for the sound "ts" as in "tsar", and the letter SHIN for the sound "sh", and a variant on it for the sound "shch" as in "Khrushchev", and so on). The resulting alphabet had 43 letters. It has since undergone development, chiefly simplification and the omission of letters. Thus, the modern Russian alphabet has only 32 letters. The Cyrillic alphabet with minor variations is used today for Russian, Ukrainian, and other languages of the former USSR, and also for Bulgarian and Serbian and formerly for Rumanian. (Serbs and Croats both speak Serbo-Croatian, but the Serbs, who are traditionally East Orthodox, write it with the Cyrillic alphabet, while the Croats, who are traditionally Roman Catholic, write it with the Latin alphabet. Before the first World War, there were many muslims (regarded as Turks) living in Greece, and many Christians (regarded as Greeks) living in western Turkey. Each group spoke the language of the country in which it lived, but the Greek-speaking Turks in Greece wrote Greek using the Arabic script that was then standard for writing Turkish, and the Turkish-speaking Greeks in Turkey wrote Turkish in the Greek alphabet. For some reason, the alphabet matters to rival religious groups.)
Thus the brothers were the first to produce written material in the Slavic languages, and are regarded as the founders of Slavic literature.
The brothers encountered missionaries from Germany, representing the western or Latin branch of the Church, and more particularly representing the Holy Roman Empire as founded by Charlemagne, and committed to linguistic, and cultural uniformity. They insisted on the use of the Latin liturgy, and they regarded Moravia and the Slavic peoples as their rightful mission field. When friction developed, the brothers, unwilling to be a cause of dissension among Christians, went south toward Venice, and then from Venice to Rome to see the Pope, hoping to reach an agreement that would avoid quarreling between missionaries in the field. They brought with them the above-mentioned relics of Clement, third bishop of Rome after the Apostles (see 23 November). They arrived in Rome in 868 and were received with honor. Constantine entered a monastery there, taking the name Cyril, by which he is now remembered. However, he died only a few weeks thereafter. He is buried in Rome in the Church of San Clemente.
The Pope (Adrian II) gave Methodius the title of Archbishop of Sirmium (now Sremska Mitrovica in Yugoslavia) and sent him back in 869, with jurisdiction over all of Moravia and Pannonia, and authorization to use the Slavonic Liturgy. Soon, however, Prince Rotislav, who had originally invited the brothers to Moravia, died, and his successor did not support Methodius. In 870 the Frankish king Louis and his bishops deposed Methodius at a synod at Ratisbon, and imprisoned him for a little over two years. The pope (John VIII) secured his release, but told him not to use the Slavonic Liturgy any more. In 878 he was summoned to Rome on charges of heresy and using Slavonic. This time Pope John was convinced by his arguments and sent him back cleared of all charges, and with permission to use Slavonic. He died 6 April 885 in Velehrad, the old capitol of Moravia. The Carolingian bishop who succeeded him, Wiching, suppressed the Slavonic Liturgy and forced the followers of Methodius into exile. Many found refuge with King Boris of Bulgaria (852-889), under whom they reorganized a Slavic-speaking Church. Meanwhile, Pope John's successors adopted a Latin-only policy which lasted for centuries.
Today Cyril and Methodius are honored by Eastern and Western Christians alike, and the importance of their work in preaching and worshipping in the language of the people is recognized on all sides.
written by James Kiefer
Prayer
Almighty and everlasting God, who by the power of the Holy Spirit moved your servant Cyril and his brother Methodius to bring the light of the Gospel to a hostile and divided people: Overcome all bitterness and strife among us by the love of Christ, and make us one united family under the banner of the Prince of Peace; who lives and reigns with you and the Holy Spirit, one God, now and for ever.
Alternate Psalm and Readings
Psalm 69:8-18
Jeremiah 26:12-15
Ephesians 3:1-7
Mark 16:15-20
The Creed
The Apostle's Creed
I believe in God, the Father almighty,
creator of heaven and earth.
I believe in Jesus Christ, his only son, our Lord.
He was conceived by the power of the Holy Spirit
and born of the Virgin Mary.
He suffered under Pontius Pilate,
was crucified, died, and was buried.
He descended to the dead.
On the third day he rose again.
He ascended into heaven,
and is seated at the right hand of the Father.
He will come again to judge the living and the dead.
I believe in the Holy Spirit,
the holy catholic Church,
the communion of saints,
the forgiveness of sins,
the resurrection of the body,
and the life everlasting. Amen.
The Prayers
The Lord's Prayer
or traditional
Our Father in heaven,
hallowed be your Name,
your kingdom come,
your will be done,
on earth as in heaven.
Give us today our daily bread.
Forgive us our sins
as we forgive those
who sin against us.
Save us from the time of trial,
and deliver us from evil.
For the kingdom, the power,
and the glory are yours,
now and for ever. Amen.
Suffrages
Show us your mercy, O Lord;
And grant us your salvation.
Clothe your ministers with righteousness;
Let your people sing with joy.
Give peace, O Lord, in all the world;
For only in you can we live in safety.
Lord, keep this nation under your care;
And guide us in the way of justice and truth.
Let your way be known upon earth;
Your saving health among all nations.
Let not the needy, O Lord, be forgotten;
Nor the hope of the poor be taken away.
Create in us clean hearts, O God;
And sustain us with your Holy Spirit.
Collect of the Day: The Sixth Sunday after the Epiphany
O God, the strength of all who put their trust in you: Mercifully accept our prayers; and because in our weakness we can do nothing good without you, give us the help of your grace, that in keeping your commandments we may please you both in will and deed; through Jesus Christ our Lord, who lives and reigns with you and the Holy Spirit, one God, for ever and ever. Amen.
For Mission
O God and Father of all, whom the whole heavens adore: Let the whole earth also worship you, all nations obey you, all tongues confess and bless you, and men and women everywhere love you and serve you in peace; through Jesus Christ our Lord. Amen.
World Cycle of Prayer
We pray for the people of Bolivia.
Ecumenical Cycle of Prayer
We pray for our sisters and brothers members of the United Presbyterian Church of Pakistan.
A Collect for Guidance
Heavenly Father, in you we live and move and have our being: We humbly pray you so to guide and govern us by your Holy Spirit, that in all the cares and occupations of our life we may not forget you, but may remember that we are ever walking in your sight; through Jesus Christ our Lord. Amen.
Hymn: To my humble supplication
To my humble supplication
Lord, give ear and acceptation
Save thy servant, that hath none
Help nor hope but Thee alone. Amen.
Prayers and Intercessions
Let us pray now for our own needs and those of others.
Birthdays
Anniversaries
For Recovery from Sickness
For Travelers
For a Person in Trouble or Bereavement
For Those to be Baptized
For the Departed
Full list of prayers
Forthe Human Family
O God, you made us in your own image and redeemed us through Jesus your Son: Look with compassion on the whole human family; take away the arrogance and hatred which infect our hearts; break down the walls that separate us; unite us in bonds of love; and work through our struggle and confusion to accomplish your purposes on earth; that, in your good time, all nations and races may serve you in harmony around your heavenly throne; through Jesus Christ our Lord. Amen.
For Prisons and Correctional Institutions
Lord Jesus, for our sake you were condemned as a criminal: Visit our jails and prisons with your pity and judgment. Remember all prisoners, and bring the guilty to repentance and amendment of life according to your will, and give them hope for their future. When any are held unjustly, bring them release; forgive us, and teach us to improve our justice. Remember those who work in these institutions; keep them humane and compassionate; and save them from becoming brutal or callous. And since what we do for those in prison, O Lord, we do for you, constrain us to improve their lot. All this we ask for your mercy's sake. Amen.
For the Victims of Addiction
Blessed Lord, you ministered to all who came to you: Look with compassion upon all who through addiction have lost their health and freedom. Restore to them the assurance of your unfailing mercy; remove from them the fears that beset them; strengthen them in the work of their recovery; and to those who care for them, give patient understanding and persevering love. Amen.
Hymn: Dona nobis
Dona nobis pacem, pacem,
dona nobis pacem.
Dona nobis pacem.
Dona nobis pacem.
Dona nobis pacem, pacem,
dona nobis pacem.
Music: W.A. Mozart
A Prayer Attributed to St. Francis
Lord, make us instruments of your peace. Where there is hatred, let us sow love; where there is injury, pardon; where there is discord, union; where there is doubt, faith; where there is despair, hope; where there is darkness, light; where there is sadness, joy. Grant that we may not so much seek to be consoled as to console; to be understood as to understand; to be loved as to love. For it is in giving that we receive; it is in pardoning that we are pardoned; and it is in dying that we are born to eternal life. Amen.
General Thanksgiving
Almighty God, Father of all mercies, we your unworthy servants give you humble thanks for all your goodness and loving-kindness to us and to all whom you have made. We bless you for our creation, preservation, and all the blessings of this life; but above all for your immeasurable love in the redemption of the world by our Lord Jesus Christ; for the means of grace, and for the hope of glory. And, we pray, give us such an awareness of your mercies, that with truly thankful hearts we may show forth your praise, not only with our lips, but in our lives, by giving up our selves to your service, and by walking before you in holiness and righteousness all our days; through Jesus Christ our Lord, to whom, with you and the Holy Spirit, be honor and glory throughout all ages. Amen.
A Prayer of St. Chrysostom
Almighty God, you have given us grace at this time with one accord to make our common supplication to you; and you have promised through your well-beloved Son that when two or three are gathered together in his Name you will be in the midst of them: Fulfill now, O Lord, our desires and petitions as may be best for us; granting us in this world knowledge of your truth, and in the age to come life everlasting. Amen.
The Ending
Benediction
Let us bless the Lord.
Thanks be to God.
May the God of hope fill us with all joy and peace in believing through the power of the Holy Spirit. Amen. Romans 15:13
Hymn: God Be With You
God be with you till we meet again;
By his counsels guide, uphold you;
With his sheep securely fold you.
God be with you till we meet again.
Till we meet, till we meet,
Till we meet at Jesus' feet,
Till we meet, till we meet,
God be with you till we meet again.