Friday, 24 February
Morning Prayer
Matthias the Apostle

The Opening
Opening Sentence
I will give you as a light to the nations, that my salvation may reach to the end of the earth. Isaiah 49:6b
Awake, my soul, stretch every nerve
Awake, my soul, stretch every nerve,
And press with vigor on;
A heavenly race demands thy zeal,
And an immortal crown.
'Tis God's all animating voice,
That calls thee from on high;
'Tis his own hand presents the prize
To thine aspiring eye.
A cloud of witnesses around,
Hold thee in full survey;
Forget the steps already trod,
And onward urge thy way.
Blessed Savior, introduced by thee,
Have we our race begun;
And crown'd with victory, at thy feet
We lay our trophies down.
Strand Seventh Day Adventist Church on the 31 March 2012. Cape Town, South Africa
Confession
Let us confess our sins against God and our neighbor.
Most merciful God, we confess that we have sinned against you in thought, word, and deed, by what we have done, and by what we have left undone. We have not loved you with our whole heart; we have not loved our neighbors as ourselves. We are truly sorry and we humbly repent. For the sake of your Son Jesus Christ, have mercy on us and forgive us; that we may delight in your will, and walk in your ways, to the glory of your Name. Amen.
Almighty God have mercy on us, forgive us all our sins through our Lord Jesus Christ, strengthen us in all goodness, and by the power of the Holy Spirit keep us in eternal life. Amen.
Versicle and Response
Lord, open our lips.
And our mouth shall proclaim your praise.
Glory to the Father,
and to the Son,
and to the Holy Spirit,
As it was in the beginning,
is now, and will be for ever. Amen.
The Lord has shown forth his glory:
Come let us adore him.
Venite
Come let us sing to the Lord;*
let us shout for joy to the Rock of our salvation.
Let us come before his presence with thanksgiving*
and raise a loud shout to him with psalms.
For the Lord is a great God,*
and a great King above all gods.
In his hand are the caverns of the earth,*
and the heights of the hills are his also.
The sea is his, for he made it,*
and his hands have molded the dry land.
Come, let us bow down, and bend the knee,*
and kneel before the Lord our Maker.
For he is our God,
and we are the people of his pasture and the sheep of his hand.*
Oh, that today you would hearken to his voice!
The Psalms
Psalm 80
or Coverdale
1Hear, O Shepherd of Israel, leading Joseph like a flock;*
shine forth, thee that are enthroned upon the cherubim.
2In the presence of Ephraim, Benjamin, and Manasseh,*
stir up thy strength and come to help us.
3Restore us, O God of hosts;*
show the light of thy countenance, and we shall be saved.
4O LORD God of hosts,*
how long will thee be angered
despite the prayers of thy people?
5thee have fed them with the bread of tears; *
thee have given them bowls of tears to drink.
6thee have made us the derision of our neighbors, *
and our enemies laugh us to scorn.
7Restore us, O God of hosts;*
show the light of thy countenance, and we shall be saved.
8thee have brought a vine out of Egypt;*
thee cast out the nations and planted it.
9thee prepared the ground for it;*
it took root and filled the land.
10The mountains were covered by its shadow *
and the towering cedar trees by its boughs.
11thee stretched out its tendrils to the Sea *
and its branches to the River.
12Why have thee broken down its wall,*
so that all who pass by pluck off its grapes?
13The wild boar of the forest has ravaged it, *
and the beasts of the field have grazed upon it.
14Turn now, O God of hosts, look down from heaven;
behold and tend this vine;*
preserve what thy right hand has planted.
15They burn it with fire like rubbish;*
at the rebuke of thy countenance let them perish.
16Let thy hand be upon the man of thy right hand,*
and son of man thee have made so strong for thyself.
17And so will we never turn away from thee; *
give us life, that we may call upon thy Name.
18Restore us, O LORD God of hosts;*
show the light of thy countenance, and we shall be saved.
Gloria Patri
Glory be to the Father, and to the Son, and to the Holy Ghost.
As it was in the beginning, is now, and ever shall be: world without end. Amen. Amen.
The Lessons
The Old Testament Reading
1 Samuel 16:1-13
1The Lord said to Samuel, 'How long will you grieve over Saul? I have rejected him from being king over Israel. Fill your horn with oil and set out; I will send you to Jesse the Bethlehemite, for I have provided for myself a king among his sons.' 2Samuel said, 'How can I go? If Saul hears of it, he will kill me.' And the Lord said, 'Take a heifer with you, and say, "I have come to sacrifice to the Lord." 3Invite Jesse to the sacrifice, and I will show you what you shall do; and you shall anoint for me the one whom I name to you.' 4Samuel did what the Lord commanded, and came to Bethlehem. The elders of the city came to meet him trembling, and said, 'Do you come peaceably?' 5He said, 'Peaceably; I have come to sacrifice to the Lord; sanctify yourselves and come with me to the sacrifice.' And he sanctified Jesse and his sons and invited them to the sacrifice.
6 When they came, he looked on Eliab and thought, 'Surely the Lord's anointed is now before the Lord.'* 7But the Lord said to Samuel, 'Do not look on his appearance or on the height of his stature, because I have rejected him; for the Lord does not see as mortals see; they look on the outward appearance, but the Lord looks on the heart.' 8Then Jesse called Abinadab, and made him pass before Samuel. He said, 'Neither has the Lord chosen this one.' 9Then Jesse made Shammah pass by. And he said, 'Neither has the Lord chosen this one.' 10Jesse made seven of his sons pass before Samuel, and Samuel said to Jesse, 'The Lord has not chosen any of these.' 11Samuel said to Jesse, 'Are all your sons here?' And he said, 'There remains yet the youngest, but he is keeping the sheep.' And Samuel said to Jesse, 'Send and bring him; for we will not sit down until he comes here.' 12He sent and brought him in. Now he was ruddy, and had beautiful eyes, and was handsome. The Lord said, 'Rise and anoint him; for this is the one.' 13Then Samuel took the horn of oil, and anointed him in the presence of his brothers; and the spirit of the Lord came mightily upon David from that day forward. Samuel then set out and went to Ramah.
The Word of the Lord.
Thanks be to God.
Canticle 10 The Second Song of Isaiah
Isaiah 55:6-11
Quaerite Dominum
Seek the Lord while he wills to be found; *
call upon him when he draws near.
Let the wicked forsake their ways *
and the evil ones their thoughts;
And let them turn to the Lord, and he will have compassion, *
and to our God, for he will richly pardon.
For my thoughts are not your thoughts, *
nor your ways my ways, says the Lord.
For as the heavens are higher than the earth, *
so are my ways higher than your ways,
and my thoughts than your thoughts.
For as rain and snow fall from the heavens *
and return not again, but water the earth,
Bringing forth life and giving growth, *
seed for sowing and bread for eating,
So is my word that goes forth from my mouth; *
it will not return to me empty;
But it will accomplish that which I have purposed, *
and prosper in that for which I sent it.
Glory to the Father, and to the Son, and to the Holy Spirit
as it was in the beginning, is now, and will be for ever. Amen.
New Testament Reading
1 John 2:18-25
18 Children, it is the last hour! As you have heard that antichrist is coming, so now many antichrists have come. From this we know that it is the last hour. 19They went out from us, but they did not belong to us; for if they had belonged to us, they would have remained with us. But by going out they made it plain that none of them belongs to us. 20But you have been anointed by the Holy One, and all of you have knowledge. 21I write to you, not because you do not know the truth, but because you know it, and you know that no lie comes from the truth. 22Who is the liar but the one who denies that Jesus is the Christ? This is the antichrist, the one who denies the Father and the Son. 23No one who denies the Son has the Father; everyone who confesses the Son has the Father also. 24Let what you heard from the beginning abide in you. If what you heard from the beginning abides in you, then you will abide in the Son and in the Father. 25And this is what he has promised us, eternal life.
The Word of the Lord.
Thanks be to God.
Canticle 14 A Song of Penitence

Kyrie Pantokrator Prayer of Manasseh 1-2, 4, 6-7, 11-15
O Lord and Ruler of the hosts of heaven,*
God of Abraham, Isaac, and Jacob,
and of all their righteous offspring:
You made the heavens and the earth, *
with all their vast array.
All things quake with fear at your presence;*
they tremble because of your power.
But your merciful promise is beyond all measure;*
it surpasses all that our minds can fathom.
O Lord, you are full of compassion, *
long-suffering, and abounding in mercy.
You hold back your hand;*
you do not punish as we deserve.
In your great goodness, Lord,
you have promised forgiveness to sinners,*
that they may repent of their sin and be saved.
And now, O Lord, I bend the knee of my heart,*
and make my appeal, sure of your gracious goodness.
I have sinned, O Lord, I have sinned,*
and I know my wickedness only too well.
Therefore I make this prayer to you: *
Forgive me, Lord, forgive me.
Do not let me perish in my sin, *
nor condemn me to the depths of the earth.
For you, O Lord, are the God of those who repent,*
and in me you will show forth your goodness.
Unworthy as I am, you will save me,
in accordance with your great mercy,*
and I will praise you without ceasing all the days of my life.
For all the powers of heaven sing your praises,*
and yours is the glory to ages of ages. Amen.
The Commemoration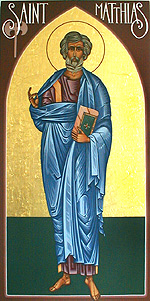 After the Ascension of Our Lord, His followers at Jerusalem chose a replacement for Judas. The man chosen was Matthias, "and he was numbered with the Eleven." Apart from the information given in the first chapter of Acts, nothing is known of him. It would be a mistake to conclude from this that he was a failure and a bad choice as an apostle. We know as much as we do about Peter and Paul because Luke (a travelling companion of Paul) wrote extensively about them. About most of the other apostles (those belonging to the original twelve and later ones like Matthias) we know little after Pentecost on an individual basis.
written by James Kiefer
The Creed
The Apostle's Creed
I believe in God, the Father almighty,
creator of heaven and earth.
I believe in Jesus Christ, his only son, our Lord.
He was conceived by the power of the Holy Spirit
and born of the Virgin Mary.
He suffered under Pontius Pilate,
was crucified, died, and was buried.
He descended to the dead.
On the third day he rose again.
He ascended into heaven,
and is seated at the right hand of the Father.
He will come again to judge the living and the dead.
I believe in the Holy Spirit,
the holy catholic Church,
the communion of saints,
the forgiveness of sins,
the resurrection of the body,
and the life everlasting. Amen.
The Prayers
The Lord's Prayer
or traditional
Our Father in heaven,
hallowed be your Name,
your kingdom come,
your will be done,
on earth as in heaven.
Give us today our daily bread.
Forgive us our sins
as we forgive those
who sin against us.
Save us from the time of trial,
and deliver us from evil.
For the kingdom, the power,
and the glory are yours,
now and for ever. Amen.
Suffrages
Show us your mercy, O Lord;
And grant us your salvation.
Clothe your ministers with righteousness;
Let your people sing with joy.
Give peace, O Lord, in all the world;
For only in you can we live in safety.
Lord, keep this nation under your care;
And guide us in the way of justice and truth.
Let your way be known upon earth;
Your saving health among all nations.
Let not the needy, O Lord, be forgotten;
Nor the hope of the poor be taken away.
Create in us clean hearts, O God;
And sustain us with your Holy Spirit.
Collect of the Day: Matthias the Apostle
O Almighty God, who in the place of Judas chose your faithful servant Matthias to be numbered among the Twelve: Grant that your Church, being delivered from false apostles, may always be ordered and guided by faithful and true pastors; through Jesus Christ our Lord, who lives and reigns with you, in the unity of the Holy Spirit, one God, now and for ever. Amen.
For Mission
Lord Jesus Christ, you stretched out your arms of love on the hard wood of the cross that everyone might come within the reach of your saving embrace: So clothe us in your Spirit that we, reaching forth our hands in love, may bring those who do not know you to the knowledge and love of you; for the honor of your Name. Amen.
World Cycle of Prayer
We pray for the people of Cameroon.
Ecumenical Cycle of Prayer
We pray for our sisters and brothers members of the Conservative Congregational Christian Conference. (America)
A Collect for Fridays
Almighty God, whose most dear Son went not up to joy but first he suffered pain, and entered not into glory before he was crucified: Mercifully grant that we, walking in the way of the cross, may find it none other than the way of life and peace; through Jesus Christ your Son our Lord. Amen.
Hymn: To my humble supplication
To my humble supplication
Lord, give ear and acceptation
Save thy servant, that hath none
Help nor hope but Thee alone. Amen.
Prayers and Intercessions
Let us pray now for our own needs and those of others.
Birthdays
Anniversaries
For Recovery from Sickness
For Travelers
For a Person in Trouble or Bereavement
For Those to be Baptized
For the Departed
Full list of prayers
For Our Enemies
O God, the Father of all, whose Son commanded us to love our enemies: Lead them and us from prejudice to truth; deliver them and us from hatred, cruelty, and revenge; and in your good time enable us all to stand reconciled before you; through Jesus Christ our Lord. Amen.
For Social Justice
Grant, O God, that your holy and life-giving Spirit may so move every human heart, that barriers which divide us may crumble, suspicions disappear, and hatreds cease; that our divisions being healed, we may live in justice and peace; through Jesus Christ our Lord. Amen.
For Young Persons
God our Father, you see your children growing up in an unsteady and confusing world: Show them that your ways give more life than the ways of the world, and that following you is better than chasing after selfish goals. Help them to take failure, not as a measure of their worth, but as a chance for a new start. Give them strength to hold their faith in you, and to keep alive their joy in your creation; through Jesus Christ our Lord. Amen.
Hymn: I bind unto myself today
I bind unto myself today
the strong Name of the Trinity,
by invocation of the same,
the Three in One, and One in Three.
I bind this day to me for ever,
by power of faith, Christ's Incarnation;
his baptism in Jordan river;
his death on cross for my salvation;
his bursting from the spic'd tomb;
his riding up the heavenly way;
his coming at the day of doom:
I bind unto myself today.
I bind unto myself the power
of the great love of cherubim;
the sweet "Well done" in judgment hour;
the service of the seraphim;
confessors' faith, apostles' word,
the patriarchs' prayers, the prophets' scrolls;
all good deeds done unto the Lord,
and purity of virgin souls.
I bind unto myself today
the virtues of the starlit heaven
the glorious sun's life-giving ray,
the whiteness of the moon at even,
the flashing of the lightning free,
the whirling wind's tempestuous shocks,
the stable earth, the deep salt sea,
around the old eternal rocks.
I bind unto myself today
the power of God to hold and lead,
his eye to watch, his might to stay,
his ear to hearken to my need;
the wisdom of my God to teach,
his hand to guide, his shield to ward;
the word of God to give me speech,
his heavenly host to be my guard.
Against the demon snares of sin,
The vice that gives temptation force,
The natural lusts that war within,
The hostile men that mar my course;
Or few or many, far or nigh,
In every place and in all hours,
Against their fierce hostility
I bind to me these holy powers.
Against all Satan's spells and wiles,
Against false words of heresy,
Against the knowledge that defiles,
Against the heart's idolatry,
Against the wizard's evil craft,
Against the death wound and the burning,
The choking wave, the poisoned shaft,
Protect me, Christ, till Thy returning.
Christ be with me,
Christ within me,
Christ behind me,
Christ before me,
Christ beside me,
Christ to win me,
Christ to comfort
and restore me.
Christ beneath me,
Christ above me,
Christ in quiet,
Christ in danger,
Christ in hearts of
all that love me,
Christ in mouth of
friend and stranger.
I bind unto myself today
the strong Name of the Trinity,
by invocation of the same,
the Three in One, and One in Three.
By whom all nature hath creation,
eternal Father, Spirit, Word:
praise to the Lord of my salvation,
salvation is of Christ the Lord.
singer: Erin Pacheco, flute: Moe Pacheco
words: attributed to St. Patrick
trans. Cecil Frances Alexander
music: St. Patrick's Breastplate and Gartan (verse 8)
A Prayer of Self-Dedication
Almighty and eternal God, so draw our hearts to you, so guide our minds, so fill our imaginations, so control our wills, that we may be wholly yours, utterly dedicated unto you; and then use us, we pray you, as you will, and always to your glory and the welfare of your people; through our Lord and Savior Jesus Christ. Amen.
General Thanksgiving
Almighty God, Father of all mercies, we your unworthy servants give you humble thanks for all your goodness and loving-kindness to us and to all whom you have made. We bless you for our creation, preservation, and all the blessings of this life; but above all for your immeasurable love in the redemption of the world by our Lord Jesus Christ; for the means of grace, and for the hope of glory. And, we pray, give us such an awareness of your mercies, that with truly thankful hearts we may show forth your praise, not only with our lips, but in our lives, by giving up our selves to your service, and by walking before you in holiness and righteousness all our days; through Jesus Christ our Lord, to whom, with you and the Holy Spirit, be honor and glory throughout all ages. Amen.
A Prayer of St. Chrysostom
Almighty God, you have given us grace at this time with one accord to make our common supplication to you; and you have promised through your well-beloved Son that when two or three are gathered together in his Name you will be in the midst of them: Fulfill now, O Lord, our desires and petitions as may be best for us; granting us in this world knowledge of your truth, and in the age to come life everlasting. Amen.
The Ending
Benediction
Let us bless the Lord.
Thanks be to God.
Glory to God whose power, working in us, can do infinitely more than we can ask or imagine: Glory to him from generation to generation in the Church, and in Christ Jesus for ever and ever. Amen.
Ephesians 3:20,21
Hymn: God Be With You
God be with you till we meet again;
By his counsels guide, uphold you;
With his sheep securely fold you.
God be with you till we meet again.
Till we meet, till we meet,
Till we meet at Jesus' feet,
Till we meet, till we meet,
God be with you till we meet again.