Monday, 1 February
Morning Prayer
Bridget
The Opening
Opening Sentence
Nations shall come to your light, and kings to the brightness of your rising. Isaiah 60:3
Hymn: From all that dwell below the skies
From all that dwell below the skies,
Let the Creator's praise arise;
Alleluia! Alleluia!
Let the Redeemer's name be sung
Through ev'ry land by ev'ry tongue.
Alleluia! Alleluia! Alleluia! Alleluia! Alleluia!
Eternal are Thy mercies Lord;
Eternal truth attends Thy Word;
Alleluia! Alleluia!
Thy praise shall sound from shore to shore
Till suns shall rise and set no more.
Alleluia! Alleluia! Alleluia! Alleluia! Alleluia!
Alleluia!
Singers: Scott Krippayne | Words: Issac Watts | Arrangment: Scott Krippayne, Kirk Cameron
Confession
Let us confess our sins against God and our neighbor.
Most merciful God, we confess that we have sinned against you in thought, word, and deed, by what we have done, and by what we have left undone. We have not loved you with our whole heart; we have not loved our neighbors as ourselves. We are truly sorry and we humbly repent. For the sake of your Son Jesus Christ, have mercy on us and forgive us; that we may delight in your will, and walk in your ways, to the glory of your Name. Amen.
Almighty God have mercy on us, forgive us all our sins through our Lord Jesus Christ, strengthen us in all goodness, and by the power of the Holy Spirit keep us in eternal life. Amen.
Versicle and Response
Lord, open our lips.
And our mouth shall proclaim your praise.
Glory to the Father, and to the Son, and to the Holy Spirit,
As it was in the beginning, is now, and will be for ever. Amen.
The earth is the Lord's for he made it: Come let us adore him.
Jubilate
Be joyful in the Lord, all you lands;
serve the Lord with gladness
and come before his presence with a song.
Know this: The Lord himself is God;
he himself has made us, and we are his;
we are his people and the sheep of his pasture.
Enter his gates with thanksgiving;
go into his courts with praise;
give thanks to him and call upon his Name.
For the Lord is good;
his mercy is everlasting;
and his faithfulness endures from age to age.
The Psalms
Psalm 64 or
Coverdale
Exaudi, Deus
1Hear my voice, O God, when I complain; *
protect my life from fear of the enemy.
2Hide me from the conspiracy of the wicked, *
from the mob of evildoers.
3They sharpen their tongue like a sword, *
and aim their bitter words like arrows,
4That they may shoot down the blameless from ambush; *
they shoot without warning and are not afraid.
5They hold fast to their evil course; *
they plan how they may hide their snares.
6They say, "Who will see us?
who will find out our crimes? *
we have thought out a perfect plot."
7The human mind and heart are a mystery; *
but God will loose an arrow at them,
and suddenly they will be wounded.
8He will make them trip over their tongues, *
and all who see them will shake their heads.
9Everyone will stand in awe and declare God's deeds; *
they will recognize his works.
10The righteous will rejoice in the LORD and put their trust in him, *
and all who are true of heart will glory.
Psalm 65 or
Coverdale
Te decet hymnus
1You are to be praised, O God, in Zion; *
to you shall vows be performed in Jerusalem.
2To you that hear prayer shall all flesh come, *
because of their transgressions.
3Our sins are stronger than we are, *
but you will blot them out.
4Happy are they whom you choose
and draw to your courts to dwell there! *
they will be satisfied by the beauty of your house,
by the holiness of your temple.
5Awesome things will you show us in your righteousness,
O God of our salvation, *
O Hope of all the ends of the earth
and of the seas that are far away.
6You make fast the mountains by your power; *
they are girded about with might.
7You still the roaring of the seas, *
the roaring of their waves,
and the clamor of the peoples.
8Those who dwell at the ends of the earth will tremble at your
marvelous signs; *
you make the dawn and the dusk to sing for joy.
9You visit the earth and water it abundantly;
you make it very plenteous; *
the river of God is full of water.
10You prepare the grain, *
for so you provide for the earth.
11You drench the furrows and smooth out the ridges; *
with heavy rain you soften the ground and bless its increase.
12You crown the year with your goodness, *
and your paths overflow with plenty.
13May the fields of the wilderness be rich for grazing, *
and the hills be clothed with joy.
14May the meadows cover themselves with flocks,
and the valleys cloak themselves with grain; *
let them shout for joy and sing.
Gloria Patri
Glory be to the Father, and to the Son, and to the Holy Ghost.
As it was in the beginning, is now, and ever shall be: world without end. Amen. Amen.
The Lessons
The Old Testament Reading
Genesis 19:1-17, 24-29
1 The two angels came to Sodom in the evening, and Lot was sitting in the gateway of Sodom. When Lot saw them, he rose to meet them, and bowed down with his face to the ground. 2 He said, "Please, my lords, turn aside to your servant's house and spend the night, and wash your feet; then you can rise early and go on your way." They said, "No; we will spend the night in the square." 3 But he urged them strongly; so they turned aside to him and entered his house; and he made them a feast, and baked unleavened bread, and they ate. 4 But before they lay down, the men of the city, the men of Sodom, both young and old, all the people to the last man, surrounded the house; 5 and they called to Lot, "Where are the men who came to you tonight? Bring them out to us, so that we may know them." 6 Lot went out of the door to the men, shut the door after him, 7 and said, "I beg you, my brothers, do not act so wickedly. 8 Look, I have two daughters who have not known a man; let me bring them out to you, and do to them as you please; only do nothing to these men, for they have come under the shelter of my roof." 9 But they replied, "Stand back!" And they said, "This fellow came here as an alien, and he would play the judge! Now we will deal worse with you than with them." Then they pressed hard against the man Lot, and came near the door to break it down. 10 But the men inside reached out their hands and brought Lot into the house with them, and shut the door. 11 And they struck with blindness the men who were at the door of the house, both small and great, so that they were unable to find the door. 12 Then the men said to Lot, "Have you anyone else here? Sons-in-law, sons, daughters, or anyone you have in the city-bring them out of the place. 13 For we are about to destroy this place, because the outcry against its people has become great before the LORD, and the LORD has sent us to destroy it." 14 So Lot went out and said to his sons-in-law, who were to marry his daughters, "Up, get out of this place; for the LORD is about to destroy the city." But he seemed to his sons-in-law to be jesting.
15 When morning dawned, the angels urged Lot, saying, "Get up, take your wife and your two daughters who are here, or else you will be consumed in the punishment of the city." 16 But he lingered; so the men seized him and his wife and his two daughters by the hand, the LORD being merciful to him, and they brought him out and left him outside the city. 17 When they had brought them outside, they Ý said, "Flee for your life; do not look back or stop anywhere in the Plain; flee to the hills, or else you will be consumed.
24 Then the LORD rained on Sodom and Gomorrah sulfur and fire from the LORD out of heaven; 25 and he overthrew those cities, and all the Plain, and all the inhabitants of the cities, and what grew on the ground. 26 But Lot's wife, behind him, looked back, and she became a pillar of salt.
27 Abraham went early in the morning to the place where he had stood before the LORD; 28 and he looked down toward Sodom and Gomorrah and toward all the land of the Plain and saw the smoke of the land going up like the smoke of a furnace.
29 So it was that, when God destroyed the cities of the Plain, God remembered Abraham, and sent Lot out of the midst of the overthrow, when he overthrew the cities in which Lot had settled.
The Word of the Lord.
Thanks be to God.
Canticle 9 The First Song of Isaiah Isaiah 12:2-6
Ecce, Deus

Surely, it is God who saves me; *
I will trust in him and not be afraid.
For the Lord is my stronghold and my sure defense, *
and he will be my Savior.
Therefore you shall draw water with rejoicing *
from the springs of salvation.
And on that day you shall say, *
Give thanks to the Lord and call upon his Name;
Make his deeds known among the peoples; *
see that they remember that his Name is exalted.
Sing the praises of the Lord, for he has done great things, *
and this is known in all the world.
Cry aloud, inhabitants of Zion, ring out your joy, *
for the great one in the midst of you is the Holy One of Israel.
Glory to the Father, and to the Son, and to the Holy Spirit
as it was in the beginning, is now, and will be for ever. Amen.
New Testament Reading
Hebrews 11:1-12
Now faith is the assurance of things hoped for, the conviction of things not seen. 2Indeed, by faith our ancestors received approval. 3By faith we understand that the worlds were prepared by the word of God, so that what is seen was made from things that are not visible.
4 By faith Abel offered to God a more acceptable sacrifice than Cain's. Through this he received approval as righteous, God himself giving approval to his gifts; he died, but through his faith he still speaks. 5By faith Enoch was taken so that he did not experience death; and 'he was not found, because God had taken him.' For it was attested before he was taken away that 'he had pleased God.' 6And without faith it is impossible to please God, for whoever would approach him must believe that he exists and that he rewards those who seek him. 7By faith Noah, warned by God about events as yet unseen, respected the warning and built an ark to save his household; by this he condemned the world and became an heir to the righteousness that is in accordance with faith. 8By faith Abraham obeyed when he was called to set out for a place that he was to receive as an inheritance; and he set out, not knowing where he was going. 9By faith he stayed for a time in the land he had been promised, as in a foreign land, living in tents, as did Isaac and Jacob, who were heirs with him of the same promise. 10For he looked forward to the city that has foundations, whose architect and builder is God. 11By faith he received power of procreation, even though he was too old-and Sarah herself was barren-because he considered him faithful who had promised. 12Therefore from one person, and this one as good as dead, descendants were born, 'as many as the stars of heaven and as the innumerable grains of sand by the seashore.'
The Word of the Lord.
Thanks be to God.
Canticle 19 The Song of the Redeemed
Revelation 15:3-4
Magna et mirabilia
O ruler of the universe, Lord God,
great deeds are they that you have done, *
surpassing human understanding.
Your ways are ways of righteousness and truth, *
O King of all the ages
Who can fail to do you homage, Lord
and sing the praises of your Name
for you only are the Holy One.
All nations will draw near and fall down before you
because your just and holy works have been revealed.
Glory to the Father, and to the Son, and to the Holy Spirit
as it was in the beginning, is now, and will be for ever. Amen.
Gospel
John 6:27- 40
27 Do not work for the food that perishes, but for the food that endures for eternal life, which the Son of Man will give you. For it is on him that God the Father has set his seal." 28 Then they said to him, "What must we do to perform the works of God?" 29 Jesus answered them, "This is the work of God, that you believe in him whom he has sent." 30 So they said to him, "What sign are you going to give us then, so that we may see it and believe you? What work are you performing? 31 Our ancestors ate the manna in the wilderness; as it is written, 'He gave them bread from heaven to eat.' " 32 Then Jesus said to them, "Very truly, I tell you, it was not Moses who gave you the bread from heaven, but it is my Father who gives you the true bread from heaven. 33 For the bread of God is that which comes down from heaven and gives life to the world." 34 They said to him, "Sir, give us this bread always."
35 Jesus said to them, "I am the bread of life. Whoever comes to me will never be hungry, and whoever believes in me will never be thirsty. 36 But I said to you that you have seen me and yet do not believe. 37 Everything that the Father gives me will come to me, and anyone who comes to me I will never drive away; 38 for I have come down from heaven, not to do my own will, but the will of him who sent me. 39 And this is the will of him who sent me, that I should lose nothing of all that he has given me, but raise it up on the last day. 40 This is indeed the will of my Father, that all who see the Son and believe in him may have eternal life; and I will raise them up on the last day."
The Word of the Lord.
Thanks be to God.
The Commemoration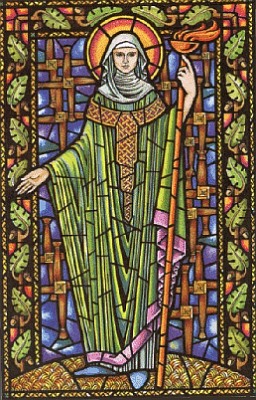 Bridget (Brigid, Bride, Bridey) of Kildare was born around 450 into a Druid family, being the daughter of Dubhthach, court poet to King Loeghaire.
At an early age, she decided to become a Christian, and she eventually took vows as a nun. Together with a group of other women, she established a nunnery at Kildare. She was later joined by a community of monks led by Conlaed.
Kildare had formerly been a pagan shrine where a sacred fire was kept perpetually burning, and Bridget and her nuns, instead of stamping out the fire, kept it going but gave it a Christian interpretation. (This was in keeping with the general process whereby Druidism in Ireland gave way to Christianity with very little opposition, the Druids for the most part saying that their own beliefs were a partial and tentative insight into the nature of God, and that they recognized in Christianity what they had been looking for.)
Bridget as an abbess participated in several Irish councils, and her influence on the policies of the Church in Ireland was considerable.
Many stories of her younger days deal with her generosity toward the needy. This aspect of her character has been the subject of a poem:
"The Giveaway" (from The Love Letters of Phyllis Mcginley, New York, Viking Press, 1957)
Saint Bridget was
A problem child.
Although a lass
Demure and mild,
And one who strove
To please her dad,
Saint Bridget drove
The family mad.
For here's the fault in Bridget lay:
She Would give everything away.

To any soul
Whose luck was out
She'd give her bowl
Of stir about;
She'd give her shawl,
Divide her purse
With one or all.
And what was worse,
When she ran out of things to give
She'd borrow from a relative.

Her father's gold,
Her grandsire's dinner,
She'd hand to cold
and hungry sinner;
Give wine, give meat,
No matter whose;
Take from her feet
The very shoes,
And when her shoes had gone to others,
Fetch forth her sister's and her mother's.

She could not quit.
She had to share;
Gave bit by bit
The silverware,
The barnyard geese,
The parlor rug,
Her little niece-
's christening mug,
Even her bed to those in want,
And then the mattress of her aunt.

An easy touch
For poor and lowly,
She gave so much
And grew so holy
That when she died
Of years and fame,
The countryside
Put on her name,
And still the Isles of Erin fidget
With generous girls named Bride or Bridget.


Well, one must love her.
Nonetheless,
In thinking of her
Givingness,
There's no denial
She must have been
A sort of trial
Unto her kin.
The moral, too, seems rather quaint.
WHO had the patience of a saint,
From evidence presented here?
Saint Bridget? Or her near and dear?
It is reported of Francis of Assisi that as a young man he had a dream in which God said to him, "Francis, repair my church." He took this to refer to a church building near Assisi (in Italian; Google translation: Assisi) which was in need of repair, and he sold a bale of silk from his father's warehouse to obtain building materials. His father was furious. Francis had not asked for permission: he simply took it for granted that his father would wish to contribute to such a worthy cause. It is said of Bridget that as a young girl she made similar assumptions about her family.
There is a problem here. On the one hand, it can be argued that if our family members do not choose to make sacrifices for God we have no right to make that choice for them. Some time ago, if I remember aright, one list member wrote in considerable bitterness about a childhood that had been blighted by the decision of the father that it would be nice if the whole family lived in Christian Poverty. (Said list member found no spiritual blessings in the experience, and saw no sign that anyone else did, emphatically including said father.)
On the other hand, I far more frequently hear Christians argue that their sacred duty to keep everything nice for their spouses and children prevents them, not only from going as missionaries to distant shores, but also from volunteering even quite moderate amounts of their time and money for worthy causes down the block. (Not that all unattached Christians are blameless in this regard.) You will note that Saint Paul, writing to the Corinthians, told them that marriage, while instituted of God and a sign of the union between Christ and His Church, was not without its dangers to the spiritual life of the Christian. But the danger he saw had nothing to do with sex. He was concerned instead that the married are tempted to overvalue security, to feel that they cannot afford, for their families' sakes, to take chances. And since he expected Christians to be facing persecution soon, he saw this as a matter of urgency.
So, as I said, there is a problem here. I have no final answer to give, but commend it to your consideration.
written by James Kiefer
Prayer
Everliving God, we rejoice today in the fellowship of your Blessed servant Brigid, and we give you thanks for her life of devoted service. Inspire us with life and light, and give us perseverance to serve you all our days; through Jesus Christ our Lord, who with you and the Holy Spirit lives and reigns, one God, world without end. Amen.
Alternate Psalms and Readings
Psalm 138
Judges 4:4-9
1 Corinthians 1:26-31
Matthew 6:25-33
The Creed
The Apostle's Creed
I believe in God, the Father almighty,
creator of heaven and earth.
I believe in Jesus Christ, his only son, our Lord.
He was conceived by the power of the Holy Spirit
and born of the Virgin Mary.
He suffered under Pontius Pilate,
was crucified, died, and was buried.
He descended to the dead.
On the third day he rose again.
He ascended into heaven,
and is seated at the right hand of the Father.
He will come again to judge the living and the dead.
I believe in the Holy Spirit,
the holy catholic Church,
the communion of saints,
the forgiveness of sins,
the resurrection of the body,
and the life everlasting. Amen.
The Prayers
The Lord's Prayer
or traditional
Our Father in heaven,
hallowed be your Name,
your kingdom come,
your will be done,
on earth as in heaven.
Give us today our daily bread.
Forgive us our sins
as we forgive those
who sin against us.
Save us from the time of trial,
and deliver us from evil.
For the kingdom, the power,
and the glory are yours,
now and for ever. Amen.
Suffrages
Show us your mercy, O Lord;
And grant us your salvation.
Clothe your ministers with righteousness;
Let your people sing with joy.
Give peace, O Lord, in all the world;
For only in you can we live in safety.
Lord, keep this nation under your care;
And guide us in the way of justice and truth.
Let your way be known upon earth;
Your saving health among all nations.
Let not the needy, O Lord, be forgotten;
Nor the hope of the poor be taken away.
Create in us clean hearts, O God;
And sustain us with your Holy Spirit.
Collect of the Day: The Fourth Sunday after the Epiphany
Almighty and everlasting God, you govern all things both in heaven and on earth: Mercifully hear the supplications of your people, and in our time grant us your peace; through Jesus Christ our Lord, who lives and reigns with you and the Holy Spirit, one God, for ever and ever. Amen.
For Mission
O God, you have made of one blood all the peoples of the earth, and sent your blessed Son to preach peace to those who are far off and to those who are near: Grant that people everywhere may seek after you and find you; bring the nations into your fold; pour out your Spirit upon all flesh, and hasten the coming of your kingdom; through Jesus Christ our Lord. Amen.
World Cycle of Prayer
We pray for the people of South Korea.
Ecumenical Cycle of Prayer
We pray for our sisters and brothers members of the Kiribati Protestant Church.
A Collect for Peace
O God, the author of peace and lover of concord, to know you is eternal life and to serve you is perfect freedom: Defend us, your humble servants, in all assaults of our enemies; that we, surely trusting in your defense, may not fear the power of any adversaries; through the might of Jesus Christ our Lord. Amen.
Hymn: To my humble supplication
To my humble supplication
Lord, give ear and acceptation
Save thy servant, that hath none
Help nor hope but Thee alone. Amen.
Prayers and Intercessions
Let us pray now for our own needs and those of others.
Birthdays
Anniversaries
For Recovery from Sickness
For Travelers
For a Person in Trouble or Bereavement
For Those to be Baptized
For the Departed
Full list of prayers
For All Sorts and Conditions
O God, the creator and preserver of all, we humbly beseech you for all sorts and conditions of people; that you would be pleased to make your ways known unto them, your saving health unto all nations. More especially we pray for your holy Church universal; that it may be so guided and governed by your good Spirit, that all who profess and call themselves Christians may be led into the way of truth, and hold the faith in unity of spirit, in the bond of peace, and in righteousness of life. Finally, we commend to your fatherly goodness all those who are in any ways afflicted or distressed, in mind, body, or estate; that it may please you to comfort and relieve them according to their several necessities, giving them patience under their sufferings, and a happy issue out of all their afflictions. And this we beg for Jesus Christ's sake. Amen.
For the Poor and Neglected
Almighty and most merciful God, we remember before you all poor and neglected persons whom it would be easy for us to forget: the homeless and the destitute, the old and the sick, and all who have none to care for them. Help us to heal those who are broken in body or spirit, and to turn their sorrow into joy. Grant this, Father, for the love of your Son, who for our sake became poor, Jesus Christ our Lord. Amen.
For Those Who Live Alone
Almighty God, whose Son had nowhere to lay his head: Grant that those who live alone may not be lonely in their solitude, but that, following in his steps, they may find fulfillment in loving you and their neighbors; through Jesus Christ our Lord. Amen.
Hymn: Thou hidden source of calm repose
Thou hidden source of calm repose,
Thou all-sufficient love divine,
My help and refuge from my foes,
Secure I am, if thou art mine:
And lo! from sin, and grief and shame
I hide me, Jesus, in thy Name.

Thy mighty Name salvation is,
And keeps my happy soul above;
Comfort it brings, and pow'r, and peace,
And joy, and everlasting love:
To me, with thy dear Name are giv'n
Pardon and holiness and heav'n.

Jesus, my all in all thou art;
My rest in toil, my ease in pain,
The medicine of my broken heart,
In war my peace, in loss my gain,
My smile beneath the tyrant's frown,
In shame my glory and my crown:

In want my plentiful supply,
In weakness my almighty pow'r,
In bonds my perfect liberty,
My light in Satan's darkest hour,
My help and stay whene'er I call,
My life in death, my heav'n, my all. Amen.
Choir: FPC Congregation | Organist: Ron Bechtel | Words: Charles Wesley | Tune: Stella
A Prayer of Self-Dedication
Almighty and eternal God, so draw our hearts to you, so guide our minds, so fill our imaginations, so control our wills, that we may be wholly yours, utterly dedicated unto you; and then use us, we pray you, as you will, and always to your glory and the welfare of your people; through our Lord and Savior Jesus Christ. Amen.
General Thanksgiving
Almighty God, Father of all mercies, we your unworthy servants give you humble thanks for all your goodness and loving-kindness to us and to all whom you have made. We bless you for our creation, preservation, and all the blessings of this life; but above all for your immeasurable love in the redemption of the world by our Lord Jesus Christ; for the means of grace, and for the hope of glory. And, we pray, give us such an awareness of your mercies, that with truly thankful hearts we may show forth your praise, not only with our lips, but in our lives, by giving up our selves to your service, and by walking before you in holiness and righteousness all our days; through Jesus Christ our Lord, to whom, with you and the Holy Spirit, be honor and glory throughout all ages. Amen.
A Prayer of St. Chrysostom
Almighty God, you have given us grace at this time with one accord to make our common supplication to you; and you have promised through your well-beloved Son that when two or three are gathered together in his Name you will be in the midst of them: Fulfill now, O Lord, our desires and petitions as may be best for us; granting us in this world knowledge of your truth, and in the age to come life everlasting. Amen.
The Ending
Benediction
Let us bless the Lord.
Thanks be to God.
May the God of hope fill us with all joy and peace in believing through the power of the Holy Spirit. Amen. Romans 15:13
Hymn: God Be With You
God be with you till we meet again;
By his counsels guide, uphold you;
With his sheep securely fold you.
God be with you till we meet again.
Till we meet, till we meet,
Till we meet at Jesus' feet,
Till we meet, till we meet,
God be with you till we meet again.