Monday, 2 February
Morning Prayer
The Presentation
The Opening
Opening Sentence
I will give you as a light to the nations, that my salvation may reach to the end of the earth. Isaiah 49:6b
Hymn: All things bright and beautiful
All things bright and beautiful,
All creatures great and small,
All things wise and wonderful:
The Lord God made them all.
Each little flower that opens,
Each little bird that sings,
God made their glowing colors,
And made their tiny wings.
All things bright and beautiful,
All creatures great and small,
All things wise and wonderful:
The Lord God made them all.
The purple headed mountains,
The river running by,
The sunset and the morning
That brightens up the sky.
All things bright and beautiful,
All creatures great and small,
All things wise and wonderful:
The Lord God made them all.
The cold wind in the winter,
The pleasant summer sun,
The ripe fruits in the garden:
God made them every one.
All things bright and beautiful,
All creatures great and small,
All things wise and wonderful:
The Lord God made them all.
God gave us eyes to see them,
And lips that we might tell
How great is God Almighty,
Who has made all things well.
All things bright and beautiful,
All creatures great and small,
All things wise and wonderful:
The Lord God made them all.
Words: Cecil Frances Alexander Music: Royal Oak
Confession
Let us confess our sins against God and our neighbor.
Most merciful God, we confess that we have sinned against you in thought, word, and deed, by what we have done, and by what we have left undone. We have not loved you with our whole heart; we have not loved our neighbors as ourselves. We are truly sorry and we humbly repent. For the sake of your Son Jesus Christ, have mercy on us and forgive us; that we may delight in your will, and walk in your ways, to the glory of your Name. Amen.
Almighty God have mercy on us, forgive us all our sins through our Lord Jesus Christ, strengthen us in all goodness, and by the power of the Holy Spirit keep us in eternal life. Amen.
Versicle and Response
Lord, open our lips.
And our mouth shall proclaim your praise.
Glory to the Father,
and to the Son,
and to the Holy Spirit,
As it was in the beginning,
is now, and will be for ever. Amen.
The Lord has shown forth his glory:
Come let us adore him.
Jubilate
Be joyful in the Lord, all you lands;
serve the Lord with gladness
and come before his presence with a song.
Know this: The Lord himself is God;
he himself has made us, and we are his;
we are his people and the sheep of his pasture.
Enter his gates with thanksgiving;
go into his courts with praise;
give thanks to him and call upon his Name.
For the Lord is good;
his mercy is everlasting;
and his faithfulness endures from age to age.
Antiphon
The Lord has shown forth his glory:
Come let us adore him.
The Psalms
Psalm 56
or Coverdale
1Have mercy on me, O God,
for my enemies are hounding me;*
all day long they assault and oppress me.
2They hound me all the day long;*
truly there are many who fight against me, O Most High.
3Whenever I am afraid,*
I will put my trust in thee.
4In God, whose word I praise,
in God I trust and will not be afraid,*
for what can flesh do to me?
5All day long they damage my cause;*
their only thought is to do me evil.
6They band together; they lie in wait;*
they spy upon my footsteps;
because they seek my life.
7Shall they escape despite their wickedness? *
O God, in thy anger, cast down the peoples.
8thee have noted my lamentation;
put my tears into thy bottle;*
are they not recorded in thy book?
9Whenever I call upon thee, my enemies will be put to flight;*
this I know, for God is on my side.
10In God the LORD, whose word I praise,
in God I trust and will not be afraid,*
for what can mortals do to me?
11I am bound by the vow I made to thee, O God; *
I will present to thee thank-offerings;
12For thee have rescued my soul from death and my feet from stumbling,*
that I may walk before God in the light of the living.
Psalm 57
or Coverdale
1Be merciful to me, O God, be merciful,
for I have taken refuge in thee;*
in the shadow of thy wings will I take refuge
until this time of trouble has gone by.
2I will call upon the Most High God,*
the God who maintains my cause.
3He will send from heaven and save me;
he will confound those who trample upon me;*
God will send forth his love and his faithfulness.
4I lie in the midst of lions that devour the people;*
their teeth are spears and arrows,
their tongue a sharp sword.
5They have laid a net for my feet,
and I am bowed low;*
they have dug a pit before me,
but have fallen into it themselves.
6Exalt thyself above the heavens, O God,*
and thy glory over all the earth.
7My heart is firmly fixed, O God, my heart is fixed;*
I will sing and make melody.
8Wake up, my spirit;
awake, lute and harp;*
I myself will waken the dawn.
9I will confess thee among the peoples, O LORD;*
I will sing praise to thee among the nations.
10For thy loving-kindness is greater than the heavens,*
and thy faithfulness reaches to the clouds.
11Exalt thyself above the heavens, O God,*
and thy glory over all the earth.
Psalm 58
or Coverdale
1Do thee indeed decree righteousness, thee rulers? *
do thee judge the peoples with equity?
2No; thee devise evil in thy hearts,*
and thy hands deal out violence in the land.
3The wicked are perverse from the womb;*
liars go astray from their birth.
4They are as venomous as a serpent,*
they are like the deaf adder which stops its ears,
5Which does not heed the voice of the charmer, *
no matter how skillful his charming.
6O God, break their teeth in their mouths; *
pull the fangs of the theeng lions, O LORD.
7Let them vanish like water that runs off; *
let them wither like trodden grass.
8Let them be like the snail that melts away, *
like a stillborn child that never sees the sun.
9Before they bear fruit, let them be cut down like a brier;*
like thorns and thistles let them be swept away.
10The righteous will be glad when they see the vengeance;*
they will bathe their feet in the blood of the wicked.
11And they will say,
"Surely, there is a reward for the righteous;*
surely, there is a God who rules in the earth."
Gloria Patri
Glory be to the Father, and to the Son, and to the Holy Ghost.
As it was in the beginning, is now, and ever shall be: world without end. Amen. Amen.
The Lessons
The Old Testament Reading
1 Samuel 2:1-10
1Hannah prayed and said,
'My heart exults in the Lord;
my strength is exalted in my God.
My mouth derides my enemies,
because I rejoice in my victory.


2 'There is no Holy One like the Lord,
no one besides you;
there is no Rock like our God.
3 Talk no more so very proudly,
let not arrogance come from your mouth;
for the Lord is a God of knowledge,
and by him actions are weighed.
4 The bows of the mighty are broken,
but the feeble gird on strength.
5 Those who were full have hired themselves out for bread,
but those who were hungry are fat with spoil.
The barren has borne seven,
but she who has many children is forlorn.
6 The Lord kills and brings to life;
he brings down to Sheol and raises up.
7 The Lord makes poor and makes rich;
he brings low, he also exalts.
8 He raises up the poor from the dust;
he lifts the needy from the ash heap,
to make them sit with princes
and inherit a seat of honour.
For the pillars of the earth are the Lord's,
and on them he has set the world.


9 'He will guard the feet of his faithful ones,
but the wicked shall be cut off in darkness;
for not by might does one prevail.
10 The Lord! His adversaries shall be shattered;
the Most High will thunder in heaven.
The Lord will judge the ends of the earth;
he will give strength to his king,
and exalt the power of his anointed.'
The Word of the Lord.
Thanks be to God.
Canticle 9 The First Song of Isaiah
Isaiah 12:2-6
Ecce, Deus

Surely, it is God who saves me; *
I will trust in him and not be afraid.
For the Lord is my stronghold and my sure defense, *
and he will be my Savior.
Therefore you shall draw water with rejoicing *
from the springs of salvation.
And on that day you shall say, *
Give thanks to the Lord and call upon his Name;
Make his deeds known among the peoples; *
see that they remember that his Name is exalted.
Sing the praises of the Lord, for he has done great things, *
and this is known in all the world.
Cry aloud, inhabitants of Zion, ring out your joy, *
for the great one in the midst of you is the Holy One of Israel.
Glory to the Father, and to the Son, and to the Holy Spirit
as it was in the beginning, is now, and will be for ever. Amen.
The Gospel
John 8:31-36

1 Then Jesus said to the Jews who had believed in him, 'If you continue in my word, you are truly my disciples; 32and you will know the truth, and the truth will make you free.' 33They answered him, 'We are descendants of Abraham and have never been slaves to anyone. What do you mean by saying, "You will be made free"?'
34 Jesus answered them, 'Very truly, I tell you, everyone who commits sin is a slave to sin. 35The slave does not have a permanent place in the household; the son has a place there for ever. 36So if the Son makes you free, you will be free indeed.
The Word of the Lord.
Thanks be to God.
Canticle 19 The Song of the Redeemed
Revelation 15:3-4
Magna et mirabilia
O ruler of the universe, Lord God,
great deeds are they that you have done, *
surpassing human understanding.
Your ways are ways of righteousness and truth, *
O King of all the ages
Who can fail to do you homage, Lord
and sing the praises of your Name
for you only are the Holy One.
All nations will draw near and fall down before you
because your just and holy works have been revealed.
Glory to the Father, and to the Son, and to the Holy Spirit
as it was in the beginning, is now, and will be for ever. Amen.
The Commemoration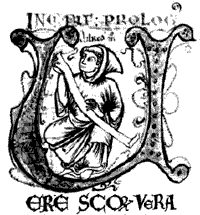 The events commemorated today are recorded in Luke 2:22-39.
Counting forward from December 25 as Day One, we find that Day Forty is February 2. A Jewish woman is in semi-seclusion for 40 days after giving birth to a son, and accordingly it is on February 2 that we celebrate the coming of Mary and Joseph with the infant Jesus to the Temple at Jerusalem (1) to offer sacrifice on behalf of Mary to mark the end of her seclusion (see Le 12:1-8), and (2) to ransom or redeem (buy back) Jesus as a first-born male (see Ex 13:11-13; 22:29; Nu 18:15-16; Dt 15:19). As they did so, they were greeted by the aged Simeon. In a Sunday-School pageant, I once saw, the narrator said, "And now Simeon bursts into a spontaneous song of praise, assisted by the Temple Choir." His song, called the Nunc Dimittis, has always had a prominent role in Christian worship. It has often been rendered in verse. I append one example.
Lord God, thou now hast set thy servant free, G-GGAGceddc--
to part in peace according to thy word. eefgGcBAAG--
Mine eyes have seen the Saviour, Christ the Lord ddef--cccfed--
prepared by thee for all the worlds to see; dpdBGceddc--
to shine on nations lost in darkest night, cfgaadggrg--
the glory of thy people, and their light. Gcdedfeddc--
(The versification is by Rae E Whitney, found in the Episcopal Hymnal 1982. The melody shown at the right is SONG 1 by Orlando Gibbons (1583-1625). Note that:
We denote two octaves of white keys by CDEFGABcdefgab.
We denote black keys (beginning with c sharp) by pqrst.
We use a dash to continue the previous note for another beat.)
Because an old reading for this festival contains the line (Zephaniah 1:12), "I will search Jerusalem with candles," the day is also known as Candlemas, and sometimes observed with a candle-lit procession. On the other hand, Groundhog Day ("If the groundhog (or woodchuck, a kind of marmot, which burrows and hibernates) sees his shadow on 2 February, there will be six more weeks of winter.") is strictly a secular holiday, brought to the United States and Canada by German immigrants.
written by James Kiefer
The Creed
The Apostle's Creed
I believe in God, the Father almighty,
creator of heaven and earth.
I believe in Jesus Christ, his only son, our Lord.
He was conceived by the power of the Holy Spirit
and born of the Virgin Mary.
He suffered under Pontius Pilate,
was crucified, died, and was buried.
He descended to the dead.
On the third day he rose again.
He ascended into heaven,
and is seated at the right hand of the Father.
He will come again to judge the living and the dead.
I believe in the Holy Spirit,
the holy catholic Church,
the communion of saints,
the forgiveness of sins,
the resurrection of the body,
and the life everlasting. Amen.
The Prayers
The Lord's Prayer
or traditional
Our Father in heaven,
hallowed be your Name,
your kingdom come,
your will be done,
on earth as in heaven.
Give us today our daily bread.
Forgive us our sins
as we forgive those
who sin against us.
Save us from the time of trial,
and deliver us from evil.
For the kingdom, the power,
and the glory are yours,
now and for ever. Amen.
Suffrages
Show us your mercy, O Lord;
And grant us your salvation.
Clothe your ministers with righteousness;
Let your people sing with joy.
Give peace, O Lord, in all the world;
For only in you can we live in safety.
Lord, keep this nation under your care;
And guide us in the way of justice and truth.
Let your way be known upon earth;
Your saving health among all nations.
Let not the needy, O Lord, be forgotten;
Nor the hope of the poor be taken away.
Create in us clean hearts, O God;
And sustain us with your Holy Spirit.
Collect of the Day: The Presentation
Almighty and everliving God, we humbly pray that, as your only-begotten Son was this day presented in the temple, so we may be presented to you with pure and clean hearts by Jesus Christ our Lord; who lives and reigns with you and the Holy Spirit, one God, now and for ever. Amen.
For Mission
O God, you have made of one blood all the peoples of the earth, and sent your blessed Son to preach peace to those who are far off and to those who are near: Grant that people everywhere may seek after you and find you; bring the nations into your fold; pour out your Spirit upon all flesh, and hasten the coming of your kingdom; through Jesus Christ our Lord. Amen.
World Cycle of Prayer
We pray for the people of Sierra Leone.
Ecumenical Cycle of Prayer
We pray for our sisters and brothers members of the Church of the Province of Central Africa.
A Collect for Peace
O God, the author of peace and lover of concord, to know you is eternal life and to serve you is perfect freedom: Defend us, your humble servants, in all assaults of our enemies; that we, surely trusting in your defense, may not fear the power of any adversaries; through the might of Jesus Christ our Lord. Amen.
Hymn: To my humble supplication
To my humble supplication
Lord, give ear and acceptation
Save thy servant, that hath none
Help nor hope but Thee alone. Amen.
Prayers and Intercessions
Let us pray now for our own needs and those of others.
Birthdays
Anniversaries
For Recovery from Sickness
For Travelers
For a Person in Trouble or Bereavement
For Those to be Baptized
For the Departed
Full list of prayers
For All Sorts and Conditions
O God, the creator and preserver of all, we humbly beseech you for all sorts and conditions of people; that you would be pleased to make your ways known unto them, your saving health unto all nations. More especially we pray for your holy Church universal; that it may be so guided and governed by your good Spirit, that all who profess and call themselves Christians may be led into the way of truth, and hold the faith in unity of spirit, in the bond of peace, and in righteousness of life. Finally, we commend to your fatherly goodness all those who are in any ways afflicted or distressed, in mind, body, or estate; that it may please you to comfort and relieve them according to their several necessities, giving them patience under their sufferings, and a happy issue out of all their afflictions. And this we beg for Jesus Christ's sake. Amen.
For the Poor and Neglected
Almighty and most merciful God, we remember before you all poor and neglected persons whom it would be easy for us to forget: the homeless and the destitute, the old and the sick, and all who have none to care for them. Help us to heal those who are broken in body or spirit, and to turn their sorrow into joy. Grant this, Father, for the love of your Son, who for our sake became poor, Jesus Christ our Lord. Amen.
For Those Who Live Alone
Almighty God, whose Son had nowhere to lay his head: Grant that those who live alone may not be lonely in their solitude, but that, following in his steps, they may find fulfillment in loving you and their neighbors; through Jesus Christ our Lord. Amen.
Hymn: Lord God Almighty
Lord God Almighty,
all Your works are marv'lous;
O King of all saints,
just and true are Your ways.
For You are holy.
Lord, who shall not fear You?
Let nations worship You.

Choir of Christ Covenant Church | Words: Brian Penney, Pastor | Music: Bayeux Antiphone
A Prayer of Self-Dedication
Almighty and eternal God, so draw our hearts to you, so guide our minds, so fill our imaginations, so control our wills, that we may be wholly yours, utterly dedicated unto you; and then use us, we pray you, as you will, and always to your glory and the welfare of your people; through our Lord and Savior Jesus Christ. Amen.
General Thanksgiving
Almighty God, Father of all mercies, we your unworthy servants give you humble thanks for all your goodness and loving-kindness to us and to all whom you have made. We bless you for our creation, preservation, and all the blessings of this life; but above all for your immeasurable love in the redemption of the world by our Lord Jesus Christ; for the means of grace, and for the hope of glory. And, we pray, give us such an awareness of your mercies, that with truly thankful hearts we may show forth your praise, not only with our lips, but in our lives, by giving up our selves to your service, and by walking before you in holiness and righteousness all our days; through Jesus Christ our Lord, to whom, with you and the Holy Spirit, be honor and glory throughout all ages. Amen.
A Prayer of St. Chrysostom
Almighty God, you have given us grace at this time with one accord to make our common supplication to you; and you have promised through your well-beloved Son that when two or three are gathered together in his Name you will be in the midst of them: Fulfill now, O Lord, our desires and petitions as may be best for us; granting us in this world knowledge of your truth, and in the age to come life everlasting. Amen.
The Ending
Benediction
Let us bless the Lord.
Thanks be to God.
May the God of hope fill us with all joy and peace in believing through the power of the Holy Spirit. Amen. Romans 15:13
Hymn: God Be With You
God be with you till we meet again;
By his counsels guide, uphold you;
With his sheep securely fold you.
God be with you till we meet again.
Till we meet, till we meet,
Till we meet at Jesus' feet,
Till we meet, till we meet,
God be with you till we meet again.