Friday, 13 February
Morning Prayer
The Fifth Sunday after the Epiphany
Absalom Jones

The Opening
Opening Sentence
I will give you as a light to the nations, that my salvation may reach to the end of the earth. Isaiah 49:6b
Hymn: Awake, my soul, stretch every nerve / video
Awake, my soul, stretch every nerve,
And press with vigor on;
A heavenly race demands thy zeal,
And an immortal crown.
'Tis God's all animating voice,
That calls thee from on high;
'Tis his own hand presents the prize
To thine aspiring eye.
A cloud of witnesses around,
Hold thee in full survey;
Forget the steps already trod,
And onward urge thy way.
Blessed Savior, introduced by thee,
Have we our race begun;
And crown'd with victory, at thy feet
We lay our trophies down.
Strand Seventh Day Adventist Church on the 31 March 2012. Cape Town, South Africa
Confession
Let us confess our sins against God and our neighbor.
Most merciful God, we confess that we have sinned against you in thought, word, and deed, by what we have done, and by what we have left undone. We have not loved you with our whole heart; we have not loved our neighbors as ourselves. We are truly sorry and we humbly repent. For the sake of your Son Jesus Christ, have mercy on us and forgive us; that we may delight in your will, and walk in your ways, to the glory of your Name. Amen.
Almighty God have mercy on us, forgive us all our sins through our Lord Jesus Christ, strengthen us in all goodness, and by the power of the Holy Spirit keep us in eternal life. Amen.
Versicle and Response
Lord, open our lips.
And our mouth shall proclaim your praise.
Glory to the Father,
and to the Son,
and to the Holy Spirit,
As it was in the beginning,
is now, and will be for ever. Amen.
The Lord has shown forth his glory:
Come let us adore him.
Venite
Come let us sing to the Lord;*
let us shout for joy to the Rock of our salvation.
Let us come before his presence with thanksgiving*
and raise a loud shout to him with psalms.
For the Lord is a great God,*
and a great King above all gods.
In his hand are the caverns of the earth,*
and the heights of the hills are his also.
The sea is his, for he made it,*
and his hands have molded the dry land.
Come, let us bow down, and bend the knee,*
and kneel before the Lord our Maker.
For he is our God,
and we are the people of his pasture and the sheep of his hand.*
Oh, that today you would hearken to his voice!
Antiphon
The Lord has shown forth his glory:
Come let us adore him.
The Psalms
Psalm 88
or Coverdale
Domine, Deus
1 O LORD, my God, my Savior, *
by day and night I cry to you.
2 Let my prayer enter into your presence; *
incline your ear to my lamentation.
3 For I am full of trouble; *
my life is at the brink of the grave.
4 I am counted among those who go down to the Pit; *
I have become like one who has no strength;
5 Lost among the dead, *
like the slain who lie in the grave,
6 Whom you remember no more, *
for they are cut off from your hand.
7 You have laid me in the depths of the Pit, *
in dark places, and in the abyss.
8 Your anger weighs upon me heavily, *
and all your great waves overwhelm me.
9 You have put my friends far from me;
you have made me to be abhorred by them; *
I am in prison and cannot get free.
10 My sight has failed me because of trouble; *
LORD, I have called upon you daily;
I have stretched out my hands to you.
11 Do you work wonders for the dead? *
will those who have died stand up and give you thanks?
12 Will your loving-kindness be declared in the grave? *
your faithfulness in the land of destruction?
13 Will your wonders be known in the dark? *
or your righteousness in the country where all is forgotten?
14 But as for me, O LORD, I cry to you for help; *
in the morning my prayer comes before you.
15 LORD, why have you rejected me? *
why have you hidden your face from me?
16 Ever since my youth, I have been wretched and at the point of death; *
I have borne your terrors with a troubled mind.
17 Your blazing anger has swept over me; *
your terrors have destroyed me;
18 They surround me all day long like a flood; *
they encompass me on every side.
19 My friend and my neighbor you have put away from me, *
and darkness is my only companion.
Gloria Patri
Glory be to the Father, and to the Son, and to the Holy Ghost.
As it was in the beginning, is now, and ever shall be: world without end. Amen. Amen.
The Lessons
The Old Testament Reading
Isaiah 61:1-9
The spirit of the Lord GOD is upon me, because the LORD has anointed me; he has sent me to bring good news to the oppressed, to bind up the brokenhearted, to proclaim liberty to the captives, and release to the prisoners; to proclaim the year of the LORD's favor, and the day of vengeance of our God; to comfort all who mourn; to provide for those who mourn in Zion- to give them a garland instead of ashes, the oil of gladness instead of mourning, the mantle of praise instead of a faint spirit. They will be called oaks of righteousness, the planting of the LORD, to display his glory. They shall build up the ancient ruins, they shall raise up the former devastations; they shall repair the ruined cities, the devastations of many generations. Strangers shall stand and feed your flocks, foreigners shall till your land and dress your vines; but you shall be called priests of the LORD, you shall be named ministers of our God; you shall enjoy the wealth of the nations, and in their riches you shall glory. Because their shame was double, and dishonor was proclaimed as their lot, therefore they shall possess a double portion; everlasting joy shall be theirs. For I the LORD love justice, I hate robbery and wrongdoing; I will faithfully give them their recompense, and I will make an everlasting covenant with them. Their descendants shall be known among the nations, and their offspring among the peoples; all who see them shall acknowledge that they are a people whom the LORD has blessed.
The Word of the Lord.
Thanks be to God.
Canticle 10 The Second Song of Isaiah
Isaiah 55:6-11
Quaerite Dominum
Seek the Lord while he wills to be found; *
call upon him when he draws near.
Let the wicked forsake their ways *
and the evil ones their thoughts;
And let them turn to the Lord, and he will have compassion, *
and to our God, for he will richly pardon.
For my thoughts are not your thoughts, *
nor your ways my ways, says the Lord.
For as the heavens are higher than the earth, *
so are my ways higher than your ways,
and my thoughts than your thoughts.
For as rain and snow fall from the heavens *
and return not again, but water the earth,
Bringing forth life and giving growth, *
seed for sowing and bread for eating,
So is my word that goes forth from my mouth; *
it will not return to me empty;
But it will accomplish that which I have purposed, *
and prosper in that for which I sent it.
Glory to the Father, and to the Son, and to the Holy Spirit
as it was in the beginning, is now, and will be for ever. Amen.
New Testament Reading
2 Timothy 3:1-17
You must understand this, that in the last days distressing times will come. For people will be lovers of themselves, lovers of money, boasters, arrogant, abusive, disobedient to their parents, ungrateful, unholy, inhuman, implacable, slanderers, profligates, brutes, haters of good, treacherous, reckless, swollen with conceit, lovers of pleasure rather than lovers of God, holding to the outward form of godliness but denying its power. Avoid them! For among them are those who make their way into households and captivate silly women, overwhelmed by their sins and swayed by all kinds of desires, who are always being instructed and can never arrive at a knowledge of the truth. As Jannes and Jambres opposed Moses, so these people, of corrupt mind and counterfeit faith, also oppose the truth. But they will not make much progress, because, as in the case of those two men, their folly will become plain to everyone. Now you have observed my teaching, my conduct, my aim in life, my faith, my patience, my love, my steadfastness, my persecutions and suffering the things that happened to me in Antioch, Iconium, and Lystra. What persecutions I endured! Yet the Lord rescued me from all of them. Indeed, all who want to live a godly life in Christ Jesus will be persecuted. But wicked people and impostors will go from bad to worse, deceiving others and being deceived. But as for you, continue in what you have learned and firmly believed, knowing from whom you learned it, and how from childhood you have known the sacred writings that are able to instruct you for salvation through faith in Christ Jesus. All scripture is inspired by God and is useful for teaching, for reproof, for correction, and for training in righteousness, so that everyone who belongs to God may be proficient, equipped for every good work.
The Word of the Lord.
Thanks be to God.
Canticle 18 A Song to the Lamb
Revelation 4:11, 5:9-10, 13
Dignus es
Splendor and honor and kingly power *
are yours by right, O Lord our God,
For you created everything that is, *
and by your will they were created and have their being;
And yours by right, O Lamb that was slain, *
for with your blood you have redeemed for God,
From every family, language, people, and nation, *
a kingdom of priests to serve our God.
And so, to him who sits upon the throne, *
and to Christ the Lamb,
Be worship and praise, dominion and splendor, *
for ever and for ever more.
Glory to the Father, and to the Son, and to the Holy Spirit
as it was in the beginning, is now, and will be for ever. Amen.
The Gospel
Mark 10:32-45
They were on the road, going up to Jerusalem, and Jesus was walking ahead of them; they were amazed, and those who followed were afraid. He took the twelve aside again and began to tell them what was to happen to him, saying, "See, we are going up to Jerusalem, and the Son of Man will be handed over to the chief priests and the scribes, and they will condemn him to death; then they will hand him over to the Gentiles; they will mock him, and spit upon him, and flog him, and kill him; and after three days he will rise again." James and John, the sons of Zebedee, came forward to him and said to him, "Teacher, we want you to do for us whatever we ask of you." And he said to them, "What is it you want me to do for you?" And they said to him, "Grant us to sit, one at your right hand and one at your left, in your glory." But Jesus said to them, "You do not know what you are asking. Are you able to drink the cup that I drink, or be baptized with the baptism that I am baptized with?" They replied, "We are able." Then Jesus said to them, "The cup that I drink you will drink; and with the baptism with which I am baptized, you will be baptized; but to sit at my right hand or at my left is not mine to grant, but it is for those for whom it has been prepared." When the ten heard this, they began to be angry with James and John. So Jesus called them and said to them, "You know that among the Gentiles those whom they recognize as their rulers lord it over them, and their great ones are tyrants over them. But it is not so among you; but whoever wishes to become great among you must be your servant, and whoever wishes to be first among you must be slave of all. For the Son of Man came not to be served but to serve, and to give his life a ransom for many." Hear what the Spirit is saying to the Church.
The Word of the Lord.
Thanks be to God.
The Commemoration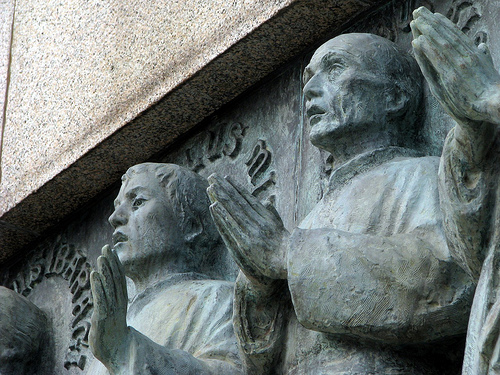 In 1786 the membership of St. George's Methodist Episcopal Church in Philadelphia included both blacks and whites. However, the white members met that year and decided that thereafter black members should sit only in the balcony. Two black Sunday worshippers, Absalom Jones (1746-1818) and Richard Allen (1760-1831), whose enthusiasm for the Methodist Church had brought many blacks into the congregation, learned of the decision only when, on the following Sunday, ushers tapped them on the shoulder during the opening prayers, and demanded that they move to the balcony without waiting for the end of the prayer. They walked out, followed by the other black members. 
Absalom Jones conferred with William White, Episcopal Bishop of Philadelphia, who agreed to accept the group as an Episcopal parish. Jones would serve as lay reader, and, after a period of study, would be ordained and serve as rector. Allen wanted the group to remain Methodist, and in 1793 he left to form a Methodist congregation. In 1816 he left the Methodists to form a new denomination, the African Methodist Episcopal Church (AME). Jones (ordained deacon and priest in 1795 and 1802) and Allen (ordained deacon and elder in 1799 and 1816) were the first two black Americans to receive formal ordination in any denomination.  (So I am told by my Episcopal source. On the other hand, a Baptist correspondent tells me of the earlier ordination of a black American to the Baptist ministry. Perhaps my first source either did not know of this, or did not consider the Baptist ordination to be "formal." This is not a question of snobbery. Some congregations I know simply ask someone who they think is a good speaker to be their preacher for a year, and there is no ceremony beyond the vote and his saying, "I accept.") 
The African Methodist Episcopal Church Zion (AME Zion) formed in New York in about 1796 for similar reasons. The two groups were well organized before they heard of each other. The Christian Methodist Episcopal Church, also historically black, was an offshoot in 1870 of the Methodist Episcopal Church, South. (The Methodists split into North and South before the War of 1861-1865, and have since re-united.) These three black groups, and the United Methodist Church, and some other denominations of Methodist origin, are committed in principle to eventual union, but bureaucracies move slowly. Meanwhile, the groups are united in doctrine, and members of each are free to worship and to receive the Sacraments with members of the others. 
written by James Kiefer
Prayer
Set us free, heavenly Father, from every bond of prejudice and fear: that, honoring the steadfast courage of your servants Absalom Jones and Richard Allen, we may show forth in our lives the reconciling love and true freedom of the children of God, which you have given us in our Saviour Jesus Christ, who lives and reigns with you and the Holy Spirit, one God, now and for ever. 
Alternate Psalm and Readings
The Creed
The Apostle's Creed
I believe in God, the Father almighty,
creator of heaven and earth.
I believe in Jesus Christ, his only son, our Lord.
He was conceived by the power of the Holy Spirit
and born of the Virgin Mary.
He suffered under Pontius Pilate,
was crucified, died, and was buried.
He descended to the dead.
On the third day he rose again.
He ascended into heaven,
and is seated at the right hand of the Father.
He will come again to judge the living and the dead.
I believe in the Holy Spirit,
the holy catholic Church,
the communion of saints,
the forgiveness of sins,
the resurrection of the body,
and the life everlasting. Amen.
The Prayers
The Lord's Prayer
or traditional
Our Father in heaven,
hallowed be your Name,
your kingdom come,
your will be done,
on earth as in heaven.
Give us today our daily bread.
Forgive us our sins
as we forgive those
who sin against us.
Save us from the time of trial,
and deliver us from evil.
For the kingdom, the power,
and the glory are yours,
now and for ever. Amen.
Suffrages
Show us your mercy, O Lord;
And grant us your salvation.
Clothe your ministers with righteousness;
Let your people sing with joy.
Give peace, O Lord, in all the world;
For only in you can we live in safety.
Lord, keep this nation under your care;
And guide us in the way of justice and truth.
Let your way be known upon earth;
Your saving health among all nations.
Let not the needy, O Lord, be forgotten;
Nor the hope of the poor be taken away.
Create in us clean hearts, O God;
And sustain us with your Holy Spirit.
Collect of the Day: The Fifth Sunday after the Epiphany
Set us free, O God, from the bondage of our sins, and give us the liberty of that abundant life which you have made known to us in your Son our Savior Jesus Christ; who lives and reigns with you, in the unity of the Holy Spirit, one God, now and for ever. Amen.
For Mission
Lord Jesus Christ, you stretched out your arms of love on the hard wood of the cross that everyone might come within the reach of your saving embrace: So clothe us in your Spirit that we, reaching forth our hands in love, may bring those who do not know you to the knowledge and love of you; for the honor of your Name. Amen.
World Cycle of Prayer
We pray for the people of the Sudan.
Ecumenical Cycle of Prayer
We pray for our sisters and brothers members of the Hong Kong Sheng Kung Hui.
A Collect for Fridays
Almighty God, whose most dear Son went not up to joy but first he suffered pain, and entered not into glory before he was crucified: Mercifully grant that we, walking in the way of the cross, may find it none other than the way of life and peace; through Jesus Christ your Son our Lord. Amen.
Hymn: To my humble supplication
To my humble supplication
Lord, give ear and acceptation
Save thy servant, that hath none
Help nor hope but Thee alone. Amen.
Prayers and Intercessions
Let us pray now for our own needs and those of others.
Birthdays
Anniversaries
For Recovery from Sickness
For Travelers
For a Person in Trouble or Bereavement
For Those to be Baptized
For the Departed
Full list of prayers
For Our Enemies
O God, the Father of all, whose Son commanded us to love our enemies: Lead them and us from prejudice to truth; deliver them and us from hatred, cruelty, and revenge; and in your good time enable us all to stand reconciled before you; through Jesus Christ our Lord. Amen.
For Social Justice
Grant, O God, that your holy and life-giving Spirit may so move every human heart, that barriers which divide us may crumble, suspicions disappear, and hatreds cease; that our divisions being healed, we may live in justice and peace; through Jesus Christ our Lord. Amen.
For Young Persons
God our Father, you see your children growing up in an unsteady and confusing world: Show them that your ways give more life than the ways of the world, and that following you is better than chasing after selfish goals. Help them to take failure, not as a measure of their worth, but as a chance for a new start. Give them strength to hold their faith in you, and to keep alive their joy in your creation; through Jesus Christ our Lord. Amen.
Hymn: The King of love
The King of love my Shepherd is,
Whose goodness faileth never,
I nothing lack if I am His
And He is mine forever.
Where streams of living water flow
My ransomed soul He leadeth,
And where the verdant pastures grow,
With food celestial feedeth.
Perverse and foolish oft I strayed,
But yet in love He sought me,
And on His shoulder gently laid,
And home, rejoicing, brought me.
In death's dark vale I fear no ill
With Thee, dear Lord, beside me;
Thy rod and staff my comfort still,
Thy cross before to guide me.
Thou spread'st a table in my sight;
Thy unction grace bestoweth;
And O what transport of delight
From Thy pure chalice floweth!
And so through all the length of days
Thy goodness faileth never;
Good Shepherd, may I sing Thy praise
Within Thy house forever.
Choir: Centenary United Methodist Church Choir, Lynchburg Virginia, USA | Words: Henry W. Baker | Music: St. Columba
A Prayer of Self-Dedication
Almighty and eternal God, so draw our hearts to you, so guide our minds, so fill our imaginations, so control our wills, that we may be wholly yours, utterly dedicated unto you; and then use us, we pray you, as you will, and always to your glory and the welfare of your people; through our Lord and Savior Jesus Christ. Amen.
General Thanksgiving
Almighty God, Father of all mercies, we your unworthy servants give you humble thanks for all your goodness and loving-kindness to us and to all whom you have made. We bless you for our creation, preservation, and all the blessings of this life; but above all for your immeasurable love in the redemption of the world by our Lord Jesus Christ; for the means of grace, and for the hope of glory. And, we pray, give us such an awareness of your mercies, that with truly thankful hearts we may show forth your praise, not only with our lips, but in our lives, by giving up our selves to your service, and by walking before you in holiness and righteousness all our days; through Jesus Christ our Lord, to whom, with you and the Holy Spirit, be honor and glory throughout all ages. Amen.
A Prayer of St. Chrysostom
Almighty God, you have given us grace at this time with one accord to make our common supplication to you; and you have promised through your well-beloved Son that when two or three are gathered together in his Name you will be in the midst of them: Fulfill now, O Lord, our desires and petitions as may be best for us; granting us in this world knowledge of your truth, and in the age to come life everlasting. Amen.
The Ending
Benediction
Let us bless the Lord.
Thanks be to God.
Glory to God whose power, working in us, can do infinitely more than we can ask or imagine: Glory to him from generation to generation in the Church, and in Christ Jesus for ever and ever. Amen.
Ephesians 3:20,21
Hymn: God Be With You
God be with you till we meet again;
By his counsels guide, uphold you;
With his sheep securely fold you.
God be with you till we meet again.
Till we meet, till we meet,
Till we meet at Jesus' feet,
Till we meet, till we meet,
God be with you till we meet again.