13 February
Thursday
Morning Prayer
Epiphany
Absalom Jones and Richard Allen
I will give you as a light to the nations, that my salvation may reach to the end of the earth. Isaiah 49:6b
Let us confess our sins against God and our neighbor.
Most merciful God, we confess that we have sinned against you in thought, word, and deed, by what we have done, and by what we have left undone. We have not loved you with our whole heart; we have not loved our neighbors as ourselves. We are truly sorry and we humbly repent. For the sake of your Son Jesus Christ, have mercy on us and forgive us; that we may delight in your will, and walk in your ways, to the glory of your Name. Amen.
Almighty God have mercy on us, forgive us all our sins through our Lord Jesus Christ, strengthen us in all goodness, and by the power of the Holy Spirit keep us in eternal life. Amen.
Lord, open our lips.
And our mouth shall proclaim your praise.
Glory to the Father, and to the Son, and to the Holy Spirit,
As it was in the beginning, is now, and will be for ever. Amen.
Alleluia. The Lord has shown forth his glory: Come let us adore him. Alleluia.
Come let us sing to the Lord;*
let us shout for joy to the Rock of our salvation.
Let us come before his presence with thanksgiving*
and raise a loud shout to him with psalms.
For the Lord is a great God,*
and a great King above all gods.
In his hand are the caverns of the earth,*
and the heights of the hills are his also.
The sea is his, for he made it,*
and his hands have molded the dry land.
Come, let us bow down, and bend the knee,*
and kneel before the Lord our Maker.
For he is our God,
and we are the people of his pasture and the sheep of his hand.*
Oh, that today you would hearken to his voice!
Alleluia. The Lord has shown forth his glory: Come let us adore him. Alleluia.
Psalm 146
or Coverdale
1 Hallelujah!
Praise the LORD, O my soul!*
I will praise the LORD as long as I live;
I will sing praises to my God while I have my being.
2 Put not your trust in rulers, nor in any child of earth,*
for there is no help in them.
3 When they breathe their last, they return to earth,*
and in that day their thoughts perish.
4 Happy are they who have the God of Jacob for their help!*
whose hope is in the LORD their God;
5 Who made heaven and earth, the seas, and all that is in them;*
who keeps his promise for ever;
6 Who gives justice to those who are oppressed, *
and food to those who hunger.
7 The LORD sets the prisoners free;
the LORD opens the eyes of the blind;*
the LORD lifts up those who are bowed down;
8 The LORD loves the righteous;
the LORD cares for the stranger;*
he sustains the orphan and widow,
but frustrates the way of the wicked.
9 The LORD shall reign for ever,*
your God, O Zion, throughout all generations.
Hallelujah!
Psalm 147
or Coverdale
1 Hallelujah!
How good it is to sing praises to our God!*
how pleasant it is to honor him with praise!
2 The LORD rebuilds Jerusalem;*
he gathers the exiles of Israel.
3 He heals the brokenhearted*
and binds up their wounds.
4 He counts the number of the stars*
and calls them all by their names.
5 Great is our LORD and mighty in power;*
there is no limit to his wisdom.
6 The LORD lifts up the lowly,*
but casts the wicked to the ground.
7 Sing to the LORD with thanksgiving;*
make music to our God upon the harp.
8 He covers the heavens with clouds*
and prepares rain for the earth;
9 He makes grass to grow upon the mountains *
and green plants to serve mankind.
10 He provides food for flocks and herds*
and for the young ravens when they cry.
11 He is not impressed by the might of a horse; *
he has no pleasure in the strength of a man;
12 But the LORD has pleasure in those who fear him,*
in those who await his gracious favor.
13 Worship the LORD, O Jerusalem;*
praise your God, O Zion;
14 For he has strengthened the bars of your gates;*
he has blessed your children within you.
15 He has established peace on your borders; *
he satisfies you with the finest wheat.
16 He sends out his command to the earth,*
and his word runs very swiftly.
17 He gives snow like wool;*
he scatters hoarfrost like ashes.
18 He scatters his hail like bread crumbs;*
who can stand against his cold?
19 He sends forth his word and melts them;*
he blows with his wind, and the waters flow.
20 He declares his word to Jacob,*
his statutes and his judgments to Israel.
21 He has not done so to any other nation;*
to them he has not revealed his judgments.
Hallelujah!
Glory to the Father, and to the Son, and to the Holy Ghost
as it was in the beginning, is now, and will be for ever. Amen.
Genesis 27:30-45 (NRSV)
30 As soon as Isaac had finished blessing Jacob, when Jacob had scarcely gone out from the presence of his father Isaac, his brother Esau came in from his hunting. 31 He also prepared savory food, and brought it to his father. And he said to his father, "Let my father sit up and eat of his son's game, so that you may bless me." 32 His father Isaac said to him, "Who are you?" He answered, "I am your firstborn son, Esau." 33 Then Isaac trembled violently, and said, "Who was it then that hunted game and brought it to me, and I ate it all before you came, and I have blessed him?-yes, and blessed he shall be!" 34 When Esau heard his father's words, he cried out with an exceedingly great and bitter cry, and said to his father, "Bless me, me also, father!" 35 But he said, "Your brother came deceitfully, and he has taken away your blessing." 36 Esau said, "Is he not rightly named Jacob? For he has supplanted me these two times. He took away my birthright; and look, now he has taken away my blessing." Then he said, "Have you not reserved a blessing for me?" 37 Isaac answered Esau, "I have already made him your lord, and I have given him all his brothers as servants, and with grain and wine I have sustained him. What then can I do for you, my son?" 38 Esau said to his father, "Have you only one blessing, father? Bless me, me also, father!" And Esau lifted up his voice and wept.
39 Then his father Isaac answered him:
"See, away from the fatness of the earth shall your home be,
and away from the dew of heaven on high.
40 By your sword you shall live,
and you shall serve your brother;
but when you break loose,
you shall break his yoke from your neck."
41 Now Esau hated Jacob because of the blessing with which his father had blessed him, and Esau said to himself, "The days of mourning for my father are approaching; then I will kill my brother Jacob." 42 But the words of her elder son Esau were told to Rebekah; so she sent and called her younger son Jacob and said to him, "Your brother Esau is consoling himself by planning to kill you. 43 Now therefore, my son, obey my voice; flee at once to my brother Laban in Haran, 44 and stay with him a while, until your brother's fury turns away- 45 until your brother's anger against you turns away, and he forgets what you have done to him; then I will send, and bring you back from there. Why should I lose both of you in one day?"
The Word of the Lord.
Thanks be to God.
Canticle 8 The Song of Moses Exodus 15:1-6, 11-13, 17-18
Cantemus Domino
I will sing to the Lord, for he is lofty and uplifted; *
the horse and its rider has he hurled into the sea.
The Lord is my strength and my refuge; *
the Lord has become my Savior.
This is my God and I will praise him, *
the God of my people and I will exalt him.
The Lord is a mighty warrior; *
Yahweh is his Name.
The chariots of Pharaoh and his army has he hurled into the sea; *
the finest of those who bear armor have been
drowned in the Red Sea.
The fathomless deep has overwhelmed them; *
they sank into the depths like a stone.
Your right hand, O Lord, is glorious in might; *
your right hand, O Lord, has overthrown the enemy.
Who can be compared with you, O Lord, among the gods? *
who is like you, glorious in holiness,
awesome in renown, and worker of wonders?
You stretched forth your right hand; *
the earth swallowed them up.
With your constant love you led the people you redeemed; *
with your might you brought them in safety to
your holy dwelling.
You will bring them in and plant them *
on the mount of your possession,
The resting-place you have made for yourself, O Lord, *
the sanctuary, O Lord, that your hand has established.
The Lord shall reign *
for ever and for ever.
Glory to the Father, and to the Son, and to the Holy Spirit: *
as it was in the beginning, is now, and will be for ever. Amen.
Romans 12:9-21 (NRSV)
9 Let love be genuine; hate what is evil, hold fast to what is good; 10 love one another with mutual affection; outdo one another in showing honor. 11 Do not lag in zeal, be ardent in spirit, serve the Lord. 12 Rejoice in hope, be patient in suffering, persevere in prayer. 13 Contribute to the needs of the saints; extend hospitality to strangers.
14 Bless those who persecute you; bless and do not curse them. 15 Rejoice with those who rejoice, weep with those who weep. 16 Live in harmony with one another; do not be haughty, but associate with the lowly; do not claim to be wiser than you are. 17 Do not repay anyone evil for evil, but take thought for what is noble in the sight of all. 18 If it is possible, so far as it depends on you, live peaceably with all. 19 Beloved, never avenge yourselves, but leave room for the wrath of God; for it is written, "Vengeance is mine, I will repay, says the Lord." 20 No, "if your enemies are hungry, feed them; if they are thirsty, give them something to drink; for by doing this you will heap burning coals on their heads." 21 Do not be overcome by evil, but overcome evil with good.
The Word of the Lord.
Thanks be to God.
Canticle 20 Glory to God
Gloria in excelsis
Glory to God in the highest,
and peace to his people on earth.
Lord God, heavenly King,
almighty God and Father,
we worship you, we give you thanks,
we praise you for your glory.
Lord Jesus Christ, only Son of the Father,
Lord God, Lamb of God,
you take away the sin of the world:
have mercy on us;
you are seated at the right hand of the Father:
receive our prayer.
For you alone are the Holy One,
you alone are the Lord,
you alone are the Most High,
Jesus Christ,
with the Holy Spirit,
in the glory of God the Father. Amen.
John 8:21-32 (NRSV)
21 Again he said to them, "I am going away, and you will search for me, but you will die in your sin. Where I am going, you cannot come." 22 Then the Jews said, "Is he going to kill himself? Is that what he means by saying, 'Where I am going, you cannot come'?" 23 He said to them, "You are from below, I am from above; you are of this world, I am not of this world. 24 I told you that you would die in your sins, for you will die in your sins unless you believe that I am he." 25 They said to him, "Who are you?" Jesus said to them, "Why do I speak to you at all? 26 I have much to say about you and much to condemn; but the one who sent me is true, and I declare to the world what I have heard from him." 27 They did not understand that he was speaking to them about the Father. 28 So Jesus said, "When you have lifted up the Son of Man, then you will realize that I am he, and that I do nothing on my own, but I speak these things as the Father instructed me. 29 And the one who sent me is with me; he has not left me alone, for I always do what is pleasing to him." 30 As he was saying these things, many believed in him. 31 Then Jesus said to the Jews who had believed in him, "If you continue in my word, you are truly my disciples; 32 and you will know the truth, and the truth will make you free."
The Word of the Lord.
Thanks be to God.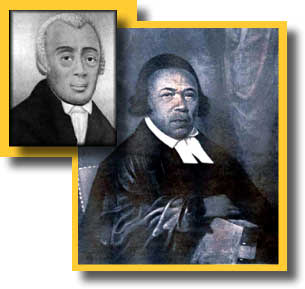 In 1786, the membership of St. George's Methodist Episcopal Church in Philadelphia included both blacks and whites. However, the white members met that year and decided that thereafter black members should sit only in the balcony.
Two black Sunday worshipers, Absalom Jones (1746-1818) and Richard Allen (1760-1831), whose enthusiasm for the Methodist Church had brought many blacks into the congregation, learned of the decision only when, on the following Sunday, ushers tapped them on the shoulder during the opening prayers, and demanded that they move to the balcony without waiting for the end of the prayer. They walked out, followed by the other black members.
Absalom Jones conferred with William White, Episcopal Bishop of Philadelphia(current), who agreed to accept the group as an Episcopal parish. Jones would serve as lay reader, and, after a period of study, would be ordained and serve as rector.
Allen wanted the group to remain Methodist, and in 1793 he left to form a Methodist congregation. In 1816 he left the Methodists to form a new denomination, the African Methodist Episcopal Church (AMEC).
Jones (ordained deacon and priest in 1795 and 1802) and Allen (ordained deacon and elder in 1799 and 1816) were the first two black Americans to receive formal ordination in any denomination.
The African Methodist Episcopal Church Zion (AMEZ) formed in New York in about 1796 for similar reasons. The two groups were well organized before they heard of each other.
The Christian Methodist Episcopal Church (CME), also historically black, was an offshoot in 1870 of the Methodist Episcopal Church, South. (The Methodists split into North and South before the War of 1861-1865, and have since re-united.)
These three black groups, and the United Methodist Church, and some other denominations of Methodist origin, are committed in principle to eventual union, but bureaucracies move slowly. Meanwhile, the groups are united in doctrine, and members of each are free to worship and to receive the Sacraments with members of the others
written by James Kiefer
Set us free, heavenly Father, from every bond of prejudice and fear: that, honoring the steadfast courage of your servants Absalom Jones and Richard Allen, we may show forth in our lives the reconciling love and true freedom of the children of God, which you have given us in our Saviour Jesus Christ, who lives and reigns with you and the Holy Spirit, one God, now and for ever. Amen.

I believe in God, the Father almighty,
creator of heaven and earth.
I believe in Jesus Christ, his only son, our Lord.
He was conceived by the power of the Holy Spirit
and born of the Virgin Mary.
He suffered under Pontius Pilate,
was crucified, died, and was buried.
He descended to the dead.
On the third day he rose again.
He ascended into heaven,
and is seated at the right hand of the Father.
He will come again to judge the living and the dead.
I believe in the Holy Spirit,
the holy catholic Church,
the communion of saints,
the forgiveness of sins,
the resurrection of the body,
and the life everlasting. Amen.
The Lord's Prayer
or traditional
Our Father in heaven,
hallowed be your Name,
your kingdom come,
your will be done,
on earth as in heaven.
Give us today our daily bread.
Forgive us our sins
as we forgive those
who sin against us.
Save us from the time of trial,
and deliver us from evil.
For the kingdom, the power,
and the glory are yours,
now and for ever. Amen.
Show us your mercy, O Lord;
And grant us your salvation.
Clothe your ministers with righteousness;
Let your people sing with joy.
Give peace, O Lord, in all the world;
For only in you can we live in safety.
Lord, keep this nation under your care;
And guide us in the way of justice and truth.
Let your way be known upon earth;
Your saving health among all nations.
Let not the needy, O Lord, be forgotten;
Nor the hope of the poor be taken away.
Create in us clean hearts, O God;
And sustain us with your Holy Spirit.
Collect of the Day: Fifth Sunday after the Epiphany
Set us free, O God, from the bondage of our sins, and give us the liberty of that abundant life which you have made known o us in your Son our Savior Jesus Christ; who lives and reigns with you, in the unity of the Holy Spirit, one God, now and for ever. Amen.
For Mission
Almighty and everlasting God, by whose Spirit the whole body of your faithful people is governed and sanctified: Receive our supplications and prayers which we offer before you for all members of your holy Church, that in their vocation and ministry they may truly and devoutly serve you; through our Lord and Savior Jesus Christ. Amen.
World Cycle of Prayer
We pray for the people of Ethiopia.
Ecumenical Cycle of Prayer
We pray for our sisters and brothers members of the Coptic Catholic Church.
Let us pray now for our own needs and those of others.
Birthdays
Anniversaries
For Recovery from Sickness
For Travelers
For a Person in Trouble or Bereavement
For Those to be Baptized
For the Departed
Full list of prayers
A Collect for the Renewal of Life
O God, the King eternal, who divides the day from the night and turns the shadow of death into the morning: Drive far from us all wrong desires, incline our hearts to keep your law, and guide our feet into the way of peace; that, having done your will with cheerfulness while it was day, we may, when night comes, rejoice to give you thanks; through Jesus Christ our Lord. Amen.
For Peace Among Nations
Almighty God our heavenly Father, guide the nations of the world into the way of justice and truth, and establish among them that peace which is the fruit of righteousness, that they may become the kingdom of our Lord and Savior Jesus Christ. Amen.
For Those in the Armed Forces of Our Country
Almighty God, we commend to your gracious care and keeping all the men and women of our armed forces at home and abroad. Defend them day by day with your heavenly grace; strengthen them in their trials and temptations; give them courage to face the perils which beset them; and grant them a sense of your abiding presence wherever they may be; through Jesus Christ our Lord. Amen.
For the Conservation of Natural Resources
Almighty God, in giving us dominion over things on earth, you made us fellow workers in your creation: Give us wisdom and reverence so to use the resources of nature, that no one may suffer from our abuse of them, and that generations yet to come may continue to praise you for your bounty; through Jesus Christ our Lord. Amen.
Almighty and eternal God, so draw our hearts to you, so guide our minds, so fill our imaginations, so control our wills, that we may be wholly yours, utterly dedicated unto you; and then use us, we pray you, as you will, and always to your glory and the welfare of your people; through our Lord and Savior Jesus Christ. Amen.
General Thanksgiving
Almighty God, Father of all mercies, we your unworthy servants give you humble thanks for all your goodness and loving-kindness to us and to all whom you have made. We bless you for our creation, preservation, and all the blessings of this life; but above all for your immeasurable love in the redemption of the world by our Lord Jesus Christ; for the means of grace, and for the hope of glory. And, we pray, give us such an awareness of your mercies, that with truly thankful hearts we may show forth your praise, not only with our lips, but in our lives, by giving up our selves to your service, and by walking before you in holiness and righteousness all our days; through Jesus Christ our Lord, to whom, with you and the Holy Spirit, be honor and glory throughout all ages. Amen.
A Prayer of St. Chrysostom
Almighty God, you have given us grace at this time with one accord to make our common supplication to you; and you have promised through your well-beloved Son that when two or three are gathered together in his Name you will be in the midst of them: Fulfill now, O Lord, our desires and petitions as may be best for us; granting us in this world knowledge of your truth, and in the age to come life everlasting. Amen.
Let us bless the Lord.
Thanks be to God.
The grace of our Lord Jesus Christ, and the love of God, and the fellowship of the Holy Spirit, be with us all evermore. Amen.
2 Corinthians 13:14