Hymn: Spirit of God, descend upon my heart
choir
I will give you as a light to the nations, that my salvation may reach to the end of the earth. Isaiah 49:6b
Let us confess our sins against God and our neighbor.
Most merciful God, we confess that we have sinned against you in thought, word, and deed, by what we have done, and by what we have left undone. We have not loved you with our whole heart; we have not loved our neighbors as ourselves. We are truly sorry and we humbly repent. For the sake of your Son Jesus Christ, have mercy on us and forgive us; that we may delight in your will, and walk in your ways, to the glory of your Name. Amen.
Almighty God have mercy on us, forgive us all our sins through our Lord Jesus Christ, strengthen us in all goodness, and by the power of the Holy Spirit keep us in eternal life. Amen.
Lord, open our lips.
And our mouth shall proclaim your praise.
Glory to the Father, and to the Son, and to the Holy Spirit,
As it was in the beginning, is now, and will be for ever. Amen.
Alleluia. The Lord has shown forth his glory: Come let us adore him. Alleluia.
Come let us sing to the Lord;*
let us shout for joy to the Rock of our salvation.
Let us come before his presence with thanksgiving*
and raise a loud shout to him with psalms.
For the Lord is a great God,*
and a great King above all gods.
In his hand are the caverns of the earth,*
and the heights of the hills are his also.
The sea is his, for he made it,*
and his hands have molded the dry land.
Come, let us bow down, and bend the knee,*
and kneel before the Lord our Maker.
For he is our God,
and we are the people of his pasture and the sheep of his hand.*
Oh, that today you would hearken to his voice!
Alleluia. The Lord has shown forth his glory: Come let us adore him. Alleluia.
Psalm 37:1-18
or Coverdale
1Do not fret yourself because of evildoers; *
do not be jealous of those who do wrong.
2 For they shall soon wither like the grass, *
and like the green grass fade away.
3 Put your trust in the Lord and do good;
dwell in the land and feed on its riches.
4 Take delight in the Lord, *
and he shall give you your heart's desire.
5 Commit your way to the Lord and put your trust in him, *
and he will bring it to pass.
6 He will make your righteousness as clear as the light*
and your just dealing as the noonday.
7 Be still befor the Lord *
and wait patiently for him.
8 Do not fret yourself over the one who prospers, *
the one who succeeds in evil schemes.
9 Refrain fromanger, leave rage alone; *
do not fret yourself; it leads only to evil.
10 For evildoers shall be cut off,*
but those who wait upon the Lord shall possess the land.
11 In a little while the wicked shall be no more;*
you shall search out their place, but they will not be there.
12 But the lowly shall possess the land;*
they will delight in abundance of peace.
13 The wicked plot against the righteous *
and gnash at them with their teeth.
14 The Lord laughs at the wicked,*
because he sees that their day will come.
15 the wicked draw their sword and bend their bow
to strike down the poor and needy,*
to slaughter those who are upright in their ways.
16 Their sword shall go through their own heart, *
and their bow shall be broken.
17 The little that the righteous has *
is better than great riches of the wicked.
18 For the power of the wicked shall be broken, *
but the Lord upholds the righteous.

sung
Glory to the Father, and to the Son, and to the Holy Ghost
as it was in the beginning, is now, and will be for ever. Amen.
Gen. 11:1-9 (NRSV)
1 Now the whole earth had one language and the same words. 2 And as they migrated from the east, they came upon a plain in the land of Shinar and settled there. 3 And they said to one another, "Come, let us make bricks, and burn them thoroughly." And they had brick for stone, and bitumen for mortar. 4 Then they said, "Come, let us build ourselves a city, and a tower with its top in the heavens, and let us make a name for ourselves; otherwise we shall be scattered abroad upon the face of the whole earth." 5 The LORD came down to see the city and the tower, which mortals had built. 6 And the LORD said, "Look, they are one people, and they have all one language; and this is only the beginning of what they will do; nothing that they propose to do will now be impossible for them. 7 Come, let us go down, and confuse their language there, so that they will not understand one another's speech." 8 So the LORD scattered them abroad from there over the face of all the earth, and they left off building the city. 9 Therefore it was called Babel, because there the LORD confused the language of all the earth; and from there the LORD scattered them abroad over the face of all the earth.

The Word of the Lord.
Thanks be to God.
Canticle 8 The Song of Moses Exodus 15:1-6, 11-13, 17-18
Cantemus Domino
I will sing to the Lord, for he is lofty and uplifted; *
the horse and its rider has he hurled into the sea.
The Lord is my strength and my refuge; *
the Lord has become my Savior.
This is my God and I will praise him, *
the God of my people and I will exalt him.
The Lord is a mighty warrior; *
Yahweh is his Name.
The chariots of Pharaoh and his army has he hurled into the sea; *
the finest of those who bear armor have been
drowned in the Red Sea.
The fathomless deep has overwhelmed them; *
they sank into the depths like a stone.
Your right hand, O Lord, is glorious in might; *
your right hand, O Lord, has overthrown the enemy.
Who can be compared with you, O Lord, among the gods? *
who is like you, glorious in holiness,
awesome in renown, and worker of wonders?
You stretched forth your right hand; *
the earth swallowed them up.
With your constant love you led the people you redeemed; *
with your might you brought them in safety to
your holy dwelling.
You will bring them in and plant them *
on the mount of your possession,
The resting-place you have made for yourself, O Lord, *
the sanctuary, O Lord, that your hand has established.
The Lord shall reign *
for ever and for ever.
Glory to the Father, and to the Son, and to the Holy Spirit: *
as it was in the beginning, is now, and will be for ever. Amen.
Hebrews 6:13-20 (NRSV)
13 When God made a promise to Abraham, because he had no one greater by whom to swear, he swore by himself, 14 saying, "I will surely bless you and multiply you." 15 And thus Abraham, having patiently endured, obtained the promise. 16 Human beings, of course, swear by someone greater than themselves, and an oath given as confirmation puts an end to all dispute. 17 In the same way, when God desired to show even more clearly to the heirs of the promise the unchangeable character of his purpose, he guaranteed it by an oath, 18 so that through two unchangeable things, in which it is impossible that God would prove false, we who have taken refuge might be strongly encouraged to seize the hope set before us. 19 We have this hope, a sure and steadfast anchor of the soul, a hope that enters the inner shrine behind the curtain, 20 where Jesus, a forerunner on our behalf, has entered, having become a high priest forever according to the order of Melchizedek.

The Word of the Lord.
The Word of the Lord.
Thanks be to God.
Canticle 20 Glory to God
Gloria in excelsis
Glory to God in the highest,
and peace to his people on earth.
Lord God, heavenly King,
almighty God and Father,
we worship you, we give you thanks,
we praise you for your glory.
Lord Jesus Christ, only Son of the Father,
Lord God, Lamb of God,
you take away the sin of the world:
have mercy on us;
you are seated at the right hand of the Father:
receive our prayer.
For you alone are the Holy One,
you alone are the Lord,
you alone are the Most High,
Jesus Christ,
with the Holy Spirit,
in the glory of God the Father. Amen.
John 4:1-15 (NRSV)
1 Now when Jesus learned that the Pharisees had heard, "Jesus is making and baptizing more disciples than John" 2 -although it was not Jesus himself but his disciples who baptized- 3 he left Judea and started back to Galilee. 4 But he had to go through Samaria. 5 So he came to a Samaritan city called Sychar, near the plot of ground that Jacob had given to his son Joseph. 6 Jacob's well was there, and Jesus, tired out by his journey, was sitting by the well. It was about noon.
7 A Samaritan woman came to draw water, and Jesus said to her, "Give me a drink." 8 (His disciples had gone to the city to buy food.) 9 The Samaritan woman said to him, "How is it that you, a Jew, ask a drink of me, a woman of Samaria?" (Jews do not share things in common with Samaritans.) 10 Jesus answered her, "If you knew the gift of God, and who it is that is saying to you, 'Give me a drink,' you would have asked him, and he would have given you living water." 11 The woman said to him, "Sir, you have no bucket, and the well is deep. Where do you get that living water? 12 Are you greater than our ancestor Jacob, who gave us the well, and with his sons and his flocks drank from it?" 13 Jesus said to her, "Everyone who drinks of this water will be thirsty again, 14 but those who drink of the water that I will give them will never be thirsty. The water that I will give will become in them a spring of water gushing up to eternal life." 15 The woman said to him, "Sir, give me this water, so that I may never be thirsty or have to keep coming here to draw water."
The Word of the Lord.
Thanks be to God.
Phillips Brooks, 23 January 1893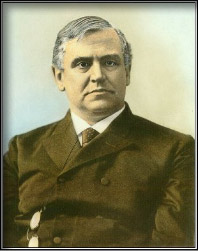 Phillips Brooks is best known today as the author of "O Little Town of Bethlehem." Former generations, however, accounted him the greatest American preacher of the nineteenth century (and not for lack of other candidates). His sermons are still read.
He was born in Boston in 1835 and educated at Harvard and at Virginia Theological Seminary. After ten years of ministry at two churches in Philadelphia, he returned to Boston in 1869 and was rector of Trinity Church there until 1891. He was then elected Bishop of Massachusetts, and died two years later.
written by James Kiefer
Prayer
O everlasting God, who revealed truth to your servant Phillips Brooks, and so formed and molded his mind and heart that he was able to mediate that truth with grace and power: Grant, we pray, that all those whom you call to preach the Gospel may steep themselves in your word, and conform their lives to your will; through Jesus Christ our Lord, who lives and reigns with you and the Holy Spirit, one God, for ever and ever. Amen.
I believe in God, the Father almighty,
creator of heaven and earth.
I believe in Jesus Christ, his only son, our Lord.
He was conceived by the power of the Holy Spirit
and born of the Virgin Mary.
He suffered under Pontius Pilate,
was crucified, died, and was buried.
He descended to the dead.
On the third day he rose again.
He ascended into heaven,
and is seated at the right hand of the Father.
He will come again to judge the living and the dead.
I believe in the Holy Spirit,
the holy catholic Church,
the communion of saints,
the forgiveness of sins,
the resurrection of the body,
and the life everlasting. Amen.
The Lord's Prayer
or traditional
music: video | choir |music only
Our Father in heaven,
hallowed be your Name,
your kingdom come,
your will be done,
on earth as in heaven.
Give us today our daily bread.
Forgive us our sins
as we forgive those
who sin against us.
Save us from the time of trial,
and deliver us from evil.
For the kingdom, the power,
and the glory are yours,
now and for ever. Amen.
Show us your mercy, O Lord;
And grant us your salvation.
Clothe your ministers with righteousness;
Let your people sing with joy.
Give peace, O Lord, in all the world;
For only in you can we live in safety.
Lord, keep this nation under your care;
And guide us in the way of justice and truth.
Let your way be known upon earth;
Your saving health among all nations.
Let not the needy, O Lord, be forgotten;
Nor the hope of the poor be taken away.
Create in us clean hearts, O God;
And sustain us with your Holy Spirit.
Collect of the Day: Second Sunday after the Epiphany
Almighty God, whose Son our Savior Jesus Christ is the light of the world: Grant that your people, illumined by your Word and Sacraments, may shine with the radiance of Christ's glory, that he may be known, worshiped, and obeyed to the ends of the earth; through Jesus Christ our Lord, who with you and the Holy Spirit lives and reigns, one God, now and for ever. Amen.
For Mission
Almighty and everlasting God, by whose Spirit the whole body of your faithful people is governed and sanctified: Receive our supplications and prayers which we offer before you for all members of your holy Church, that in their vocation and ministry they may truly and devoutly serve you; through our Lord and Savior Jesus Christ. Amen.
World Cycle of Prayer
We pray for the people of Comoros.
Ecumenical Cycle of Prayer
We pray for our sisters and brothers members of the Church of North India.

Hymn: Hear our prayer
video | music only
Let us pray now for our own needs and those of others.
Birthdays
Anniversaries
For Recovery from Sickness
For Travelers
For a Person in Trouble or Bereavement
For Those to be Baptized
For the Departed
Full list of prayers
A Collect for the Renewal of Life
O God, the King eternal, who divides the day from the night and turns the shadow of death into the morning: Drive far from us all wrong desires, incline our hearts to keep your law, and guide our feet into the way of peace; that, having done your will with cheerfulness while it was day, we may, when night comes, rejoice to give you thanks; through Jesus Christ our Lord. Amen.
For Peace Among Nations
Almighty God our heavenly Father, guide the nations of the world into the way of justice and truth, and establish among them that peace which is the fruit of righteousness, that they may become the kingdom of our Lord and Savior Jesus Christ. Amen.
For Those in the Armed Forces of Our Country
Almighty God, we commend to your gracious care and keeping all the men and women of our armed forces at home and abroad. Defend them day by day with your heavenly grace; strengthen them in their trials and temptations; give them courage to face the perils which beset them; and grant them a sense of your abiding presence wherever they may be; through Jesus Christ our Lord. Amen.
For the Conservation of Natural Resources
Almighty God, in giving us dominion over things on earth, you made us fellow workers in your creation: Give us wisdom and reverence so to use the resources of nature, that no one may suffer from our abuse of them, and that generations yet to come may continue to praise you for your bounty; through Jesus Christ our Lord. Amen.

Hymn: Love divine
choir | video
Almighty and eternal God, so draw our hearts to you, so guide our minds, so fill our imaginations, so control our wills, that we may be wholly yours, utterly dedicated unto you; and then use us, we pray you, as you will, and always to your glory and the welfare of your people; through our Lord and Savior Jesus Christ. Amen.
General Thanksgiving
Almighty God, Father of all mercies, we your unworthy servants give you humble thanks for all your goodness and loving-kindness to us and to all whom you have made. We bless you for our creation, preservation, and all the blessings of this life; but above all for your immeasurable love in the redemption of the world by our Lord Jesus Christ; for the means of grace, and for the hope of glory. And, we pray, give us such an awareness of your mercies, that with truly thankful hearts we may show forth your praise, not only with our lips, but in our lives, by giving up our selves to your service, and by walking before you in holiness and righteousness all our days; through Jesus Christ our Lord, to whom, with you and the Holy Spirit, be honor and glory throughout all ages. Amen.
A Prayer of St. Chrysostom
Almighty God, you have given us grace at this time with one accord to make our common supplication to you; and you have promised through your well-beloved Son that when two or three are gathered together in his Name you will be in the midst of them: Fulfill now, O Lord, our desires and petitions as may be best for us; granting us in this world knowledge of your truth, and in the age to come life everlasting. Amen.
Let us bless the Lord.
Thanks be to God.
The grace of our Lord Jesus Christ, and the love of God, and the fellowship of the Holy Spirit, be with us all evermore. Amen.
2 Corinthians 13:14

Hymn: God Be With You
music
return to the January calendar