Wednesday, 28 January
Morning Prayer
The Third Sunday after the Epiphany
Thomas Aquinas

The Opening
Opening Sentence
I will give you as a light to the nations, that my salvation may reach to the end of the earth.  Isaiah 49:6b
Hymn: From all that dwell below the skies
From all that dwell below the skies,
Let the Creator's praise arise;
Alleluia! Alleluia!
Let the Redeemer's name be sung
Through ev'ry land by ev'ry tongue.
Alleluia! Alleluia! Alleluia! Alleluia! Alleluia!
Eternal are Thy mercies Lord;
Eternal truth attends Thy Word;
Alleluia! Alleluia!
Thy praise shall sound from shore to shore
Till suns shall rise and set no more.
Alleluia! Alleluia! Alleluia! Alleluia! Alleluia!
Alleluia!
Singer: Scott Krippayne | Words: Issac Watts | Arrangment: Scott Krippayne, Kirk Cameron
Confession
Let us confess our sins against God and our neighbor.
Most merciful God, we confess that we have sinned against you in thought, word, and deed, by what we have done, and by what we have left undone. We have not loved you with our whole heart; we have not loved our neighbors as ourselves. We are truly sorry and we humbly repent. For the sake of your Son Jesus Christ, have mercy on us and forgive us; that we may delight in your will, and walk in your ways, to the glory of your Name. Amen.
Almighty God have mercy on us, forgive us all our sins through our Lord Jesus Christ, strengthen us in all goodness, and by the power of the Holy Spirit keep us in eternal life. Amen.
Versicle and Response
Lord, open our lips.
And our mouth shall proclaim your praise.
Glory to the Father,
and to the Son,
and to the Holy Spirit:
as it was in the beginning,
is now, and will be forever Amen.
The Lord has shown forth his glory:
Come let us adore him.
Venite
Psalm 95:1-7
Come let us sing to the Lord;*
let us shout for joy to the Rock of our salvation.
Let us come before his presence with thanksgiving*
and raise a loud shout to him with psalms.
For the Lord is a great God,*
and a great King above all gods.
In his hand are the caverns of the earth,*
and the heights of the hills are his also.
The sea is his, for he made it,*
and his hands have molded the dry land.
Come, let us bow down, and bend the knee,*
and kneel before the Lord our Maker.
For he is our God, and we are the people of his pasture
and the sheep of his hand.*
Oh, that today you would hearken to his voice!
Antiphon
The Lord has shown forth his glory:
Come let us adore him.
The Psalms
Psalm 119:49-72 or Coverdale
Zayin

49 Remember your word to your servant, *
because you have given me hope.
50 This is my comfort in my trouble, *
that your promise gives me life.
51 The proud have derided me cruelly, *
but I have not turned from your law.
52 When I remember your judgments of old, *
O LORD, I take great confort.
53 I am filled with a burning rage, *
because of the wicked who forsake your law.
54 Your statutes have been like songs to me *
wherever I have lived as a stranger.
55 I remember your Name in the night, O LORD, *
and dwell upon your law.
56 This is how it has been with me, *
because I have kept your commandments.
Heth

57 You only are my portion, O LORD; *
I have promised to keep your words.
58 I entreat you with all my heart, *
be merciful to me according to your promise.
59 I have considered my ways *
and turned my feet toward your decrees.
60 I hasten and do not tarry *
to keep your commandments.
61 Though the cords of the wicked entangle me, *
I do not forget your law.
62 At midnight I will rise to give you thanks, *
because of your righteous judgments.
63 I am a companion of all who fear you *
and of those who keep your commandments.
64 The earth, O LORD, is full of your love; *
instruct me in your statutes.
Teth

65 O LORD, you have dealt graciously with your servant, *
according to your word.
66 Teach me discernment and knowledge, *
for I have believed in your commandments.
67 Before I was afflicted I went astray, *
but now I keep your word.
68 You are good and you bring forth good; *
instruct me in your statutes.
69 The proud have smeared me with lies, *
but I will keep your commandments with my whole heart.
70 Their heart is gross and fat, *
but my delight is in your law.
71 It is good for me that I have been afflicted, *
that I might learn your statutes.
72 The law of your mouth is dearer to me *
than thousands in gold and silver.
Gloria Patri
Glory be to the Father, and to the Son, and to the Holy Ghost.
As it was in the beginning, is now, and ever shall be: world without end. Amen. Amen.
The Lessons
The Old Testament Reading
Isaiah 49: 1- 12
Listen to me, O coastlands, pay attention, you peoples from far away! The LORD called me before I was born, while I was in my mother's womb he named me. He made my mouth like a sharp sword, in the shadow of his hand he hid me; he made me a polished arrow, in his quiver he hid me away. And he said to me, "You are my servant, Israel, in whom I will be glorified." But I said, "I have labored in vain, I have spent my strength for nothing and vanity; yet surely my cause is with the LORD, and my reward with my God." And now the LORD says, who formed me in the womb to be his servant, to bring Jacob back to him, and that Israel might be gathered to him, for I am honored in the sight of the LORD, and my God has become my strength- he says, "It is too light a thing that you should be my servant to raise up the tribes of Jacob and to restore the survivors of Israel; I will give you as a light to the nations, that my salvation may reach to the end of the earth." Thus says the LORD, the Redeemer of Israel and his Holy One, to one deeply despised, abhorred by the nations, the slave of rulers, "Kings shall see and stand up, princes, and they shall prostrate themselves, because of the LORD, who is faithful, the Holy One of Israel, who has chosen you." Thus says the LORD: In a time of favor I have answered you, on a day of salvation I have helped you; I have kept you and given you as a covenant to the people, to establish the land, to apportion the desolate heritages; saying to the prisoners, "Come out," to those who are in darkness, "Show yourselves." They shall feed along the ways, on all the bare heights shall be their pasture; they shall not hunger or thirst, neither scorching wind nor sun shall strike them down, for he who has pity on them will lead them, and by springs of water will guide them. And I will turn all my mountains into a road, and my highways shall be raised up. Lo, these shall come from far away, and lo, these from the north and from the west, and these from the land of Syene.
The Word of the Lord.
Thanks be to God.
Canticle 11 The Third Song of Isaiah
Isaiah 60:1-3, 11a, 14c, 18-19
Surge, illuminare
Arise, shine, for your light has come, *
and the glory of the Lord has dawned upon you.
For behold, darkness covers the land; *
deep gloom enshrouds the peoples.
But over you the Lord will rise, *
and his glory will appear upon you.
Nations will stream to your light, *
and kings to the brightness of your dawning.
Your gates will always be open; *
by day or night they will never be shut.
They will call you, The City of the Lord, *
The Zion of the Holy One of Israel.
Violence will no more be heard in your land, *
ruin or destruction within your borders.
You will call your walls, Salvation, *
and all your portals, Praise.
The sun will no more be your light by day; *
by night you will not need the brightness of the moon.
The Lord will be your everlasting light, *
and your God will be your glory.
Glory to the Father, and to the Son, and to the Holy Spirit
as it was in the beginning, is now, and will be for ever. Amen.
New Testament Reading
Galatians 2: 11- 21
But when Cephas came to Antioch, I opposed him to his face, because he stood self-condemned; for until certain people came from James, he used to eat with the Gentiles. But after they came, he drew back and kept himself separate for fear of the circumcision faction. And the other Jews joined him in this hypocrisy, so that even Barnabas was led astray by their hypocrisy. But when I saw that they were not acting consistently with the truth of the gospel, I said to Cephas before them all, 'If you, though a Jew, live like a Gentile and not like a Jew, how can you compel the Gentiles to live like Jews?' We ourselves are Jews by birth and not Gentile sinners; yet we know that a person is justified not by the works of the law but through faith in Jesus Christ. And we have come to believe in Christ Jesus, so that we might be justified by faith in Christ, and not by doing the works of the law, because no one will be justified by the works of the law. But if, in our effort to be justified in Christ, we ourselves have been found to be sinners, is Christ then a servant of sin? Certainly not! But if I build up again the very things that I once tore down, then I demonstrate that I am a transgressor. For through the law I died to the law, so that I might live to God. I have been crucified with Christ; and it is no longer I who live, but it is Christ who lives in me. And the life I now live in the flesh I live by faith in the Son of God, who loved me and gave himself for me. I do not nullify the grace of God; for if justification comes through the law, then Christ died for nothing.
The Word of the Lord.
Thanks be to God.
Canticle 16 The Song of Zechariah
Luke 1:68-79
Benedictus Dominus Deus
Blessed be the Lord, the God of Israel;*
he has come to his people and set them free.
He has raised up for us a mighty savior,*
born of the house of his servant David.
Through his holy prophets he promised of old,
that he would save us from our enemies,*
from the hands of all who hate us.
he promised to show mercy to our fathers*
and to remember his holy covenant.
This was the oath he swore to our father Abraham,*
to set us free from the hands of our enemies,
Free to worship him without fear,*
holy and righteous in his sight
all the days of our life.
You, my child, shall be called the prophet of the Most High,*
for you will go before the Lord to prepare his way,
To give his people knowledge of salvation*
by the forgiveness of their sins.
In the tender compassion of our God*
the dawn from on high shall break upon us,
To shine on those who dwell in darkness and the shadow of death,*
and to guide our feet into the way of peace.
Glory to the Father, and to the Son, and to the Holy Spirit
as it was in the beginning, is now, and will be for ever. Amen.
Gospel
Mark 6: 13- 29
They cast out many demons, and anointed with oil many who were sick and cured them. King Herod heard of it, for Jesus' name had become known. Some were saying, 'John the baptizer has been raised from the dead; and for this reason these powers are at work in him.' But others said, 'It is Elijah.' And others said, 'It is a prophet, like one of the prophets of old.' But when Herod heard of it, he said, 'John, whom I beheaded, has been raised.' For Herod himself had sent men who arrested John, bound him, and put him in prison on account of Herodias, his brother Philip's wife, because Herod had married her. For John had been telling Herod, 'It is not lawful for you to have your brother's wife.' And Herodias had a grudge against him, and wanted to kill him. But she could not, for Herod feared John, knowing that he was a righteous and holy man, and he protected him. When he heard him, he was greatly perplexed; and yet he liked to listen to him. But an opportunity came when Herod on his birthday gave a banquet for his courtiers and officers and for the leaders of Galilee. When his daughter Herodias came in and danced, she pleased Herod and his guests; and the king said to the girl, 'Ask me for whatever you wish, and I will give it.' And he solemnly swore to her, 'Whatever you ask me, I will give you, even half of my kingdom.' She went out and said to her mother, 'What should I ask for?' She replied, 'The head of John the baptizer.' Immediately she rushed back to the king and requested, 'I want you to give me at once the head of John the Baptist on a platter.' The king was deeply grieved; yet out of regard for his oaths and for the guests, he did not want to refuse her. Immediately the king sent a soldier of the guard with orders to bring John's head. He went and beheaded him in the prison, brought his head on a platter, and gave it to the girl. Then the girl gave it to her mother. When his disciples heard about it, they came and took his body, and laid it in a tomb.
The Word of the Lord.
Thanks be to God.
The Commemoration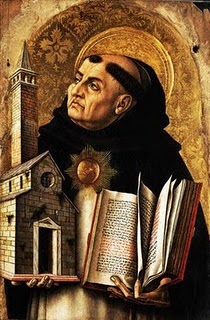 In the thirteenth century, when Thomas Aquinas lived, the works of  Aristotle, largely forgotten in Western Europe, began to be available again, partly from Eastern European sources and partly from Moslem Arab sources in Africa and Spain. These works offered a new and exciting way of looking at the world. Many enthusiastic students of Aristotle adopted him quite frankly as as an alternative to Christianity. The response of many Christians was to denounce Aristotle as an enemy of the Christian Faith. A third approach was that of those who tried to hold both Christian and Aristotelian views side by side with no attempt to reconcile the two. Aquinas had a fourth approach. While remaining a Christian, he immersed himself in the ideas of Aristotle, and then undertook to explain Christian ideas and beliefs in language that would make sense to disciples of Aristotle. At the time, this seemed like a very dangerous and radical idea, and Aquinas spent much of his life living on the edge of ecclesiastical approval. His success can be measured by the prevalence today of the notion that of course all Christian scholars in the Middle Ages were followers of Aristotle. 
Aristotle is no longer the latest intellectual fashion, but Aquinas's insistence that the Christian scholar must be prepared to meet other scholars on their own ground, to become familiar with their viewpoints, to argue from their premises, has been a permanent and valuable contribution to Christian thought. 
Some Christian scholars today are undertaking, with varying degrees of success, to explore the relations between Christianity and various contemporary studies or world-outlooks that have been used as weapons by opponents of Christianity. Examples that come to mind include the following: 
William G Pollard, Anglican priest, nuclear physicist at the Oak Ridge Laboratory (government-connected), Executive Director of the Oak Ridge Institute for Nuclear Studies (not government-connected), and author of Chance and Providence and Physicist and Christian (both out of print but should be available used). 
John Polkinghorne, FRS, Anglican priest, head of Queen's College, Cambridge, nuclear physicist, and author of Science and Creation, Science and Providence, and various other works, including most recently The Faith of a Physicist, now (Jan 1997) on display at your local bookstore. (For non-scientists, I will point out that "FRS" denotes a Fellow of the Royal Society, a member of the elite of British scientists.) 
G B Sanders, author of Christianity after Freud. (For a brief summary of his thesis, consult the Christia Web page.
Various writers on "liberation theology" who have undertaken to show that Marxism, properly interpreted, does not imply the falsity of Christianity. 
Prayer
Almighty God, you have enriched your Church with the singular learning and holiness of your servant Thomas Aquinas: Enlighten us more and more, we pray, by the disciplined thinking and teaching of Christian scholars, and deepen our devotion by the example of saintly lives; through Jesus Christ our Lord, who lives and reigns with you and the Holy Spirit, one God, for ever and ever. 
Alternate Psalm and Readings
Psalm 119:97-104 
Wisdom 7:7-14 
1 Corinthians 11:23-26
Matthew 13:47-52  
The Creed
The Apostle's Creed
I believe in God, the Father almighty,
creator of heaven and earth.
I believe in Jesus Christ, his only son, our Lord.
He was conceived by the power of the Holy Spirit
and born of the Virgin Mary.
He suffered under Pontius Pilate,
was crucified, died, and was buried.
He descended to the dead.
On the third day he rose again.
He ascended into heaven,
and is seated at the right hand of the Father.
He will come again to judge the living and the dead.
I believe in the Holy Spirit,
the holy catholic Church,
the communion of saints,
the forgiveness of sins,
the resurrection of the body,
and the life everlasting. Amen.
The Prayers
The Lord's Prayer
or traditional
Our Father in heaven,
hallowed be your Name,
your kingdom come,
your will be done,
on earth as in heaven.
Give us today our daily bread.
Forgive us our sins
as we forgive those
who sin against us.
Save us from the time of trial,
and deliver us from evil.
For the kingdom, the power,
and the glory are yours,
now and for ever. Amen.
Suffrages
Show us your mercy, O Lord;
And grant us your salvation.
Clothe your ministers with righteousness;
Let your people sing with joy.
Give peace, O Lord, in all the world;
For only in you can we live in safety.
Lord, keep this nation under your care;
And guide us in the way of justice and truth.
Let your way be known upon earth;
Your saving health among all nations.
Let not the needy, O Lord, be forgotten;
Nor the hope of the poor be taken away.
Create in us clean hearts, O God;
And sustain us with your Holy Spirit.
Collect of the Day: The Third Sunday after the Epiphany
Give us grace, O Lord, to answer readily the call of our Savior Jesus Christ and proclaim to all people the Good News of his salvation, that we and the whole world may perceive the glory of his marvelous works; who lives and reigns with you and the Holy Spirit, one God, for ever and ever. Amen.
For Mission
O God and Father of all, whom the whole heavens adore: Let the whole earth also worship you, all nations obey you, all tongues confess and bless you, and men and women everywhere love you and serve you in peace; through Jesus Christ our Lord. Amen.
World Cycle of Prayer
We pray for the people of São Tomé and Príncipe.
Ecumenical Cycle of Prayer
We pray for our sisters and brothers members of the Church in Wales.
A Collect for Peace
Eternal God, in whose perfect kingdom no sword is drawn but the sword of righteousness, no strength known but the strength of love: So mightily spread abroad your Spirit, that all peoples may be gathered under the banner of the Prince of Peace, as children of one Father; to whom be dominion and glory, now and for ever. Amen.
Hymn: To my humble supplication
To my humble supplication
Lord, give ear and acceptation
Save thy servant, that hath none
Help nor hope but Thee alone. Amen.
Prayers and Intercessions
Let us pray now for our own needs and those of others.
Birthdays
Anniversaries
For Recovery from Sickness
For Travelers
For a Person in Trouble or Bereavement
For Those to be Baptized
For the Departed
Full list of prayers
For our Country
Almighty God, who has given us this good land for our heritage: We humbly beseech you that we may always prove ourselves a people mindful of your favor and glad to do your will. Bless our land with honorable industry, sound learning, and pure manners. Save us from violence, discord, and confusion; from pride and arrogance, and from every evil way. Defend our liberties, and fashion us into one united people. Endue with the spirit of wisdom those to whom in your Name we entrust the authority of government, that there may be justice and peace at home, and that, through obedience to your law, we may show forth your praise among the nations of the earth. In the time of prosperity, fill our hearts with thankfulness, and in the day of trouble, suffer not our trust in you to fail; all which we ask through Jesus Christ our Lord. Amen.
For the President of the
United States
and all in Civil Authority
O Lord our Governor, whose glory is in all the world: We commend this nation to your merciful care, that, being guided by your Providence, we may dwell secure in your peace. Grant to the President of the United States, the Governor of this State (or, Commonwealth), and to all in authority, wisdom and strength to know and to do your will. Fill them with the love of truth and righteousness, and make them ever mindful of their calling to serve this people in your fear; through Jesus Christ our Lord, who lives and reigns with you and the Holy Spirit, one God, world without end. Amen.
Hymn: Thou hidden source of calm repose
Thou hidden source of calm repose,
Thou all-sufficient love divine,
My help and refuge from my foes,
Secure I am, if thou art mine:
And lo! from sin, and grief and shame
I hide me, Jesus, in thy Name.
Thy mighty Name salvation is,
And keeps my happy soul above;
Comfort it brings, and pow'r, and peace,
And joy, and everlasting love:
To me, with thy dear Name are giv'n
Pardon and holiness and heav'n.
Jesus, my all in all thou art;
My rest in toil, my ease in pain,
The medicine of my broken heart,
In war my peace, in loss my gain,
My smile beneath the tyrant's frown,
In shame my glory and my crown:
In want my plentiful supply,
In weakness my almighty pow'r,
In bonds my perfect liberty,
My light in Satan's darkest hour,
My help and stay whene'er I call,
My life in death, my heav'n, my all. Amen.
Choir: FPC Congregation | Organist: Ron Bechtel | Words: Charles Wesley | Tune: Stella
A Prayer of Self-Dedication
Almighty and eternal God,
so draw our hearts to you,
so guide our minds,
so fill our imaginations,
so control our wills,
that we may be wholly yours,
utterly dedicated unto you;
and then use us, we pray you, as you will,
and always to your glory and the welfare of your people;
through our Lord and Savior Jesus Christ. Amen.
General Thanksgiving
Almighty God, Father of all mercies, we your unworthy servants give you humble thanks for all your goodness and loving-kindness to us and to all whom you have made. We bless you for our creation, preservation, and all the blessings of this life; but above all for your immeasurable love in the redemption of the world by our Lord Jesus Christ; for the means of grace, and for the hope of glory. And, we pray, give us such an awareness of your mercies, that with truly thankful hearts we may show forth your praise, not only with our lips, but in our lives, by giving up our selves to your service, and by walking before you in holiness and righteousness all our days; through Jesus Christ our Lord, to whom, with you and the Holy Spirit, be honor and glory throughout all ages. Amen.
A Prayer of St. Chrysostom
Almighty God, you have given us grace at this time with one accord to make our common supplication to you; and you have promised through your well-beloved Son that when two or three are gathered together in his Name you will be in the midst of them: Fulfill now, O Lord, our desires and petitions as may be best for us; granting us in this world knowledge of your truth, and in the age to come life everlasting. Amen.
The Ending
Benediction
Let us bless the Lord.
Thanks be to God.
May the God of hope fill us with all joy and peace in believing through the power of the Holy Spirit. Amen. Romans 15:13
Hymn: God Be With You
God be with you till we meet again;
By his counsels guide, uphold you;
With his sheep securely fold you.
God be with you till we meet again.
Till we meet, till we meet,
Till we meet at Jesus' feet,
Till we meet, till we meet,
God be with you till we meet again.