Hymn: Open my eyes
choir | video
From the rising of the sun to its setting my Name shall be great among the nations, and in every place incense shall be offered to my Name, and a pure offering; for my Name shall be great among the nations, says the Lord of hosts. Malachi 1:11
Let us confess our sins against God and our neighbor.
Most merciful God, we confess that we have sinned against you in thought, word, and deed, by what we have done, and by what we have left undone. We have not loved you with our whole heart; we have not loved our neighbors as ourselves. We are truly sorry and we humbly repent. For the sake of your Son Jesus Christ, have mercy on us and forgive us; that we may delight in your will, and walk in your ways, to the glory of your Name. Amen.
Almighty God have mercy on us, forgive us all our sins through our Lord Jesus Christ, strengthen us in all goodness, and by the power of the Holy Spirit keep us in eternal life. Amen.
Lord, open our lips.
And our mouth shall proclaim your praise.
Glory to the Father, and to the Son, and to the Holy Spirit,
As it was in the beginning, is now, and will be for ever. Amen.
Alleluia. The Lord has shown forth his glory: Come let us adore him. Alleluia.
Come let us sing to the Lord;*
let us shout for joy to the Rock of our salvation.
Let us come before his presence with thanksgiving*
and raise a loud shout to him with psalms.
For the Lord is a great God,*
and a great King above all gods.
In his hand are the caverns of the earth,*
and the heights of the hills are his also.
The sea is his, for he made it,*
and his hands have molded the dry land.
Come, let us bow down, and bend the knee,*
and kneel before the Lord our Maker.
For he is our God,
and we are the people of his pasture and the sheep of his hand.*
Oh, that today you would hearken to his voice!
Alleluia. The Lord has shown forth his glory: Come let us adore him. Alleluia.
Psalm 45
or Coverdale
1 My heart is stirring with a noble song;
let me recite what I have fashioned for the king; *
my tongue shall be the pen of a skilled writer.
2 You are the fairest of men; *
grace flows from your lips,
because God has blessed you for ever.
3 Strap your sword upon your thigh, O mighty warrior, *
in your pride and in your majesty.
4 Ride out and conquer in the cause of truth *
and for the sake of justice.
5 Your right hand will show you marvelous things; *
your arrows are very sharp, O mighty warrior.
6 The peoples are falling at your feet, *
and the king's enemies are losing heart.
7 Your throne, O God, endures for ever and ever, *
a scepter of righteousness is the scepter of your kingdom;
you love righteousness and hate iniquity.
8 Therefore God, your God, has anointed you *
with the oil of gladness above your fellows.
9 All your garments are fragrant with myrrh, aloes, and cassia, *
and the music of strings from ivory palaces makes you glad.
10 Kings' daughters stand among the ladies of the court; *
on your right hand is the queen,
adorned with the gold of Ophir.
11 "Hear, O daughter; consider and listen closely; *
forget your people and your father's house.
12 The king will have pleasure in your beauty; *
he is your master; therefore do him honor.
13 The people of Tyre are here with a gift; *
the rich among the people seek your favor."
14 All glorious is the princess as she enters; *
her gown is cloth-of-gold.
15 In embroidered apparel she is brought to the king; *
after her the bridesmaids follow in procession.
16 With joy and gladness they are brought, *
and enter into the palace of the king.
17 "In place of fathers, O king, you shall have sons; *
you shall make them princes over all the earth.
18 I will make your name to be remembered
from one generation to another; *
therefore nations will praise you for ever and ever."

sung
Glory to the Father, and to the Son, and to the Holy Ghost
as it was in the beginning, is now, and will be for ever. Amen.
Gen. 15:1-11, 17-21 (NRSV)
1 After these things the word of the LORD came to Abram in a vision, "Do not be afraid, Abram, I am your shield; your reward shall be very great." 2 But Abram said, "O Lord GOD, what will you give me, for I continue childless, and the heir of my house is Eliezer of Damascus?" 3 And Abram said, "You have given me no offspring, and so a slave born in my house is to be my heir." 4 But the word of the LORD came to him, "This man shall not be your heir; no one but your very own issue shall be your heir." 5 He brought him outside and said, "Look toward heaven and count the stars, if you are able to count them." Then he said to him, "So shall your descendants be." 6 And he believed the LORD; and the LORD reckoned it to him as righteousness.
7 Then he said to him, "I am the LORD who brought you from Ur of the Chaldeans, to give you this land to possess." 8 But he said, "O Lord GOD, how am I to know that I shall possess it?" 9 He said to him, "Bring me a heifer three years old, a female goat three years old, a ram three years old, a turtledove, and a young pigeon." 10 He brought him all these and cut them in two, laying each half over against the other; but he did not cut the birds in two. 11 And when birds of prey came down on the carcasses, Abram drove them away.
17 When the sun had gone down and it was dark, a smoking fire pot and a flaming torch passed between these pieces. 18 On that day the LORD made a covenant with Abram, saying, "To your descendants I give this land, from the river of Egypt to the great river, the river Euphrates, 19 the land of the Kenites, the Kenizzites, the Kadmonites, 20 the Hittites, the Perizzites, the Rephaim, 21 the Amorites, the Canaanites, the Girgashites, and the Jebusites."
The Word of the Lord.
Thanks be to God.
Canticle 13 A Song of Praise Song of the Three Young Men, 29-34
Benedictus es, Domine
Glory to you, Lord God of our fathers; *
you are worthy of praise; glory to you.
Glory to you for the radiance of your holy Name; *
we will praise you and highly exalt you for ever.
Glory to you in the splendor of your temple; *
on the throne of your majesty, glory to you.
Glory to you, seated between the Cherubim; *
we will praise you and highly exalt you for ever.
Glory to you, beholding the depths; *
in the high vault of heaven, glory to you.
Glory to you, Father, Son, and Holy Spirit; *
we will praise you and highly exalt you for ever.
Hebrews 9:1-14 (NRSV)
1 Now even the first covenant had regulations for worship and an earthly sanctuary. 2 For a tent was constructed, the first one, in which were the lampstand, the table, and the bread of the Presence; this is called the Holy Place. 3 Behind the second curtain was a tent called the Holy of Holies. 4 In it stood the golden altar of incense and the ark of the covenant overlaid on all sides with gold, in which there were a golden urn holding the manna, and Aaron's rod that budded, and the tablets of the covenant; 5 above it were the cherubim of glory overshadowing the mercy seat. Of these things we cannot speak now in detail.
6 Such preparations having been made, the priests go continually into the first tent to carry out their ritual duties; 7 but only the high priest goes into the second, and he but once a year, and not without taking the blood that he offers for himself and for the sins committed unintentionally by the people. 8 By this the Holy Spirit indicates that the way into the sanctuary has not yet been disclosed as long as the first tent is still standing. 9 This is a symbol of the present time, during which gifts and sacrifices are offered that cannot perfect the conscience of the worshiper, 10 but deal only with food and drink and various baptisms, regulations for the body imposed until the time comes to set things right.
11 But when Christ came as a high priest of the good things that have come, then through the greater and perfect tent (not made with hands, that is, not of this creation), 12 he entered once for all into the Holy Place, not with the blood of goats and calves, but with his own blood, thus obtaining eternal redemption. 13 For if the blood of goats and bulls, with the sprinkling of the ashes of a heifer, sanctifies those who have been defiled so that their flesh is purified, 14 how much more will the blood of Christ, who through the eternal Spirit offered himself without blemish to God, purify our conscience from dead works to worship the living God!
The Word of the Lord.
Thanks be to God.
Canticle 18 A Song to the Lamb Revelation 4:11, 5:9-10, 13
Dignus es
Splendor and honor and kingly power *
are yours by right, O Lord our God,
For you created everything that is, *
and by your will they were created and have their being;
And yours by right, O Lamb that was slain, *
for with your blood you have redeemed for God,
From every family, language, people, and nation, *
a kingdom of priests to serve our God.
And so, to him who sits upon the throne, *
and to Christ the Lamb,
Be worship and praise, dominion and splendor, *
for ever and for ever more.
Glory to the Father, and to the Son, and to the Holy Spirit
as it was in the beginning, is now, and will be for ever. Amen.
John 5:1-18 (NRSV)
1 After this there was a festival of the Jews, and Jesus went up to Jerusalem.
2 Now in Jerusalem by the Sheep Gate there is a pool, called in Hebrew Beth-zatha, which has five porticoes. 3 In these lay many invalids-blind, lame, and paralyzed. 5 One man was there who had been ill for thirty-eight years. 6 When Jesus saw him lying there and knew that he had been there a long time, he said to him, "Do you want to be made well?" 7 The sick man answered him, "Sir, I have no one to put me into the pool when the water is stirred up; and while I am making my way, someone else steps down ahead of me." 8 Jesus said to him, "Stand up, take your mat and walk." 9 At once the man was made well, and he took up his mat and began to walk.
Now that day was a sabbath. 10 So the Jews said to the man who had been cured, "It is the sabbath; it is not lawful for you to carry your mat." 11 But he answered them, "The man who made me well said to me, 'Take up your mat and walk.' " 12 They asked him, "Who is the man who said to you, 'Take it up and walk'?" 13 Now the man who had been healed did not know who it was, for Jesus had disappeared in the crowd that was there. 14 Later Jesus found him in the temple and said to him, "See, you have been made well! Do not sin any more, so that nothing worse happens to you." 15 The man went away and told the Jews that it was Jesus who had made him well. 16 Therefore the Jews started persecuting Jesus, because he was doing such things on the sabbath. 17 But Jesus answered them, "My Father is still working, and I also am working." 18 For this reason the Jews were seeking all the more to kill him, because he was not only breaking the sabbath, but was also calling God his own Father, thereby making himself equal to God.
The Word of the Lord.
Thanks be to God.
Thomas Aquinas, 28 January 1274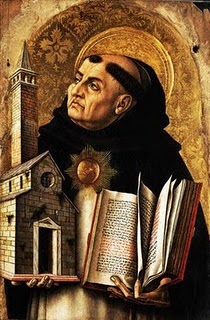 In the thirteenth century, when Thomas Aquinas lived, the works of Aristotle, largely forgotten in Western Europe, began to be available again, partly from Eastern European sources and partly from Moslem Arab sources in Africa and Spain. These works offered a new and exciting way of looking at the world.
Many enthusiastic students of Aristotle adopted him quite frankly as as an alternative to Christianity. The response of many Christians was to denounce Aristotle as an enemy of the Christian Faith. A third approach was that of those who tried to hold both Christian and Aristotelian views side by side with no attempt to reconcile the two.
Aquinas had a fourth approach. While remaining a Christian, he immersed himself in the ideas of Aristotle, and then undertook to explain Christian ideas and beliefs in language that would make sense to disciples of Aristotle. At the time, this seemed like a very dangerous and radical idea, and Aquinas spent much of his life living on the edge of ecclesiastical approval. His success can be measured by the prevalence today of the notion that, of course, all Christian scholars in the Middle Ages were followers of Aristotle.
Aristotle is no longer the latest intellectual fashion, but Aquinas's insistence that the Christian scholar must be prepared to meet other scholars on their own ground, to become familiar with their viewpoints, to argue from their premises, has been a permanent and valuable contribution to Christian thought.
Some Christian scholars today are undertaking, with varying degrees of success, to explore the relations between Christianity and various contemporary studies or world-outlooks that have been used as weapons by opponents of Christianity. Examples that come to mind include the following:
William G Pollard, Anglican priest, nuclear physicist at the Oak Ridge Laboratory (government-connected), Executive Director of the Oak Ridge Institute for Nuclear Studies (now the Oak Ridge Associated Universities) (not government-connected), and author of Chance and Providence, God's Action in a World Governed By Scientific Thought and Physicist and Christian (both out of print).
John Polkinghorne, FRS, Anglican priest, head of Queen's College, Cambridge, nuclear physicist, and author of Science and Creation [available for sale], Science and Providence [also available for sale], and various other works, including The Faith of a Physicist [available for sale]. (For non-scientists, I will point out that "FRS" denotes a Fellow of the Royal Society, a member of the elite of British scientists.)
B. G. Sanders, author of Christianity After Freud (1949) .
Various writers on "liberation theology" who have undertaken to show that Marxism, properly interpreted, does not imply the falsity of Christianity.
written by James Kiefer
Prayer
Almighty God, you have enriched your Church with the singular learning and holiness of your servant Thomas Aquinas: Enlighten us more and more, we pray, by the disciplined thinking and teaching of Christian scholars, and deepen our devotion by the example of saintly lives; through Jesus Christ our Lord, who lives and reigns with you and the Holy Spirit, one God, for ever and ever. Amen.
I believe in God, the Father almighty,
creator of heaven and earth.
I believe in Jesus Christ, his only son, our Lord.
He was conceived by the power of the Holy Spirit
and born of the Virgin Mary.
He suffered under Pontius Pilate,
was crucified, died, and was buried.
He descended to the dead.
On the third day he rose again.
He ascended into heaven,
and is seated at the right hand of the Father.
He will come again to judge the living and the dead.
I believe in the Holy Spirit,
the holy catholic Church,
the communion of saints,
the forgiveness of sins,
the resurrection of the body,
and the life everlasting. Amen.
The Lord's Prayer
or traditional
music: video | choir |music only
Our Father in heaven,
hallowed be your Name,
your kingdom come,
your will be done,
on earth as in heaven.
Give us today our daily bread.
Forgive us our sins
as we forgive those
who sin against us.
Save us from the time of trial,
and deliver us from evil.
For the kingdom, the power,
and the glory are yours,
now and for ever. Amen.
Show us your mercy, O Lord;
And grant us your salvation.
Clothe your ministers with righteousness;
Let your people sing with joy.
Give peace, O Lord, in all the world;
For only in you can we live in safety.
Lord, keep this nation under your care;
And guide us in the way of justice and truth.
Let your way be known upon earth;
Your saving health among all nations.
Let not the needy, O Lord, be forgotten;
Nor the hope of the poor be taken away.
Create in us clean hearts, O God;
And sustain us with your Holy Spirit.
Collect of the Day: Third Sunday after the Epiphany
Give us grace, O Lord, to answer readily the call of our Savior Jesus Christ and proclaim to all people the Good News of his salvation, that we and the whole world may perceive the glory of his marvelous works; who lives and reigns with you and the Holy Spirit, one God, for ever and ever. Amen.
For Mission
O God and Father of all, whom the whole heavens adore: Let the whole earth also worship you, all nations obey you, all tongues confess and bless you, and men and women everywhere love you and serve you in peace; through Jesus Christ our Lord. Amen.
World Cycle of Prayer
We pray for the people of Costa Rica.
Ecumenical Cycle of Prayer
We pray for our sisters and brothers members of the Church of Sweden.

Hymn: Hear our prayer
video | music only
Let us pray now for our own needs and those of others.
Birthdays
Anniversaries
For Recovery from Sickness
For Travelers
For a Person in Trouble or Bereavement
For Those to be Baptized
For the Departed
Full list of prayers
A Collect for Guidance
Heavenly Father, in you we live and move and have our being: We humbly pray you so to guide and govern us by your Holy Spirit, that in all the cares and occupations of our life we may not forget you, but may remember that we are ever walking in your sight; through Jesus Christ our Lord. Amen.
For the Human Family
O God, you made us in your own image and redeemed us through Jesus your Son: Look with compassion on the whole human family; take away the arrogance and hatred which infect our hearts; break down the walls that separate us; unite us in bonds of love; and work through our struggle and confusion to accomplish your purposes on earth; that, in your good time, all nations and races may serve you in harmony around your heavenly throne; through Jesus Christ our Lord. Amen.
For Prisons and Correctional Institutions
Lord Jesus, for our sake you were condemned as a criminal: Visit our jails and prisons with your pity and judgment. Remember all prisoners, and bring the guilty to repentance and amendment of life according to your will, and give them hope for their future. When any are held unjustly, bring them release; forgive us, and teach us to improve our justice. Remember those who work in these institutions; keep them humane and compassionate; and save them from becoming brutal or callous. And since what we do for those in prison, O Lord, we do for you, constrain us to improve their lot. All this we ask for your mercy's sake. Amen.
For the Victims of Addiction
Blessed Lord, you ministered to all who came to you: Look with compassion upon all who through addiction have lost their health and freedom. Restore to them the assurance of your unfailing mercy; remove from them the fears that beset them; strengthen them in the work of their recovery; and to those who care for them, give patient understanding and persevering love. Amen.

Hymn: Nothing is lost
choir | video
Almighty and eternal God, so draw our hearts to you, so guide our minds, so fill our imaginations, so control our wills, that we may be wholly yours, utterly dedicated unto you; and then use us, we pray you, as you will, and always to your glory and the welfare of your people; through our Lord and Savior Jesus Christ. Amen.
General Thanksgiving
Almighty God, Father of all mercies, we your unworthy servants give you humble thanks for all your goodness and loving-kindness to us and to all whom you have made. We bless you for our creation, preservation, and all the blessings of this life; but above all for your immeasurable love in the redemption of the world by our Lord Jesus Christ; for the means of grace, and for the hope of glory. And, we pray, give us such an awareness of your mercies, that with truly thankful hearts we may show forth your praise, not only with our lips, but in our lives, by giving up our selves to your service, and by walking before you in holiness and righteousness all our days; through Jesus Christ our Lord, to whom, with you and the Holy Spirit, be honor and glory throughout all ages. Amen.
A Prayer of St. Chrysostom
Almighty God, you have given us grace at this time with one accord to make our common supplication to you; and you have promised through your well-beloved Son that when two or three are gathered together in his Name you will be in the midst of them: Fulfill now, O Lord, our desires and petitions as may be best for us; granting us in this world knowledge of your truth, and in the age to come life everlasting. Amen.
Let us bless the Lord.
Thanks be to God.
The grace of our Lord Jesus Christ, and the love of God, and the fellowship of the Holy Spirit, be with us all evermore. Amen.
2 Corinthians 13:14

Hymn: God Be With You
music
return to the January calendar