Friday, 3 March
Morning Prayer
John and Charles Wesley
The Opening
Opening Sentence
I will arise and go to my father, and I will say to him, "Father, I have sinned against heaven and before you; I am no longer worthy to be called your son." Luke 15:18, 19
Hymn: Christ, whose glory fills the skies
Christ, whose glory fills the skies,
Christ, the true, the only Light,
Sun of Righteousness, arise,
Triumph o'er the shades of night;
Dayspring from on high, be near;
Day-star, in my heart appear.
Dark and cheerless is the morn
Unaccompanied by Thee;
Joyless is the day's return
Till Thy mercy's beams I see;
Till they inward light impart,
Glad my eyes, and warm my heart.
Visit then this soul of mine,
Pierce the gloom of sin and grief;
Fill me, Radiancy divine,
Scatter all my unbelief;
More and more Thyself display,
Shining to the perfect day.
Words: Charles Wesley
Confession
Let us confess our sins against God and our neighbor.
Most merciful God, we confess that we have sinned against you in thought, word, and deed, by what we have done, and by what we have left undone. We have not loved you with our whole heart; we have not loved our neighbors as ourselves. We are truly sorry and we humbly repent. For the sake of your Son Jesus Christ, have mercy on us and forgive us; that we may delight in your will, and walk in your ways, to the glory of your Name. Amen.
Almighty God have mercy on us, forgive us all our sins through our Lord Jesus Christ, strengthen us in all goodness, and by the power of the Holy Spirit keep us in eternal life. Amen.
Versicle and Response
Lord, open our lips.
And our mouth shall proclaim your praise.
Glory to the Father,
and to the Son,
and to the Holy Spirit,
As it was in the beginning,
is now, and will be for ever. Amen.
The Lord is full of compassion and mercy:
Come let us adore him.
Venite
Psalm 95 Venite, exultemus
1 Come, let us sing to the Lord; *
let us shout for joy to the Rock of our salvation.
2 Let us come before his presence with thanksgiving *
and raise a loud shout to him with psalms.
3 For the Lord is a great God, *
and a great King above all gods.
4 In his hand are the caverns of the earth, *
and the heights of the hills are his also.
5 The sea is his, for he made it, *
and his hands have molded the dry land.
6 Come, let us bow down, and bend the knee, *
and kneel before the Lord our Maker.
7 For he is our God,
and we are the people of his pasture and the sheep of his hand. *
Oh, that today you would hearken to his voice!
8 Harden not your hearts,
as your forebears did in the wilderness, *
at Meribah, and on that day at Massah,
when they tempted me.
9 They put me to the test, *
though they had seen my works.
10 Forty years long I detested that generation and said, *
"This people are wayward in their hearts;
they do not know my ways."
11 So I swore in my wrath, *
"They shall not enter into my rest.
Antiphon
The Lord is full of compassion and mercy:
Come let us adore him.
The Psalm
Psalm 31 or
Coverdale
In te, Domine, speravi
1In you, O LORD, have I taken refuge;
let me never be put to shame; *
deliver me in your righteousness.
2Incline your ear to me; *
make haste to deliver me.
3Be my strong rock, a castle to keep me safe,
for you are my crag and my stronghold; *
for the sake of your Name, lead me and guide me.
4Take me out of the net that they have secretly set for me, *
for you are my tower of strength.
5Into your hands I commend my spirit, *
for you have redeemed me,
O LORD, O God of truth.
6I hate those who cling to worthless idols, *
and I put my trust in the LORD.
7I will rejoice and be glad because of your mercy; *
for you have seen my affliction;
you know my distress.
8You have not shut me up in the power of the enemy; *
you have set my feet in an open place.
9Have mercy on me, O LORD, for I am in trouble; *
my eye is consumed with sorrow,
and also my throat and my belly.
10For my life is wasted with grief,
and my years with sighing; *
my strength fails me because of affliction,
and my bones are consumed.
11I have become a reproach to all my enemies and
even to my neighbors,
a dismay to those of my acquaintance; *
when they see me in the street they avoid me.
12I am forgotten like a dead man, out of mind; *
I am as useless as a broken pot.
13For I have heard the whispering of the crowd;
fear is all around; *
they put their heads together against me;
they plot to take my life.
14But as for me, I have trusted in you, O LORD. *
I have said, "You are my God.
15My times are in your hand; *
rescue me from the hand of my enemies,
and from those who persecute me.
16Make your face to shine upon your servant, *
and in your loving-kindness save me."
17LORD, let me not be ashamed for having called upon you; *
rather, let the wicked be put to shame;
let them be silent in the grave.
18Let the lying lips be silenced which speak against
the righteous, *
haughtily, disdainfully, and with contempt.
19How great is your goodness, O LORD!
which you have laid up for those who fear you; *
which you have done in the sight of all
for those who put their trust in you.
20You hide them in the covert of your presence from those
who slander them; *
you keep them in your shelter from the strife of tongues.
21Blessed be the LORD! *
for he has shown me the wonders of his love in a
besieged city.
22Yet I said in my alarm,
I have been cut off from the sight of your eyes." *
Nevertheless, you heard the sound of my entreaty
when I cried out to you.
23Love the LORD, all you who worship him; *
the LORD protects the faithful,
but repays to the full those who act haughtily.
24Be strong and let your heart take courage, *
all you who wait for the LORD.
Gloria Patri
Glory be to the Father, and to the Son, and to the Holy Ghost.
As it was in the beginning, is now, and ever shall be: world without end. Amen. Amen.
The Lessons
The Old Testament Reading
Deuteronomy 7:12-16
12 If you heed these ordinances, by diligently observing them, the LORD your God will maintain with you the covenant loyalty that he swore to your ancestors; 13he will love you, bless you, and multiply you; he will bless the fruit of your womb and the fruit of your ground, your grain and your wine and your oil, the increase of your cattle and the issue of your flock, in the land that he swore to your ancestors to give you. 14You shall be the most blessed of peoples, with neither sterility nor barrenness among you or your livestock. 15The LORD will turn away from you every illness; all the dread diseases of Egypt that you experienced, he will not inflict on you, but he will lay them on all who hate you. 16You shall devour all the peoples that the LORD your God is giving over to you, showing them no pity; you shall not serve their gods, for that would be a snare to you.
The Word of the Lord.
Thanks be to God.
Canticle 14 A Song of Penitence
Prayer of Manasseh 1-2, 4, 6-7, 11-15
Kyrie Pantokrator
O Lord and Ruler of the hosts of heaven, *
God of Abraham, Isaac, and Jacob,
and of all their righteous offspring:
You made the heavens and the earth, *
with all their vast array.
All things quake with fear at your presence; *
they tremble because of your power.
But your merciful promise is beyond all measure; *
it surpasses all that our minds can fathom.
O Lord, you are full of compassion, *
long-suffering, and abounding in mercy.
You hold back your hand; *
you do not punish as we deserve.
In your great goodness, Lord,
you have promised forgiveness to sinners, *
that they may repent of their sin and be saved.
And now, O Lord, I bend the knee of my heart, *
and make my appeal, sure of your gracious goodness.
I have sinned, O Lord, I have sinned, *
and I know my wickedness only too well.
Therefore I make this prayer to you: *
Forgive me, Lord, forgive me.
Do not let me perish in my sin, *
nor condemn me to the depths of the earth.
For you, O Lord, are the God of those who repent, *
and in me you will show forth your goodness.
Unworthy as I am, you will save me,
in accordance with your great mercy, *
and I will praise you without ceasing all the days of my life.
For all the powers of heaven sing your praises, *
and yours is the glory to ages of ages. Amen.
Glory to the Father, and to the Son, and to the Holy Spirit
as it was in the beginning, is now, and will be for ever. Amen.
New Testament Reading
Titus 2:1-15
But as for you, teach what is consistent with sound doctrine. 2Tell the older men to be temperate, serious, prudent, and sound in faith, in love, and in endurance. 3Likewise, tell the older women to be reverent in behavior, not to be slanderers or slaves to drink; they are to teach what is good, 4so that they may encourage the young women to love their husbands, to love their children, 5to be self-controlled, chaste, good managers of the household, kind, being submissive to their husbands, so that the word of God may not be discredited. 6Likewise, urge the younger men to be self-controlled. 7Show yourself in all respects a model of good works, and in your teaching show integrity, gravity, 8and sound speech that cannot be censured; then any opponent will be put to shame, having nothing evil to say of us. 9Tell slaves to be submissive to their masters and to give satisfaction in every respect; they are not to talk back, 10not to pilfer, but to show complete and perfect fidelity, so that in everything they may be an ornament to the doctrine of God our Savior.
11 For the grace of God has appeared, bringing salvation to all, 12training us to renounce impiety and worldly passions, and in the present age to live lives that are self-controlled, upright, and godly, 13while we wait for the blessed hope and the manifestation of the glory of our great God and Savior, Jesus Christ. 14He it is who gave himself for us that he might redeem us from all iniquity and purify for himself a people of his own who are zealous for good deeds.
15 Declare these things; exhort and reprove with all authority. Let no one look down on you.
The Word of the Lord.
Thanks be to God.
Canticle 18 A Song to the Lamb
Revelation 4:11, 5:9-10, 13
Dignus es
Splendor and honor and kingly power *
are yours by right, O Lord our God,
For you created everything that is, *
and by your will they were created and have their being;
And yours by right, O Lamb that was slain, *
for with your blood you have redeemed for God,
From every family, language, people, and nation, *
a kingdom of priests to serve our God.
And so, to him who sits upon the throne, *
and to Christ the Lamb,
Be worship and praise, dominion and splendor, *
for ever and for ever more.
Glory to the Father, and to the Son, and to the Holy Spirit
as it was in the beginning, is now, and will be for ever. Amen.
The Gospel
John 1:35-42
35The next day John again was standing with two of his disciples, 36and as he watched Jesus walk by, he exclaimed, 'Look, here is the Lamb of God!'
37 The two disciples heard him say this, and they followed Jesus. 38When Jesus turned and saw them following, he said to them, 'What are you looking for?' They said to him, 'Rabbi' (which translated means Teacher), 'where are you staying?' 39He said to them, 'Come and see.' They came and saw where he was staying, and they remained with him that day. It was about four o'clock in the afternoon. 40One of the two who heard John speak and followed him was Andrew, Simon Peter's brother. 41He first found his brother Simon and said to him, 'We have found the Messiah' (which is translated Anointed). 42He brought Simon to Jesus, who looked at him and said, 'You are Simon son of John. You are to be called Cephas' (which is translated Peter).
The Word of the Lord.
Thanks be to God.
The Commemoration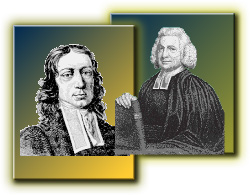 The Wesley brothers, John born in 1703 and Charles in 1707, were leaders of the evangelical revival in the Church of England in the eighteenth century. They both attended Oxford University, and there they gathered a few friends with whom they undertook a strict adherence to the worship and discipline of the Book of Common Prayer, from which strict observance they received the nickname, "Methodists." Having been ordained, they went to the American colony of Georgia in 1735, John as a missionary and Charles as secretary to Governor Oglethorpe. They found the experience disheartening, and returned home in a few years. There, three days apart, they underwent a conversion experience. John, present with a group of Moravians who were reading Martin Luther's Preface to the Epistle to the Romans, received a strong emotional awareness of the love of Christ displayed in freely forgiving his sins and granting him eternal life.
Following this experience, John and Charles, with others, set about to stir up in others a like awareness of and response to the saving love of God. Of the two, John was the more powerful preacher, and averaged 8000 miles of travel a year, mostly on horseback. At the time of his death he was probably the best known and best loved man in England.
(Albert C. Outler, John Wesley's Sermons: An Introduction, p 79f)
Wesley's biblical world was, however, no enclave. Sola Scriptura was never a displacement of, or substitute for, classical learning: and this was natural enough in view of the fact that he had mastered the baseline curriculum of his Oxford education and had come to cherish the classical tradition as the font of Western civilization. In the sermons (and elsewhere, too) Wesley's favourite classical source was Horace; there are twenty-seven quotations from him in the sermons alone, some repeated in different contexts. One senses that he read Virgil with more personal pleasure, but he quotes from him only twenty-one times. Ovid follows with ten, Circero with nine, Juvenal with seven. Thirteen others are quoted at least once: Aristophanes, Hadrian, Homer, Lucan, Lucretius, Persius, Pindar, Sophocles, Suetonius, Symmachus, Terence, Velleius Paterculus. 

This display was more than mere ornamentation; (My comment: this would have violated Wesley's doctrine of 'plain preaching'.) within these borrowings we find the germs of some of Wesley's most distinctive general ideas (e.g. his participation theme, his mind-body dualism, and his ideas about psycho-physical parallelism). These are major sources for his ideas about human nature, human volition, and the human passions. Out of this heritage had come his predilection for form over raw feelings, his concept of conscience as a universal moral sense. Plato had bolstered his convictions about the ontological primacy of good over evil. The whole of the Greco-Roman tradition had stressed coherence as a criterion of rationality. Besides, these ancient authors were shrewd critics of human folly; thus Wesley found in them discerning witnesses to the flaws in contemporary proposals about 'natural' theology and ethics. It was in this sense that his long dialogue with the ancients was a genuine preparatio evangelica; one might even suppose that he might still commend it as such.
But, although Wesley found it natural to approach the Gospel with habits of thought formed by a classical education, he was quick to recognize the value of other approaches. The early Methodist meetings were often led by lay preachers with very limited education. On one occasion, such a preacher took as his text Luke 19:21, "Lord, I feared thee, because thou art an austere man." Not knowing the word "austere," he thought that the text spoke of "an oyster man." He spoke about the work of those who retrieve oysters from the sea-bed. The diver plunges down from the surface, cut off from his natural environment, into bone-chilling water. He gropes in the dark, cutting his hands on the sharp edges of the shells. Now he has the oyster, and kicks back up to the surface, up to the warmth and light and air, clutching in his torn and bleeding hands the object of his search. So Christ descended from the glory of heaven into the squalor of earth, into sinful human society, in order to retrieve humans and bring them back up with Him to the glory of heaven, His torn and bleeding hands a sign of the value He has placed on the object of His quest. Twelve men were converted that evening. Afterwards, someone complained to Wesley about the inappropriateness of allowing preachers who were too ignorant to know the meaning of the texts they were preaching on. Wesley, simply said, "Never mind, the Lord got a dozen oysters tonight." Charles was the better hymn-writer of the two. He wrote over 6000 hymns, including about 600 for the Sacrament of the Lord's Supper. Some of the better known are the following:
A charge to keep I have
And can it be that I should gain
Author of life divine
Christ the Lord is risen today
Christ, whose glory fills the skies 
Come, Holy Ghost, our hearts inspire
Come, O Thou Traveller unknown
Come, thou long expected Jesus
Forth in Thy name, O Lord, I go
Gentle Jesus, meek and mild
Hail the day that sees Him rise
Hark, the herald angels sing,
Jesus, Lover of my soul
Let saints on earth in concert sing
Lo, He comes with clouds descending
Love Divine, all loves excelling
O Jesus, full of pardoning grace
O Love Divine, how sweet Thou art!
O Thou who camest from above.
Oh for a heart to praise my God
Oh for a thousand tongues to sing
Our Lord is risen from the dead
Rejoice! the Lord is King
Soldiers of Christ, arise!
Ye servants of God, your Master proclaim
Here are two of his hymns printed out at length:
Oh for a thousand tongues to sing
my great Redeemer's praise,
the glories of my God and King,
the triumphs of his grace!

My gracious Master and my God,
assist me to proclaim,
to spread through all the earth abroad
the honors of thy name.

Jesus! the name that charms our fears,
that bids our sorrows cease;
'tis music in the sinner's ears,
'tis life, and health, and peace.

He breaks the power of canceled sin,
he sets the prisoner free;
his blood can make the foulest clean;
his blood availed for me.

He speaks, and listening to his voice,
new life the dead receive;
the mournful, broken hearts rejoice,
the humble poor believe.

In Christ, your head, you then shall know,
shall feel your sins forgiven,
anticipate your heaven below,
and own that love in heaven.
[Note that in the second line of this next hymn, the word "interest" is used in the older sense of "benefit" or "advantage." (Thus, in some contest, an uninterested person is one who is bored by the proceedings, but a disinterested person is one who has nothing to gain or lose personally by the outcome. We want a referee or judge to be disinterested, but not to be uninterested. The word "interested" is ambiguous, being the opposite of both.) Instead of "an interest in" in the second line, an editor seeking to modernize the language of this hymn might write "my healing from" or "redemption from" or "salvation from" or "a cleansing from" or the like.]
And can it be that I should gain
an interest in the Savior's blood?
Died He for me, who caused His pain--
for me, who Him to death pursued?
Amazing love! how can it be
that Thou, my God, shouldst die for me?
'Tis mystery all! Th' Immortal dies:
Who can explore His strange design?
In vain the first-born seraph tries
to sound the depths of love divine.
'Tis mercy all! let earth adore,
let angel minds inquire no more.
He left His Father's throne above,--
so free, so infinite His grace--
emptied Himself of all but love,
and bled for Adam's helpless race:
'Tis mercy all, immense and free;
for, O my God, it found out me!
Long my imprisoned spirit lay
Fast bound in sin and nature's night;
Thine eye diffused a quickening ray,--
I woke, the dungeon flamed with light;
my chains fell off, my heart was free,
I rose, went forth, and followed Thee.
No condemnation now I dread;
Jesus, and all in Him, is mine!
Alive in Him, my living Head,
and clothed in righteousness divine,
Bold I approach the eternal throne,
and claim the crown, thorugh Christ my own.
It was the intention of the Wesleys and their colleagues that their "Methodist Societies" should be a group within the existing structure of the Anglican Church, but after their deaths the Societies in America, and to a lesser extent in England, developed a separate status.
written by James Kiefer
Prayer
Lord God, who inspired your servants John and Charles Wesley with burning zeal for the sanctification of souls, and endowed them with eloquence in speech and song: Kindle in your Church, we entreat you, such fervor, that those whose faith has cooled may be warmed, and those who have not known Christ may turn to him and be saved; who lives and reigns with you and the Holy Spirit, one God, now and for ever.
Alternate Psalm and Readings
Psalm 103:1-4,13-18 
Isaiah 49:5-6
Romans 12:11-17
Luke 9:2-6 
The Creed
The Apostle's Creed
I believe in God, the Father almighty,
creator of heaven and earth.
I believe in Jesus Christ, his only son, our Lord.
He was conceived by the power of the Holy Spirit
and born of the Virgin Mary.
He suffered under Pontius Pilate,
was crucified, died, and was buried.
He descended to the dead.
On the third day he rose again.
He ascended into heaven,
and is seated at the right hand of the Father.
He will come again to judge the living and the dead.
I believe in the Holy Spirit,
the holy catholic Church,
the communion of saints,
the forgiveness of sins,
the resurrection of the body,
and the life everlasting. Amen.
The Prayers
The Lord's Prayer
or traditional
Our Father in heaven,
hallowed be your Name,
your kingdom come,
your will be done,
on earth as in heaven.
Give us today our daily bread.
Forgive us our sins
as we forgive those
who sin against us.
Save us from the time of trial,
and deliver us from evil.
For the kingdom, the power,
and the glory are yours,
now and for ever. Amen.
Suffrages
Show us your mercy, O Lord;
And grant us your salvation.
Clothe your ministers with righteousness;
Let your people sing with joy.
Give peace, O Lord, in all the world;
For only in you can we live in safety.
Lord, keep this nation under your care;
And guide us in the way of justice and truth.
Let your way be known upon earth;
Your saving health among all nations.
Let not the needy, O Lord, be forgotten;
Nor the hope of the poor be taken away.
Create in us clean hearts, O God;
And sustain us with your Holy Spirit.
Collect of the Day: Ash Wednesday
Almighty and everlasting God, you hate nothing you have made and forgive the sins of all who are penitent: Create and make in us new and contrite hearts, that we, worthily lamenting our sins and acknowledging our wretchedness, may obtain of you, the God of all mercy, perfect remission and forgiveness; through Jesus Christ our Lord, who lives and reigns with you and the Holy Spirit, one God, for ever and ever. Amen.
For Mission
Lord Jesus Christ, you stretched out your arms of love on the hard wood of the cross that everyone might come within the reach of your saving embrace: So clothe us in your Spirit that we, reaching forth our hands in love, may bring those who do not know you to the knowledge and love of you; for the honor of your Name. Amen.
World Cycle of Prayer
We pray for the people of Taiwan.
Ecumenical Cycle of Prayer
We pray for our sisters and brothers members of the
Evangelical Missionary Church.
A Collect for Fridays
Almighty God, whose most dear Son went not up to joy but first he suffered pain, and entered not into glory before he was crucified: Mercifully grant that we, walking in the way of the cross, may find it none other than the way of life and peace; through Jesus Christ your Son our Lord. Amen.
Hymn: To my humble supplication
To my humble supplication
Lord, give ear and acceptation
Save thy servant, that hath none
Help nor hope but Thee alone. Amen.
Prayers and Intercessions
Let us pray now for our own needs and those of others.
Birthdays
Anniversaries
For Recovery from Sickness
For Travelers
For a Person in Trouble or Bereavement
For Those to be Baptized
For the Departed
Full list of prayers
For Our Enemies
O God, the Father of all, whose Son commanded us to love our enemies: Lead them and us from prejudice to truth; deliver them and us from hatred, cruelty, and revenge; and in your good time enable us all to stand reconciled before you; through Jesus Christ our Lord. Amen.
For Social Justice
Grant, O God, that your holy and life-giving Spirit may so move every human heart, that barriers which divide us may crumble, suspicions disappear, and hatreds cease; that our divisions being healed, we may live in justice and peace; through Jesus Christ our Lord. Amen.
For Young Persons
God our Father, you see your children growing up in an unsteady and confusing world: Show them that your ways give more life than the ways of the world, and that following you is better than chasing after selfish goals. Help them to take failure, not as a measure of their worth, but as a chance for a new start. Give them strength to hold their faith in you, and to keep alive their joy in your creation; through Jesus Christ our Lord. Amen.
Hymn: You who dwell in the shelter of the Lord
You who dwell in the shelter of the Lord,
Who abide in His shadow for life,
Say to the Lord, "My Refuge,
My Rock in Whom I trust."
And He will raise you up on eagle's wings,
Bear you on the breath of dawn,
Make you to shine like the sun,
And hold you in the palm of His Hand.
The snare of the fowler will never capture you,
And famine will bring you no fear;
Under His Wings your refuge,
His faithfulness your shield
And He will raise you up on eagle's wings,
Bear you on the breath of dawn,
Make you to shine like the sun,
And hold you in the palm of His Hand.
For to His angels He's given a command,
To guard you in all of your ways,
Upon their hands they will bear you up,
Lest you dash your foot against a stone.
And He will raise you up on eagle's wings,
Bear you on the breath of dawn,
Make you to shine like the sun,
And hold you in the palm of His Hand.
And hold you in the palm of His Hand.
words and music: Michael Joncas
A Prayer of Self-Dedication
Almighty and eternal God, so draw our hearts to you, so guide our minds, so fill our imaginations, so control our wills, that we may be wholly yours, utterly dedicated unto you; and then use us, we pray you, as you will, and always to your glory and the welfare of your people; through our Lord and Savior Jesus Christ. Amen.
General Thanksgiving
Almighty God, Father of all mercies, we your unworthy servants give you humble thanks for all your goodness and loving-kindness to us and to all whom you have made. We bless you for our creation, preservation, and all the blessings of this life; but above all for your immeasurable love in the redemption of the world by our Lord Jesus Christ; for the means of grace, and for the hope of glory. And, we pray, give us such an awareness of your mercies, that with truly thankful hearts we may show forth your praise, not only with our lips, but in our lives, by giving up our selves to your service, and by walking before you in holiness and righteousness all our days; through Jesus Christ our Lord, to whom, with you and the Holy Spirit, be honor and glory throughout all ages. Amen.
A Prayer of St. Chrysostom
Almighty God, you have given us grace at this time with one accord to make our common supplication to you; and you have promised through your well-beloved Son that when two or three are gathered together in his Name you will be in the midst of them: Fulfill now, O Lord, our desires and petitions as may be best for us; granting us in this world knowledge of your truth, and in the age to come life everlasting. Amen.
The Ending
Benediction
Let us bless the Lord.
Thanks be to God.
Glory to God whose power, working in us, can do infinitely more than we can ask or imagine: Glory to him from generation to generation in the Church, and in Christ Jesus for ever and ever. Amen.
Ephesians 3:20,21
Hymn: God Be With You
God be with you till we meet again;
By his counsels guide, uphold you;
With his sheep securely fold you.
God be with you till we meet again.
Till we meet, till we meet,
Till we meet at Jesus' feet,
Till we meet, till we meet,
God be with you till we meet again.