Tuesday, 7 March
Morning Prayer
Perpetua and Her Companions

The Opening
Opening Sentence
Rend your hearts and not your garments. Return to the Lord your God, for he is gracious and merciful, slow to anger and abounding in steadfast love, and repents of evil.    Joel 2:13
Hymn: Morning has broken
Morning has broken like the first morning,
blackbird has spoken like the first bird.
Praise for the singing! Praise for the morning!
Praise for them, springing fresh from the Word!
Sweet the rain's new fall sunlit from heaven,
like the first dewfall on the first grass,
Praise for the sweetness of the wet garden,
sprung in completeness where God's feet pass.
Ours is the sunlight! Ours is the morning
born of the one light Eden saw play!
Praise with elation, praise every morning,
God's recreation, of the new day!
Singers: Saint Mary's Cathedral Choristers, Edinburgh, Scotland
Words: Eleanor Farjeon
Music: Bunessan, Gaelic melody

Confession
Let us confess our sins against God and our neighbor.
Most merciful God, we confess that we have sinned against you in thought, word, and deed, by what we have done, and by what we have left undone. We have not loved you with our whole heart; we have not loved our neighbors as ourselves. We are truly sorry and we humbly repent. For the sake of your Son Jesus Christ, have mercy on us and forgive us; that we may delight in your will, and walk in your ways, to the glory of your Name. Amen.
Almighty God have mercy on us, forgive us all our sins through our Lord Jesus Christ, strengthen us in all goodness, and by the power of the Holy Spirit keep us in eternal life. Amen.
Versicle and Response
Lord, open our lips.
And our mouth shall proclaim your praise.
Glory to the Father,
and to the Son,
and to the Holy Spirit:
as it was in the beginning,
is now, and will be forever Amen.
The Lord is full of compassion and mercy:
Come let us adore him.
Jubilate
Be joyful in the Lord, all you lands;
serve the Lord with gladness
and come before his presence with a song.
Know this: The Lord himself is God;
he himself has made us, and we are his;
we are his people and the sheep of his pasture.
Enter his gates with thanksgiving;
go into his courts with praise;
give thanks to him and call upon his Name.
For the Lord is good;
his mercy is everlasting;
and his faithfulness endures from age to age.
The Antiphon
The Lord is full of compassion and mercy: Come let us adore him.
The Psalms
Psalm 45 or
Coverdale
Eructavit cor meum
1My heart is stirring with a noble song;
let me recite what I have fashioned for the king; *
my tongue shall be the pen of a skilled writer.
2You are the fairest of men; *
grace flows from your lips,
because God has blessed you for ever.
3Strap your sword upon your thigh, O mighty warrior, *
in your pride and in your majesty.
4Ride out and conquer in the cause of truth *
and for the sake of justice.
5Your right hand will show you marvelous things; *
your arrows are very sharp, O mighty warrior.
6The peoples are falling at your feet, *
and the king's enemies are losing heart.
7Your throne, O God, endures for ever and ever, *
a scepter of righteousness is the scepter of your kingdom;
you love righteousness and hate iniquity.
8Therefore God, your God, has anointed you *
with the oil of gladness above your fellows.
9All your garments are fragrant with myrrh, aloes, and cassia, *
and the music of strings from ivory palaces makes you glad.
10Kings' daughters stand among the ladies of the court; *
on your right hand is the queen,
adorned with the gold of Ophir.
11"Hear, O daughter; consider and listen closely; *
forget your people and your father's house.
12The king will have pleasure in your beauty; *
he is your master; therefore do him honor.
13The people of Tyre are here with a gift; *
the rich among the people seek your favor."
14All glorious is the princess as she enters; *
her gown is cloth-of-gold.
15In embroidered apparel she is brought to the king; *
after her the bridesmaids follow in procession.
16With joy and gladness they are brought, *
and enter into the palace of the king.
17"In place of fathers, O king, you shall have sons; *
you shall make them princes over all the earth.
18I will make your name to be remembered
from one generation to another; *
therefore nations will praise you for ever and ever."
Gloria Patri
Glory be to the Father, and to the Son, and to the Holy Ghost.
As it was in the beginning, is now, and ever shall be: world without end. Amen. Amen.
The Lessons
The Old Testament Reading
Deuteronomy 9:4-12
When the LORD your God thrusts them out before you, do not say to yourself, "It is because of my righteousness that the LORD has brought me in to occupy this land"; it is rather because of the wickedness of these nations that the LORD is dispossessing them before you. It is not because of your righteousness or the uprightness of your heart that you are going in to occupy their land; but because of the wickedness of these nations the LORD your God is dispossessing them before you, in order to fulfill the promise that the LORD made on oath to your ancestors, to Abraham, to Isaac, and to Jacob. Know, then, that the LORD your God is not giving you this good land to occupy because of your righteousness; for you are a stubborn people. Remember and do not forget how you provoked the LORD your God to wrath in the wilderness; you have been rebellious against the LORD from the day you came out of the land of Egypt until you came to this place. Even at Horeb you provoked the LORD to wrath, and the LORD was so angry with you that he was ready to destroy you. When I went up the mountain to receive the stone tablets, the tablets of the covenant that the LORD made with you, I remained on the mountain forty days and forty nights; I neither ate bread nor drank water. And the LORD gave me the two stone tablets written with the finger of God; on them were all the words that the LORD had spoken to you at the mountain out of the fire on the day of the assembly. At the end of forty days and forty nights the LORD gave me the two stone tablets, the tablets of the covenant. Then the LORD said to me, "Get up, go down quickly from here, for your people whom you have brought from Egypt have acted corruptly. They have been quick to turn from the way that I commanded them; they have cast an image for themselves."
The Word of the Lord.
Thanks be to God.
Canticle 13 A Song of Praise
Song of the Three Young Men, 29-34
Benedictus es, Domine
Glory to you, Lord God of our fathers; *
you are worthy of praise; glory to you.
Glory to you for the radiance of your holy Name; *
we will praise you and highly exalt you for ever.
Glory to you in the splendor of your temple; *
on the throne of your majesty, glory to you.
Glory to you, seated between the Cherubim; *
we will praise you and highly exalt you for ever.
Glory to you, beholding the depths; *
in the high vault of heaven, glory to you.
Glory to you, Father, Son, and Holy Spirit; *
we will praise you and highly exalt you for ever.
New Testament Reading
Hebrews 3:1-11
Therefore, brothers and sisters, holy partners in a heavenly calling, consider that Jesus, the apostle and high priest of our confession, was faithful to the one who appointed him, just as Moses also 'was faithful in all God's house.' Yet Jesus is worthy of more glory than Moses, just as the builder of a house has more honor than the house itself. (For every house is built by someone, but the builder of all things is God.) Now Moses was faithful in all God's house as a servant, to testify to the things that would be spoken later. Christ, however, was faithful over God's house as a son, and we are his house if we hold firm the confidence and the pride that belong to hope. Therefore, as the Holy Spirit says, 'Today, if you hear his voice, do not harden your hearts as in the rebellion, as on the day of testing in the wilderness, where your ancestors put me to the test, though they had seen my works for forty years. Therefore I was angry with that generation, and I said, "They always go astray in their hearts, and they have not known my ways." As in my anger I swore, "They will not enter my rest."
The Word of the Lord.
Thanks be to God.
Canticle 18 A Song to the Lamb
Revelation 4:11, 5:9-10, 13
Dignus es
Splendor and honor and kingly power *
are yours by right, O Lord our God,
For you created everything that is, *
and by your will they were created and have their being;
And yours by right, O Lamb that was slain, *
for with your blood you have redeemed for God,
From every family, language, people, and nation, *
a kingdom of priests to serve our God.
And so, to him who sits upon the throne, *
and to Christ the Lamb,
Be worship and praise, dominion and splendor, *
for ever and for ever more.
Glory to the Father, and to the Son, and to the Holy Spirit
as it was in the beginning, is now, and will be for ever. Amen.
The Gospel
John 2:13-22
The Passover of the Jews was near, and Jesus went up to Jerusalem. In the temple he found people selling cattle, sheep, and doves, and the money changers seated at their tables. Making a whip of cords, he drove all of them out of the temple, both the sheep and the cattle. He also poured out the coins of the money changers and overturned their tables. He told those who were selling the doves, 'Take these things out of here! Stop making my Father's house a marketplace!' His disciples remembered that it was written, 'Zeal for your house will consume me.' The Jews then said to him, 'What sign can you show us for doing this?' Jesus answered them, 'Destroy this temple, and in three days I will raise it up.' The Jews then said, 'This temple has been under construction for forty-six years, and will you raise it up in three days?' But he was speaking of the temple of his body. After he was raised from the dead, his disciples remembered that he had said this; and they believed the scripture and the word that Jesus had spoken.
The Word of the Lord.
Thanks be to God.
The Commemoration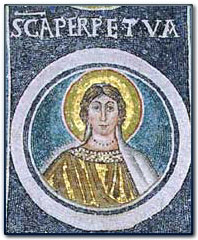 During a persecution of Christians under the emperor Septimius Severus, a group of Christians died together in the arena at Carthage. Their final days have been recorded for us in a document that is partly in their own words, and partly in those of an anonymous narrator (sometimes thought to be Tertullian). What follow are extracts, sometimes condensed, from that document.
Vivia Perpetua was a catechumen (i.e. a convert not yet baptized), well educated and from a prosperous family, about 22 years old, married and apparently recently widowed, with a child at her breast, and with two brothers and both parents still living. (Her father was not a Christian.) Felicity (Latin: Felicitas) was a slave woman in advanced pregnancy. With them were Revocatus (also a slave), Saturninus, and Secundus.
They were arrested and placed in a dungeon, but after a few days two deacons visited the prison and by a gift of money to the jailers arranged (1) that they should have an interval in the better part of the prison to refresh themselves, and (2) that Perpetua should be allowed to keep her child with her.
Perpetua had a vision in which she saw a golden ladder, guarded by a fierce dragon, but she climbed it, stepping on the dragon's head to do so. At the top, she found herself in a green meadow, with many white-robed figures, and in their midst a shepherd, who welcomed her and gave her a morsel of cheese from the sheep-milk. She awakened and understood that their martyrdom was certain.
Perpetua writes:
After a few days there was a report that we were to have a hearing in court. And my father came to me from the city, worn out with anxiety. He came up to me, that he might cast me down, saying: "Have pity, my daughter, on my grey hairs. Have pity on your father, if I am worthy to be called a father by you. If with these hands I have brought you up to this flower of your age, if I have preferred you to all your brothers, do not deliver me up to the scorn of men. Have regard to your brothers, have regard to your mother and your aunt, have regard to your son, who will not be able to live after you. Lay aside your courage, and do not bring us all to destruction; for none of us will speak in freedom if you should suffer anything."

These things said my father in his affection, kissing my hands, and throwing himself at my feet, and with tears he called me not Daughter, but Lady. And I grieved over the grey hairs of my father, that he alone of all my kindred would have no joy in my death. And I comforted him, saying, "On that scaffold, whatever God wills shall happen. For know that we are not placed in our own power but in that of God." And he departed from me in sorrow.
Perpetua had had a brother who died of cancer when he was eight years old. She prayed for him, and received assurance in a vision that all was well with him.
Her narrative continues:
After a few days, Pudens, an assistant overseer of the prison, began to hold us in high esteem, seeing that God was with us, and he admitted many of the brethren to see us, that we and they might be mutually refreshed.
Perpetua had another vision, in which she saw herself fighting against a gladiator in the arena, and winning. She understood this to signify victory over the devil.
Saturus also had a vision, which he records in his own words, in which he and the others, having died in the arena, are borne by angels into a beautiful garden, where they greet other martyrs who have gone before them, and are brought before the throne of God, surrounded by twenty-four elders (see Revelation 4), who greet them and say, "Enter into joy." Perpetua says to Saturus: "I was joyful in the flesh, and here I am more joyful still."
The narrator writes:
Now Felicitas was eight months pregnant, and the law did not allow a pregnant woman to be executed. She was accordingly fearful that her death would be postponed, and instead of dying with her fellow Christians she would be put to death later in the company of some group of criminals. She and her companions accordingly prayed, and Felicity went into labor, with the pains normal to an eight-month delivery. And a servant of the jailers said to her, "If you cry out like that now, what will you do when you are thrown to the beasts, which you despised when you refused to sacrifice?" And she replied: "Now it is I that suffer what I suffer; but then Another will be in me, who will suffer for me, because I also am about to suffer for Him." Thus she brought forth a little girl, whom a certain sister brought up as her own.

The day of their victory shone forth, and they proceeded from the prison to the amphitheater, as if to an assembly, joyous and of brilliant countenance. At the gate, the guards were going to dress them in the robes of those dedicated to Saturn and to Ceres. But that noble-minded woman [Perpetua?] said: "We are here precisely for refusing to honor your gods. By our deaths we earn the right not to wear such garments." The guards recognized the justice of her words, and let them wear their own clothing.

The men of their company were scheduled to be killed by beasts, but the wild boar turned on its keeper instead, and the bear refused to leave its cage. The leopard, however, attacked Saturus and mortally wounded him. He bade farewell to his guard, Pudens, encouraging him to obey God rather than man, and then fell unconscious.

For the young women there was prepared a fierce cow. Perpetua was first led in. She was tossed, and when she saw her tunic torn from her side, she drew it as a veil over her middle, rather mindful of her modesty than of her sufferings. Then she was called up again, and bound up her dishevelled hair, for it is not becoming for a martyr to die with dishevelled hair, which is a sign of mourning. She saw Felicity wounded, and took her hand and raised her up, and at the demand of the populace they were given a respite.

Now all the prisoners were to be slain with the sword, and they went to the center of the arena, first exchanging a farewell kiss of peace. The others died unmoving and silent, but when the awkward hand of the young executioner bungled her death-stroke, Perpetua cried out in pain, and herself guided his hand to her throat. Possibly such a woman could not have been slain unless she herself willed it, because she was feared by the impure spirit.
written by James Kiefer
Prayer
O God the King of saints, who strengthened your servants Perpetua and Felicitas and their companions to make a good confession, staunchly resisting, for the cause of Christ, the claims of human affection, and encouraging one another in their time of trial: Grant that we who cherish their blessed memory may share their pure and steadfast faith, and win with them the palm of victory; through Jesus Christ our Lord, who lives and reigns with you and the Holy Spirit, one God, for ever and ever. Amen.
Alternate Psalm and Readings
Psalm 124
Daniel 6:10-16
Hebrews 10:32-39
Matthew 24:9-14 
The Creed
The Apostle's Creed
I believe in God, the Father almighty,
creator of heaven and earth.
I believe in Jesus Christ, his only son, our Lord.
He was conceived by the power of the Holy Spirit
and born of the Virgin Mary.
He suffered under Pontius Pilate,
was crucified, died, and was buried.
He descended to the dead.
On the third day he rose again.
He ascended into heaven,
and is seated at the right hand of the Father.
He will come again to judge the living and the dead.
I believe in the Holy Spirit,
the holy catholic Church,
the communion of saints,
the forgiveness of sins,
the resurrection of the body,
and the life everlasting. Amen.
The Prayers
The Lord's Prayer
or traditional
Our Father in heaven,
hallowed be your Name,
your kingdom come,
your will be done,
on earth as in heaven.
Give us today our daily bread.
Forgive us our sins
as we forgive those
who sin against us.
Save us from the time of trial,
and deliver us from evil.
For the kingdom, the power,
and the glory are yours,
now and for ever. Amen.
Suffrages
Show us your mercy, O Lord;
And grant us your salvation.
Clothe your ministers with righteousness;
Let your people sing with joy.
Give peace, O Lord, in all the world;
For only in you can we live in safety.
Lord, keep this nation under your care;
And guide us in the way of justice and truth.
Let your way be known upon earth;
Your saving health among all nations.
Let not the needy, O Lord, be forgotten;
Nor the hope of the poor be taken away.
Create in us clean hearts, O God;
And sustain us with your Holy Spirit.
Collect of the Day: The First Sunday in Lent
Almighty God, whose blessed Son was led by the Spirit to be tempted by Satan; Come quickly to help us who are assaulted by many temptations; and, as you know the weaknesses of each of us, let each one find you mighty to save; through Jesus Christ your Son our Lord, who lives and reigns with you and the Holy Spirit, one God, now and for ever. Amen.
For Mission
O God and Father of all, whom the whole heavens adore: Let the whole earth also worship you, all nations obey you, all tongues confess and bless you, and men and women everywhere love you and serve you in peace; through Jesus Christ our Lord. Amen.
World Cycle of Prayer
We pray for the people of Cook Islands.
Ecumenical Cycle of Prayer
We pray for our sisters and brothers members of the Southern Methodist Church.
A Collect for Guidance
Heavenly Father, in you we live and move and have our being: We humbly pray you so to guide and govern us by your Holy Spirit, that in all the cares and occupations of our life we may not forget you, but may remember that we are ever walking in your sight; through Jesus Christ our Lord. Amen.
Hymn: To my humble supplication
To my humble supplication
Lord, give ear and acceptation
Save thy servant, that hath none
Help nor hope but Thee alone. Amen.
Prayers and Intercessions
Let us pray now for our own needs and those of others.
Birthdays
Anniversaries
For Recovery from Sickness
For Travelers
For a Person in Trouble or Bereavement
For Those to be Baptized
For the Departed
Full list of prayers
Forthe Human Family
O God, you made us in your own image and redeemed us through Jesus your Son: Look with compassion on the whole human family; take away the arrogance and hatred which infect our hearts; break down the walls that separate us; unite us in bonds of love; and work through our struggle and confusion to accomplish your purposes on earth; that, in your good time, all nations and races may serve you in harmony around your heavenly throne; through Jesus Christ our Lord. Amen.
For Prisons and Correctional Institutions
Lord Jesus, for our sake you were condemned as a criminal: Visit our jails and prisons with your pity and judgment. Remember all prisoners, and bring the guilty to repentance and amendment of life according to your will, and give them hope for their future. When any are held unjustly, bring them release; forgive us, and teach us to improve our justice. Remember those who work in these institutions; keep them humane and compassionate; and save them from becoming brutal or callous. And since what we do for those in prison, O Lord, we do for you, constrain us to improve their lot. All this we ask for your mercy's sake. Amen.
For the Victims of Addiction
Blessed Lord, you ministered to all who came to you: Look with compassion upon all who through addiction have lost their health and freedom. Restore to them the assurance of your unfailing mercy; remove from them the fears that beset them; strengthen them in the work of their recovery; and to those who care for them, give patient understanding and persevering love. Amen.
Hymn: Amazing grace
Amazing grace! how sweet the sound,
that saved a wretch like me!
I once was lost but now am found,
was blind but now I see.
Through many dangers, toils, and snares,
I have already come;
'tis grace hath brought me safe thus far,
and grace will lead me home.
When we've been there ten thousand years,
bright shining as the sun,
we've no less days to sing God's praise
than when we'd first begun.
Words: John Newton
Music: New Britain
A Prayer Attributed to St. Francis
Lord, make us instruments of your peace. Where there is hatred, let us sow love; where there is injury, pardon; where there is discord, union; where there is doubt, faith; where there is despair, hope; where there is darkness, light; where there is sadness, joy. Grant that we may not so much seek to be consoled as to console; to be understood as to understand; to be loved as to love. For it is in giving that we receive; it is in pardoning that we are pardoned; and it is in dying that we are born to eternal life. Amen.
General Thanksgiving
Almighty God, Father of all mercies, we your unworthy servants give you humble thanks for all your goodness and loving-kindness to us and to all whom you have made. We bless you for our creation, preservation, and all the blessings of this life; but above all for your immeasurable love in the redemption of the world by our Lord Jesus Christ; for the means of grace, and for the hope of glory. And, we pray, give us such an awareness of your mercies, that with truly thankful hearts we may show forth your praise, not only with our lips, but in our lives, by giving up our selves to your service, and by walking before you in holiness and righteousness all our days; through Jesus Christ our Lord, to whom, with you and the Holy Spirit, be honor and glory throughout all ages. Amen.
A Prayer of St. Chrysostom
Almighty God, you have given us grace at this time with one accord to make our common supplication to you; and you have promised through your well-beloved Son that when two or three are gathered together in his Name you will be in the midst of them: Fulfill now, O Lord, our desires and petitions as may be best for us; granting us in this world knowledge of your truth, and in the age to come life everlasting. Amen.
The Ending
Benediction
Let us bless the Lord.
Thanks be to God.
May the God of hope fill us with all joy and peace in believing through the power of the Holy Spirit. Amen. Romans 15:13
Hymn: God Be With You
God be with you till we meet again;
By his counsels guide, uphold you;
With his sheep securely fold you.
God be with you till we meet again.
Till we meet, till we meet,
Till we meet at Jesus' feet,
Till we meet, till we meet,
God be with you till we meet again.