Thursday, 9 March
Morning Prayer
Gregory of Nyssa
The Opening
Opening Sentence
Rend your hearts and not your garments. Return to the Lord your God, for he is gracious and merciful, slow to anger and abounding in steadfast love, and repents of evil. Joel 2:13
Hymn: O God, our help in ages past
O God, our help in ages past,
our hope for years to come,
our shelter from the stormy blast,
and our eternal home:
Under the shadow of thy throne,
thy saints have dwelt secure;
sufficient is thine arm alone,
and our defense is sure.
Before the hills in order stood,
or earth received her frame,
from everlasting thou art God,
to endless years the same.
A thousand ages in thy sight
are like an evening gone;
short as the watch that ends the night
before the rising sun.
Time, like an ever-rolling stream,
bears all its sons away;
they fly, forgotten, as a dream
dies at the opening day.
O God, our help in ages past,
our hope for years to come,
be thou our guide while troubles last,
and our eternal home!
Choir: Mennonite youth choir from Minnesota
Words: Isaac Watts (1719)
Music: William Croft (1708)
Confession
Let us confess our sins against God and our neighbor.
Most merciful God, we confess that we have sinned against you in thought, word, and deed, by what we have done, and by what we have left undone. We have not loved you with our whole heart; we have not loved our neighbors as ourselves. We are truly sorry and we humbly repent. For the sake of your Son Jesus Christ, have mercy on us and forgive us; that we may delight in your will, and walk in your ways, to the glory of your Name. Amen.
Almighty God have mercy on us, forgive us all our sins through our Lord Jesus Christ, strengthen us in all goodness, and by the power of the Holy Spirit keep us in eternal life. Amen.
Versicle and Response
Lord, open our lips.
And our mouth shall proclaim your praise.
Glory to the Father,
and to the Son,
and to the Holy Spirit:
as it was in the beginning,
is now, and will be forever Amen.
The Lord is full of compassion and mercy:
Come let us adore him.
Venite
Psalm 95:1-7
Come let us sing to the Lord;*
let us shout for joy to the Rock of our salvation.
Let us come before his presence with thanksgiving*
and raise a loud shout to him with psalms.
For the Lord is a great God,*
and a great King above all gods.
In his hand are the caverns of the earth,*
and the heights of the hills are his also.
The sea is his, for he made it,*
and his hands have molded the dry land.
Come, let us bow down, and bend the knee,*
and kneel before the Lord our Maker.
For he is our God, and we are the people of his pasture
and the sheep of his hand.*
Oh, that today you would hearken to his voice!
The Antiphon
The Lord is full of compassion and mercy: Come let us adore him.
The Psalms
Psalm 50 or
Coverdale
Deus deorum
1The LORD, the God of gods, has spoken; *
he has called the earth from the rising of the sun to
its setting.
2Out of Zion, perfect in its beauty, *
God reveals himself in glory.
3Our God will come and will not keep silence; *
before him there is a consuming flame,
and round about him a raging storm.
4He calls the heavens and the earth from above *
to witness the judgment of his people.
5"Gather before me my loyal followers, *
those who have made a covenant with me
and sealed it with sacrifice."
6Let the heavens declare the rightness of his cause; *
for God himself is judge.
7Hear, O my people, and I will speak:
"O Israel, I will bear witness against you; *
for I am God, your God.
8I do not accuse you because of your sacrifices; *
your offerings are always before me.
9I will take no bull-calf from your stalls, *
nor he-goats out of your pens;
10For all the beasts of the forest are mine, *
the herds in their thousands upon the hills.
11I know every bird in the sky, *
and the creatures of the fields are in my sight.
12If I were hungry, I would not tell you, *
for the whole world is mine and all that is in it.
13Do you think I eat the flesh of bulls, *
or drink the blood of goats?
14Offer to God a sacrifice of thanksgiving *
and make good your vows to the Most High.
15Call upon me in the day of trouble; *
I will deliver you, and you shall honor me."
16But to the wicked God says: *
Why do you recite my statutes,
and take my covenant upon your lips;
17Since you refuse discipline, *
and toss my words behind your back?
18When you see a thief, you make him your friend, *
and you cast in your lot with adulterers.
19You have loosed your lips for evil, *
and harnessed your tongue to a lie.
20You are always speaking evil of your brother *
and slandering your own mother's son.
21These things you have done, and I kept still, *
and you thought that I am like you."
22"I have made my accusation; *
I have put my case in order before your eyes.
23Consider this well, you who forget God, *
lest I rend you and there be none to deliver you.
24Whoever offers me the sacrifice of thanksgiving
honors me; *
but to those who keep in my way will I show
the salvation of God."
Gloria Patri
Glory be to the Father, and to the Son, and to the Holy Ghost.
As it was in the beginning, is now, and ever shall be: world without end. Amen. Amen.
The Lessons
The Old Testament Reading
Deuteronomy 9:23-10:5
And when the LORD sent you from Kadesh-barnea, saying, "Go up and occupy the land that I have given you," you rebelled against the command of the LORD your God, neither trusting him nor obeying him. You have been rebellious against the LORD as long as he has known you. Throughout the forty days and forty nights that I lay prostrate before the LORD when the LORD intended to destroy you, I prayed to the LORD and said, "Lord GOD, do not destroy the people who are your very own possession, whom you redeemed in your greatness, whom you brought out of Egypt with a mighty hand. Remember your servants, Abraham, Isaac, and Jacob; pay no attention to the stubbornness of this people, their wickedness and their sin, otherwise the land from which you have brought us might say, 'Because the LORD was not able to bring them into the land that he promised them, and because he hated them, he has brought them out to let them die in the wilderness.' For they are the people of your very own possession, whom you brought out by your great power and by your outstretched arm." At that time the LORD said to me, "Carve out two tablets of stone like the former ones, and come up to me on the mountain, and make an ark of wood. I will write on the tablets the words that were on the former tablets, which you smashed, and you shall put them in the ark." So I made an ark of acacia wood, cut two tablets of stone like the former ones, and went up the mountain with the two tablets in my hand. Then he wrote on the tablets the same words as before, the ten commandments that the LORD had spoken to you on the mountain out of the fire on the day of the assembly; and the LORD gave them to me. So I turned and came down from the mountain, and put the tablets in the ark that I had made; and there they are, as the LORD commanded me.
The Word of the Lord.
Thanks be to God.
Canticle 8 The Song of Moses
Exodus 15:1-6, 11-13, 17-18
Cantemus Domino
I will sing to the Lord, for he is lofty and uplifted; *
the horse and its rider has he hurled into the sea.
The Lord is my strength and my refuge; *
the Lord has become my Savior.
This is my God and I will praise him, *
the God of my people and I will exalt him.
The Lord is a mighty warrior; *
Yahweh is his Name.
The chariots of Pharaoh and his army has he hurled into the sea; *
the finest of those who bear armor have been
drowned in the Red Sea.
The fathomless deep has overwhelmed them; *
they sank into the depths like a stone.
Your right hand, O Lord, is glorious in might; *
your right hand, O Lord, has overthrown the enemy.
Who can be compared with you, O Lord, among the gods? *
who is like you, glorious in holiness,
awesome in renown, and worker of wonders?
You stretched forth your right hand; *
the earth swallowed them up.
With your constant love you led the people you redeemed; *
with your might you brought them in safety to
your holy dwelling.
You will bring them in and plant them *
on the mount of your possession,
The resting-place you have made for yourself, O Lord, *
the sanctuary, O Lord, that your hand has established.
The Lord shall reign *
for ever and for ever.
Glory to the Father, and to the Son, and to the Holy Spirit: *
as it was in the beginning, is now, and will be for ever. Amen.
The New Testament Reading
Hebrews 4:1-10
Therefore, while the promise of entering his rest is still open, let us take care that none of you should seem to have failed to reach it. For indeed the good news came to us just as to them; but the message they heard did not benefit them, because they were not united by faith with those who listened. For we who have believed enter that rest, just as God has said, 'As in my anger I swore, "They shall not enter my rest,"' though his works were finished at the foundation of the world. For in one place it speaks about the seventh day as follows, 'And God rested on the seventh day from all his works.' And again in this place it says, 'They shall not enter my rest.' Since therefore it remains open for some to enter it, and those who formerly received the good news failed to enter because of disobedience, again he sets a certain day-'today' -saying through David much later, in the words already quoted, 'Today, if you hear his voice, do not harden your hearts.' For if Joshua had given them rest, God would not speak later about another day. So then, a sabbath rest still remains for the people of God; for those who enter God's rest also cease from their labors as God did from his.
The Word of the Lord.
Thanks be to God.
Canticle 19 The Song of the Redeemed
Revelation 15:3-4
Magna et mirabilia
O ruler of the universe, Lord God,
great deeds are they that you have done, *
surpassing human understanding.
Your ways are ways of righteousness and truth, *
O King of all the ages
Who can fail to do you homage, Lord
and sing the praises of your Name
for you only are the Holy One.
All nations will draw near and fall down before you
because your just and holy works have been revealed.
Glory to the Father, and to the Son, and to the Holy Spirit
as it was in the beginning, is now, and will be for ever. Amen.
The Gospel
John 3:16-21
'For God so loved the world that he gave his only Son, so that everyone who believes in him may not perish but may have eternal life. 'Indeed, God did not send the Son into the world to condemn the world, but in order that the world might be saved through him. Those who believe in him are not condemned; but those who do not believe are condemned already, because they have not believed in the name of the only Son of God. And this is the judgment, that the light has come into the world, and people loved darkness rather than light because their deeds were evil. For all who do evil hate the light and do not come to the light, so that their deeds may not be exposed. But those who do what is true come to the light, so that it may be clearly seen that their deeds have been done in God.'
The Word of the Lord.
Thanks be to God.
The Commemoration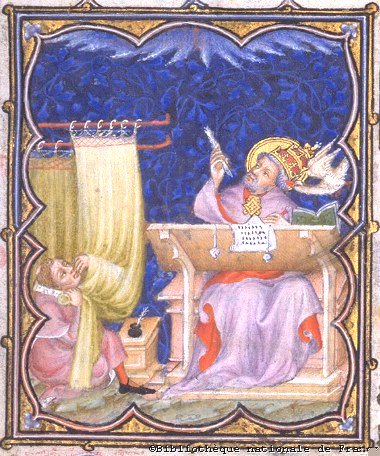 Gregory of Nyssa, his brother Basil the Great (14 June), and Basil's best friend Gregory of Nazianzus (9 May), are known collectively as the Cappadocian Fathers. They were a major force in the triumph of the Athanasian position at the Council of Constantinople in 381. Gregory of Nyssa tends to be overshadowed by the other two. 
Gregory of Nyssa was born in Caesarea, the capital of Cappadocia (central Turkey) in about 334, the younger brother of Basil the Great and of Macrina (19 July), and of several other distinguished persons. As a youth, he was at best a lukewarm Christian. However, when he was twenty, some of the relics of the Forty Martyrs of Sebaste (10 March) were transferred to a chapel near his home, and their presence made a deep impression on him, confronting him with the fact that to acknowledge God at all is to acknowledge His right to demand a total commitment. Gregory became an active and fervent Christian.  He considered the priesthood, decided it was not for him, became a professional orator like his father, married, and settled down to the life of a Christian layman. However, his brother Basil and his friend Gregory of Nazianzus persuaded him to reconsider, and he became a priest in about 362. (This did not affect his marriage.) 
His brother Basil, who had become archbishop of Caesarea in 370, was engaged in a struggle with the Arian Emperor Valens, who was trying to stamp out belief in the deity of Christ. Basil desperately needed the votes and support of Athanasian bishops, and he maneuvered his friend Gregory into the bishopric of Sasima, and (in about 371) his brother Gregory into the bishopric of Nyssa, a small town about ten miles from Caesarea. Neither one wanted to be a bishop, neither was suited to be a bishop, and both were furious with Basil.) Gregory did not get along well with his flock, was falsely accused of embezzling church funds, fled the scene in about 376, and did not return until after the death of Valens about two years later. 
In 379, Basil died, having lived to see the death of Valens and the end of the persecution. Shortly thereafter, Macrina died. Gregory was with her in the last few days of her life. Afterwards, he took to writing sermons and treatises on theology and philosophy.  His philosophy was a form of Christian Platonism. In his approach to the Scriptures, he was heavily influenced by Origen, and his writings on the Trinity and the Incarnation build on and develop insights found in germ in the writings of his brother Basil. But he is chiefly remembered as a writer on the spiritual life, on the contemplation of God, not only in private prayer and meditation, but in corporate worship and in the sacramental life of the Church. 
His treatise On the Making of Man deals with God as Creator, and with the world as a good thing, as something that God takes delight in, and that ought to delight us. His Great Catechism is esteemed as a work of systematic theology. His Commentary on the Song of Songs is a work of contemplative, devotional, mystical theology. 
His book The Life of Moses is available from the Paulist Press in the series The Classics of Western Spirituality. The reader who is expecting a straightforward biography will be startled -- not necessarily disappointed. An example of his treatment is the following: 
In Numbers 13 and 14 we read that when Moses had led the Israelites out of Egypt and to the borders of Canaan, he sent twelve spies into the land to look it over. They returned to report two things: (1) The inhabitants of the land were fierce warriors and would prove a formidable enemy. (2) The land was a good land, with fertile soil and an abundance of natural resources. As proof, they brought back a cluster of grapes so large that they hung it from a wooden pole that two men carried horizontally between them. Ten of the spies said that the enemy was too strong to be defeated, and that the Israelites ought to turn back, but the remaining two, Joshua and Caleb, urged the people to remember that the LORD was with them, and had shown Himself mighty to save. The people listened to the ten and prepared to turn back. At this the LORD was angry and said, "Very well, you shall wander in the wilderness for forty years, until all the men of this generation have died, except for Joshua and Caleb. Only then shall the next generation go in to possess the homeland that I promised to Abraham for his descendants." Hence the well-known child's nursery rhyme that goes in part: 
  Joshua the son of Nun and Caleb the son of Jephunneh 
Were the only two who ever got thru to the land of milk and honey. 
Gregory (following the example of the Apostle Paul in 1 Corinthians 10) treats the Exodus as a type of our deliverance from the bondage of sin, and the Promised Land as a type of Heaven. He comments that the Israelites had been guilty of idolatry, of fornication, of repeated rebellions against Moses, of various disobediences to the commands of God, but that none of these moved God to deny them entrance into the Promised Land. It was only when they came to the Land, and God showed them what a good land He had prepared for them, and gave them a token of that goodness in the form of the cluster of grapes, hanging from a wooden pole between two spies, and they refused to trust in the promise of God to save them from their enemies, that they were turned back (indeed, that they turned themselves back). So, it is not failure to live virtuous lives that can keep us out of Heaven, but a refusal to believe in the mercy of God, and to trust His gracious declarations of His good will toward us, concretely expressed in the saving blood of Christ, Who is the True Vine, and Who for our sakes hung on the wood of the cross between two thieves, as the grape cluster hung on the wood of the pole between two spies, showing forth in His own Person the sign of God's good will to us and His assurance that He is ready to overcome all our enemies. 
As you see, it is not really a biography of Moses, and it will not be to everyone's taste, not even to every Christian's taste. And even Christians who find this approach helpful will grant that it has its pitfalls. Clearly anyone who follows Gregory's example runs the risk of being led on a random walk by the will-o-the-wisp of his own imagination. But many Christians have received spiritual nourishment from this way of reading the Scriptures, and the example of St. Paul, as aforesaid, favors the view that this approach is at  least sometimes of legitimate value. 
written by James Kiefer
Prayer
Almighty God, who have revealed to your Church your eternal Being of glorious majesty and perfect love as one God in Trinity of Persons: Give us grace that, like your bishop Gregory of Nyssa, we may continue steadfast in the confession of this faith, and constant in our worship of you, Father, Son, and Holy Spirit, who live and reign for ever and ever. Amen.
Alternate Psalm and Readings
Psalm 19:7-11(12-14)
Wisdom 7:24-28
Ephesians 2:17-22
John 14:23-26
The Creed
The Apostle's Creed
I believe in God, the Father alvmighty,
creator of heaven and earth.
I believe in Jesus Christ, his only son, our Lord.
He was conceived by the power of the Holy Spirit
and born of the Virgin Mary.
He suffered under Pontius Pilate,
was crucified, died, and was buried.
He descended to the dead.
On the third day he rose again.
He ascended into heaven,
and is seated at the right hand of the Father.
He will come again to judge the living and the dead.
I believe in the Holy Spirit,
the holy catholic Church,
the communion of saints,
the forgiveness of sins,
the resurrection of the body,
and the life everlasting. Amen.
The Prayers
The Lord's Prayer
or traditional
Our Father in heaven,
hallowed be your Name,
your kingdom come,
your will be done,
on earth as in heaven.
Give us today our daily bread.
Forgive us our sins
as we forgive those
who sin against us.
Save us from the time of trial,
and deliver us from evil.
For the kingdom, the power,
and the glory are yours,
now and for ever. Amen.
Suffrages
Show us your mercy, O Lord;
And grant us your salvation.
Clothe your ministers with righteousness;
Let your people sing with joy.
Give peace, O Lord, in all the world;
For only in you can we live in safety.
Lord, keep this nation under your care;
And guide us in the way of justice and truth.
Let your way be known upon earth;
Your saving health among all nations.
Let not the needy, O Lord, be forgotten;
Nor the hope of the poor be taken away.
Create in us clean hearts, O God;
And sustain us with your Holy Spirit.
Collect of the Day: The First Sunday in Lent
Almighty God, whose blessed Son was led by the Spirit to be tempted by Satan; Come quickly to help us who are assaulted by many temptations; and, as you know the weaknesses of each of us, let each one find you mighty to save; through Jesus Christ your Son our Lord, who lives and reigns with you and the Holy Spirit, one God, now and for ever. Amen.
For Mission
Almighty and everlasting God,
by whose Spirit the whole body of your faithful people
is governed and sanctified:
Receive our supplications and prayers
which we offer before you for
all members of your holy Church,
that in their vocation and ministry
they may truly and devoutly serve you;
through our Lord and Savior Jesus Christ. Amen.
World Cycle of Prayer
We pray for the people of Côted'Ivoire.
Ecumenical Cycle of Prayer
We pray for our sisters and brothers members of the Pentecostal Churches of Christ.
A Collect for the Renewal of Life
O God, the King eternal,
who divides the day from the night
and turns the shadow of death into the morning:
Drive far from us all wrong desires,
incline our hearts to keep your law,
and guide our feet into the way of peace;
that, having done your will with cheerfulness while it was day,
we may, when night comes,
rejoice to give you thanks;
through Jesus Christ our Lord. Amen.
Hymn: To my humble supplication
To my humble supplication
Lord, give ear and acceptation
Save thy servant, that hath none
Help nor hope but Thee alone. Amen.
Prayers and Intercessions
Let us pray now for our own needs and those of others.
Birthdays
Anniversaries
For Recovery from Sickness
For Travelers
For a Person in Trouble or Bereavement
For Those to be Baptized
For the Departed
Full list of prayers
For Peace Among Nations
Almighty God our heavenly Father,
guide the nations of the world
into the way of justice and truth,
and establish among them that peace
which is the fruit of righteousness,
that they may become the kingdom
of our Lord and Savior Jesus Christ. Amen.
For Those in the Armed Forces of Our Country
Almighty God,
we commend to your gracious care and keeping
all the men and women of our armed forces
at home and abroad.
Defend them day by day with your heavenly grace;
strengthen them in their trials and temptations;
give them courage to face the perils which beset them;
and grant them a sense of your abiding presence
wherever they may be;
through Jesus Christ our Lord. Amen.
For the Conservation of Natural Resources
Almighty God, in giving us
dominion over things on earth,
you made us fellow workers in your creation:
Give us wisdom and reverence
so to use the resources of nature,
that no one may suffer from our abuse of them,
and that generations yet to come
may continue to praise you for your bounty;
through Jesus Christ our Lord. Amen.
Hymn: A voice says 'cry out'
A voice says 'cry out'
All men are like grass
And their time of glory
Soon shall pass
But the word of God
It will never die
Surely it will stand
For eternity
Every ditch and valley shall be raised up
Every hill and mountain be made low
Every rugged place will be made flat
Everybody shall see the glory of the Lord
[Interlude]
You who bring good news
Raise your voice and shout
Do not be afraid
To speak the name of God
The hard days are gone
The debt has been paid
And the time has come
To walk the righteous way
Every ditch and valley shall be raised up
Every hill and mountain be made low
Every rugged place will be made flat
Everybody shall see the glory of the Lord
[Interlude]
A voice says 'cry out'
All men are like grass
And their time of glory
Soon shall pass
But the word of God
It will never die
Surely it will stand
For eternity
Every ditch and valley shall be raised up
Every hill and mountain be made low
Every rugged place will be made flat
Everybody shall see the glory of the Lord
Everybody shall see the glory of the Lord
Singers: Ordinary Time | Words: Peter La Grand
A Prayer Attributed to St. Francis
Lord, make us instruments of your peace. Where there is hatred, let us sow love; where there is injury, pardon; where there is discord, union; where there is doubt, faith; where there is despair, hope; where there is darkness, light; where there is sadness, joy. Grant that we may not so much seek to be consoled as to console; to be understood as to understand; to be loved as to love. For it is in giving that we receive; it is in pardoning that we are pardoned; and it is in dying that we are born to eternal life. Amen.
General Thanksgiving
Almighty God, Father of all mercies, we your unworthy servants give you humble thanks for all your goodness and loving-kindness to us and to all whom you have made. We bless you for our creation, preservation, and all the blessings of this life; but above all for your immeasurable love in the redemption of the world by our Lord Jesus Christ; for the means of grace, and for the hope of glory. And, we pray, give us such an awareness of your mercies, that with truly thankful hearts we may show forth your praise, not only with our lips, but in our lives, by giving up our selves to your service, and by walking before you in holiness and righteousness all our days; through Jesus Christ our Lord, to whom, with you and the Holy Spirit, be honor and glory throughout all ages. Amen.
A Prayer of St. Chrysostom
Almighty God, you have given us grace at this time with one accord to make our common supplication to you; and you have promised through your well-beloved Son that when two or three are gathered together in his Name you will be in the midst of them: Fulfill now, O Lord, our desires and petitions as may be best for us; granting us in this world knowledge of your truth, and in the age to come life everlasting. Amen.
The Ending
Benediction
Let us bless the Lord.
Thanks be to God.
May the God of hope fill us with all joy and peace in believing through the power of the Holy Spirit. Amen. Romans 15:13
Hymn: God Be With You
God be with you till we meet again;
By his counsels guide, uphold you;
With his sheep securely fold you.
God be with you till we meet again.
Till we meet, till we meet,
Till we meet at Jesus' feet,
Till we meet, till we meet,
God be with you till we meet again.