Friday, 17 March
Morning Prayer
Patrick of Ireland

The Opening
Opening Sentence
I will arise and go to my father, and I will say to him, "Father, I have sinned against heaven and before you; I am no longer worthy to be called your son." Luke 15:18, 19
Hymn: Immortal, invisible
Immortal, invisible, God only wise,
In light inaccessible hid from our eyes,
Most blessed, most glorious, the Ancient of Days,
Almighty, victorious, Thy great name we praise.
Unresting, unhasting, and silent as light,
Not wanting, not wasting, Thou rulest in might;
Thy justice like mountains high soaring above,
Thy clouds which are fountains of goodness and love.
To all life Thou givest—to both great and small;
In all life Thou livest, the true life of all;
We blossom and flourish like leaves on the tree,
Then wither and perish, but naught changeth Thee.
Thou reignest in glory, Thou rulest in Light.
Thine angels adore Thee all veiling their sight.
All praise we would render: O help us to see
'Tis only the splendor of Light hiddeth Thee.
Music: St. Denio Welsh Hymn | Words: W. Chalmers Smith (19th C)
Confession
Let us confess our sins against God and our neighbor.
Most merciful God, we confess that we have sinned against you in thought, word, and deed, by what we have done, and by what we have left undone. We have not loved you with our whole heart; we have not loved our neighbors as ourselves. We are truly sorry and we humbly repent. For the sake of your Son Jesus Christ, have mercy on us and forgive us; that we may delight in your will, and walk in your ways, to the glory of your Name. Amen.
Almighty God have mercy on us, forgive us all our sins through our Lord Jesus Christ, strengthen us in all goodness, and by the power of the Holy Spirit keep us in eternal life. Amen.
Versicle and Response
Lord, open our lips.
And our mouth shall proclaim your praise.
Glory to the Father,
and to the Son,
and to the Holy Spirit,
As it was in the beginning,
is now, and will be for ever. Amen.
The Lord is full of compassion and mercy:
Come let us adore him.
Venite
Psalm 95 Venite, exultemus
1 Come, let us sing to the Lord; *
let us shout for joy to the Rock of our salvation.
2 Let us come before his presence with thanksgiving *
and raise a loud shout to him with psalms.
3 For the Lord is a great God, *
and a great King above all gods.
4 In his hand are the caverns of the earth, *
and the heights of the hills are his also.
5 The sea is his, for he made it, *
and his hands have molded the dry land.
6 Come, let us bow down, and bend the knee, *
and kneel before the Lord our Maker.
7 For he is our God,
and we are the people of his pasture and the sheep of his hand. *
Oh, that today you would hearken to his voice!
8 Harden not your hearts,
as your forebears did in the wilderness, *
at Meribah, and on that day at Massah,
when they tempted me.
9 They put me to the test, *
though they had seen my works.
10 Forty years long I detested that generation and said, *
"This people are wayward in their hearts;
they do not know my ways."
11 So I swore in my wrath, *
"They shall not enter into my rest.
Antiphon
The Lord is full of compassion and mercy:
Come let us adore him.
The Psalm
Psalm 69 or
Coverdale
Salvum me fac
1Save me, O God, *
for the waters have risen up to my neck.
2I am sinking in deep mire, *
and there is no firm ground for my feet.
3I have come into deep waters, *
and the torrent washes over me.
4I have grown weary with my crying;
my throat is inflamed; *
my eyes have failed from looking for my God.
5Those who hate me without a cause are more than the hairs
of my head;
my lying foes who would destroy me are mighty. *
Must I then give back what I never stole?
6O God, you know my foolishness, *
and my faults are not hidden from you.
7Let not those who hope in you be put to shame through me,
Lord GOD of hosts; *
let not those who seek you be disgraced because of me,
O God of Israel.
8Surely, for your sake have I suffered reproach, *
and shame has covered my face.
9I have become a stranger to my own kindred, *
an alien to my mother's children.
10Zeal for your house has eaten me up; *
the scorn of those who scorn you has fallen upon me.
11I humbled myself with fasting, *
but that was turned to my reproach.
12I put on sack-cloth also, *
and became a byword among them.
13Those who sit at the gate murmur against me, *
and the drunkards make songs about me.
14But as for me, this is my prayer to you, *
at the time you have set, O LORD:
15"In your great mercy, O God, *
answer me with your unfailing help.
16Save me from the mire; do not let me sink; *
let me be rescued from those who hate me
and out of the deep waters.
17Let not the torrent of waters wash over me,
neither let the deep swallow me up; *
do not let the Pit shut its mouth upon me.
18Answer me, O LORD, for your love is kind; *
in your great compassion, turn to me."
19"Hide not your face from your servant; *
be swift and answer me, for I am in distress.
20Draw near to me and redeem me; *
because of my enemies deliver me.
21You know my reproach, my shame, and my dishonor; *
my adversaries are all in your sight."
22Reproach has broken my heart, and it cannot be healed; *
I looked for sympathy, but there was none,
for comforters, but I could find no one.
23They gave me gall to eat, *
and when I was thirsty, they gave me vinegar to drink.
24Let the table before them be a trap *
and their sacred feasts a snare.
25Let their eyes be darkened, that they may not see, *
and give them continual trembling in their loins.
26Pour out your indignation upon them, *
and let the fierceness of your anger overtake them.
27Let their camp be desolate, *
and let there be none to dwell in their tents.
28For they persecute him whom you have stricken *
and add to the pain of those whom you have pierced.
29Lay to their charge guilt upon guilt, *
and let them not receive your vindication.
30Let them be wiped out of the book of the living *
and not be written among the righteous.
31As for me, I am afflicted and in pain; *
your help, O God, will lift me up on high.
32I will praise the Name of God in song; *
I will proclaim his greatness with thanksgiving.
33This will please the LORD more than an offering of oxen, *
more than bullocks with horns and hoofs.
34The afflicted shall see and be glad; *
you who seek God, your heart shall live.
35For the LORD listens to the needy, *
and his prisoners he does not despise.
36Let the heavens and the earth praise him, *
the seas and all that moves in them;
37For God will save Zion and rebuild the cities of Judah; *
they shall live there and have it in possession.
38The children of his servants will inherit it, *
and those who love his Name will dwell therein.
Gloria Patri
Glory be to the Father, and to the Son, and to the Holy Ghost.
As it was in the beginning, is now, and ever shall be: world without end. Amen. Amen.
The Lessons
The Old Testament Reading
Jeremiah 5:1-9
Run to and fro through the streets of Jerusalem, look around and take note! Search its squares and see if you can find one person who acts justly and seeks truth- so that I may pardon Jerusalem. Although they say, "As the LORD lives," yet they swear falsely. O LORD, do your eyes not look for truth? You have struck them, but they felt no anguish; you have consumed them, but they refused to take correction. They have made their faces harder than rock; they have refused to turn back. Then I said, "These are only the poor, they have no sense; for they do not know the way of the LORD, the law of their God. Let me go to the rich and speak to them; surely they know the way of the LORD, the law of their God." But they all alike had broken the yoke, they had burst the bonds. Therefore a lion from the forest shall kill them, a wolf from the desert shall destroy them. A leopard is watching against their cities; everyone who goes out of them shall be torn in pieces- because their transgressions are many, their apostasies are great. How can I pardon you? Your children have forsaken me, and have sworn by those who are no gods. When I fed them to the full, they committed adultery and trooped to the houses of prostitutes. They were well-fed lusty stallions, each neighing for his neighbor's wife. Shall I not punish them for these things? says the LORD; and shall I not bring retribution on a nation such as this?
The Word of the Lord.
Thanks be to God.
Canticle 14 A Song of Penitence
Prayer of Manasseh 1-2, 4, 6-7, 11-15
Kyrie Pantokrator
O Lord and Ruler of the hosts of heaven, *
God of Abraham, Isaac, and Jacob,
and of all their righteous offspring:
You made the heavens and the earth, *
with all their vast array.
All things quake with fear at your presence; *
they tremble because of your power.
But your merciful promise is beyond all measure; *
it surpasses all that our minds can fathom.
O Lord, you are full of compassion, *
long-suffering, and abounding in mercy.
You hold back your hand; *
you do not punish as we deserve.
In your great goodness, Lord,
you have promised forgiveness to sinners, *
that they may repent of their sin and be saved.
And now, O Lord, I bend the knee of my heart, *
and make my appeal, sure of your gracious goodness.
I have sinned, O Lord, I have sinned, *
and I know my wickedness only too well.
Therefore I make this prayer to you: *
Forgive me, Lord, forgive me.
Do not let me perish in my sin, *
nor condemn me to the depths of the earth.
For you, O Lord, are the God of those who repent, *
and in me you will show forth your goodness.
Unworthy as I am, you will save me,
in accordance with your great mercy, *
and I will praise you without ceasing all the days of my life.
For all the powers of heaven sing your praises, *
and yours is the glory to ages of ages. Amen.
Glory to the Father, and to the Son, and to the Holy Spirit
as it was in the beginning, is now, and will be for ever. Amen.
New Testament Reading
Romans 2:25-3:18
Circumcision indeed is of value if you obey the law; but if you break the law, your circumcision has become uncircumcision. So, if those who are uncircumcised keep the requirements of the law, will not their uncircumcision be regarded as circumcision? Then those who are physically uncircumcised but keep the law will condemn you that have the written code and circumcision but break the law. For a person is not a Jew who is one outwardly, nor is true circumcision something external and physical. Rather, a person is a Jew who is one inwardly, and real circumcision is a matter of the heart-it is spiritual and not literal. Such a person receives praise not from others but from God. Then what advantage has the Jew? Or what is the value of circumcision? Much, in every way. For in the first place the Jews were entrusted with the oracles of God.a What if some were unfaithful? Will their faithlessness nullify the faithfulness of God? By no means! Although everyone is a liar, let God be proved true, as it is written, 'So that you may be justified in your words, and prevail in your judging.'b But if our injustice serves to confirm the justice of God, what should we say? That God is unjust to inflict wrath on us? (I speak in a human way.) By no means! For then how could God judge the world? But if through my falsehood God's truthfulness abounds to his glory, why am I still being condemned as a sinner? And why not say (as some people slander us by saying that we say), 'Let us do evil so that good may come'? Their condemnation is deserved! What then? Are we any better off? No, not at all; for we have already charged that all, both Jews and Greeks, are under the power of sin,c as it is written: 'There is no one who is righteous, not even one; there is no one who has understanding, there is no one who seeks God. All have turned aside, together they have become worthless; there is no one who shows kindness, there is not even one.' 'Their throats are opened graves; they use their tongues to deceive.' 'The venom of vipers is under their lips.' 'Their mouths are full of cursing and bitterness.' 'Their feet are swift to shed blood; ruin and misery are in their paths, and the way of peace they have not known.' 'There is no fear of God before their eyes.'
The Word of the Lord.
Thanks be to God.
Canticle 18 A Song to the Lamb
Revelation 4:11, 5:9-10, 13
Dignus es
Splendor and honor and kingly power *
are yours by right, O Lord our God,
For you created everything that is, *
and by your will they were created and have their being;
And yours by right, O Lamb that was slain, *
for with your blood you have redeemed for God,
From every family, language, people, and nation, *
a kingdom of priests to serve our God.
And so, to him who sits upon the throne, *
and to Christ the Lamb,
Be worship and praise, dominion and splendor, *
for ever and for ever more.
Glory to the Father, and to the Son, and to the Holy Spirit
as it was in the beginning, is now, and will be for ever. Amen.
The Gospel
John 5:30-47
'I can do nothing on my own. As I hear, I judge; and my judgment is just, because I seek to do not my own will but the will of him who sent me. 'If I testify about myself, my testimony is not true. There is another who testifies on my behalf, and I know that his testimony to me is true. You sent messengers to John, and he testified to the truth. Not that I accept such human testimony, but I say these things so that you may be saved. He was a burning and shining lamp, and you were willing to rejoice for a while in his light. But I have a testimony greater than John's. The works that the Father has given me to complete, the very works that I am doing, testify on my behalf that the Father has sent me. And the Father who sent me has himself testified on my behalf. You have never heard his voice or seen his form, and you do not have his word abiding in you, because you do not believe him whom he has sent. 'You search the scriptures because you think that in them you have eternal life; and it is they that testify on my behalf. Yet you refuse to come to me to have life. I do not accept glory from human beings. But I know that you do not have the love of God in you. I have come in my Father's name, and you do not accept me; if another comes in his own name, you will accept him. How can you believe when you accept glory from one another and do not seek the glory that comes from the one who alone is God? Do not think that I will accuse you before the Father; your accuser is Moses, on whom you have set your hope. If you believed Moses, you would believe me, for he wrote about me. But if you do not believe what he wrote, how will you believe what I say?'
The Word of the Lord.
Thanks be to God.
The Commemoration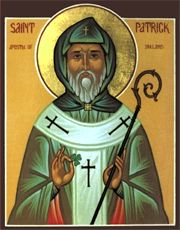 Patrick was born about 390, in southwest Britain, somewhere between the Severn and the Clyde rivers, son of a deacon and grandson of a priest. When about sixteen years old, he was kidnapped by Irish pirates and sold into slavery in Ireland. Until this time, he had, by his own account, cared nothing for God, but now he turned to God for help. After six years, he either escaped or was freed, made his way to a port 200 miles away, and there persuaded some sailors to take him onto their ship. He returned to his family much changed, and began to prepare for the priesthood, and to study the Bible. 
Around 435, Patrick was commissioned, perhaps by bishops in Gaul and perhaps by the Pope, to go to Ireland as a bishop and missionary. Four years earlier another bishop, Palladius, had gone to Ireland to preach, but he was no longer there (my sources disagree on whether he had died, or had become discouraged and left Ireland to preach in Scotland). Patrick made his headquarters at Armagh in the North, where he built a school, and had the protection of the local monarch. From this base he made extensive missionary journeys, with considerable success. To say that he single-handedly turned Ireland from a pagan to a Christian country is an exaggeration, but is not far from the truth. 
Almost everything we know about him comes from his own writings, available in English in the Ancient Christian Writers series. He has left us an autobiography (called the Confessio), a Letter to Coroticus in which he denounces the slave trade and rebukes the British chieftain Coroticus for taking part in it, and the Lorica (or "Breastplate" a poem of disputed authorship traditionally attributed to Patrick), a work that has been called "part prayer, part anthem, and part incantation." The Lorica is a truly magnificent hymn, found today in many hymnals (usually abridged from "Against the demon snares of sin..Christ's returning."). The translation into English as sung below is by Cecil Frances Alexander, whose husband was Archbishop of Armagh, and thus the direct successor of Patrick. She published nearly 400 poems and hymns of her own, including the well-known "There is a green hill far away," "Once in royal David's city," "Jesus calls us; o'er the tumult," and "All things bright and beautiful, All creatures great and small."
An aspect of Patrick's thought that shows very clearly through his writings is his awareness of himself as an unlearned exile, a former slave and a fugitive, who has learned the hard way to put his sole trust in God.
written by James Kiefer
Prayer
Almighty God, who in your providence chose your servant Patrick to be the apostle of the Irish people, to bring those who were wandering in darkness and error to the true light and knowledge of you: Grant us so to walk in that light, that we may come at last to the light of everlasting life; through Jesus Christ our Lord, who lives and reigns with you and the Holy Spirit, one God, now and ever. Amen. 
Alternate Psalm and Readings
Psalm 97:1-2,7-12
Ezekiel 36:33-38
1 Thessalonians 2:2b-12 
Matthew 28:16-20
The Creed
The Apostle's Creed
I believe in God, the Father almighty,
creator of heaven and earth.
I believe in Jesus Christ, his only son, our Lord.
He was conceived by the power of the Holy Spirit
and born of the Virgin Mary.
He suffered under Pontius Pilate,
was crucified, died, and was buried.
He descended to the dead.
On the third day he rose again.
He ascended into heaven,
and is seated at the right hand of the Father.
He will come again to judge the living and the dead.
I believe in the Holy Spirit,
the holy catholic Church,
the communion of saints,
the forgiveness of sins,
the resurrection of the body,
and the life everlasting. Amen.
The Prayers
The Lord's Prayer
or traditional
Our Father in heaven,
hallowed be your Name,
your kingdom come,
your will be done,
on earth as in heaven.
Give us today our daily bread.
Forgive us our sins
as we forgive those
who sin against us.
Save us from the time of trial,
and deliver us from evil.
For the kingdom, the power,
and the glory are yours,
now and for ever. Amen.
Suffrages
Show us your mercy, O Lord;
And grant us your salvation.
Clothe your ministers with righteousness;
Let your people sing with joy.
Give peace, O Lord, in all the world;
For only in you can we live in safety.
Lord, keep this nation under your care;
And guide us in the way of justice and truth.
Let your way be known upon earth;
Your saving health among all nations.
Let not the needy, O Lord, be forgotten;
Nor the hope of the poor be taken away.
Create in us clean hearts, O God;
And sustain us with your Holy Spirit.
Collect of the Day: The Second Sunday in Lent
O God, whose glory it is always to have mercy: Be gracious to all who have gone astray from your ways, and bring them again with penitent hearts and steadfast faith to embrace and hold fast the unchangeable truth of your Word, Jesus Christ your Son; who with you and the Holy Spirit lives and reigns, one God, for ever and ever. Amen.
For Mission
Lord Jesus Christ, you stretched out your arms of love on the hard wood of the cross that everyone might come within the reach of your saving embrace: So clothe us in your Spirit that we, reaching forth our hands in love, may bring those who do not know you to the knowledge and love of you; for the honor of your Name. Amen.
World Cycle of Prayer
We pray for the people of Dominica.
Ecumenical Cycle of Prayer
We pray for our sisters and brothers members of the The Revival Fellowship.
A Collect for Fridays
Almighty God, whose most dear Son went not up to joy but first he suffered pain, and entered not into glory before he was crucified: Mercifully grant that we, walking in the way of the cross, may find it none other than the way of life and peace; through Jesus Christ your Son our Lord. Amen.
Hymn: To my humble supplication
To my humble supplication
Lord, give ear and acceptation
Save thy servant, that hath none
Help nor hope but Thee alone. Amen.
Prayers and Intercessions
Let us pray now for our own needs and those of others.
Birthdays
Anniversaries
For Recovery from Sickness
For Travelers
For a Person in Trouble or Bereavement
For Those to be Baptized
For the Departed
Full list of prayers
For Our Enemies
O God, the Father of all, whose Son commanded us to love our enemies: Lead them and us from prejudice to truth; deliver them and us from hatred, cruelty, and revenge; and in your good time enable us all to stand reconciled before you; through Jesus Christ our Lord. Amen.
For Social Justice
Grant, O God, that your holy and life-giving Spirit may so move every human heart, that barriers which divide us may crumble, suspicions disappear, and hatreds cease; that our divisions being healed, we may live in justice and peace; through Jesus Christ our Lord. Amen.
For Young Persons
God our Father, you see your children growing up in an unsteady and confusing world: Show them that your ways give more life than the ways of the world, and that following you is better than chasing after selfish goals. Help them to take failure, not as a measure of their worth, but as a chance for a new start. Give them strength to hold their faith in you, and to keep alive their joy in your creation; through Jesus Christ our Lord. Amen.
Hymn: I bind unto myself today (The Lorica)
I bind unto myself today
the strong Name of the Trinity,
by invocation of the same,
the Three in One, and One in Three.
I bind this day to me for ever,
by power of faith, Christ's Incarnation;
his baptism in Jordan river;
his death on cross for my salvation;
his bursting from the spic'd tomb;
his riding up the heavenly way;
his coming at the day of doom:
I bind unto myself today.
I bind unto myself the power
of the great love of cherubim;
the sweet "Well done" in judgment hour;
the service of the seraphim;
confessors' faith, apostles' word,
the patriarchs' prayers, the prophets' scrolls;
all good deeds done unto the Lord,
and purity of virgin souls.
I bind unto myself today
the virtues of the starlit heaven
the glorious sun's life-giving ray,
the whiteness of the moon at even,
the flashing of the lightning free,
the whirling wind's tempestuous shocks,
the stable earth, the deep salt sea,
around the old eternal rocks.
I bind unto myself today
the power of God to hold and lead,
his eye to watch, his might to stay,
his ear to hearken to my need;
the wisdom of my God to teach,
his hand to guide, his shield to ward;
the word of God to give me speech,
his heavenly host to be my guard.
Against the demon snares of sin,
The vice that gives temptation force,
The natural lusts that war within,
The hostile men that mar my course;
Or few or many, far or nigh,
In every place and in all hours,
Against their fierce hostility
I bind to me these holy powers.
Against all Satan's spells and wiles,
Against false words of heresy,
Against the knowledge that defiles,
Against the heart's idolatry,
Against the wizard's evil craft,
Against the death wound and the burning,
The choking wave, the poisoned shaft,
Protect me, Christ, till Thy returning.
Christ be with me,
Christ within me,
Christ behind me,
Christ before me,
Christ beside me,
Christ to win me,
Christ to comfort
and restore me.
Christ beneath me,
Christ above me,
Christ in quiet,
Christ in danger,
Christ in hearts of
all that love me,
Christ in mouth of
friend and stranger.
I bind unto myself today
the strong Name of the Trinity,
by invocation of the same,
the Three in One, and One in Three.
By whom all nature hath creation,
eternal Father, Spirit, Word:
praise to the Lord of my salvation,
salvation is of Christ the Lord.
singer: Erin Pacheco, flute: Moe Pacheco
words: attributed to St. Patrick
trans. Cecil Frances Alexander
music: St. Patrick's Breastplate and Gartan (verse 8)
A Prayer of Self-Dedication
Almighty and eternal God, so draw our hearts to you, so guide our minds, so fill our imaginations, so control our wills, that we may be wholly yours, utterly dedicated unto you; and then use us, we pray you, as you will, and always to your glory and the welfare of your people; through our Lord and Savior Jesus Christ. Amen.
General Thanksgiving
Almighty God, Father of all mercies, we your unworthy servants give you humble thanks for all your goodness and loving-kindness to us and to all whom you have made. We bless you for our creation, preservation, and all the blessings of this life; but above all for your immeasurable love in the redemption of the world by our Lord Jesus Christ; for the means of grace, and for the hope of glory. And, we pray, give us such an awareness of your mercies, that with truly thankful hearts we may show forth your praise, not only with our lips, but in our lives, by giving up our selves to your service, and by walking before you in holiness and righteousness all our days; through Jesus Christ our Lord, to whom, with you and the Holy Spirit, be honor and glory throughout all ages. Amen.
A Prayer of St. Chrysostom
Almighty God, you have given us grace at this time with one accord to make our common supplication to you; and you have promised through your well-beloved Son that when two or three are gathered together in his Name you will be in the midst of them: Fulfill now, O Lord, our desires and petitions as may be best for us; granting us in this world knowledge of your truth, and in the age to come life everlasting. Amen.
The Ending
Benediction
Let us bless the Lord.
Thanks be to God.
Glory to God whose power, working in us, can do infinitely more than we can ask or imagine: Glory to him from generation to generation in the Church, and in Christ Jesus for ever and ever. Amen.
Ephesians 3:20,21
Hymn: God Be With You
God be with you till we meet again;
By his counsels guide, uphold you;
With his sheep securely fold you.
God be with you till we meet again.
Till we meet, till we meet,
Till we meet at Jesus' feet,
Till we meet, till we meet,
God be with you till we meet again.