Monday, 20 March
Morning Prayer
Joseph, Guardian of Our Lord
The Opening
Opening Sentence
Their sound has gone out into all lands, and their message to the ends of the world. Psalm 19:4
Hymn: Go to sleep, my son (Joseph's Lullaby)
Go to sleep, my son,
This manger for your bed.
You have a long road before you,
Rest your little head.
Can you feel the weight of your glory?
Do you understand the price?
Does the Father guard your heart for now,
So you can sleep tonight?
Go to sleep, my son.
Go and chase your dreams.
This world can wait for one more moment.
Go and sleep in peace.
I believe the glory of Heaven
Is lying in my arms tonight.
Lord, I ask that he, for just this moment,
Simply be my child.
[Interlude]
Go to sleep, my son.
Baby, close your eyes.
Soon enough you'll save the day.
But for now, dear child of mine,
Oh my Jesus, sleep tight.
Confession
Let us confess our sins against God and our neighbor.
Most merciful God, we confess that we have sinned against you in thought, word, and deed, by what we have done, and by what we have left undone. We have not loved you with our whole heart; we have not loved our neighbors as ourselves. We are truly sorry and we humbly repent. For the sake of your Son Jesus Christ, have mercy on us and forgive us; that we may delight in your will, and walk in your ways, to the glory of your Name. Amen.
Almighty God have mercy on us, forgive us all our sins through our Lord Jesus Christ, strengthen us in all goodness, and by the power of the Holy Spirit keep us in eternal life. Amen.
Versicle and Response
Lord, open our lips.
And our mouth shall proclaim your praise.
Glory to the Father,
and to the Son,
and to the Holy Spirit,
As it was in the beginning,
is now, and will be for ever. Amen.
The Lord is glorious in his saints;
Come let us adore him.
Jubilate
Be joyful in the Lord, all you lands;
serve the Lord with gladness
and come before his presence with a song.
Know this: The Lord himself is God;
he himself has made us, and we are his;
we are his people and the sheep of his pasture.
Enter his gates with thanksgiving;
go into his courts with praise;
give thanks to him and call upon his Name.
For the Lord is good;
his mercy is everlasting;
and his faithfulness endures from age to age.
The Antiphon
The Lord is full of compassion and mercy: Come let us adore him.
The Psalms
Psalm 132 or
Coverdale
Memento, Domine
1LORD, remember David, *
and all the hardships he endured;
2How he swore an oath to the LORD *
and vowed a vow to the Mighty One of Jacob:
3"I will not come under the roof of my house, *
nor climb up into my bed;
4I will not allow my eyes to sleep, *
nor let my eyelids slumber;
5Until I find a place for the LORD, *
a dwelling for the Mighty One of Jacob."
6"The ark! We heard it was in Ephratah; *
we found it in the fields of Jearim.
7Let us go to God's dwelling place; *
let us fall upon our knees before his footstool."
8Arise, O LORD, into your resting-place, *
you and the ark of your strength.
9Let your priests be clothed with righteousness; *
let your faithful people sing with joy.
10For your servant David's sake, *
do not turn away the face of your Anointed.
11The LORD has sworn an oath to David; *
in truth, he will not break it:
12"A son, the fruit of your body *
will I set upon your throne.
13If your children keep my covenant
and my testimonies that I shall teach them, *
their children will sit upon your throne for evermore."
14For the LORD has chosen Zion; *
he has desired her for his habitation:
15"This shall be my resting-place for ever; *
here will I dwell, for I delight in her.
16I will surely bless her provisions, *
and satisfy her poor with bread.
17I will clothe her priests with salvation, *
and her faithful people will rejoice and sing.
18There will I make the horn of David flourish; *
I have prepared a lamp for my Anointed.
19As for his enemies, I will clothe them with shame; *
but as for him, his crown will shine."
Gloria Patri
Glory be to the Father, and to the Son, and to the Holy Ghost.
As it was in the beginning, is now, and ever shall be: world without end. Amen. Amen.
The Lessons
The Old Testament Reading
Isaiah 63:7-16
7 I will recount the gracious deeds of the Lord,
    the praiseworthy acts of the Lord,
because of all that the Lord has done for us,
    and the great favour to the house of Israel
that he has shown them according to his mercy,
    according to the abundance of his steadfast love.
8 For he said, 'Surely they are my people,
    children who will not deal falsely';
and he became their saviour
9   in all their distress.
It was no messenger or angel
    but his presence that saved them;
in his love and in his pity he redeemed them;
    he lifted them up and carried them all the days of old.


10 But they rebelled
    and grieved his holy spirit;
therefore he became their enemy;
    he himself fought against them.
11 Then they remembered the days of old,
    of Moses his servant.
Where is the one who brought them up out of the sea
    with the shepherds of his flock?
Where is the one who put within them
    his holy spirit,
12 who caused his glorious arm
    to march at the right hand of Moses,
who divided the waters before them
    to make for himself an everlasting name,
13   who led them through the depths?
Like a horse in the desert,
    they did not stumble.
14 Like cattle that go down into the valley,
    the spirit of the Lord gave them rest.
Thus you led your people,
    to make for yourself a glorious name.

15 Look down from heaven and see,
    from your holy and glorious habitation.
Where are your zeal and your might?
    The yearning of your heart and your compassion?
    They are withheld from me.
16 For you are our father,
    though Abraham does not know us
    and Israel does not acknowledge us;
you, O Lord, are our father;
    our Redeemer from of old is your name.
The Word of the Lord.
Thanks be to God.
Canticle 9 The First Song of Isaiah
Isaiah 12:2-6
Ecce, Deus

Surely, it is God who saves me; *
I will trust in him and not be afraid.
For the Lord is my stronghold and my sure defense, *
and he will be my Savior.
Therefore you shall draw water with rejoicing *
from the springs of salvation.
And on that day you shall say, *
Give thanks to the Lord and call upon his Name;
Make his deeds known among the peoples; *
see that they remember that his Name is exalted.
Sing the praises of the Lord, for he has done great things, *
and this is known in all the world.
Cry aloud, inhabitants of Zion, ring out your joy, *
for the great one in the midst of you is the Holy One of Israel.
Glory to the Father, and to the Son, and to the Holy Spirit
as it was in the beginning, is now, and will be for ever. Amen.
The Gospel
Matthew 1:18-25
18 Now the birth of Jesus the Messiah took place in this way. When his mother Mary had been engaged to Joseph, but before they lived together, she was found to be with child from the Holy Spirit. 19Her husband Joseph, being a righteous man and unwilling to expose her to public disgrace, planned to dismiss her quietly. 20But just when he had resolved to do this, an angel of the Lord appeared to him in a dream and said, 'Joseph, son of David, do not be afraid to take Mary as your wife, for the child conceived in her is from the Holy Spirit. 21She will bear a son, and you are to name him Jesus, for he will save his people from their sins.' 22All this took place to fulfil what had been spoken by the Lord through the prophet:
23 'Look, the virgin shall conceive and bear a son,
    and they shall name him Emmanuel',
which means, 'God is with us.' 24When Joseph awoke from sleep, he did as the angel of the Lord commanded him; he took her as his wife, 25but had no marital relations with her until she had borne a son; and he named him Jesus.
The Word of the Lord.
Thanks be to God.
Canticle 19 The Song of the Redeemed
Revelation 15:3-4
Magna et Maribile
O ruler of the universe, Lord God,
great deeds are they that you have done, *
surpassing human understanding.
Your ways are ways of righteousness and truth, *
O King of all the ages
Who can fail to do you homage, Lord
and sing the praises of your Name
for you only are the Holy One.
All nations will draw near and fall down before you
because your just and holy works have been revealed.
Glory to the Father, and to the Son, and to the Holy Spirit
as it was in the beginning, is now, and will be for ever. Amen.
The Commemoration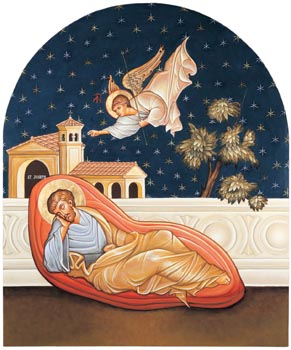 All that we know of Joseph we learn from the first two chapters of Matthew and of Luke. Otherwise he is mentioned only in passing in Luke 3:23; John 1:45; John 6:42 as the supposed father of Jesus. (Mark does not mention him at all.)
In the face of circumstances where a man of lesser character might have reacted very differently, Joseph graciously assumed the role of Jesus' father. He is well remembered in Christian tradition for the love he showed to the boy Jesus, and for his tender affection and care for Mary, during the twelve years and more that he was their protector.
Joseph was a pious Jew, a descendant of David, and a carpenter by trade. (The Gospels use the Greek word TEKTON, which means "builder," as in "architect." It has been suggested that he may have been a mason or a metalworker, or a building contractor. In favor of the traditional translation, we have a remark in the writings of Justin Martyr, who was born in Palestine, probably around 100, and who tells us that he has seen plows and ox-yokes still in use which were said to have been made in the carpenter-shop at Nazareth. We may not believe that the particular claims were all accurate, but they are testimony to what the Christians of Palestine in the early second century believed that Joseph's occupation had been, and this may be an idea continuously handed down in the community there since the early first century.)
Joseph's influence must have been tremendous. When Jesus spoke of God as being like a loving Father, He was using a word that he had first learned as a child to apply to Joseph. Joseph stands as a testimony to the value of simple everyday human things, and especially that human thing called "fatherhood."
written by James Kiefer
The Creed
The Apostle's Creed
I believe in God, the Father almighty,
creator of heaven and earth.
I believe in Jesus Christ, his only son, our Lord.
He was conceived by the power of the Holy Spirit
and born of the Virgin Mary.
He suffered under Pontius Pilate,
was crucified, died, and was buried.
He descended to the dead.
On the third day he rose again.
He ascended into heaven,
and is seated at the right hand of the Father.
He will come again to judge the living and the dead.
I believe in the Holy Spirit,
the holy catholic Church,
the communion of saints,
the forgiveness of sins,
the resurrection of the body,
and the life everlasting. Amen.
The Prayers
The Lord's Prayer
or traditional
Our Father in heaven,
hallowed be your Name,
your kingdom come,
your will be done,
on earth as in heaven.
Give us today our daily bread.
Forgive us our sins
as we forgive those
who sin against us.
Save us from the time of trial,
and deliver us from evil.
For the kingdom, the power,
and the glory are yours,
now and for ever. Amen.
Suffrages
Show us your mercy, O Lord;
And grant us your salvation.
Clothe your ministers with righteousness;
Let your people sing with joy.
Give peace, O Lord, in all the world;
For only in you can we live in safety.
Lord, keep this nation under your care;
And guide us in the way of justice and truth.
Let your way be known upon earth;
Your saving health among all nations.
Let not the needy, O Lord, be forgotten;
Nor the hope of the poor be taken away.
Create in us clean hearts, O God;
And sustain us with your Holy Spirit.
Collect of the Day: Joseph, Guardian of Our Lord
O God, who from the family of your servant David raised up Joseph to be the guardian of your incarnate Son and the spouse of his virgin mother: Give us grace to imitate his uprightness of life and his obedience to your commands; through Jesus Christ our Lord, who lives and reigns with you and the Holy Spirit, one God, for ever and ever. Amen.
For Mission
O God, you have made of one blood all the peoples of the earth, and sent your blessed Son to preach peace to those who are far off and to those who are near: Grant that people everywhere may seek after you and find you; bring the nations into your fold; pour out your Spirit upon all flesh, and hasten the coming of your kingdom; through Jesus Christ our Lord. Amen.
World Cycle of Prayer
We pray for the people of Ecuador.
Ecumenical Cycle of Prayer
We pray for our sisters and brothers members of the Methernitha.
A Collect for Peace
O God, the author of peace and lover of concord, to know you is eternal life and to serve you is perfect freedom: Defend us, your humble servants, in all assaults of our enemies; that we, surely trusting in your defense, may not fear the power of any adversaries; through the might of Jesus Christ our Lord. Amen.
Hymn: To my humble supplication
To my humble supplication
Lord, give ear and acceptation
Save thy servant, that hath none
Help nor hope but Thee alone. Amen.
Prayers and Intercessions
Let us pray now for our own needs and those of others.
Birthdays
Anniversaries
For Recovery from Sickness
For Travelers
For a Person in Trouble or Bereavement
For Those to be Baptized
For the Departed
Full list of prayers
For All Sorts and Conditions
O God, the creator and preserver of all, we humbly beseech you for all sorts and conditions of people; that you would be pleased to make your ways known unto them, your saving health unto all nations. More especially we pray for your holy Church universal; that it may be so guided and governed by your good Spirit, that all who profess and call themselves Christians may be led into the way of truth, and hold the faith in unity of spirit, in the bond of peace, and in righteousness of life. Finally, we commend to your fatherly goodness all those who are in any ways afflicted or distressed, in mind, body, or estate; that it may please you to comfort and relieve them according to their several necessities, giving them patience under their sufferings, and a happy issue out of all their afflictions. And this we beg for Jesus Christ's sake. Amen.
For the Poor and Neglected
Almighty and most merciful God, we remember before you all poor and neglected persons whom it would be easy for us to forget: the homeless and the destitute, the old and the sick, and all who have none to care for them. Help us to heal those who are broken in body or spirit, and to turn their sorrow into joy. Grant this, Father, for the love of your Son, who for our sake became poor, Jesus Christ our Lord. Amen.
For Those Who Live Alone
Almighty God, whose Son had nowhere to lay his head: Grant that those who live alone may not be lonely in their solitude, but that, following in his steps, they may find fulfillment in loving you and their neighbors; through Jesus Christ our Lord. Amen.
Hymn: He was working late one evening
He was working late one evening
With the wood he knew so well
When she thought
she recognized him
Though at first,
She couldn't tell

As she humbly begged his pardon
A strange sadness swelled inside
When she asked,
"Aren't you the father
of that man they crucified?"
Then the carpenter repeated
What he'd said so many times
He said, "I as not His father,
He was mine."

Then he humbly went on working
With those worn
and caloused hands
Though she did not ask
more questions
He knew she didn't understand.

So he asked if she would help him
He saw her answer
in a glance
And she did the chores
he asked her
She was so grateful for the chance
Then they talked for hours of Jesus
And how he knew He was divine
He said "I was not His father,
He was mine.

How could one
So foolish and so flawed
Ever hope to raise
the Son of God?"

Then he spoke
of the misgivings
That he had had
a thousand times
And how Jesus found
the tender moments
To let him know
He'd done just fine

And then the carpenter recited
The greatest truths
he'd ever learned
And testified
they came form Jesus
And then her heart
within her burned.

They embraced as she departed,
And Joseph told her one more time,
"Tell them I was not His father
Tell them He was mine.
No, I was not His father,
He was mine."
Words and music: Michael McLean
A Prayer of Self-Dedication
Almighty and eternal God, so draw our hearts to you, so guide our minds, so fill our imaginations, so control our wills, that we may be wholly yours, utterly dedicated unto you; and then use us, we pray you, as you will, and always to your glory and the welfare of your people; through our Lord and Savior Jesus Christ. Amen.
General Thanksgiving
Almighty God, Father of all mercies, we your unworthy servants give you humble thanks for all your goodness and loving-kindness to us and to all whom you have made. We bless you for our creation, preservation, and all the blessings of this life; but above all for your immeasurable love in the redemption of the world by our Lord Jesus Christ; for the means of grace, and for the hope of glory. And, we pray, give us such an awareness of your mercies, that with truly thankful hearts we may show forth your praise, not only with our lips, but in our lives, by giving up our selves to your service, and by walking before you in holiness and righteousness all our days; through Jesus Christ our Lord, to whom, with you and the Holy Spirit, be honor and glory throughout all ages. Amen.
A Prayer of St. Chrysostom
Almighty God, you have given us grace at this time with one accord to make our common supplication to you; and you have promised through your well-beloved Son that when two or three are gathered together in his Name you will be in the midst of them: Fulfill now, O Lord, our desires and petitions as may be best for us; granting us in this world knowledge of your truth, and in the age to come life everlasting. Amen.
The Ending
Benediction
Let us bless the Lord.
Thanks be to God.
May the God of hope fill us with all joy and peace in believing through the power of the Holy Spirit. Amen. Romans 15:13
Hymn: God Be With You
God be with you till we meet again;
By his counsels guide, uphold you;
With his sheep securely fold you.
God be with you till we meet again.
Till we meet, till we meet,
Till we meet at Jesus' feet,
Till we meet, till we meet,
God be with you till we meet again.