Tuesday, 21 March
Morning Prayer
Thomas Cranmer

The Opening
Opening Sentence
Rend your hearts and not your garments. Return to the Lord your God, for he is gracious and merciful, slow to anger and abounding in steadfast love, and repents of evil.    Joel 2:13
Hymn: Awake, awake to love and work!
Awake, awake to love and work!
The lark is in the sky;
The fields are wet with diamond dew;
The worlds awake to cry
Their blessings on the Lord of life,
As He goes meekly by.
Come, let thy voice be one with theirs,
Shout with their shout of praise;
See how the giant sun soars up,
Great lord of years and days!
So let the love of Jesus come
And set thy soul ablaze.
To give and give, and give again,
What God hath given thee;
To spend thyself nor count the cost;
To serve right gloriously
The God Who gave all worlds that are,
And all that are to be.
Confession
Let us confess our sins against God and our neighbor.
Most merciful God, we confess that we have sinned against you in thought, word, and deed, by what we have done, and by what we have left undone. We have not loved you with our whole heart; we have not loved our neighbors as ourselves. We are truly sorry and we humbly repent. For the sake of your Son Jesus Christ, have mercy on us and forgive us; that we may delight in your will, and walk in your ways, to the glory of your Name. Amen.
Almighty God have mercy on us, forgive us all our sins through our Lord Jesus Christ, strengthen us in all goodness, and by the power of the Holy Spirit keep us in eternal life. Amen.
Versicle and Response
Lord, open our lips.
And our mouth shall proclaim your praise.
Glory to the Father,
and to the Son,
and to the Holy Spirit:
as it was in the beginning,
is now, and will be forever Amen.
The Lord is full of compassion and mercy:
Come let us adore him.
Jubilate
Be joyful in the Lord, all you lands;
serve the Lord with gladness
and come before his presence with a song.
Know this: The Lord himself is God;
he himself has made us, and we are his;
we are his people and the sheep of his pasture.
Enter his gates with thanksgiving;
go into his courts with praise;
give thanks to him and call upon his Name.
For the Lord is good;
his mercy is everlasting;
and his faithfulness endures from age to age.
The Antiphon
The Lord is full of compassion and mercy: Come let us adore him.
The Psalm
Psalm 78 or
Coverdale
Part I Attendite, popule
1Hear my teaching, O my people; *
incline your ears to the words of my mouth.
2I will open my mouth in a parable; *
I will declare the mysteries of ancient times.
3That which we have heard and known,
and what our forefathers have told us, *
we will not hide from their children.
4We will recount to generations to come
the praiseworthy deeds and the power of the LORD, *
and the wonderful works he has done.
5He gave his decrees to Jacob
and established a law for Israel, *
which he commanded them to teach their children;
6That the generations to come might know,
and the children yet unborn; *
that they in their turn might tell it to their children;
7So that they might put their trust in God, *
and not forget the deeds of God,
but keep his commandments;
8And not be like their forefathers,
a stubborn and rebellious generation, *
a generation whose heart was not steadfast,
and whose spirit was not faithful to God.
9The people of Ephraim, armed with the bow, *
turned back in the day of battle;
10They did not keep the covenant of God, *
and refused to walk in his law;
11They forgot what he had done, *
and the wonders he had shown them.
12He worked marvels in the sight of their forefathers, *
in the land of Egypt, in the field of Zoan.
13He split open the sea and let them pass through; *
he made the waters stand up like walls.
14He led them with a cloud by day, *
and all the night through with a glow of fire.
15He split the hard rocks in the wilderness *
and gave them drink as from the great deep.
16He brought streams out of the cliff, *
and the waters gushed out like rivers.
17But they went on sinning against him, *
rebelling in the desert against the Most High.
18They tested God in their hearts, *
demanding food for their craving.
19They railed against God and said, *
"Can God set a table in the wilderness?
20True, he struck the rock, the waters gushed out, and the
gullies overflowed; *
but is he able to give bread
or to provide meat for his people?"
21When the LORD heard this, he was full of wrath; *
a fire was kindled against Jacob,
and his anger mounted against Israel;
22For they had no faith in God, *
nor did they put their trust in his saving power.
23So he commanded the clouds above *
and opened the doors of heaven.
24He rained down manna upon them to eat *
and gave them grain from heaven.
25So mortals ate the bread of angels; *
he provided for them food enough.
26He caused the east wind to blow in the heavens *
and led out the south wind by his might.
27He rained down flesh upon them like dust *
and wingèd birds like the sand of the sea.
28He let it fall in the midst of their camp *
and round about their dwellings.
29So they ate and were well filled, *
for he gave them what they craved.
30But they did not stop their craving, *
though the food was still in their mouths.
31So God's anger mounted against them; *
he slew their strongest men
and laid low the youth of Israel.
32In spite of all this, they went on sinning *
and had no faith in his wonderful works.
33So he brought their days to an end like a breath *
and their years in sudden terror.
34Whenever he slew them, they would seek him, *
and repent, and diligently search for God.
35They would remember that God was their rock, *
and the Most High God their redeemer.
36But they flattered him with their mouths *
and lied to him with their tongues.
37Their heart was not steadfast toward him, *
and they were not faithful to his covenant.
38But he was so merciful that he forgave their sins
and did not destroy them; *
many times he held back his anger
and did not permit his wrath to be roused.
39For he remembered that they were but flesh, *
a breath that goes forth and does not return.
Gloria Patri
Glory be to the Father, and to the Son, and to the Holy Ghost.
As it was in the beginning, is now, and ever shall be: world without end. Amen. Amen.
The Lessons
The Old Testament Reading
Jeremiah 7:21-34
Thus says the LORD of hosts, the God of Israel: Add your burnt offerings to your sacrifices, and eat the flesh. For in the day that I brought your ancestors out of the land of Egypt, I did not speak to them or command them concerning burnt offerings and sacrifices. But this command I gave them, "Obey my voice, and I will be your God, and you shall be my people; and walk only in the way that I command you, so that it may be well with you." Yet they did not obey or incline their ear, but, in the stubbornness of their evil will, they walked in their own counsels, and looked backward rather than forward. From the day that your ancestors came out of the land of Egypt until this day, I have persistently sent all my servants the prophets to them, day after day; yet they did not listen to me, or pay attention, but they stiffened their necks. They did worse than their ancestors did. So you shall speak all these words to them, but they will not listen to you. You shall call to them, but they will not answer you. You shall say to them: This is the nation that did not obey the voice of the LORD their God, and did not accept discipline; truth has perished; it is cut off from their lips. Cut off your hair and throw it away; raise a lamentation on the bare heights, for the LORD has rejected and forsaken the generation that provoked his wrath. For the people of Judah have done evil in my sight, says the LORD; they have set their abominations in the house that is called by my name, defiling it. And they go on building the high place of Topheth, which is in the valley of the son of Hinnom, to burn their sons and their daughters in the fire-which I did not command, nor did it come into my mind. Therefore, the days are surely coming, says the LORD, when it will no more be called Topheth, or the valley of the son of Hinnom, but the valley of Slaughter: for they will bury in Topheth until there is no more room. The corpses of this people will be food for the birds of the air, and for the animals of the earth; and no one will frighten them away. And I will bring to an end the sound of mirth and gladness, the voice of the bride and bridegroom in the cities of Judah and in the streets of Jerusalem; for the land shall become a waste.
The Word of the Lord.
Thanks be to God.
Canticle 13 A Song of Praise
Song of the Three Young Men, 29-34
Benedictus es, Domine
Glory to you, Lord God of our fathers; *
you are worthy of praise; glory to you.
Glory to you for the radiance of your holy Name; *
we will praise you and highly exalt you for ever.
Glory to you in the splendor of your temple; *
on the throne of your majesty, glory to you.
Glory to you, seated between the Cherubim; *
we will praise you and highly exalt you for ever.
Glory to you, beholding the depths; *
in the high vault of heaven, glory to you.
Glory to you, Father, Son, and Holy Spirit; *
we will praise you and highly exalt you for ever.
New Testament Reading
Romans 4:13-25
For the promise that he would inherit the world did not come to Abraham or to his descendants through the law but through the righteousness of faith. If it is the adherents of the law who are to be the heirs, faith is null and the promise is void. For the law brings wrath; but where there is no law, neither is there violation. For this reason it depends on faith, in order that the promise may rest on grace and be guaranteed to all his descendants, not only to the adherents of the law but also to those who share the faith of Abraham (for he is the father of all of us, as it is written, 'I have made you the father of many nations') -in the presence of the God in whom he believed, who gives life to the dead and calls into existence the things that do not exist. Hoping against hope, he believed that he would become 'the father of many nations,' according to what was said, 'So numerous shall your descendants be.' He did not weaken in faith when he considered his own body, which was already as good as dead (for he was about a hundred years old), or when he considered the barrenness of Sarah's womb.a No distrust made him waver concerning the promise of God, but he grew strong in his faith as he gave glory to God, being fully convinced that God was able to do what he had promised. Therefore his faith 'was reckoned to him as righteousness.'b Now the words, 'it was reckoned to him,' were written not for his sake alone, but for ours also. It will be reckoned to us who believe in him who raised Jesus our Lord from the dead, who was handed over to death for our trespasses and was raised for our justification.
The Word of the Lord.
Thanks be to God.
Canticle 18 A Song to the Lamb
Revelation 4:11, 5:9-10, 13
Dignus es
Splendor and honor and kingly power *
are yours by right, O Lord our God,
For you created everything that is, *
and by your will they were created and have their being;
And yours by right, O Lamb that was slain, *
for with your blood you have redeemed for God,
From every family, language, people, and nation, *
a kingdom of priests to serve our God.
And so, to him who sits upon the throne, *
and to Christ the Lamb,
Be worship and praise, dominion and splendor, *
for ever and for ever more.
Glory to the Father, and to the Son, and to the Holy Spirit
as it was in the beginning, is now, and will be for ever. Amen.
The Gospel
John 7:37-52
On the last day of the festival, the great day, while Jesus was standing there, he cried out, 'Let anyone who is thirsty come to me, and let the one who believes in me drink. As the scripture has said, "Out of the believer's heart shall flow rivers of living water."' Now he said this about the Spirit, which believers in him were to receive; for as yet there was no Spirit, because Jesus was not yet glorified. When they heard these words, some in the crowd said, 'This is really the prophet.' Others said, 'This is the Messiah.' But some asked, 'Surely the Messiah does not come from Galilee, does he? Has not the scripture said that the Messiah is descended from David and comes from Bethlehem, the village where David lived?' So there was a division in the crowd because of him. Some of them wanted to arrest him, but no one laid hands on him. Then the temple police went back to the chief priests and Pharisees, who asked them, 'Why did you not arrest him?' The police answered, 'Never has anyone spoken like this!' Then the Pharisees replied, 'Surely you have not been deceived too, have you? Has any one of the authorities or of the Pharisees believed in him? But this crowd, which does not know the law-they are accursed.' Nicodemus, who had gone to Jesus before, and who was one of them, asked, 'Our law does not judge people without first giving them a hearing to find out what they are doing, does it?' They replied, 'Surely you are not also from Galilee, are you? Search and you will see that no prophet is to arise from Galilee.'
The Word of the Lord.
Thanks be to God.
The Commemoration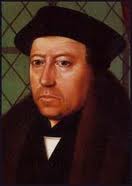 When Henry the Eighth of England died, he left three heirs: his son Edward and his two daughters, Mary and Elizabeth. Edward succeeded to the throne and was a staunch Protestant (or at least his advisors were). Under his rule, the church services, previously in Latin, were translated into English, and other changes were made. When Edward died, the throne passed to his sister Mary, who was firmly Roman Catholic in her beliefs. She determined to return England to union with the Pope. With more diplomacy, she might have succeeded. But she was headstrong and would take no advice. Her mother had been Spanish, and she determined to marry the heir to the throne of Spain, not realizing how much her people (of all religious persuasions) feared that this would make England a province of the Spanish Empire. She insisted that the best way to deal with heresy was to burn as many heretics as possible. (It is worth noting that her husband was opposed to this.) In the course of a five-year reign, she lost all the English holdings on the continent of Europe, she lost the affection of her people, and she lost any chance of a peaceful religious settlement in England. Of the nearly three hundred persons burned by her orders, the most famous are the Oxford Martyrs, Hugh Latimer, Nicholas Ridley, and Thomas Cranmer.
Thomas Cranmer was Archbishop of Canterbury in the days of Henry, and defended the position that Henry's marriage to Katharine of Aragon (Spain) was null and void. When Edward came to the throne, Cranmer was foremost in translating the worship of the Church into English (his friends and enemies agree that he was an extraordinarily gifted translator) and securing the use of the new forms of worship. When Mary came to the throne, Cranmer was in a quandary. He had believed, with a fervor that many people today will find hard to understand, that it is the duty of every Christian to obey the monarch, and that "the powers that be are ordained of God" (Romans 13). As long as the monarch was ordering things that Cranmer thought good, it was easy for Cranmer to believe that the king was sent by God's providence to guide the people in the path of true religion, and that disobedience to the king was disobedience to God. Now Mary was Queen, and commanding him to return to the Roman obedience. Cranmer five times wrote a letter of submission to the Pope and to Roman Catholic doctrines, and four times he tore it up. In the end, he submitted. However, Mary was unwilling to believe that the submission was sincere, and he was ordered to be burned at Oxford on 21 March 1556. At the very end, he repudiated his final letter of submission, and announced that he died a Protestant. He said, "I have sinned, in that I signed with my hand what I did not believe with my heart. When the flames are lit, this hand shall be the first to burn." And when the fire was lit around his feet, he leaned forward and held his right hand in the fire until it was charred to a stump. Aside from this, he did not speak or move, except that once he raised his left hand to wipe the sweat from his forehead.
written by James Kiefer
Prayer
Merciful God, through the work of Thomas Cranmer you renewed the worship of your Church by restoring the language of the people, and through his death you revealed your power in human weakness: Grant that by your grace we may always worship you in spirit and in truth; through Jesus Christ, our only Mediator and Advocate, who lives and reigns with you and the Holy Spirit, one God, for ever and ever. Amen.
Alternate Psalm and Readings
Psalm 119:73-80
1 Kings 8:54-62
Romans 11:13-24
Luke 2:25-35
The Creed
The Apostle's Creed
I believe in God, the Father almighty,
creator of heaven and earth.
I believe in Jesus Christ, his only son, our Lord.
He was conceived by the power of the Holy Spirit
and born of the Virgin Mary.
He suffered under Pontius Pilate,
was crucified, died, and was buried.
He descended to the dead.
On the third day he rose again.
He ascended into heaven,
and is seated at the right hand of the Father.
He will come again to judge the living and the dead.
I believe in the Holy Spirit,
the holy catholic Church,
the communion of saints,
the forgiveness of sins,
the resurrection of the body,
and the life everlasting. Amen.
The Prayers
The Lord's Prayer
or traditional
Our Father in heaven,
hallowed be your Name,
your kingdom come,
your will be done,
on earth as in heaven.
Give us today our daily bread.
Forgive us our sins
as we forgive those
who sin against us.
Save us from the time of trial,
and deliver us from evil.
For the kingdom, the power,
and the glory are yours,
now and for ever. Amen.
Suffrages
Show us your mercy, O Lord;
And grant us your salvation.
Clothe your ministers with righteousness;
Let your people sing with joy.
Give peace, O Lord, in all the world;
For only in you can we live in safety.
Lord, keep this nation under your care;
And guide us in the way of justice and truth.
Let your way be known upon earth;
Your saving health among all nations.
Let not the needy, O Lord, be forgotten;
Nor the hope of the poor be taken away.
Create in us clean hearts, O God;
And sustain us with your Holy Spirit.
Collect of the Day: The Third Sunday in Lent
Almighty God, you know that we have no power in ourselves to help ourselves: Keep us both outwardly in our bodies and inwardly in our souls, that we may be defended from all adversities which may happen to the body, and from all evil thoughts which may assault and hurt the soul; through Jesus Christ our Lord, who lives and reigns with you and the Holy Spirit, one God, for ever and ever. Amen.
For Mission
O God and Father of all, whom the whole heavens adore: Let the whole earth also worship you, all nations obey you, all tongues confess and bless you, and men and women everywhere love you and serve you in peace; through Jesus Christ our Lord. Amen.
World Cycle of Prayer
We pray for the people of Egypt.
Ecumenical Cycle of Prayer
We pray for our sisters and brothers members of the Metropolitan Community Churches.
A Collect for Guidance
Heavenly Father, in you we live and move and have our being: We humbly pray you so to guide and govern us by your Holy Spirit, that in all the cares and occupations of our life we may not forget you, but may remember that we are ever walking in your sight; through Jesus Christ our Lord. Amen.
Hymn: To my humble supplication
To my humble supplication
Lord, give ear and acceptation
Save thy servant, that hath none
Help nor hope but Thee alone. Amen.
Prayers and Intercessions
Let us pray now for our own needs and those of others.
Birthdays
Anniversaries
For Recovery from Sickness
For Travelers
For a Person in Trouble or Bereavement
For Those to be Baptized
For the Departed
Full list of prayers
For the Human Family
O God, you made us in your own image and redeemed us through Jesus your Son: Look with compassion on the whole human family; take away the arrogance and hatred which infect our hearts; break down the walls that separate us; unite us in bonds of love; and work through our struggle and confusion to accomplish your purposes on earth; that, in your good time, all nations and races may serve you in harmony around your heavenly throne; through Jesus Christ our Lord. Amen.
For Prisons and Correctional Institutions
Lord Jesus, for our sake you were condemned as a criminal: Visit our jails and prisons with your pity and judgment. Remember all prisoners, and bring the guilty to repentance and amendment of life according to your will, and give them hope for their future. When any are held unjustly, bring them release; forgive us, and teach us to improve our justice. Remember those who work in these institutions; keep them humane and compassionate; and save them from becoming brutal or callous. And since what we do for those in prison, O Lord, we do for you, constrain us to improve their lot. All this we ask for your mercy's sake. Amen.
For the Victims of Addiction
Blessed Lord, you ministered to all who came to you: Look with compassion upon all who through addiction have lost their health and freedom. Restore to them the assurance of your unfailing mercy; remove from them the fears that beset them; strengthen them in the work of their recovery; and to those who care for them, give patient understanding and persevering love. Amen.
Gentle Shepherd, come and lead us
Gentle Shepherd, come and lead us,
For we need You to help us find our way.
Gentle Shepherd, come and feed us,
For we need Your strength from day to day.
There's no other we can turn to
Who can help us face another day;
There's no other we can turn to
Who can help us face another day;
Gentle Shepherd, come and lead us,
For we need You to help us find our way.
There's no other we can turn to
Who can help us face another day;
There's no other we can turn to
Who can help us face another day;
Gentle Shepherd, come and lead us,
Singers: Sam Robson, Lisanse Changwe, and Evan Sanders
Writer: Bill Gaither
Arrangement: Sam Robson

A Prayer Attributed to St. Francis
Lord, make us instruments of your peace. Where there is hatred, let us sow love; where there is injury, pardon; where there is discord, union; where there is doubt, faith; where there is despair, hope; where there is darkness, light; where there is sadness, joy. Grant that we may not so much seek to be consoled as to console; to be understood as to understand; to be loved as to love. For it is in giving that we receive; it is in pardoning that we are pardoned; and it is in dying that we are born to eternal life. Amen.
General Thanksgiving
Almighty God, Father of all mercies, we your unworthy servants give you humble thanks for all your goodness and loving-kindness to us and to all whom you have made. We bless you for our creation, preservation, and all the blessings of this life; but above all for your immeasurable love in the redemption of the world by our Lord Jesus Christ; for the means of grace, and for the hope of glory. And, we pray, give us such an awareness of your mercies, that with truly thankful hearts we may show forth your praise, not only with our lips, but in our lives, by giving up our selves to your service, and by walking before you in holiness and righteousness all our days; through Jesus Christ our Lord, to whom, with you and the Holy Spirit, be honor and glory throughout all ages. Amen.
A Prayer of St. Chrysostom
Almighty God, you have given us grace at this time with one accord to make our common supplication to you; and you have promised through your well-beloved Son that when two or three are gathered together in his Name you will be in the midst of them: Fulfill now, O Lord, our desires and petitions as may be best for us; granting us in this world knowledge of your truth, and in the age to come life everlasting. Amen.
The Ending
Benediction
Let us bless the Lord.
Thanks be to God.
May the God of hope fill us with all joy and peace in believing through the power of the Holy Spirit. Amen. Romans 15:13
Hymn: God Be With You
God be with you till we meet again;
By his counsels guide, uphold you;
With his sheep securely fold you.
God be with you till we meet again.
Till we meet, till we meet,
Till we meet at Jesus' feet,
Till we meet, till we meet,
God be with you till we meet again.