Wednesday, 29 March
Morning Prayer
John Keble
The Opening
Opening Sentence
I will arise and go to my father, and I will say to him, "Father, I have sinned against heaven, and before you; I am no longer worthy to be called your son."    Luke 15:18, 19
Hymn: New every morning is the love
New every morning is the love
our wakening and uprising prove;
through sleep and darkness safely brought,
restored to life and power and thought.
New mercies, each returning day,
hover around us while we pray;
new perils past, new sins forgiven,
new thoughts of God, new hopes of heaven.
If on our daily course our mind
be set to hallow all we find,
new treasures still, of countless price,
God will provide for sacrifice.
The trivial round, the common task,
will furnish all we ought to ask:
room to deny ourselves; a road
to bring us daily nearer God.
Only, O Lord, in thy dear love,
fit us for perfect rest above;
and help us, this and every day,
to live more nearly as we pray.
Author: John Keble
Confession
Let us confess our sins against God and our neighbor.
Most merciful God, we confess that we have sinned against you in thought, word, and deed, by what we have done, and by what we have left undone. We have not loved you with our whole heart; we have not loved our neighbors as ourselves. We are truly sorry and we humbly repent. For the sake of your Son Jesus Christ, have mercy on us and forgive us; that we may delight in your will, and walk in your ways, to the glory of your Name. Amen.
Almighty God have mercy on us, forgive us all our sins through our Lord Jesus Christ, strengthen us in all goodness, and by the power of the Holy Spirit keep us in eternal life. Amen.
Versicle and Response
Lord, open our lips.
And our mouth shall proclaim your praise.
Glory to the Father,
and to the Son,
and to the Holy Spirit:
as it was in the beginning,
is now, and will be forever Amen.
The Lord is full of compassion and mercy:
Come let us adore him.
Venite
Psalm 95:1-7
Come let us sing to the Lord;*
let us shout for joy to the Rock of our salvation.
Let us come before his presence with thanksgiving*
and raise a loud shout to him with psalms.
For the Lord is a great God,*
and a great King above all gods.
In his hand are the caverns of the earth,*
and the heights of the hills are his also.
The sea is his, for he made it,*
and his hands have molded the dry land.
Come, let us bow down, and bend the knee,*
and kneel before the Lord our Maker.
For he is our God, and we are the people of his pasture
and the sheep of his hand.*
Oh, that today you would hearken to his voice!
The Antiphon
The Lord is full of compassion and mercy: Come let us adore him.
The Psalms
Psalm 101 or
Coverdale
Misericordiam et judicium
1I will sing of mercy and justice; *
to you, O LORD, will I sing praises.
2I will strive to follow a blameless course;
oh, when will you come to me? *
I will walk with sincerity of heart within my house.
3I will set no worthless thing before my eyes; *
I hate the doers of evil deeds;
they shall not remain with me.
4A crooked heart shall be far from me; *
I will not know evil.
5Those who in secret slander their neighbors I will destroy; *
those who have a haughty look and a proud
heart I cannot abide.
6My eyes are upon the faithful in the land, that they may
dwell with me, *
and only those who lead a blameless life shall
be my servants.
7Those who act deceitfully shall not dwell in my house, *
and those who tell lies shall not continue in my sight.
8I will soon destroy all the wicked in the land, *
that I may root out all evildoers from the city of the LORD.
Psalm 109 or
Coverdale
Deua, laudem
1Hold not your tongue, O God of my praise; *
for the mouth of the wicked,
the mouth of the deceitful, is opened against me.
2They speak to me with a lying tongue; *
they encompass me with hateful words
and fight against me without a cause.
3Despite my love, they accuse me; *
but as for me, I pray for them.
4They repay evil for good, *
and hatred for my love.
5Set a wicked man against him, *
and let an accuser stand at his right hand.
6When he is judged, let him be found guilty, *
and let his appeal be in vain.
7Let his days be few, *
and let another take his office.
8Let his children be fatherless, *
and his wife become a widow.
9Let his children be waifs and beggars; *
let them be driven from the ruins of their homes.
10Let the creditor seize everything he has; *
let strangers plunder his gains.
11Let there be no one to show him kindness, *
and none to pity his fatherless children.
12Let his descendants be destroyed, *
and his name be blotted out in the next generation.
13Let the wickedness of his fathers be remembered before
the LORD, *
and his mother's sin not be blotted out;
14Let their sin be always before the LORD; *
but let him root out their names from the earth;
15Because he did not remember to show mercy, *
but persecuted the poor and needy
and sought to kill the brokenhearted.
16He loved cursing,
let it come upon him; *
he took no delight in blessing,
let it depart from him.
17He put on cursing like a garment, *
let it soak into his body like water
and into his bones like oil;
18Let it be to him like the cloak which he
wraps around himself, *
and like the belt that he wears continually.
19Let this be the recompense from the LORD to my accusers, *
and to those who speak evil against me.
20But you, O Lord my God,
oh, deal with me according to your Name; *
for your tender mercy's sake, deliver me.
21For I am poor and needy, *
and my heart is wounded within me.
22I have faded away like a shadow when it lengthens; *
I am shaken off like a locust.
23My knees are weak through fasting, *
and my flesh is wasted and gaunt.
24I have become a reproach to them; *
they see and shake their heads.
25Help me, O LORD my God; *
save me for your mercy's sake.
26Let them know that this is your hand, *
that you, O LORD, have done it.
27They may curse, but you will bless; *
let those who rise up against me be put to shame,
and your servant will rejoice.
28Let my accusers be clothed with disgrace *
and wrap themselves in their shame as in a cloak.
29I will give great thanks to the LORD with my mouth; *
in the midst of the multitude will I praise him;
30Because he stands at the right hand of the needy, *
to save his life from those who would condemn him.
Gloria Patri
Glory be to the Father, and to the Son, and to the Holy Ghost.
As it was in the beginning, is now, and ever shall be: world without end. Amen. Amen.
The Lessons
The Old Testament Reading
Jeremiah 18:1-11
The word that came to Jeremiah from the LORD: "Come, go down to the potter's house, and there I will let you hear my words." So I went down to the potter's house, and there he was working at his wheel. The vessel he was making of clay was spoiled in the potter's hand, and he reworked it into another vessel, as seemed good to him.
Then the word of the LORD came to me: Can I not do with you, O house of Israel, just as this potter has done? says the LORD. Just like the clay in the potter's hand, so are you in my hand, O house of Israel. At one moment I may declare concerning a nation or a kingdom, that I will pluck up and break down and destroy it, but if that nation, concerning which I have spoken, turns from its evil, I will change my mind about the disaster that I intended to bring on it. And at another moment I may declare concerning a nation or a kingdom that I will build and plant it, but if it does evil in my sight, not listening to my voice, then I will change my mind about the good that I had intended to do to it. Now, therefore, say to the people of Judah and the inhabitants of Jerusalem: Thus says the LORD: Look, I am a potter shaping evil against you and devising a plan against you. Turn now, all of you from your evil way, and amend your ways and your doings.
The Word of the Lord.
Canticle 14 A Song of Penitence
Prayer of Manasseh 1-2, 4, 6-7, 11-15
Kyrie Pantokrator
O Lord and Ruler of the hosts of heaven, *
God of Abraham, Isaac, and Jacob,
and of all their righteous offspring:
You made the heavens and the earth, *
with all their vast array.
All things quake with fear at your presence; *
they tremble because of your power.
But your merciful promise is beyond all measure; *
it surpasses all that our minds can fathom.
O Lord, you are full of compassion, *
long-suffering, and abounding in mercy.
You hold back your hand; *
you do not punish as we deserve.
In your great goodness, Lord,
you have promised forgiveness to sinners, *
that they may repent of their sin and be saved.
And now, O Lord, I bend the knee of my heart, *
and make my appeal, sure of your gracious goodness.
I have sinned, O Lord, I have sinned, *
and I know my wickedness only too well.
Therefore I make this prayer to you: *
Forgive me, Lord, forgive me.
Do not let me perish in my sin, *
nor condemn me to the depths of the earth.
For you, O Lord, are the God of those who repent, *
and in me you will show forth your goodness.
Unworthy as I am, you will save me,
in accordance with your great mercy, *
and I will praise you without ceasing all the days of my life.
For all the powers of heaven sing your praises, *
and yours is the glory to ages of ages. Amen.
Glory to the Father, and to the Son, and to the Holy Spirit
as it was in the beginning, is now, and will be for ever. Amen.
New Testament Reading
Romans 8:1-11
There is therefore now no condemnation for those who are in Christ Jesus. For the law of the Spirit of life in Christ Jesus has set you free from the law of sin and of death. For God has done what the law, weakened by the flesh, could not do: by sending his own Son in the likeness of sinful flesh, and to deal with sin, he condemned sin in the flesh, so that the just requirement of the law might be fulfilled in us, who walk not according to the flesh but according to the Spirit. For those who live according to the flesh set their minds on the things of the flesh, but those who live according to the Spirit set their minds on the things of the Spirit. To set the mind on the flesh is death, but to set the mind on the Spirit is life and peace. For this reason the mind that is set on the flesh is hostile to God; it does not submit to God's law-indeed it cannot, and those who are in the flesh cannot please God.
But you are not in the flesh; you are in the Spirit, since the Spirit of God dwells in you. Anyone who does not have the Spirit of Christ does not belong to him. But if Christ is in you, though the body is dead because of sin, the Spirit is life because of righteousness. If the Spirit of him who raised Jesus from the dead dwells in you, he who raised Christ from the dead will give life to your mortal bodies also through his Spirit that dwells in you.
The Word of the Lord.
Thanks be to God.
Canticle 16 The Song of Zechariah
Luke 1:68-79
Benedictus Dominus Deus
Blessed be the Lord, the God of Israel;*
he has come to his people and set them free.
He has raised up for us a mighty savior,*
born of the house of his servant David.
Through his holy prophets he promised of old,
that he would save us from our enemies,*
from the hands of all who hate us.
he promised to show mercy to our fathers*
and to remember his holy covenant.
This was the oath he swore to our father Abraham,*
to set us free from the hands of our enemies,
Free to worship him without fear,*
holy and righteous in his sight
all the days of our life.
You, my child, shall be called the prophet of the Most High,*
for you will go before the Lord to prepare his way,
To give his people knowledge of salvation*
by the forgiveness of their sins.
In the tender compassion of our God*
the dawn from on high shall break upon us,
To shine on those who dwell in darkness and the shadow of death,*
and to guide our feet into the way of peace.
Glory to the Father, and to the Son, and to the Holy Spirit
as it was in the beginning, is now, and will be for ever. Amen.
The Gospel
John 6:27-40
Do not work for the food that perishes, but for the food that endures for eternal life, which the Son of Man will give you. For it is on him that God the Father has set his seal." Then they said to him, "What must we do to perform the works of God?" Jesus answered them, "This is the work of God, that you believe in him whom he has sent." So they said to him, "What sign are you going to give us then, so that we may see it and believe you? What work are you performing? Our ancestors ate the manna in the wilderness; as it is written, 'He gave them bread from heaven to eat.' " Then Jesus said to them, "Very truly, I tell you, it was not Moses who gave you the bread from heaven, but it is my Father who gives you the true bread from heaven. For the bread of God is that which comes down from heaven and gives life to the world." They said to him, "Sir, give us this bread always."
Jesus said to them, "I am the bread of life. Whoever comes to me will never be hungry, and whoever believes in me will never be thirsty. But I said to you that you have seen me and yet do not believe. Everything that the Father gives me will come to me, and anyone who comes to me I will never drive away; for I have come down from heaven, not to do my own will, but the will of him who sent me. And this is the will of him who sent me, that I should lose nothing of all that he has given me, but raise it up on the last day. This is indeed the will of my Father, that all who see the Son and believe in him may have eternal life; and I will raise them up on the last day."
The Word of the Lord.
Thanks be to God.
The Commemoration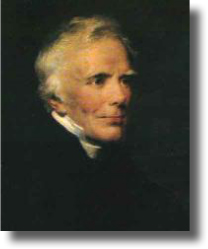 John Keble, born 1792, ordained Priest in 1816, tutor at Oxford from 1818 to 1823, published in 1827 a book of poems called The Christian Year, containing poems for the Sundays and Feast Days of the Church Year. The book sold many copies, and was highly effective in spreading Keble's devotional and theological views. His style was more popular then than now, but some of his poems are still in use as hymns, such the three beginning:
New every morning is the love
Our waking and uprising prove,
Through sleep and darkness safely brought,
Restored to life and power and thought.
Sun of my soul, thou Savior dear,
It is not night if thou be near.
Oh, may no earthborn cloud arise
To hide thee from thy servant's eyes.
Blest are the pure in heart,
for they shall see our God.
The secret of the Lord is theirs;
Their soul is Christ's abode.
He was Professor of Poetry at Oxford from 1831 to 1841, and from 1836 until his death thirty years later he was priest of a small parish in the village of Hursley near Winchester.
On 14 July 1833, he preached the Assize Sermon at Oxford. (This sermon marks the opening of a term of the civil and criminal courts, and is officially addressed to the judges and officers of the court, exhorting them to deal justly.) His sermon was called "National Apostasy," and denounced the Nation for turning away from God, and for regarding the Church as a mere institution of society, rather than as the prophetic voice of God, commissioned by Him to warn and instruct the people. The sermon was a nationwide sensation, and is considered to be the beginning of the religious revival known as the Tractarian Movement (so called because of a series of 90 Tracts, or pamphlets addressed to the public, which largely influenced the course of the movement) or as the Oxford Movement (not to be confused with the Oxford Group -- led by Frank Buchman and also called Moral Re-Armament, or MRA -- which came a century later and was quite different). Because the Tractarians emphasized the importance of the ministry and of the sacraments as God-given ordinances, they were suspected by their opponents of Roman Catholic tendencies, and the suspicion was reinforced when some of their leaders (John Henry Newman being the most conspicuous) did in fact become Roman Catholics. But the movement survived, and has profoundly influenced the religious thinking, practice, and worship of large portions of Christendom. Their insistence, for example, that it was the normal practice for all Christians to receive the sacrament of Holy Communion every Sunday has influenced many Christians who would never call themselves Anglicans, let alone Tractarians. Keble translated the works of Irenaeus of Lyons (28 June 202), and produced an edition of the works of Richard Hooker, a distinguished Anglican theologian (3 Nov 1600). He also wrote more books of poems, and numerous hymn lyrics. Three years after his death, his friends and admirers established Keble College at Oxford
written by James Kiefer
Prayer
Grant, O God, that in all time of our testing we may know your presence and obey your will; that, following the example of your servant John Keble, we may accomplish with integrity and courage what you give us to do, and endure what you give us to bear; through Jesus Christ our Lord, who lives and reigns with you and the Holy Spirit, one God, for ever and ever. Amen.
Alternate Psalm and Readings
Psalm 26:1-8
Ecclesiastes 3:1-11
Romans 12:9-21
Matthew 5:1-12
The Creed
The Apostle's Creed
I believe in God, the Father almighty,
creator of heaven and earth.
I believe in Jesus Christ, his only son, our Lord.
He was conceived by the power of the Holy Spirit
and born of the Virgin Mary.
He suffered under Pontius Pilate,
was crucified, died, and was buried.
He descended to the dead.
On the third day he rose again.
He ascended into heaven,
and is seated at the right hand of the Father.
He will come again to judge the living and the dead.
I believe in the Holy Spirit,
the holy catholic Church,
the communion of saints,
the forgiveness of sins,
the resurrection of the body,
and the life everlasting. Amen.
The Prayers
The Lord's Prayer
or traditional
Our Father in heaven,
hallowed be your Name,
your kingdom come,
your will be done,
on earth as in heaven.
Give us today our daily bread.
Forgive us our sins
as we forgive those
who sin against us.
Save us from the time of trial,
and deliver us from evil.
For the kingdom, the power,
and the glory are yours,
now and for ever. Amen.
Suffrages
Show us your mercy, O Lord;
And grant us your salvation.
Clothe your ministers with righteousness;
Let your people sing with joy.
Give peace, O Lord, in all the world;
For only in you can we live in safety.
Lord, keep this nation under your care;
And guide us in the way of justice and truth.
Let your way be known upon earth;
Your saving health among all nations.
Let not the needy, O Lord, be forgotten;
Nor the hope of the poor be taken away.
Create in us clean hearts, O God;
And sustain us with your Holy Spirit.
Collect of the Day: The Fourth Sunday in Lent
Gracious Father, whose blessed Son Jesus Christ came down from heaven to be the true bread which gives life to the world: Evermore give us this bread, that he may live in us, and we in him; who lives and reigns with you and the Holy Spirit, one God, now and for ever. Amen.
For Mission
O God and Father of all, whom the whole heavens adore: Let the whole earth also worship you, all nations obey you, all tongues confess and bless you, and men and women everywhere love you and serve you in peace; through Jesus Christ our Lord. Amen.
World Cycle of Prayer
We pray for the people of France.
Ecumenical Cycle of Prayer
We pray for our sisters and brothers members of the Congregational Christian Church in Samoa.
A Collect for Peace
Eternal God, in whose perfect kingdom no sword is drawn but the sword of righteousness, no strength known but the strength of love: So mightily spread abroad your Spirit, that all peoples may be gathered under the banner of the Prince of Peace, as children of one Father; to whom be dominion and glory, now and for ever. Amen.
Hymn: To my humble supplication
To my humble supplication
Lord, give ear and acceptation
Save thy servant, that hath none
Help nor hope but Thee alone. Amen.
Prayers and Intercessions
Let us pray now for our own needs and those of others.
Birthdays
Anniversaries
For Recovery from Sickness
For Travelers
For a Person in Trouble or Bereavement
For Those to be Baptized
For the Departed
Full list of prayers
For our Country
Almighty God, who has given us this good land for our heritage: We humbly beseech you that we may always prove ourselves a people mindful of your favor and glad to do your will. Bless our land with honorable industry, sound learning, and pure manners. Save us from violence, discord, and confusion; from pride and arrogance, and from every evil way. Defend our liberties, and fashion us into one united people. Endue with the spirit of wisdom those to whom in your Name we entrust the authority of government, that there may be justice and peace at home, and that, through obedience to your law, we may show forth your praise among the nations of the earth. In the time of prosperity, fill our hearts with thankfulness, and in the day of trouble, suffer not our trust in you to fail; all which we ask through Jesus Christ our Lord. Amen.
For the President of the
United States
and all in Civil Authority
O Lord our Governor, whose glory is in all the world: We commend this nation to your merciful care, that, being guided by your Providence, we may dwell secure in your peace. Grant to the President of the United States, the Governor of this State (or, Commonwealth), and to all in authority, wisdom and strength to know and to do your will. Fill them with the love of truth and righteousness, and make them ever mindful of their calling to serve this people in your fear; through Jesus Christ our Lord, who lives and reigns with you and the Holy Spirit, one God, world without end. Amen.
Hymn: Blest are the pure in heart
Blessed are the pure in heart,
for they shall see their God.
The secret of the Lord is theirs;
their soul is Christ's abode.

The Lord, who left the sky
our life and peace to bring,
to dwell in lowliness with us,
our pattern and our king,

He to the lowly soul
will still himself impart
and for his dwelling and his throne
will chose the pure in heart.

Lord, we your presence seek;
we ask this blessing true:
give us a pure and lowly heart,
a temple fit for you.
Singers: Christ's Hospital Schola Cantorum
Words: John Keble
General Thanksgiving
Almighty God, Father of all mercies, we your unworthy servants give you humble thanks for all your goodness and loving-kindness to us and to all whom you have made. We bless you for our creation, preservation, and all the blessings of this life; but above all for your immeasurable love in the redemption of the world by our Lord Jesus Christ; for the means of grace, and for the hope of glory. And, we pray, give us such an awareness of your mercies, that with truly thankful hearts we may show forth your praise, not only with our lips, but in our lives, by giving up our selves to your service, and by walking before you in holiness and righteousness all our days; through Jesus Christ our Lord, to whom, with you and the Holy Spirit, be honor and glory throughout all ages. Amen.
A Prayer of St. Chrysostom
Almighty God, you have given us grace at this time with one accord to make our common supplication to you; and you have promised through your well-beloved Son that when two or three are gathered together in his Name you will be in the midst of them: Fulfill now, O Lord, our desires and petitions as may be best for us; granting us in this world knowledge of your truth, and in the age to come life everlasting. Amen.
The Ending
Benediction
Let us bless the Lord.
Thanks be to God.
May the God of hope fill us with all joy and peace in believing through the power of the Holy Spirit. Amen. Romans 15:13
Hymn: God Be With You
God be with you till we meet again;
By his counsels guide, uphold you;
With his sheep securely fold you.
God be with you till we meet again.
Till we meet, till we meet,
Till we meet at Jesus' feet,
Till we meet, till we meet,
God be with you till we meet again.