Tuesday
Morning Prayer
Philip and James
The Opening
Opening Sentence
Their sound has gone out into all lands, and their message to the ends of the world. Psalm 19:4
Hymn: The day of resurrection!
The day of resurrection! Earth, tell it out abroad;
The Passover of gladness, the Passover of God.
From death to life eternal, from earth unto the sky,
Our Christ hath brought us over, with hymns of victory.
Our hearts be pure from evil, that we may see aright
The Lord in rays eternal of resurrection light;
And listening to His accents, may hear, so calm and plain,
His own "All hail!" and, hearing, may raise the victor strain.
Now let the heavens be joyful! Let Earth the song begin!
Let the round world keep triumph, and all that is therein!
Let all things seen and unseen their notes in gladness blend,
For Christ the Lord hath risen, our joy that hath no end.
Words: John of Damascus, translation by John Neale
Tune: Lancashire (Henry T. Smart)
Confession
Let us confess our sins against God and our neighbor.
Most merciful God, we confess that we have sinned against you in thought, word, and deed, by what we have done, and by what we have left undone. We have not loved you with our whole heart; we have not loved our neighbors as ourselves. We are truly sorry and we humbly repent. For the sake of your Son Jesus Christ, have mercy on us and forgive us; that we may delight in your will, and walk in your ways, to the glory of your Name. Amen.
Almighty God have mercy on us, forgive us all our sins through our Lord Jesus Christ, strengthen us in all goodness, and by the power of the Holy Spirit keep us in eternal life. Amen.
Versicle and Response
Lord, open our lips.
And our mouth shall proclaim your praise.
Glory to the Father,
and to the Son,
and to the Holy Spirit:
as it was in the beginning,
is now, and will be forever Amen.
Alleluia! Christ is risen.
The Lord is risen indeed. Alleluia!
Christ our Passover
1 Corinthians 5:7-8; Romans 6:9-11; 1 Corinthians 15:20-22
Pascha nostrum
Alleluia.
Christ our Passover has been sacrificed for us; *
therefore let us keep the feast,
Not with the old leaven, the leaven of malice and evil, *
but with the unleavened bread of sincerity and truth. Alleluia.
Christ being raised from the dead will never die again; *
death no longer has dominion over him.
The death that he dies, he dies to sin, once for all; *
but the life he lives, he lives to God.
So also consider yourselves dead to sin, *
and alive to God in Jesus Christ our Lord. Alleluia.
Christ has been raised from the dead, *
the first fruits of those who have fallen asleep.
For since by a man came death, *
by a man has come also the resurrection of the dead.
For as in Adam all die, *
so also in Christ shall all be made alive. Alleluia.
Glory to the Father, and to the Son, and the Holy Spirit
as it was in the beginning, is now, and will be forever.
Amen. Alleluia.
Cantor: The Rev. Philip N. Mayer
St. Peter's by the Lake Episcopal Church
The Colony, Texas
Alleluia. The Lord is glorious in his saints: Come let us adore him. Alleluia.
The Psalm
Psalm 119:137-160
or Coverdale
137 You are righteous, OLord,
and your judgements are right.
138 You have appointed your decrees in righteousness
and in all faithfulness.
139 My zeal consumes me
because my foes forget your words.
140 Your promise is well tried,
and your servant loves it.
141 I am small and despised,
yet I do not forget your precepts.
142 Your righteousness is an everlasting righteousness,
and your law is the truth.
143 Trouble and anguish have come upon me,
but your commandments are my delight.
144 Your decrees are righteous for ever;
give me understanding that I may live.
145 With my whole heart I cry; answer me, OLord.
I will keep your statutes.
146 I cry to you; save me,
that I may observe your decrees.
147 I rise before dawn and cry forhelp;
I put my hope in your words.
148 My eyes are awake before each watch of the night,
that I may meditate on your promise.
149 In your steadfast love hear my voice;
OLord, in your justice preserve my life.
150 Those who persecute me with evil purpose draw near;
they are far from your law.
151 Yet you are near, OLord,
and all your commandments aretrue.
152 Long ago I learned from your decrees
that you have established them for ever.
153 Look on my misery and rescue me,
for I do not forget your law.
154 Plead my cause and redeem me;
give me life according to your promise.
155 Salvation is far from the wicked,
for they do not seek your statutes.
156 Great is your mercy, OLord;
give me life according to your justice.
157 Many are my persecutors and my adversaries,
yet I do not swerve from your decrees.
158 I look at the faithless with disgust,
because they do not keep your commands.
159 Consider how I love your precepts;
preserve my life according to your steadfast love.
160 The sum of your word is truth;
and every one of your righteous ordinances endures for ever.
Gloria Patri
Glory be to the Father, and to the Son, and to the Holy Ghost.
As it was in the beginning, is now, and ever shall be: world without end. Amen. Amen.
The Lessons
The Old Testament Reading
Job 23:1-12
Then Job answered:
2 'Today also my complaint is bitter;*
his* hand is heavy despite my groaning.
3 O that I knew where I might find him,
that I might come even to his dwelling!
4 I would lay my case before him,
and fill my mouth with arguments.
5 I would learn what he would answer me,
and understand what he would say to me.
6 Would he contend with me in the greatness of his power?
No; but he would give heed to me.
7 There an upright person could reason with him,
and I should be acquitted for ever by my judge.
8 'If I go forward, he is not there;
or backward, I cannot perceive him;
9 on the left he hides, and I cannot behold him;
I turn* to the right, but I cannot see him.
10 But he knows the way that I take;
when he has tested me, I shall come out like gold.
11 My foot has held fast to his steps;
I have kept his way and have not turned aside.
12 I have not departed from the commandment of his lips;
I have treasured in* my bosom the words of his mouth.
The Word of the Lord.
Thanks be to God.
Canticle 20 Glory to God
Gloria in excelsis
Glory to God in the highest,
and peace to his people on earth.
Lord God, heavenly King,
almighty God and Father,
we worship you, we give you thanks,
we praise you for your glory.
Lord Jesus Christ, only Son of the Father,
Lord God, Lamb of God,
you take away the sin of the world:
have mercy on us;
you are seated at the right hand of the Father:
receive our prayer.
For you alone are the Holy One,
you alone are the Lord,
you alone are the Most High,
Jesus Christ,
with the Holy Spirit,
in the glory of God the Father. Amen.
The Gospel
John 1:43-51
43The next day Jesus decided to go to Galilee. He found Philip and said to him, 'Follow me.' 44Now Philip was from Bethsaida, the city of Andrew and Peter. 45Philip found Nathanael and said to him, 'We have found him about whom Moses in the law and also the prophets wrote, Jesus son of Joseph from Nazareth.' 46Nathanael said to him, 'Can anything good come out of Nazareth?' Philip said to him, 'Come and see.' 47When Jesus saw Nathanael coming towards him, he said of him, 'Here is truly an Israelite in whom there is no deceit!' 48Nathanael asked him, 'Where did you come to know me?' Jesus answered, 'I saw you under the fig tree before Philip called you.' 49Nathanael replied, 'Rabbi, you are the Son of God! You are the King of Israel!' 50Jesus answered, 'Do you believe because I told you that I saw you under the fig tree? You will see greater things than these.' 51And he said to him, 'Very truly, I tell you,* you will see heaven opened and the angels of God ascending and descending upon the Son of Man.'
The Word of the Lord.
Thanks be to God.
Canticle 21 You are God
Te Deum laudamus
You are God: we praise you;
You are the Lord; we acclaim you;
You are the eternal Father:
All creation worships you.
To you all angels, all the powers of heaven,
Cherubim and Seraphim, sing in endless praise:
Holy, holy, holy Lord, God of power and might,
heaven and earth are full of your glory.
The glorious company of apostles praise you.
The noble fellowship of prophets praise you.
The white-robed army of martyrs praise you.
Throughout the world the holy Church acclaims you;
Father, of majesty unbounded,
your true and only Son, worthy of all worship,
and the Holy Spirit, advocate and guide.
You, Christ, are the king of glory,
the eternal Son of the Father.
When you became man to set us free
you did not shun the Virgin's womb.
You overcame the sting of death
and opened the kingdom of heaven to all believers.
You are seated at God's right hand in glory.
We believe that you will come and be our judge.
Come then, Lord, and help your people,
bought with the price of your own blood,
and bring us with your saints
to glory everlasting.
Philip and James, Apostles 1 May NT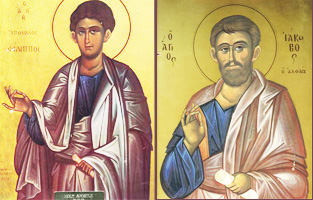 Today we commemorate two of the Twelve Apostles.
James
The New Testament mentions at least two persons named James, probably at least three, and perhaps as many as eight. This is as good a place as any to sort them out.
1. James the Greater: James the son of Zebedee, called James the Greater or James Major or James the Elder, was one of the Twelve Apostles, and also, along with his brother John and with Peter, belonged to what seems to have been an inner circle of Three. He was killed by order of King Herod, as reported in Acts 12:2. (See Matthew 4:21; 10:2; 17:1; Mark 1:19, 29; 3:17; 5:37; 9:2; 10:35, 41; 13:3; 14:33; Luke 5:10; 6:14; 8:51; 9:28; 54; Acts 1:13; 12:2;)
2. James the Less: James the son of Alphaeus (Alpheus) appears on lists of the Twelve Apostles (usually in the ninth place), but is never mentioned otherwise. He is called James the Less, or James Minor, or James the Younger. (See Matthew 10:3; Mark 3:18; Luke 6:15; Acts 1:13 )
3. James the Just: James called "the brother of the Lord" appears in Acts 12:17 and thereafter (Acts 15:13; 21:18; 1 Corinthians 15:7; Galatians 1:19; 2:9, 12) as the leader of the Jerusalem congregation. He is counted by later Church historians as the first bishop of Jerusalem, with Simeon (described as also a kinsman, something like a great-nephew of Joseph) as the second. According to the Jewish historian Josephus, James was put to death by order of the high priest during an interval between Roman governors, over the protests of the Pharisees, who thought him an upright man. He is known as James the Just or James of Jerusalem or James Protepiscopus (first bishop).
4. James the Writer: One of the New Testament Epistles is written by a James. (See James 1:1 )
5. James the Son of Cleopas:
John (19:25) lists the women standing by the cross of Jesus as "his mother, and his mother's sister, Mary the wife of Clopas, and Mary Magdalene." If this list mentions only three women, then Mary the wife of Clopas is presumably a sister-in-law to the Virgin Mary.
The Synoptists give lists of women apparently at a distance.
Matthew (27:55f) lists as "looking on from afar" some Galilean women "among whom were Mary Magdalene, and Mary the mother of James and Joseph, and the mother of the sons of Zebedee."
Mark (15:40f) lists "Mary Magdalene and Mary the mother of James the Younger and of Joses, and Salome... and also many other women."
Luke (24:10) lists "Mary Magdalene and Joanna and Mary the mother of James and the other women with them."
By "mother of James..." do the Synoptists denote the mother of Jesus? It seems odd that they would omit to mention her if she were there, but odder yet that they would identify her as the mother of James and Joseph (Joses), but not as the mother of Jesus. Besides, we note that Matthew and Mark are speaking of women who stood at a distance, while the Virgin was close enough to hear her Son speak. I therefore assume that Mary the mother of James etc is not the same as the Virgin Mary, and is either not mentioned by John at all or is identical with his "Mary the wife of Clopas," who is probably the sister-in-law of the Virgin Mary. Conclusion: James the son of Clopas was perhaps the nephew of either Mary or Joseph, and so would have been known as the first cousin of Jesus.
6. James the Nazarene: The residents of Nazareth speak of brothers of Jesus, including one named James (Matthew 4:21 = Mark 6:3).
7. James the Kinsman of Jude the Apostle: When Luke lists the Apostles (Luke 6:16; Acts 1:13), he has, in places 9 thru 11, "James the son of Alphaeus, Simon the Zealot, and Judas of James." [This is not Judas Iscariot.] Now, "Judas of James" would ordinarily mean "Judas son of James," and so the RSV translates it. However, the KJV renders is as "Judas the brother of James," and some suppose him to be the brother of James the son of Alphaeus, so that we have no fewer than three pairs of brothers among the disciples: Peter and Andrew, sons of Jonas; James and John, sons of Zebedee; James and Jude, sons of Alphaeus. This seems unlikely, since (a) if Luke had intended us to understand that the two were brothers, he would have written them together instead of separating them by Simon the Zealot (but note Mark 3:16-18); and (b) if he had meant us to understand "brother of" rather than the more usual "son of", he would have said "brother."
8. James the Brother of Jude the Writer: The author of the Epistle of Jude calls himself the brother of James. Presumably this James would be someone well-known to his readers, otherwise why bother to mention him?
Is any of these the same person as one or more of the others?
It is natural to suppose that James the Just (3) and James the Nazarene (6), being both called brothers of Jesus, must be the same person. However, the Hebrew word for "brother" is used more elastically than its English equivalent, often referring (for example) to cousins or even more distant relatives (see Leviticus 10:1-4, where Moses speaks to Mishael and Elphazan about their brothers, meaning the sons of their cousin). If early Christians for whom Aramaic was the primary language, and Greek secondary, retained this usage when they spoke Greek, then there is room for doubt on the point. Perhaps one of them was a cousin of Jesus rather than a brother. Perhaps both were cousins, in which case they could be the same person but need not have been.
The sons of Cleopas would have been nephews of either Joseph or Mary, and therefore may have been the "brothers" mentioned elsewhere. Thus James the son of Cleopas (5) may be identical with James the Just (3) or James the Nazarene (6) or both.
It is tempting to identify James the son of Alphaeus (2) with James the son of Cleopas (5) by supposing that "Cleopas" and "Alphaeus" are two different attempts to reproduce the same Semitic name (probably beginning with an Ayin) in Greek, but linguists mostly think this very doubtful. James son of Cleopas is called James the Less (Minor, Younger) in Mark 15:40, and James Son of Alphaeus is also called James the Less in popular usage, partly because the two are assumed to be the same, and partly because of the need to distinguish the two Apostles both named James.
The Epistle of James is addressed to Jewish readers, and James the Just (3) seems to have been particularly concerned with the Jewish Christian community. It is accordingly plausible, and customary, to identify James the Just (3) with James the Writer (4).
Many writers identify James the Less (2) with James the Just (3). A difficulty with that identification is that we are told that the brothers of Jesus did not believe in him (J 7:5), which would mean that they could not have been numbered among the Twelve. (It is commonly supposed that James (3) came to believe only after the Resurrection (1 Corinthians 15:7).) On the other hand, John does not name the unbelieving brothers, and they may not have included James.
It is tempting to suppose that a pair of brothers named James and Jude are the same as another pair of brothers named James and Jude, if there is no obvious objection to identifying them. (This is not necessarily a valid inference, since the selection of names can be influenced by fashion. I have no difficulty, for example, in thinking of six families I know with brothers named David and Michael.) Accordingly, it has been customary to identify the two Apostles "James the son of Alphaeus" and "Judas (the brother) of James" with the two brothers mentioned in the Nazareth account, and also with the Jude who wrote the Epistle and his brother James, taken to be the same James who wrote the Epistle of James. On our list, this identifies James the Less (2), James the Nazarene (6), James the Kinsman of Jude the Apostle (7), and James the Brother of Jude the Writer (8), and probably James the Son of Cleopas (5). However, it should be noted that the most natural understanding of "Judas of James" is "Judas son of James," and that there is therefore no reason to suppose that James the son of Alphaeus has a brother named Jude.
Currently, most Western Christians commemorate:
1. James the Greater on 25 July,
2. James the Less on 1 May, and
3. James the Just on 25 October.
They identify the others with (3) or ignore them. It will be generally conceded concerning (5), (6), (7), and (8) that if they are not the same as one of the others then there is no reason to remember them, so that the most one could reasonably do is add a fourth date for James the Writer. However, it is standard (and, I think, reasonable) to identify (4) with (3), and that leaves three commemorations, which is the current standard in the West, and also (I think) in the East. (Formerly the West identified (2) and (3).)
Thus, of James the Less, the son of Alphaeus (2), whom we commemorate today, we know very little from the New Testament, except that his name appears on lists of the Twelve.
Why is the name "James" so popular among Jews in New Testament times? Because it is the name of the ancestor of the people of Israel. The English name "James" is a variant of the name "Jacob." We tend to think of them as two separate, unrelated names. But the distinction between them is post-Biblical and not found in Hebrew or Greek. In Hebrew, the name is Ya'akov. In Greek, it is Iakwbos (W=Omega), with accent on the second syllable from the end. In Latin, it developed two forms, Jacobus and Jacomus, both accented on the first syllable. From the former, we have the English Jacob and the Spanish Diego and Iago. From the latter, we have the English James, the Scottish Hamish, the Spanish Jaime, and so on. But in many languages, there is only one name, given to the Old Testament Jacob and the New Testament James alike. Even in English, our present distinction has not always been observed. In Shakespeare's play Measure For Measure (III,ii,204), a child's age is given as "a year and a quarter old, come Philip and Jacob," meaning, "a year and a quarter old on the first of next May, the feast of Philip and James."
Philip
Philip the Apostle is frequently confused with Philip the Deacon, whom we read of in the Book of Acts (6:5; 8:5-40; 21:8f), and who is commemorated on 6 June. For arguments that they are in fact the same, see that BIO.
Philip the Apostle appears in the Synoptic Gospels and in Acts only as a name on the list of the Twelve, but he appears in several incidents in the Gospel according to John.
He was called early in the ministry of Our Lord (John 1:44), and promptly brought his friend Nathanael to Jesus as well.
When some Greeks (or Greek-speaking Jews) wished to speak with Jesus, they began by approaching Philip (John 12:20-22).
At the Last Supper (John 14:8f), he said to Jesus, "Lord, show us the Father, and we shall be satisfied." To this Jesus answered, "He who has seen me has seen the Father."
Before feeding the Five Thousand (John 6:5), Jesus turned to Philip and asked him, "Where can we buy bread to feed these people?" Philip answered, "It would take more than a year's wages to buy each of them a mouthful."
Some scholars have thought it significant that Jesus asked Philip rather than one of the others. Luke (9:10) tells us that the Feeding of the Five Thousand took place near Bethsaida, and John (1:44) tells us that Philip is from Bethsaida. If they were in Philip's home neighborhood, he would be a natural one to ask for directions. (Peter and Andrew were also from Bethsaida, but seem to have moved to Capernaum.) It seems that John named Philip here for one of three reasons:
1. He was making up the details, and he said to himself: "I will name Philip here, and hope that my readers have read Luke and will remember that this is all happening near Bethsaida, and I will point out at the beginning of my work that Philip is from Bethsaida, and I will hope that the readers are clever enough to put this together and see that Philip is a logical person to ask. But I won't mention Bethsaida in this episode, since that would make it too obvious what I am doing."
2. He chose one of the disciples at random, and by good luck made an appropriate choice.
3. He was an eyewitness, or for some other reason well informed, and mentioned Philip by name because that was whom Jesus asked.
But I digress. That is the limit of what we hear of Philip and James in the New Testament, nor do other sources help much. One story says that Philip preached in Phrygia and died in Hierapolis, and that his remains were brought to Rome and buried in the Basilica of the Twelve Apostles (an ancient inscription shows that this church was formerly dedicated to Philip and James).
written by James Kiefer
The Creed
The Apostle's Creed
I believe in God, the Father almighty,
creator of heaven and earth.
I believe in Jesus Christ, his only son, our Lord.
He was conceived by the power of the Holy Spirit
and born of the Virgin Mary.
He suffered under Pontius Pilate,
was crucified, died, and was buried.
He descended to the dead.
On the third day he rose again.
He ascended into heaven,
and is seated at the right hand of the Father.
He will come again to judge the living and the dead.
I believe in the Holy Spirit,
the holy catholic Church,
the communion of saints,
the forgiveness of sins,
the resurrection of the body,
and the life everlasting. Amen.
The Prayers
The Lord's Prayer
or traditional
Our Father in heaven,
hallowed be your Name,
your kingdom come,
your will be done,
on earth as in heaven.
Give us today our daily bread.
Forgive us our sins
as we forgive those
who sin against us.
Save us from the time of trial,
and deliver us from evil.
For the kingdom, the power,
and the glory are yours,
now and for ever. Amen.
Suffrages
Show us your mercy, O Lord;
And grant us your salvation.
Clothe your ministers with righteousness;
Let your people sing with joy.
Give peace, O Lord, in all the world;
For only in you can we live in safety.
Lord, keep this nation under your care;
And guide us in the way of justice and truth.
Let your way be known upon earth;
Your saving health among all nations.
Let not the needy, O Lord, be forgotten;
Nor the hope of the poor be taken away.
Create in us clean hearts, O God;
And sustain us with your Holy Spirit.
Collect of the Day: Philip and James
Almighty God, who gave to your apostles Philip and James grace and strength to bear witness to the truth: Grant that we, being mindful of their victory of faith, may glorify in life and death the Name of our Lord Jesus Christ; who lives and reigns with you and the Holy Spirit, one God, now and for ever. Amen.
For Mission
O God and Father of all, whom the whole heavens adore: Let the whole earth also worship you, all nations obey you, all tongues confess and bless you, and men and women everywhere love you and serve you in peace; through Jesus Christ our Lord. Amen.
The World Cycle of Prayer
We pray for the people of Marshall Islands.
The Ecumenical Cycle of Prayer
We pray for our sisters and brothers members of the United Reformed Church.
A Collect for Guidance
Heavenly Father, in you we live and move and have our being: We humbly pray you so to guide and govern us by your Holy Spirit, that in all the cares and occupations of our life we may not forget you, but may remember that we are ever walking in your sight; through Jesus Christ our Lord. Amen.
Hymn: To my humble supplication
To my humble supplication
Lord, give ear and acceptation
Save thy servant, that hath none
Help nor hope but Thee alone. Amen.
Prayers and Intercessions
Let us pray now for our own needs and those of others.
Birthdays
Anniversaries
For Recovery from Sickness
For Travelers
For a Person in Trouble or Bereavement
For Those to be Baptized
For the Departed
Full list of prayers
For the Human Family
O God, you made us in your own image and redeemed us through Jesus your Son: Look with compassion on the whole human family; take away the arrogance and hatred which infect our hearts; break down the walls that separate us; unite us in bonds of love; and work through our struggle and confusion to accomplish your purposes on earth; that, in your good time, all nations and races may serve you in harmony around your heavenly throne; through Jesus Christ our Lord. Amen.
For Prisons and Correctional Institutions
Lord Jesus, for our sake you were condemned as a criminal: Visit our jails and prisons with your pity and judgment. Remember all prisoners, and bring the guilty to repentance and amendment of life according to your will, and give them hope for their future. When any are held unjustly, bring them release; forgive us, and teach us to improve our justice. Remember those who work in these institutions; keep them humane and compassionate; and save them from becoming brutal or callous. And since what we do for those in prison, O Lord, we do for you, constrain us to improve their lot. All this we ask for your mercy's sake. Amen.
For the Victims of Addiction
Blessed Lord, you ministered to all who came to you: Look with compassion upon all who through addiction have lost their health and freedom. Restore to them the assurance of your unfailing mercy; remove from them the fears that beset them; strengthen them in the work of their recovery; and to those who care for them, give patient understanding and persevering love. Amen.
Thine be the glory
Thine be the glory, risen, conquering Son;
endless is the victory, thou o'er death hast won;
angels in bright raiment rolled the stone away,
kept the folded grave clothes where thy body lay.
Thine be the glory, risen conquering Son,
Endless is the vict'ry, thou o'er death hast won.
Lo! Jesus meets us, risen from the tomb;
Lovingly he greets us, scatters fear and gloom;
let the Church with gladness, hymns of triumph sing;
for her Lord now liveth, death hath lost its sting.
Thine be the glory, risen conquering Son,
Endless is the vict'ry, thou o'er death hast won.
No more we doubt thee, glorious Prince of life;
life is naught without thee; aid us in our strife;
make us more than conquerors, through thy deathless love:
bring us safe through Jordan to thy home above.
Thine be the glory, risen conquering Son,
Endless is the vict'ry, thou o'er death hast won.
Words: Edmund Louis Budry
Composer: Handel
Music: Judas Maccabeus
Singers: King's College Choir, Cambridge
A Prayer Attributed to St. Francis
Lord, make us instruments of your peace. Where there is hatred, let us sow love; where there is injury, pardon; where there is discord, union; where there is doubt, faith; where there is despair, hope; where there is darkness, light; where there is sadness, joy. Grant that we may not so much seek to be consoled as to console; to be understood as to understand; to be loved as to love. For it is in giving that we receive; it is in pardoning that we are pardoned; and it is in dying that we are born to eternal life. Amen.
General Thanksgiving
Almighty God, Father of all mercies, we your unworthy servants give you humble thanks for all your goodness and loving-kindness to us and to all whom you have made. We bless you for our creation, preservation, and all the blessings of this life; but above all for your immeasurable love in the redemption of the world by our Lord Jesus Christ; for the means of grace, and for the hope of glory. And, we pray, give us such an awareness of your mercies, that with truly thankful hearts we may show forth your praise, not only with our lips, but in our lives, by giving up our selves to your service, and by walking before you in holiness and righteousness all our days; through Jesus Christ our Lord, to whom, with you and the Holy Spirit, be honor and glory throughout all ages. Amen.
A Prayer of St. Chrysostom
Almighty God, you have given us grace at this time with one accord to make our common supplication to you; and you have promised through your well-beloved Son that when two or three are gathered together in his Name you will be in the midst of them: Fulfill now, O Lord, our desires and petitions as may be best for us; granting us in this world knowledge of your truth, and in the age to come life everlasting. Amen.
The Ending
Benediction
Let us bless the Lord. Alleluia! Alleluia!
Thanks be to God. Alleluia! Alleluia!
May the God of hope fill us with all joy and peace in believing through the power of the Holy Spirit. Amen. Romans 15:13
Hymn: God Be With You
God be with you till we meet again;
By his counsels guide, uphold you;
With his sheep securely fold you.
God be with you till we meet again.
Till we meet, till we meet,
Till we meet at Jesus' feet,
Till we meet, till we meet,
God be with you till we meet again.