2 May
Friday Morning Prayer
Easter
Athanasius, Bishop of Alexandria, 373
Thanks be to God, who gives us the victory through our Lord Jesus Christ. 1 Corinthians 15:57
Let us confess our sins against God and our neighbor.
Most merciful God, we confess that we have sinned against you in thought, word, and deed, by what we have done, and by what we have left undone. We have not loved you with our whole heart; we have not loved our neighbors as ourselves. We are truly sorry and we humbly repent. For the sake of your Son Jesus Christ, have mercy on us and forgive us; that we may delight in your will, and walk in your ways, to the glory of your Name. Amen.
Almighty God have mercy on us, forgive us all our sins through our Lord Jesus Christ, strengthen us in all goodness, and by the power of the Holy Spirit keep us in eternal life. Amen.
Lord, open our lips.
And our mouth shall proclaim your praise.
Glory to the Father, and to the Son, and to the Holy Spirit,
As it was in the beginning, is now, and will be for ever. Amen.
Alleluia. The Lord is risen indeed: Come let us adore him. Alleluia.
Alleluia.
Christ our Passover has been sacrificed for us;*
therefore let us keep the feast,
Not with the old leaven, the leaven of malice and evil,*
but with the unleavened bread of sincerity and truth. Alleluia.
Christ being raised from the dead will never die again;*
death no longer has dominion over him.
The death that he dies, he dies to sin, once for all;*
but the life he lives, he lives to God.
So also consider yourselves dead to sin,*
and alive to God in Jesus Christ our Lord. Alleluia.
Christ has been raised from the dead,*
the first fruits of those who have fallen asleep.
For since by a man came death,*
by a man has come also the resurrection of the dead.
For as in Adam all die,*
so also in Christ shall all be made alive. Alleluia.
1 Corinthians 5:7-8; Romans 6:9-11; 1 Corinthians 15:20-22
Alleluia. The Lord is risen indeed: Come let us adore him. Alleluia.
Psalm 16
or Coverdale
1 Protect me, O God, for I take refuge in you; *
I have said to the LORD, "You are my Lord,
my good above all other."
2All my delight is upon the godly that are in the land,*
upon those who are noble among the people.
3But those who run after other gods *
shall have their troubles multiplied.
4Their libations of blood I will not offer, *
nor take the names of their gods upon my lips.
5O LORD, you are my portion and my cup;*
it is you who uphold my lot.
6My boundaries enclose a pleasant land;*
indeed, I have a goodly heritage.
7I will bless the LORD who gives me counsel; *
my heart teaches me, night after night.
8I have set the LORD always before me;*
because he is at my right hand I shall not fall.
9My heart, therefore, is glad, and my spirit rejoices;*
my body also shall rest in hope.
10For you will not abandon me to the grave, *
nor let your holy one see the Pit.
11You will show me the path of life;*
in your presence there is fullness of joy,
and in your right hand are pleasures for evermore.
Psalm 17
or Coverdale
1Hear my plea of innocence, O LORD;
give heed to my cry;*
listen to my prayer, which does not come from lying lips.
2Let my vindication come forth from your presence; *
let your eyes be fixed on justice.
3Weigh my heart, summon me by night,*
melt me down; you will find no impurity in me.
4I give no offense with my mouth as others do;*
I have heeded the words of your lips.
5My footsteps hold fast to the ways of your law;*
in your paths my feet shall not stumble.
6I call upon you, O God, for you will answer me;*
incline your ear to me and hear my words.
7Show me your marvelous loving-kindness,*
O Savior of those who take refuge at your right hand
from those who rise up against them.
8Keep me as the apple of your eye;*
hide me under the shadow of your wings,
9From the wicked who assault me,*
from my deadly enemies who surround me.
10They have closed their heart to pity,*
and their mouth speaks proud things.
11They press me hard,
now they surround me,*
watching how they may cast me to the ground,
12Like a lion, greedy for its prey,*
and like a young lion lurking in secret places.
13Arise, O LORD; confront them and bring them down;*
deliver me from the wicked by your sword.
14Deliver me, O LORD, by your hand *
from those whose portion in life is this world;
15Whose bellies you fill with your treasure, *
who are well supplied with children
and leave their wealth to their little ones.
16But at my vindication I shall see your face; *
when I awake, I shall be satisfied, beholding your likeness.
Glory be to the Father, and to the Son, and to the Holy Ghost.
As it was in the beginning, is now, and ever shall be: world without end. Amen. Amen.
Exodus 16:23-36
23 he said to them, "This is what the LORD has commanded: 'Tomorrow is a day of solemn rest, a holy sabbath to the LORD; bake what you want to bake and boil what you want to boil, and all that is left over put aside to be kept until morning.' " 24 So they put it aside until morning, as Moses commanded them; and it did not become foul, and there were no worms in it. 25 Moses said, "Eat it today, for today is a sabbath to the LORD; today you will not find it in the field. 26 Six days you shall gather it; but on the seventh day, which is a sabbath, there will be none."
27 On the seventh day some of the people went out to gather, and they found none. 28 The LORD said to Moses, "How long will you refuse to keep my commandments and instructions? 29 See! The LORD has given you the sabbath, therefore on the sixth day he gives you food for two days; each of you stay where you are; do not leave your place on the seventh day." 30 So the people rested on the seventh day.
31 The house of Israel called it manna; it was like coriander seed, white, and the taste of it was like wafers made with honey. 32 Moses said, "This is what the LORD has commanded: 'Let an omer of it be kept throughout your generations, in order that they may see the food with which I fed you in the wilderness, when I brought you out of the land of Egypt.' " 33 And Moses said to Aaron, "Take a jar, and put an omer of manna in it, and place it before the LORD, to be kept throughout your generations." 34 As the LORD commanded Moses, so Aaron placed it before the covenant, for safekeeping. 35 The Israelites ate manna forty years, until they came to a habitable land; they ate manna, until they came to the border of the land of Canaan. 36 An omer is a tenth of an ephah.
The Word of the Lord.
Thanks be to God.
Canticle 10 The Second Song of Isaiah Isaiah 55:6-11
Quaerite Dominum
Seek the Lord while he wills to be found;*
call upon him when he draws near.
Let the wicked forsake their ways *
and the evil ones their thoughts;
And let them turn to the Lord, and he will have compassion,*
and to our God, for he will richly pardon.
For my thoughts are not your thoughts,*
nor your ways my ways, says the Lord.
For as the heavens are higher than the earth,*
so are my ways higher than your ways,
and my thoughts than your thoughts.
For as rain and snow fall from the heavens *
and return not again, but water the earth,
Bringing forth life and giving growth,*
seed for sowing and bread for eating,
So is my word that goes forth from my mouth;*
it will not return to me empty;
But it will accomplish that which I have purposed,*
and prosper in that for which I sent it.
Glory to the Father, and to the Son, and to the Holy Spirit
as it was in the beginning, is now, and will be for ever. Amen.
1 Peter 3:13-4:6
1 Peter 3
13 Now who will harm you if you are eager to do what is good? 14 But even if you do suffer for doing what is right, you are blessed. Do not fear what they fear, and do not be intimidated, 15 but in your hearts sanctify Christ as Lord. Always be ready to make your defense to anyone who demands from you an accounting for the hope that is in you; 16 yet do it with gentleness and reverence. Keep your conscience clear, so that, when you are maligned, those who abuse you for your good conduct in Christ may be put to shame. 17 For it is better to suffer for doing good, if suffering should be God's will, than to suffer for doing evil. 18 For Christ also suffered for sins once for all, the righteous for the unrighteous, in order to bring you to God. He was put to death in the flesh, but made alive in the spirit, 19 in which also he went and made a proclamation to the spirits in prison, 20 who in former times did not obey, when God waited patiently in the days of Noah, during the building of the ark, in which a few, that is, eight persons, were saved through water. 21 And baptism, which this prefigured, now saves younot as a removal of dirt from the body, but as an appeal to God for a good conscience, through the resurrection of Jesus Christ, 22 who has gone into heaven and is at the right hand of God, with angels, authorities, and powers made subject to him.
1 Peter 4
1 Since therefore Christ suffered in the flesh, arm yourselves also with the same intention (for whoever has suffered in the flesh has finished with sin), 2 so as to live for the rest of your earthly life no longer by human desires but by the will of God. 3 You have already spent enough time in doing what the Gentiles like to do, living in licentiousness, passions, drunkenness, revels, carousing, and lawless idolatry. 4 They are surprised that you no longer join them in the same excesses of dissipation, and so they blaspheme. 5 But they will have to give an accounting to him who stands ready to judge the living and the dead. 6 For this is the reason the gospel was proclaimed even to the dead, so that, though they had been judged in the flesh as everyone is judged, they might live in the spirit as God does.
The Word of the Lord.
Thanks be to God.
Canticle 18 A Song to the Lamb Revelation 4:11, 5:9-10, 13
Dignus es
Splendor and honor and kingly power *
are yours by right, O Lord our God,
For you created everything that is,*
and by your will they were created and have their being;
And yours by right, O Lamb that was slain,*
for with your blood you have redeemed for God,
From every family, language, people, and nation,*
a kingdom of priests to serve our God.
And so, to him who sits upon the throne,*
and to Christ the Lamb,
Be worship and praise, dominion and splendor,*
for ever and for ever more.
Glory to the Father, and to the Son, and to the Holy Spirit
as it was in the beginning, is now, and will be for ever. Amen.
John 16:1-15
1 "I have said these things to you to keep you from stumbling. 2 They will put you out of the synagogues. Indeed, an hour is coming when those who kill you will think that by doing so they are offering worship to God. 3 And they will do this because they have not known the Father or me. 4 But I have said these things to you so that when their hour comes you may remember that I told you about them. "I did not say these things to you from the beginning, because I was with you. 5 But now I am going to him who sent me; yet none of you asks me, "Where are you going?" 6 But because I have said these things to you, sorrow has filled your hearts. 7 Nevertheless I tell you the truth: it is to your advantage that I go away, for if I do not go away, the Advocate will not come to you; but if I go, I will send him to you. 8 And when he comes, he will prove the world wrong about sin and righteousness and judgment: 9 about sin, because they do not believe in me; 10 about righteousness, because I am going to the Father and you will see me no longer; 11 about judgment, because the ruler of this world has been condemned. 12 "I still have many things to say to you, but you cannot bear them now. 13 When the Spirit of truth comes, he will guide you into all the truth; for he will not speak on his own, but will speak whatever he hears, and he will declare to you the things that are to come. 14 He will glorify me, because he will take what is mine and declare it to you. 15 All that the Father has is mine. For this reason I said that he will take what is mine and declare it to you.
The Word of the Lord.
Thanks be to God.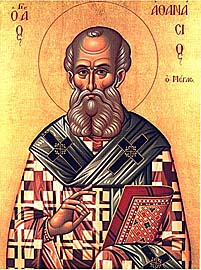 Athanasius, Bishop of Alexandria, Theologian, Doctor
Outside the pages of the New Testament itself, Athanasius is probably the man to whom we chiefly owe the preservation of the Christian faith. He was born around AD 298, and lived in Alexandria, Egypt, the chief center of learning of the Roman Empire.
In 313 the Emperor Constantine issued the Edict of Milan, which changed Christianity from a persecuted to an officially favored religion. About six years later, a presbyter (elder, priest) Arius of Alexandria began to teach concerning the Word of God (John 1:1) that "God begat him, and before he was begotten, he did not exist." Athanasius was at that time a newly ordained deacon, secretary to Bishop Alexander of Alexandria, and a member of his household. His reply to Arius was that the begetting, or uttering, of the Word by the Father is an eternal relation between Them, and not a temporal event. Arius was condemned by the bishops of Egypt (with the exceptions of Secundus of Ptolemais and Theonas of Marmorica), and went to Nicomedia, from which he wrote letters to bishops throughout the world, stating his position.
The Emperor Constantine undertook to resolve the dispute by calling a council of bishops from all over the Christian world. This council met in Nicea (Council of Nicea), just across the straits from what is now Istanbul, in the year 325, and consisted of 317 bishops. Athanasius accompanied his bishop to the council, and became recognized as a chief spokesman for the view that the Son was fully God, co-equal and co-eternal with the Father.
The party of Athanasius was overwhelmingly in the majority. (The western, or Latin, half of the Empire was very sparsely represented, but it was solidly Athanasian, so that if its bishops had attended in force, the vote would have been still more lopsided.) It remained to formulate a creedal statement to express the consensus. The initial effort was to find a formula from Holy Scripture that would express the full deity of the Son, equally with the Father. However, the Arians cheerfully agreed to all such formulations, having interpreted them already to fit their own views. (Those of you who have conversed with members of the Watchtower Society, who consider themselves the spiritual heirs of Arius, will know how this works.) Finally, the Greek word "homo-ousios" (meaning "of the same substance, or nature, or essence") was introduced, chiefly because it was one word that could not be understood to mean what the Arians meant. Some of the bishops present, although in complete disagreement with Arius, were reluctant to use a term not found in the Scriptures, but eventually saw that the alternative was a creed that both sides would sign, each understanding it in its own way, and that the Church could not afford to leave the question of whether the Son is truly God (the Arians said "a god") undecided. So the result was that the Council adopted a creed which is a shorter version of what we now call the Nicene Creed, declaring the Son to be "of one substance with the Father." At the end, there were only two holdouts, the aforesaid Secundus and Theonas.
(For a dramatic but historically accurate account of the Council of Nicea, see the play, The Emperor Constantine, by Dorothy L Sayers, available in book form.)
No sooner was the council over than its consensus began to fall apart. Constantine had expected that the result would be unity, but found that the Arians would not accept the decision, and that many of the orthodox bishops were prepared to look for a wording a little softer than that of Nicea, something that sounded orthodox, but that the Arians would accept. All sorts of compromise formulas were worked out, with all shades of variation from the formula of Nicea.
In 328, Alexander died, and Athanasius succeeded him as bishop of Alexandria. Athanasius refused to participate in these negotiations, suspecting (correctly as it turned out) that once the orthodox party showed a willingness to make reaching an agreement their highest priority, they would end up giving away the store. He defended the full deity of Christ against emperors, magistrates, bishops, and theologians. For this, he was regarded as a trouble-maker by Constantine and his successors, and was banished from Alexandria a total of five times by various emperors. (Hence the expression "Athanasius contra mundum," or, "Athanasius against the world.") Eventually, Christians who believed in the Deity of Christ came to see that once they were prepared to abandon the Nicene formulation, they were on a slippery slope that led to regarding the Logos as simply a high-ranking angel. The more they experimented with other formulations, the clearer it became that only the Nicene formulation would preserve the Christian faith in any meaningful sense, and so they re-affirmed the Nicene Creed at the Council of Constantinople in 381, a final triumph that Athanasius did not live to see.
It was a final triumph as far as councils of bishops were concerned, but the situation was complicated by the fact that after Constantine there were several Arian emperors (not counting the Emperor Julian, who was a pagan, but correctly saw that the most effective way to fight Christianity was to throw all his weight on the side of the Arians). Arian missionaries were sent to convert the Goths, who became the backbone of the Roman Army (then composed chiefly of foreign mercenaries) with the result that for many years Arianism was considered the mark of a good Army man. The conversion of Clovis, King of the Franks, in 496, to orthodox Christianity either gave the Athanasian party the military power to crush Arianism or denied the Arian Goths the military supremacy that would have enabled them to crush Athanasian Christianity, depending on your point of view.
Since Alexandria had the best astronomers, it was the duty of the Bishop of Alexandria to write to the other bishops every year and tell them the correct date for Easter. Naturally, his annual letter on this topic contained other material as well. One Easter Letter (or Paschal Letter) of Athanasius is well known for giving a list of the books that ought to be considered part of the canonical Scriptures, with a supplementary list of books suitable for devotional reading.
For the New Testament, he lists the 27 books that are recognized today. (If you will look at your list of New Testament books, you may note that Matthew through 2 Thessalonians were never in dispute, that the next four were subject to relatively little dispute, and that the remaining books had more trouble being accepted. There were also a few books that looked as if they might make the list, but eventually did not, the most conspicuous being the Epistle of Barnabas, the Epistle of Clement, and the Shepherd of Hermas.)
For the Old Testament, his list is like that used by most Protestants, except that he omits Esther, and includes Baruch, with the letter of Jeremiah. His supplementary list is Wisdom, Sirach, Tobias, Judith, and Esther. He does not mention Maccabees.
Two quotations from the writings of Athanasius follow:
We were made "in the likeness of God." But in course of time that image has become obscured, like a face on a very old portrait, dimmed with dust and dirt.
When a portrait is spoiled, the only way to renew it is for the subject to come back to the studio and sit for the artist all over again. That is why Christ came--to make it possible for the divine image in man to be recreated. We were made in God's likeness; we are remade in the likeness of his Son.
To bring about this re-creation, Christ still comes to men and lives among them. In a special way he comes to his Church, his "body", to show us what the "image of God" is really like.
What a responsibility the Church has, to be Christ's "body," showing him to those who are unwilling or unable to see him in providence, or in creation! Through the Word of God lived out in the Body of Christ they can come to the Father, and themselves be made again "in the likeness of God.
written by James Kiefer
Uphold your Church, O God of truth, as you upheld your servant Athanasius, to maintain and proclaim boldly the catholic faith against all opposition, trusting solely in the grace of your eternal Word, who took upon himself our humanity that we might share his divinity; who lives and reigns with you and the Holy Spirit, one God, now and for ever. Amen.

Psalm 71:1-8
Ezekiel 3:1-14a
1 John 5:1-5
Matthew 10:22-32
I believe in God, the Father almighty,
creator of heaven and earth.
I believe in Jesus Christ, his only son, our Lord.
He was conceived by the power of the Holy Spirit
and born of the Virgin Mary.
He suffered under Pontius Pilate,
was crucified, died, and was buried.
He descended to the dead.
On the third day he rose again.
He ascended into heaven,
and is seated at the right hand of the Father.
He will come again to judge the living and the dead.
I believe in the Holy Spirit,
the holy catholic Church,
the communion of saints,
the forgiveness of sins,
the resurrection of the body,
and the life everlasting. Amen.
The Lord's Prayer
or traditional
Our Father in heaven,
hallowed be your Name,
your kingdom come,
your will be done,
on earth as in heaven.
Give us today our daily bread.
Forgive us our sins
as we forgive those
who sin against us.
Save us from the time of trial,
and deliver us from evil.
For the kingdom, the power,
and the glory are yours,
now and for ever. Amen.
Show us your mercy, O Lord;
And grant us your salvation.
Clothe your ministers with righteousness;
Let your people sing with joy.
Give peace, O Lord, in all the world;
For only in you can we live in safety.
Lord, keep this nation under your care;
And guide us in the way of justice and truth.
Let your way be known upon earth;
Your saving health among all nations.
Let not the needy, O Lord, be forgotten;
Nor the hope of the poor be taken away.
Create in us clean hearts, O God;
And sustain us with your Holy Spirit.
Collect of the Day: Second Sunday of Easter
Almighty and everlasting God, who in the Paschal mystery established the new covenant of reconciliation: Grant that all who have been reborn into the fellowship of Christ's Body may show forth in their lives what they profess by their faith; through Jesus Christ our Lord, who lives and reigns with you and the Holy Spirit, one God, for ever and ever. Amen.
World Cycle of Prayer
We pray for the people of Mexico.
Ecumenical Cycle of Prayer
We pray for our sisters and brothers members of the Evangelical Lutheran Church of Brazil.
Let us pray now for our own needs and those of others.
Birthdays
Anniversaries
For Recovery from Sickness
For Travelers
For a Person in Trouble or Bereavement
For Those to be Baptized
For the Departed
Full list of prayers
For Mission
Lord Jesus Christ, you stretched out your arms of love on the hard wood of the cross that everyone might come within the reach of your saving embrace: So clothe us in your Spirit that we, reaching forth our hands in love, may bring those who do not know you to the knowledge and love of you; for the honor of your Name. Amen.
A Collect for Fridays
Almighty God, whose most dear Son went not up to joy but first he suffered pain, and entered not into glory before he was crucified: Mercifully grant that we, walking in the way of the cross, may find it none other than the way of life and peace; through Jesus Christ your Son our Lord. Amen.
For Our Enemies
O God, the Father of all, whose Son commanded us to love our enemies: Lead them and us from prejudice to truth; deliver them and us from hatred, cruelty, and revenge; and in your good time enable us all to stand reconciled before you; through Jesus Christ our Lord. Amen.
For Social Justice
Grant, O God, that your holy and life-giving Spirit may so move every human heart, that barriers which divide us may crumble, suspicions disappear, and hatreds cease; that our divisions being healed, we may live in justice and peace; through Jesus Christ our Lord. Amen.
For Young Persons
God our Father, you see your children growing up in an unsteady and confusing world: Show them that your ways give more life than the ways of the world, and that following you is better than chasing after selfish goals. Help them to take failure, not as a measure of their worth, but as a chance for a new start. Give them strength to hold their faith in you, and to keep alive their joy in your creation; through Jesus Christ our Lord. Amen.
Almighty and eternal God, so draw our hearts to you, so guide our minds, so fill our imaginations, so control our wills, that we may be wholly yours, utterly dedicated unto you; and then use us, we pray you, as you will, and always to your glory and the welfare of your people; through our Lord and Savior Jesus Christ. Amen.
General Thanksgiving
Almighty God, Father of all mercies, we your unworthy servants give you humble thanks for all your goodness and loving-kindness to us and to all whom you have made. We bless you for our creation, preservation, and all the blessings of this life; but above all for your immeasurable love in the redemption of the world by our Lord Jesus Christ; for the means of grace, and for the hope of glory. And, we pray, give us such an awareness of your mercies, that with truly thankful hearts we may show forth your praise, not only with our lips, but in our lives, by giving up our selves to your service, and by walking before you in holiness and righteousness all our days; through Jesus Christ our Lord, to whom, with you and the Holy Spirit, be honor and glory throughout all ages. Amen.
A Prayer of St. Chrysostom
Almighty God, you have given us grace at this time with one accord to make our common supplication to you; and you have promised through your well-beloved Son that when two or three are gathered together in his Name you will be in the midst of them: Fulfill now, O Lord, our desires and petitions as may be best for us; granting us in this world knowledge of your truth, and in the age to come life everlasting. Amen.
Let us bless the Lord. Alleluia. Alleluia.
Thanks be to God. Alleluia. Alleluia.
Glory to God whose power, working in us, can do infinitely more than we can ask or imagine: Glory to him from generation to generation in the Church, and in Christ Jesus for ever and ever. Amen.
Ephesians 3:20,21