Friday
Morning Prayer
Saint Andrew, the Apostle
The Opening
Opening Sentence
Their sound has gone out into all lands, and their message to the ends of the world. Psalm 19:4
Hymn: Jesus calls us
Jesus calls us; o'er the tumult
of our life's wild, restless sea,
day by day his clear voice soundeth,
saying, "Christian, follow me;"

As, of old, Saint Andrew heart it
by the Galilean lake,
turned from home and toil and kindred,
leaving all for his dear sake.

Jesus calls us from the worship
of the vain world's golden store;
from each idol that would keep us,
saying, "Christian, love me more."

In our joys and in our sorrows,
days of toil and hours of ease,
still he calls, in cares and pleasures,
"Christian, love me more than these."

Jesus calls us! By thy mercies,
Savior, may we hear thy call,
give our hearts to thine obedience,
serve and love thee best of all.
Words: Cecil Frances Alexander
Confession
Let us confess our sins against God and our neighbor.
Most merciful God,
we confess that we have sinned against you
in thought, word, and deed,
by what we have done,
and by what we have left undone.
We have not loved you with our whole heart;
we have not loved our neighbors as ourselves.
We are truly sorry and we humbly repent.
For the sake of your Son Jesus Christ,
have mercy on us and forgive us;
that we may delight in your will,
and walk in your ways,
to the glory of your Name. Amen.
Almighty God have mercy on us, forgive us all our sins through our Lord Jesus Christ, strengthen us in all goodness, and by the power of the Holy Spirit keep us in eternal life. Amen.
Versicle and Response
Lord, open our lips.
And our mouth shall proclaim your praise.
Glory to the Father, and to the Son, and to the Holy Spirit:
as it was in the beginning, is now, and will be forever Amen.
The Lord is glorious in his saints:
Come let us adore him.
Jubilate
Be joyful in the Lord, all you lands;
serve the Lord with gladness
and come before his presence with a song.
Know this: The Lord himself is God;
he himself has made us, and we are his;
we are his people and the sheep of his pasture.
Enter his gates with thanksgiving;
go into his courts with praise;
give thanks to him and call upon his Name.
For the Lord is good;
his mercy is everlasting;
and his faithfulness endures from age to age.
Antiphon
The Lord is glorious in his saints:
Come let us adore him.
The Psalm
Psalm 34 or
Coverdale
Benedicam Dominum
1I will bless the LORD at all times; *
his praise shall ever be in my mouth.
2I will glory in the LORD; *
let the humble hear and rejoice.
3Proclaim with me the greatness of the LORD; *
let us exalt his Name together.
4I sought the LORD, and he answered me *
and delivered me out of all my terror.
5Look upon him and be radiant, *
and let not your faces be ashamed.
6I called in my affliction and the LORD heard me *
and saved me from all my troubles.
7The angel of the LORD encompasses those who fear him, *
and he will deliver them.
8Taste and see that the LORD is good; *
happy are they who trust in him!
9Fear the LORD, you that are his saints, *
for those who fear him lack nothing.
10The young lions lack and suffer hunger, *
but those who seek the LORD lack nothing that is good.
11Come, children, and listen to me; *
I will teach you the fear of the LORD.
12Who among you loves life *
and desires long life to enjoy prosperity?
13Keep your tongue from evil-speaking *
and your lips from lying words.
14Turn from evil and do good; *
seek peace and pursue it.
15The eyes of the LORD are upon the righteous, *
and his ears are open to their cry.
16The face of the LORD is against those who do evil, *
to root out the remembrance of them from the earth.
17The righteous cry, and the LORD hears them *
and delivers them from all their troubles.
18The LORD is near to the brokenhearted *
and will save those whose spirits are crushed.
19Many are the troubles of the righteous, *
but the LORD will deliver him out of them all.
20He will keep safe all his bones; *
not one of them shall be broken.
21Evil shall slay the wicked, *
and those who hate the righteous will be punished.
22The LORD ransoms the life of his servants, *
and none will be punished who trust in him.
Gloria Patri
Glory be to the Father, and to the Son, and to the Holy Ghost.
As it was in the beginning, is now, and ever shall be: world without end. Amen. Amen.
The Lessons
The Old Testament Reading
Isaiah 49:1-6
Listen to me, Ocoastlands,
pay attention, you peoples from far away!
The Lord called me before I wasborn,
while I was in my mothers womb he named me.
2 He made my mouth like a sharp sword,
in the shadow of his hand he hidme;
he made me a polished arrow,
in his quiver he hid me away.
3 And he said to me, You are my servant,
Israel, in whom I will be glorified.
4 But I said, I have laboured in vain,
I have spent my strength for nothing and vanity;
yet surely my cause is with the Lord,
and my reward with my God.
5 And now the Lord says,
who formed me in the womb to be his servant,
to bring Jacob back to him,
and that Israel might be gathered to him,
for I am honoured in the sight of the Lord,
and my God has become my strength
6 he says,
It is too light a thing that you should be my servant
to raise up the tribes of Jacob
and to restore the survivors of Israel;
I will give you as a light to the nations,
that my salvation may reach to the end of the earth.
The Word of the Lord.
Thanks be to God.
Canticle 11 The Third Song of Isaiah
Isaiah 60:1-3, 11a, 14c, 18-19 Surge, illuminare
Arise, shine, for your light has come, *
and the glory of the Lord has dawned upon you.
For behold, darkness covers the land; *
deep gloom enshrouds the peoples.
But over you the Lord will rise, *
and his glory will appear upon you.
Nations will stream to your light, *
and kings to the brightness of your dawning.
Your gates will always be open; *
by day or night they will never be shut.
They will call you, The City of the Lord, *
The Zion of the Holy One of Israel.
Violence will no more be heard in your land, *
ruin or destruction within your borders.
You will call your walls, Salvation, *
and all your portals, Praise.
The sun will no more be your light by day; *
by night you will not need the brightness of the moon.
The Lord will be your everlasting light, *
and your God will be your glory.
Glory to the Father, and to the Son, and to the Holy Spirit
as it was in the beginning, is now, and will be for ever. Amen.
New Testament Reading
1 Corinthians 4:1-16
Think of us in this way, as servants of Christ and stewards of Gods mysteries. 2Moreover, it is required of stewards that they should be found trustworthy. 3But with me it is a very small thing that I should be judged by you or by any human court. I do not even judge myself. 4I am not aware of anything against myself, but I am not thereby acquitted. It is the Lord who judges me. 5Therefore do not pronounce judgement before the time, before the Lord comes, who will bring to light the things now hidden in darkness and will disclose the purposes of the heart. Then each one will receive commendation from God.
6I have applied all this to Apollos and myself for your benefit, brothers and sisters, so that you may learn through us the meaning of the saying, Nothing beyond what is written, so that none of you will be puffed up in favour of one against another. 7For who sees anything different in you? What do you have that you did not receive? And if you received it, why do you boast as if it were not a gift?
8Already you have all you want! Already you have become rich! Quite apart from us you have become kings! Indeed, I wish that you had become kings, so that we might be kings with you! 9For I think that God has exhibited us apostles as last of all, as though sentenced to death, because we have become a spectacle to the world, to angels and to mortals. 10We are fools for the sake of Christ, but you are wise in Christ. We are weak, but you are strong. You are held in honour, but we in disrepute. 11To the present hour we are hungry and thirsty, we are poorly clothed and beaten and homeless, 12and we grow weary from the work of our own hands. When reviled, we bless; when persecuted, we endure; 13when slandered, we speak kindly. We have become like the rubbish of the world, the dregs of all things, to this very day.
14I am not writing this to make you ashamed, but to admonish you as my beloved children. 15For though you might have ten thousand guardians in Christ, you do not have many fathers. Indeed, in Christ Jesus I became your father through the gospel. 16I appeal to you, then, be imitators of me.
The Word of the Lord.
Thanks be to God.
Canticle 16 The Song of Zechariah
Luke 1:68-79
Benedictus Dominus Deus
Blessed be the Lord, the God of Israel;*
he has come to his people and set them free.
He has raised up for us a mighty savior,*
born of the house of his servant David.
Through his holy prophets he promised of old,
that he would save us from our enemies,*
from the hands of all who hate us.
he promised to show mercy to our fathers*
and to remember his holy covenant.
This was the oath he swore to our father Abraham,*
to set us free from the hands of our enemies,
Free to worship him without fear,*
holy and righteous in his sight
all the days of our life.
You, my child, shall be called the prophet of the Most High,*
for you will go before the Lord to prepare his way,
To give his people knowledge of salvation*
by the forgiveness of their sins.
In the tender compassion of our God*
the dawn from on high shall break upon us,
To shine on those who dwell in darkness and the shadow of death,*
and to guide our feet into the way of peace.
Glory to the Father, and to the Son, and to the Holy Spirit
as it was in the beginning, is now, and will be for ever. Amen.
The Gospel
The Gospel is in Evening Prayer.
The Commemoration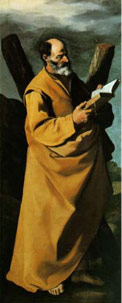 Most references to Andrew in the New Testament simply include him on a list of the Twelve Apostles, or group him with his brother, Simon Peter. But he appears acting as an individual three times in the Gospel of John. When a number of Greeks (perhaps simply Greek-speaking Jews) wish to speak with Jesus, they approach Philip, who tells Andrew, and the two of them tell Jesus (Jn 12:20-22). (It may be relevant here that both "Philip" and "Andrew" are Greek names.) Before Jesus feeds the Five Thousand, it is Andrew who says, "Here is a lad with five barley loaves and two fish." (Jn 6:8f) And the first two disciples whom John reports as attaching themselves to Jesus (Jn 1:35-42) are Andrew and another disciple (whom John does not name, but who is commonly supposed to be John himself -- John never mentions himself by name, a widespread literary convention). Having met Jesus, Andrew then finds his brother Simon and brings him to Jesus. Thus, on each occasion when he is mentioned as an individual, it is because he is instrumental in bringing others to meet the Saviour. In the Episcopal Church, the Brotherhood of Saint Andrew is devoted to encouraging personal evangelism, and the bringing of one's friends and colleagues to a knowledge of the Gospel of Christ.
Just as Andrew was the first of the Apostles, so his feast is taken to be the beginning of the Church Year. The First Sunday of Advent is defined to be the Sunday on or nearest his feast (although it could equivalently be defined as the fourth Sunday before Christmas Day).
Several centuries after the death of Andrew, some of his relics were brought by a missionary named Rule to Scotland, to a place then known as Fife, but now known as St. Andrew's, and best known as the site of a world-famous golf course and club. For this reason, Andrew is the patron of Scotland.
When the Emperor Constantine established the city of Byzantium, or Constantinople, as the new capital of the Roman Empire, replacing Rome, the bishop of Byzantium became very prominent. Five sees (bishoprics) came to be known as patriarchates: Rome, Alexandria, Antioch, Jerusalem, and Byzantium. Now, the congregation at Rome claimed the two most famous apostles, Peter and Paul, as founders. Antioch could also claim both Peter and Paul, on the explicit testimony of Scripture, and of course Jerusalem had all the apostles. Alexandria claimed that Mark, who had been Peter's "interpreter" and assistant, and had written down the Gospel of Mark on the basis of what he had heard from Peter, had after Peter's death gone to Alexandria and founded the church there. Byzantium was scorned by the other patriarchates as a new-comer, a church with the political prestige of being located at the capital of the Empire, but with no apostles in its history. Byzantium responded with the claim that its founder and first bishop had been Andrew the brother of Peter. They pointed out that Andrew had been the first of all the apostles to follow Jesus (John 1:40-41), and that he had brought his brother to Jesus. Andrew was thus, in the words of John Chrysostom, "the Peter before Peter." As Russia was Christianized by missionaries from Byzantium, Andrew became the patron not only of Byzantium but also of Russia.
Andrew is the national saint of Scotland and of Russia. George is the national saint of England, Patrick of Ireland, and Dewi (David) of Wales. Patrick and David were among the first to preach the Gospel in their respective countries, and George was declared patron of England by King Richard I ("the Lion-Heart") after he appeared to Richard in a vision while Richard was fighting the First Crusade around 1200. George, who was a soldier, is customarily pictured as a knight with a shield that bears a red cross on a white background. This design is therefore the national flag of England. It is said that Andrew was crucified on a Cross Saltire -- an 'X' -shaped cross. His symbol is a Cross Saltire, white on a blue background. This is accordingly the national flag of Scotland. A symbol of Patrick is a red cross saltire on a white background. The crosses of George and Andrew were combined to form the Union Jack, or flag of Great Britain, and later the cross of Patrick was added to form the present Union Jack. Wales did not appear as such (sorry!). Whether there is a design known as the cross of David, I have no idea. [edit--there is most certainly a flag of St. David and it shows a cross, although it is not the official flag of Wales.]
written by James Kiefer
The Creed
The Apostle's Creed
I believe in God, the Father almighty,
creator of heaven and earth.
I believe in Jesus Christ, his only son, our Lord.
He was conceived by the power of the Holy Spirit
and born of the Virgin Mary.
He suffered under Pontius Pilate,
was crucified, died, and was buried.
He descended to the dead.
On the third day he rose again.
He ascended into heaven,
and is seated at the right hand of the Father.
He will come again to judge the living and the dead.
I believe in the Holy Spirit,
the holy catholic Church,
the communion of saints,
the forgiveness of sins,
the resurrection of the body,
and the life everlasting. Amen.
The Prayers
The Lord's Prayer
or traditional
Our Father in heaven,
hallowed be your Name,
your kingdom come,
your will be done,
on earth as in heaven.
Give us today our daily bread.
Forgive us our sins
as we forgive those
who sin against us.
Save us from the time of trial,
and deliver us from evil.
For the kingdom, the power,
and the glory are yours,
now and for ever. Amen.
Suffrages
Show us your mercy, O Lord;
And grant us your salvation.
Clothe your ministers with righteousness;
Let your people sing with joy.
Give peace, O Lord, in all the world;
For only in you can we live in safety.
Lord, keep this nation under your care;
And guide us in the way of justice and truth.
Let your way be known upon earth;
Your saving health among all nations.
Let not the needy, O Lord, be forgotten;
Nor the hope of the poor be taken away.
Create in us clean hearts, O God;
And sustain us with your Holy Spirit.
Collect of the Day: Andrew the Apostle
Almighty God, who gave such grace to your apostle Andrew that he readily obeyed the call of your Son Jesus Christ, and brought his brother with him: Give us, who are called by your holy Word, grace to follow him without delay, and to bring those near to us into his gracious presence; who lives and reigns with you and the Holy Spirit, one God, now and for ever. Amen.
For Mission
LordJesus Christ, you stretched out your arms of love on the hardwood of the cross that everyone might come within the reach ofyour saving embrace: So clothe us in your Spirit that we, reachingforth our hands in love, may bring those who do not know you tothe knowledge and love of you; for the honor of your Name. Amen.
World Cycle of Prayer
We pray for the people of Philippines.
Ecumenical Cycle of Prayer
We pray for our sisters and brothers members of the Independent Baptist.
A Collect for Fridays
Almighty God, whose most dear Son went not up to joy but first he suffered pain, and entered not into glory before he was crucified: Mercifully grant that we, walking in the way of the cross, may find it none other than the way of life and peace; through Jesus Christ your Son our Lord. Amen.
Hymn: To my humble supplication
To my humble supplication
Lord, give ear and acceptation
Save thy servant, that hath none
Help nor hope but Thee alone. Amen.
Prayers and Intercessions
Let us pray now for our own needs and those of others.
Birthdays
Anniversaries
For Recovery from Sickness
For Travelers
For a Person in Trouble or Bereavement
For Those to be Baptized
For the Departed
Full list of prayers
For Our Enemies
O God, the Father of all, whose Son commanded us to love our enemies: Lead them and us from prejudice to truth; deliver them and us from hatred, cruelty, and revenge; and in your good time enable us all to stand reconciled before you; through Jesus Christ our Lord. Amen.
For Social Justice
Grant, O God, that your holy and life-giving Spirit may so move every human heart, that barriers which divide us may crumble, suspicions disappear, and hatreds cease; that our divisions being healed, we may live in justice and peace; through Jesus Christ our Lord. Amen.
For Young Persons
God our Father, you see your children growing up in an unsteady and confusing world: Show them that your ways give more life than the ways of the world, and that following you is better than chasing after selfish goals. Help them to take failure, not as a measure of their worth, but as a chance for a new start. Give them strength to hold their faith in you, and to keep alive their joy in your creation; through Jesus Christ our Lord. Amen.
Hymn: God, who made the earth and heaven
God, who made the earth and heaven,
Darkness and light:
You the day for work have given,
For rest the night.
May your angel guards defend us,
Slumber sweet your mercy send us,
Holy dreams and hopes attend us
All through the night.
And when morn again shall call us
To run life's way,
May we still, whatever befall us,
Your will obey.
From the power of evil hide us,
In the narrow pathway guide us,
Never be your smile denied us
All through the day.
Guard us waking, guard us sleeping,
And when we die,
May we in your mighty keeping
All peaceful lie.
When the trumpet call shall wake us,
Then, O Lord, do not forsake us,
But to reign in glory take us
With you on high.
Holy Father, throned in heaven,
All holy Son,
Holy Spirit, freely given,
Blest Three in One:
Grant us grace, we now implore you,
Till we lay our crowns before you
And in worthier strains adore you
While ages run.
Words: Reginald Heber
Tune: Ar Hyd Y Nos (traditional Welsh)
A Prayer of Self-Dedication
Almighty and eternal God,
so draw our hearts to you,
so guide our minds,
so fill our imaginations,
so control our wills,
that we may be wholly yours,
utterly dedicated unto you;
and then use us, we pray you, as you will,
and always to your glory and the welfare of your people;
through our Lord and Savior Jesus Christ. Amen.
General Thanksgiving
Almighty God, Father of all mercies, we your unworthy servants give you humble thanks for all your goodness and loving-kindness to us and to all whom you have made. We bless you for our creation, preservation, and all the blessings of this life; but above all for your immeasurable love in the redemption of the world by our Lord Jesus Christ; for the means of grace, and for the hope of glory. And, we pray, give us such an awareness of your mercies, that with truly thankful hearts we may show forth your praise, not only with our lips, but in our lives, by giving up our selves to your service, and by walking before you in holiness and righteousness all our days; through Jesus Christ our Lord, to whom, with you and the Holy Spirit, be honor and glory throughout all ages. Amen.
A Prayer of St. Chrysostom
Almighty God, you have given us grace at this time with one accord to make our common supplication to you; and you have promised through your well-beloved Son that when two or three are gathered together in his Name you will be in the midst of them: Fulfill now, O Lord, our desires and petitions as may be best for us; granting us in this world knowledge of your truth, and in the age to come life everlasting. Amen.
The Ending
Benediction
Let us bless the Lord.
Thanks be to God.
May the God of hope fill us with all joy and peace in believing through the power of the Holy Spirit. Amen. Romans 15:13
Hymn: God Be With You
God be with you till we meet again;
By his counsels guide, uphold you;
With his sheep securely fold you.
God be with you till we meet again.
Till we meet, till we meet,
Till we meet at Jesus' feet,
Till we meet, till we meet,
God be with you till we meet again.