Monday, 4 September
Morning Prayer, Proper 17
Paul Jones
The Opening
Opening Sentence
I was glad when they said to me, "Let us go to the house of the Lord." Psalm 122:1
Hymn: Joyful, joyful
Joyful, joyful, we adore Thee,
God of glory, Lord of love;
hearts unfold like flow'rs before Thee,
Opening to the Sun above,
Melt the clouds of sin and sadness;
drive the dark of doubt away;
Giver of immortal gladness,
fill us with the light of day!
All Thy works with joy surround Thee,
Earth and heav'n reflect Thy rays,
stars and angels sing around Thee,
center of unbroken praise:
Field and forest, vale and mountain,
Flow'ry meadow, flashing sea,
singing bird and flowing fountain,
call us to rejoice in Thee.
Thou art giving and forgiving,
ever blessing, ever blest,
well-spring of the joy of living,
ocean-depth of happy rest!
Thou our Father, Christ our Brother,
all who live in love are Thine:
Teach us how to love each other,
lift us to the Joy Divine.
Music: Beethoven
Confession
Let us confess our sins against God and our neighbor.
Most merciful God, we confess that we have sinned against you in thought, word, and deed, by what we have done, and by what we have left undone. We have not loved you with our whole heart; we have not loved our neighbors as ourselves. We are truly sorry and we humbly repent. For the sake of your Son Jesus Christ, have mercy on us and forgive us; that we may delight in your will, and walk in your ways, to the glory of your Name. Amen.
Almighty God have mercy on us, forgive us all our sins through our Lord Jesus Christ, strengthen us in all goodness, and by the power of the Holy Spirit keep us in eternal life. Amen.
Versicle and Response
Lord, open our lips.
And our mouth shall proclaim your praise.
Glory to the Father, and to the Son, and to the Holy Spirit,
As it was in the beginning, is now, and will be for ever. Amen.
The Earth is the Lord's for he made it: Come let us adore him.
Invitatory Psalm
Be joyful in the Lord, all you lands;
serve the Lord with gladness
and come before his presence with a song.
Know this: The Lord himself is God;
he himself has made us, and we are his;
we are his people and the sheep of his pasture.
Enter his gates with thanksgiving;
go into his courts with praise;
give thanks to him and call upon his Name.
For the Lord is good;
his mercy is everlasting;
and his faithfulness endures from age to age.
The Psalms
Psalm 25 or
Coverdale
Ad te, Domine, levavi
1To you, O LORD, I lift up my soul;
my God, I put my trust in you; *
let me not be humiliated,
nor let my enemies triumph over me.
2Let none who look to you be put to shame; *
let the treacherous be disappointed in their schemes.
3Show me your ways, O LORD, *
and teach me your paths.
4Lead me in your truth and teach me, *
for you are the God of my salvation;
in you have I trusted all the day long.
5Remember, O LORD, your compassion and love, *
for they are from everlasting.
6Remember not the sins of my youth and my transgressions; *
remember me according to your love
and for the sake of your goodness, O LORD.
7Gracious and upright is the LORD; *
therefore he teaches sinners in his way.
8He guides the humble in doing right *
and teaches his way to the lowly.
9All the paths of the LORD are love and faithfulness *
to those who keep his covenant and his testimonies.
10For your Name's sake, O LORD, *
forgive my sin, for it is great.
11Who are they who fear the LORD? *
he will teach them the way that they should choose.
12They shall dwell in prosperity, *
and their offspring shall inherit the land.
13The LORD is a friend to those who fear him *
and will show them his covenant.
14My eyes are ever looking to the LORD, *
for he shall pluck my feet out of the net.
15Turn to me and have pity on me, *
for I am left alone and in misery.
16The sorrows of my heart have increased; *
bring me out of my troubles.
17Look upon my adversity and misery *
and forgive me all my sin.
18Look upon my enemies, for they are many, *
and they bear a violent hatred against me.
19Protect my life and deliver me; *
let me not be put to shame, for I have trusted in you.
20Let integrity and uprightness preserve me, *
for my hope has been in you.
21Deliver Israel, O God, *
out of all his troubles.
Gloria Patri
Glory be to the Father, and to the Son, and to the Holy Ghost.
As it was in the beginning, is now, and ever shall be: world without end. Amen. Amen.
The Lessons
Old Testament Lesson
2 Chronicles 6:32-7:7
32"Likewise when foreigners, who are not of your people Israel, come from a distant land because of your great name, and your mighty hand, and your outstretched arm, when they come and pray toward this house, 33may you hear from heaven your dwelling place, and do whatever the foreigners ask of you, in order that all the peoples of the earth may know your name and fear you, as do your people Israel, and that they may know that your name has been invoked on this house that I have built. 34"If your people go out to battle against their enemies, by whatever way you shall send them, and they pray to you toward this city that you have chosen and the house that I have built for your name, 35then hear from heaven their prayer and their plea, and maintain their cause. 36"If they sin against you-for there is no one who does not sin-and you are angry with them and give them to an enemy, so that they are carried away captive to a land far or near; 37then if they come to their senses in the land to which they have been taken captive, and repent, and plead with you in the land of their captivity, saying, 'We have sinned, and have done wrong; we have acted wickedly'; 38if they repent with all their heart and soul in the land of their captivity, to which they were taken captive, and pray toward their land, which you gave to their ancestors, the city that you have chosen, and the house that I have built for your name, 39then hear from heaven your dwelling place their prayer and their pleas, maintain their cause and forgive your people who have sinned against you. 40Now, O my God, let your eyes be open and your ears attentive to prayer from this place. 41"Now rise up, O LORD God, and go to your resting place, you and the ark of your might. Let your priests, O LORD God, be clothed with salvation, and let your faithful rejoice in your goodness. 42O LORD God, do not reject your anointed one. Remember your steadfast love for your servant David."
When Solomon had ended his prayer, fire came down from heaven and consumed the burnt offering and the sacrifices; and the glory of the LORD filled the temple. 2The priests could not enter the house of the LORD, because the glory of the LORD filled the Lord's house. 3When all the people of Israel saw the fire come down and the glory of the LORD on the temple, they bowed down on the pavement with their faces to the ground, and worshiped and gave thanks to the LORD, saying, "For he is good, for his steadfast love endures forever." 4Then the king and all the people offered sacrifice before the LORD. 5King Solomon offered as a sacrifice twenty-two thousand oxen and one hundred twenty thousand sheep. So the king and all the people dedicated the house of God. 6The priests stood at their posts; the Levites also, with the instruments for music to the LORD that King David had made for giving thanks to the LORD-for his steadfast love endures forever-whenever David offered praises by their ministry. Opposite them the priests sounded trumpets; and all Israel stood. 7Solomon consecrated the middle of the court that was in front of the house of the LORD; for there he offered the burnt offerings and the fat of the offerings of well-being because the bronze altar Solomon had made could not hold the burnt offering and the grain offering and the fat parts.
The Word of the Lord.
Thanks be to God.
Canticle 9 The First Song of Isaiah
Isaiah 12:2-6
Ecce, Deus
Surely, it is God who saves me;*
I will trust in him and not be afraid.
For the Lord is my stronghold and my sure defense,*
and he will be my Savior.
Therefore you shall draw water with rejoicing *
from the springs of salvation.
And on that day you shall say,*
Give thanks to the Lord and call upon his Name;
Make his deeds known among the peoples;*
see that they remember that his Name is exalted.
Sing the praises of the Lord, for he has done great things,*
and this is known in all the world.
Cry aloud, inhabitants of Zion, ring out your joy,*
for the great one in the midst of you is the Holy One of Israel.
Glory to the Father, and to the Son, and to the Holy Spirit
as it was in the beginning, is now, and will be for ever. Amen.
New Testament Lesson
James 2:1-13
My brothers and sisters, do you with your acts of favoritism really believe in our glorious Lord Jesus Christ? 2For if a person with gold rings and in fine clothes comes into your assembly, and if a poor person in dirty clothes also comes in, 3and if you take notice of the one wearing the fine clothes and say, 'Have a seat here, please,' while to the one who is poor you say, 'Stand there,' or, 'Sit at my feet,' 4have you not made distinctions among yourselves, and become judges with evil thoughts? 5Listen, my beloved brothers and sisters. Has not God chosen the poor in the world to be rich in faith and to be heirs of the kingdom that he has promised to those who love him? 6But you have dishonored the poor. Is it not the rich who oppress you? Is it not they who drag you into court? 7Is it not they who blaspheme the excellent name that was invoked over you?
8 You do well if you really fulfill the royal law according to the scripture, 'You shall love your neighbor as yourself.' 9But if you show partiality, you commit sin and are convicted by the law as transgressors. 10For whoever keeps the whole law but fails in one point has become accountable for all of it. 11For the one who said, 'You shall not commit adultery,' also said, 'You shall not murder.' Now if you do not commit adultery but if you murder, you have become a transgressor of the law. 12So speak and so act as those who are to be judged by the law of liberty. 13For judgment will be without mercy to anyone who has shown no mercy; mercy triumphs over judgment.
The Word of the Lord.
Thanks be to God.
Canticle 19 The Song of the Redeemed
Revelation 15:3-4
Magna et mirabilia
O ruler of the universe, Lord God,
great deeds are they that you have done,*
surpassing human understanding.
Your ways are ways of righteousness and truth,*
O King of all the ages
Who can fail to do you homage, Lord
and sing the praises of your Name
for you only are the Holy One.
All nations will draw near and fall down before you
because your just and holy works have been revealed.
Glory to the Father, and to the Son, and to the Holy Spirit
as it was in the beginning, is now, and will be for ever. Amen.
Gospel
Mark 14:53-65
53 They took Jesus to the high priest; and all the chief priests, the elders, and the scribes were assembled. 54Peter had followed him at a distance, right into the courtyard of the high priest; and he was sitting with the guards, warming himself at the fire. 55Now the chief priests and the whole council were looking for testimony against Jesus to put him to death; but they found none. 56For many gave false testimony against him, and their testimony did not agree. 57Some stood up and gave false testimony against him, saying, 58'We heard him say, "I will destroy this temple that is made with hands, and in three days I will build another, not made with hands."' 59But even on this point their testimony did not agree. 60Then the high priest stood up before them and asked Jesus, 'Have you no answer? What is it that they testify against you?' 61But he was silent and did not answer. Again the high priest asked him, 'Are you the Messiah, the Son of the Blessed One?' 62Jesus said, 'I am; and
"you will see the Son of Man seated at the right hand of the Power," and "coming with the clouds of heaven."'
63Then the high priest tore his clothes and said, 'Why do we still need witnesses? 64You have heard his blasphemy! What is your decision?' All of them condemned him as deserving death. 65Some began to spit on him, to blindfold him, and to strike him, saying to him, 'Prophesy!' The guards also took him over and beat him.
The Word of the Lord.
Thanks be to God.
The Commemoration
Paul Jones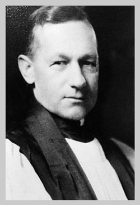 Paul Jones was born in Pennsylvania in 1880. He attended Yale University and the Episcopal Divinity School in Cambridge, Massachusetts. He was ordained and served a mission church in Logan, Utah. In 1914 he was made Bishop of the Missionary District of Utah.
He was an outspoken pacifist, and when World War I began in 1914, he spoke against it. As the war progressed, and when the United States entered the war in 1917, many Americans were vehement in holding that pursuing the war was a moral duty, and opposition to the war was immoral. In the spring of 1918, yielding to pressure, Bishop Jones resigned as Bishop of Utah. He continued to speak out within the Church as an advocate of peace and the Christian renunciation of war, until his death on 4 September 1941.
written by James Kiefer
Prayer
Merciful God, who sent your beloved Son to preach peace to those who are far off and to those who are near: Raise up in this and every land witnesses, who, after the example of your servant Paul Jones, will stand firm in proclaiming the Gospel of the Prince of Peace, our Savior Jesus Christ, who lives and reigns with you and the Holy Spirit, one God, now and for ever. Amen.
Psalms and Readings
Psalm 76 -->Malachi 2:17-3:5; -->1 Peter 3:8-14a; -->John 8:31-32
The Creed
The Apostle's Creed
I believe in God, the Father almighty,
creator of heaven and earth.
I believe in Jesus Christ, his only son, our Lord.
He was conceived by the power of the Holy Spirit
and born of the Virgin Mary.
He suffered under Pontius Pilate,
was crucified, died, and was buried.
He descended to the dead.
On the third day he rose again.
He ascended into heaven,
and is seated at the right hand of the Father.
He will come again to judge the living and the dead.
I believe in the Holy Spirit,
the holy catholic Church,
the communion of saints,
the forgiveness of sins,
the resurrection of the body,
and the life everlasting. Amen.
The Prayers
The Lord's Prayer
music: video | choir |music only
Our Father in heaven,
hallowed be your Name,
your kingdom come,
your will be done,
on earth as in heaven.
Give us today our daily bread.
Forgive us our sins
as we forgive those
who sin against us.
Save us from the time of trial,
and deliver us from evil.
For the kingdom, the power,
and the glory are yours,
now and for ever. Amen.
Suffrages
Save your people, Lord, and bless your inheritance;
Govern and uphold them, now and always.
Day by day we bless you;
We praise your name for ever.
Lord, keep us from all sin today;
Have mercy on us, Lord, have mercy.
Lord, show us your love and mercy;
For we put our trust in you.
In you, Lord, is our hope;
And we shall never hope in vain.
Collect of the Day: Pentecost, proper 17
Lord of all power and might, the author and giver of all good things: Graft in our hearts the love of your Name; increase in us true religion; nourish us with all goodness; and bring forth in us the fruit of good works; through Jesus Christ our Lord, who lives and reigns with you and the Holy Spirit, one God, for ever and ever. Amen.
For Mission
O God and Father of all, whom the whole heavens adore: Let the whole earth also worship you, all nations obey you, all tongues confess and bless you, and men and women everywhere love you and serve you in peace; through Jesus Christ our Lord. Amen.
World Cycle of Prayer
We pray for the people of the Sahrawi Arab Democratic Republic
Ecumenical Cycle of Prayer
We pray for our sisters and brothers members of the United Church in the Solomon Islands
A Collect for Peace
O God, the author of peace and lover of concord, to know you is eternal life and to serve you is perfect freedom: Defend us, your humble servants, in all assaults of our enemies; that we, surely trusting in your defense, may not fear the power of any adversaries; through the might of Jesus Christ our Lord. Amen.
Hymn: To my humble supplication
To my humble supplication
Lord, give ear and acceptation
Save thy servant, that hath none
Help nor hope but Thee alone. Amen.
Prayers and Intercessions
Let us pray now for our own needs and those of others.
Birthdays
Anniversaries
For Recovery from Sickness
For Travelers
For a Person in Trouble or Bereavement
For Those to be Baptized
For the Departed
Full list of prayers
For All Sorts and Conditions
O God, the creator and preserver of all, we humbly beseech you for all sorts and conditions of people; that you would be pleased to make your ways known unto them, your saving health unto all nations. More especially we pray for your holy Church universal; that it may be so guided and governed by your good Spirit, that all who profess and call themselves Christians may be led into the way of truth, and hold the faith in unity of spirit, in the bond of peace, and in righteousness of life. Finally, we commend to your fatherly goodness all those who are in any ways afflicted or distressed, in mind, body, or estate; that it may please you to comfort and relieve them according to their several necessities, giving them patience under their sufferings, and a happy issue out of all their afflictions. And this we beg for Jesus Christ's sake. Amen.
For the Poor and Neglected
Almighty and most merciful God, we remember before you all poor and neglected persons whom it would be easy for us to forget: the homeless and the destitute, the old and the sick, and all who have none to care for them. Help us to heal those who are broken in body or spirit, and to turn their sorrow into joy. Grant this, Father, for the love of your Son, who for our sake became poor, Jesus Christ our Lord. Amen.
For Those Who Live Alone
Almighty God, whose Son had nowhere to lay his head: Grant that those who live alone may not be lonely in their solitude, but that, following in his steps, they may find fulfillment in loving you and their neighbors; through Jesus Christ our Lord. Amen.
Hymn: Lord of all hopefulness
Lord of all hopefulness, Lord of all joy,
whose trust, ever childlike, no cares could destroy,
be there at our waking, and give us, we pray,
your bliss in our hearts, Lord, at the break of the day.
Lord of all eagerness, Lord of all faith,
whose strong hands were skilled at the plane and the lathe,
be there at our labours, and give us, we pray.
your strength in our hearts, Lord, at the noon of the day.
Lord of all kindliness, Lord of all grace,
your hands swift to welcome, your arms to embrace,
be there at our homing, and give us, we pray,
your love in our hearts, Lord, at the eve of the day.
Lord of all gentleness, Lord of all calm,
whose voice is contentment, whose presence is balm,
be there at our sleeping, and give us, we pray.
your peace in our hearts, Lord, at the end of the day.
Words: Jan Struther Music: Slane, Irish traditional Choir: Ely Cathedral Choir
A Prayer Attributed to St. Francis
Lord, make us instruments of your peace. Where there is hatred, let us sow love; where there is injury, pardon; where there is discord, union; where there is doubt, faith; where there is despair, hope; where there is darkness, light; where there is sadness, joy. Grant that we may not so much seek to be consoled as to console; to be understood as to understand; to be loved as to love. For it is in giving that we receive; it is in pardoning that we are pardoned; and it is in dying that we are born to eternal life. Amen.
General Thanksgiving
Almighty God, Father of all mercies, we your unworthy servants give you humble thanks for all your goodness and loving-kindness to us and to all whom you have made. We bless you for our creation, preservation, and all the blessings of this life; but above all for your immeasurable love in the redemption of the world by our Lord Jesus Christ; for the means of grace, and for the hope of glory. And, we pray, give us such an awareness of your mercies, that with truly thankful hearts we may show forth your praise, not only with our lips, but in our lives, by giving up our selves to your service, and by walking before you in holiness and righteousness all our days; through Jesus Christ our Lord, to whom, with you and the Holy Spirit, be honor and glory throughout all ages. Amen.
A Prayer of St. Chrysostom
Almighty God, you have given us grace at this time with one accord to make our common supplication to you; and you have promised through your well-beloved Son that when two or three are gathered together in his Name you will be in the midst of them: Fulfill now, O Lord, our desires and petitions as may be best for us; granting us in this world knowledge of your truth, and in the age to come life everlasting. Amen.
The Ending
Benediction
Let us bless the Lord.
Thanks be to God.
May the God of hope fill us with all joy and peace in believing through the power of the Holy Spirit. Amen.
Romans 15:13
Hymn: God Be With You
God be with you till we meet again;
By his counsels guide, uphold you;
With his sheep securely fold you.
God be with you till we meet again.
Till we meet, till we meet,
Till we meet at Jesus' feet,
Till we meet, till we meet,
God be with you till we meet again.