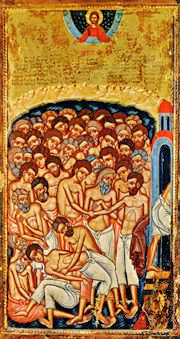 In the year 320, Constantine was Emperor of the West and Licinius of the East. Licinius, under pressure from Constantine, had agreed to legalize Christianity in his territory, and the two made an alliance (cemented by the marriage of Licinius to Constantia the sister of Constantine), but now Licinius broke the alliance and made a new attempt to suppress Christianity. He ordered his soldiers to repudiate it on pain of death. In the "Thundering Legion," stationed near Sebaste in Armenia (now Sivasli in Turkey), forty soldiers refused, and when promises, threats, and beatings failed to shake them, they were stripped naked one evening and herded onto the middle of a frozen lake, and told, "You may come ashore when you are ready to deny your faith." To tempt them, fires were built on shore, with warm baths, blankets, clothing, and hot food and drink close by. The mother of the youngest soldier was present and encouraged her son from the bank. As night deepened, thirty-nine men stood firm, while one broke and ran to the shore. However, one of the soldiers standing guard on shore was so moved by the steadfastness of the Christians that he stripped off his clothes and ran out to join them. They welcomed him into their company, and so the number of the martyrs remained at forty, and by morning, all were dead of exposure. (One source says that the few in whom a little life remained were stabbed to death at dawn.)
We still have what some scholars believe to be an authentic eyewitness account of their martyrdom. It includes farewell messages to their family and friends written shortly before their deaths.
written by James Kiefer
Prayer
O Almighty God, by whose grace and power your holy martyrs of Sebaste triumphed over suffering and were faithful even unto death: Grant us, who now remember them with thanksgiving, to be so faithful in our witness to you in this world, that we may receive with them the crown of life; through Jesus Christ our Lord, who lives and reigns with you and the Holy Spirit, one God, for ever and ever. Amen.