Albrecht Duerer
Seleccionar idioma español/Choisissez la langue français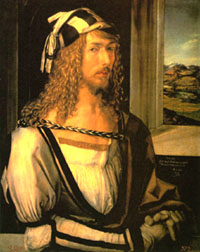 Albrecht Duerer, born in 1471 in Nuremberg, Germany, visited Italy in 1494 and again in 1505, and was the first northern European artist to immerse himself in the art of the Italian Renaissance.
A deeply religious man, he was affected both in his thought and in his work by the apocalyptic spirit of the time in the face of famine, plague, and social and religious upheaval. His paintings and woodcuts are a close examination of the splendor--as well as the potential terror--of creation: the human body, animals, grasses, and flowers.
Although he remained a Roman Catholic throughout his life, he was a warm admirer of Martin Luther, and expressed regret that he had never been able to paint him "as a lasting memorial to the Christian man who has helped me out of great anxiety." He died at Nuremberg on 6 April 1528. Luther wrote to a friend:
Affection bids us mourn for one who was the best of men, yet you may well consider him happy that he has made so good an end, and that Christ has taken him from the midst of this time of trouble.... May he rest in peace with his fathers. Amen.
written by James Kiefer
O God, who by your Holy Spirit give to some the word of wisdom, to others the word of knowledge, and to others the word of faith: We praise you for the gifts of preaching through visual representation that you gave to your servant Albrecht Duerer, and we pray that your Church may never be destitute of such gifts; through Jesus Christ our Lord, who lives and reigns, with you and the Holy Spirit, one God, for ever and ever. Amen.