Lucy and Agatha, 13 December
Seleccionar idioma español/Choisissez la langue français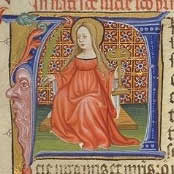 The early Roman lists of martyrs commemorate Lucy, virgin and martyr, on 13 December, and her name, with that of Agatha, appears in the Roman Liturgy as an example of those who have gone before us, in whose company we join in giving thanks and praise to God. Aside from this, little is known of her, except that she lived in Syracuse in Sicily, and probably died around 304. Her name, which means "light," probably accounts for the story that her eyes were put out and her eyesight miraculously restored, and may be connected with the fact that her feast occurs near the time when (in the Northern Hemisphere) the nights are longest. In Sweden and elsewhere, the day is observed by having one of the daughters of the house dress in a white robe with a crown of lighted candles and go singing from room to room (presumably followed by an adult with a fire extinguisher) early in the morning when it is still dark to awaken the other family members and to offer them St. Lucy's Cakes and hot coffee.
Ember Wednesday (of the winter season) is defined as the Wednesday after Lucy's Day. (An equivalent definition would be: the Wednesday preceding the last Sunday before Christmas.)
Agatha was from Catania in Sicily, and probably martyred in the late 200's. Nothing else is known of her.
written by James Kiefer
[additional link: St. Lucy's Day photo]
O Almighty God, by whose grace and power your holy martyrs Lucy and Agatha triumphed over suffering and were faithful even unto death: Grant us, who now remember them with thanksgiving, to be so faithful in our witness to you in this world, that we may receive with them the crown of life; through Jesus Christ our Lord, who lives and reigns with you and the Holy Spirit, one God, for ever and ever. Amen.