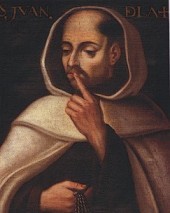 Juan de Ypres y Alvarez was born in 1542. His father died soon after, and Juan was brought up in an orphanage. (His father was probably Jewish. It is remarkable how many of the most memorable Spanish Christians have been of Jewish background.)
At seventeen, he enrolled as a student in a Jesuit college, and at twenty-one, he joined the Carmelite Friars. He was ordained in 1567, and almost immediately met Teresa of Avila, a Carmelite Nun who was undertaking to return the Order to its original strict rule, which had been gradually relaxed to the detriment, as she believed, of the spiritual lives of the members of the Order. Those who followed the strict rule as promulgated by Teresa went barefoot or wore sandals instead of shoes, and so became known as Discalced (unshod) Carmelites, or Carmelites of the Strict Observance. John undertook to adopt the stricter rule and encourage others to do so.
Not all members of the order welcomed the change. In 1577 a group of Calced Carmelites, or Carmelites of the Ancient Observance, kidnapped John and demanded that he renounce the reform. When he refused, he was imprisoned in complete darkness and solitude in a Calced monastery in Toledo for about nine months. He then escaped and fled to a Calced monastery. While imprisoned at Toledo, he had begun to compose some poems, and now he wrote them down, with commentaries on their spiritual significance.
He was given various positions of leadership among the reformed friars, but then dissension broke out among the reformers between "moderates" and "extremists." John supported the moderate party, and when the extremists gained control, they denounced him as a traitor to the reform. He was sent to a remote friary, and fell ill, and finally died at Ubeda during the night preceding 14 December 1591.
His poems include:
The Dark Night of the Soul (about the experience of spiritual desolation, of feeling abandoned and rejected by God, and why this is for some Christians a means by which God increases our faith in Him; about the Christian walk, the life of prayer and contemplation, and growing in love and grace.)

The Ascent of Mount Carmel (same poem as the preceding, but with a different commentary attached.)

The Spiritual Canticle (about the love between the Christian and Christ as symbolized by the love between bride and groom; draws heavily upon the imagery of the Song of Solomon.)

The Living Flame of Love (about the soul transformed by grace.)
written by James Kiefer