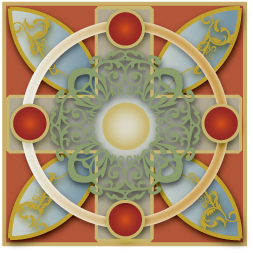 indicates a definition. Hold your cursor over the symbol.
Note that most links also have brief definitions. Hold your cursor over the link and wait a moment.
---
Meletios
Meletios, archbishop of Antioch the Great.
Meletios lived from the reign of Constantine the Great (334 AD) until the Second Ecumenical Council, which was held during the reign of Theodosios the great (382 AD).
Meletios was so much coveted and commendable for his extreme virtue and pure love for Christ that, especially when he first entered Antioch on his main day of consecration, every Christian desired to invite him to their home thinking that they were going to be blessed by the presence of the saint in their home alone. When he had only been in Antioch for thirty days, he was persecuted by the Arians , since Emperor Constans, the son of Constantine the great, was one of them.
Meletios was driven away from his diocese , but, he later returned to Constantinople and remained there for more than two years.
This great father Meletios was admired both for his virtue and the prudence of his words.
Glory be to God forever, Amen.