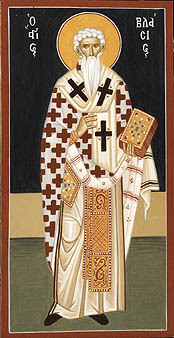 The Feast of the Presentation of Our Lord in the Temple (2 Feb) is also called the Feast of the Purification of the Virgin (see Luke 2:22). Because it celebrates Our Lord's first coming to the Temple at Jerusalem, it occasions Scriptural readings about God's showing His presence in the Temple or in Jerusalem, such as
And it shall come to pass at that time, that I will search Jerusalem with candles.... (Zephaniah 1:12)
From this reading, the feast takes its popular name of Candlemas, and on it candles are lighted and carried in procession. On the following day, 3 February, in some parishes, after the worship service, those who wish may come forward and have their throats blessed by being touched (externally) with a candle from the day before, and a prayer for protection against respiratory ailments and other throat problems. Why, you ask, this ceremony at this time? Three reasons that I know (or guess):
In much of the world, early February is cough, cold, and flu season.
The candles are traditionally made of beeswax, which (with or without honey) is a standard ingredient in many old remedies for sore throats and related ailments. (My father's aunt Carrie had a family recipe for such a concoction. It seemed to work.)
The day is the Feast of Saint Blaise (or Blasius). He was a bishop of Sebaste (Sivas) in Armenia, and died in a persecution under Licinius (who was Emperor of the East at the time that Constantine became Emperor of the West, and who continued to persecute Christians for some time after Constantine had stopped that practice in the West). According to one story (there are several versions of this), when Blaise was being led to the arena to be executed, he saw among the bystanders lining the streets a boy who had been eating his lunch and was choking on a bone. Blaise darted past his guards, ran to the boy, administered the Heimlich maneuver or whatever, and saved his life. He then returned quietly to his guards and was led to his death. He is accordingly associated with throat problems.
---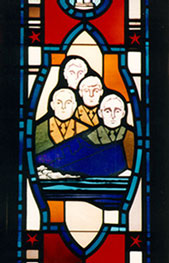 With Blaise we may remember the chaplains of the Dorchester, which sank 3 February 1943.
Clark Poling, the youngest, was a Congregationalist minister, and had served as the youth minister of a congregation while in seminary. George Fox, the oldest, was a Methodist minister, a decorated veteran of World War I. Johnny Washington was a Roman Catholic priest, who before the war had worked with boys in an inner-city parish. Alexander Goode was a Jewish rabbi who had also been going to medical school. When the United States entered World War II they became Army chaplains, and in January of 1943 they sailed with 900 troops on the Dorchester, bound for Europe. On the morning of 3 February the ship was torpedoed. The chaplains were wearing life jackets, but gave them to men who had none. Only 300 men survived. As the ship sank, men in the lifeboats saw the chaplains with arms linked praying together on the deck.
written by James Kiefer