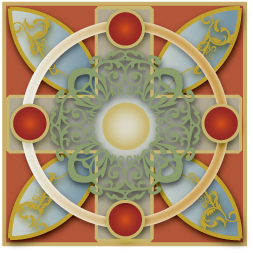 indicates a definition. Hold your cursor over the symbol.
Note that most links also have brief definitions. Hold your cursor over the link and wait a moment.
---
Nicephoros
In third century Antioch, Syria, Nicephoros was a layman and Saprikios was a presbyter , and they were friends. However, once after a disagreement, they refused to speak to each other. With humility, Nicephoros later tried to accept the blame, but the Saprikios was unmoved.
Saprikios was later arrested during a persecution and sentenced to die. Nicephoros waited along the path to the execution and begged for Saprikios' forgiveness, but Saprikios' heart was hardened. Finally Nicephoros told the executioner that he would take the Saprikios' place, and Nicephoros was beheaded.
---
Peter Damascene
This particular Peter, as there were two, was an ascetic . It was said that he collected wisdom, like a bee does honey. He never owned a book, however, and was forced to borrow everything that he read.
As a bishop of Damascus, he spoke out so forcefully that the Arabs cut off his tongue and sent him to exile in Arabia. Through a miracle, he was still able to preach the gospel , and he converted many there.
He did write a book on the spiritual life (excerpt from How One Gains the True Faith). He wrote of the general and particular gifts of God, the general being the four elements, as well as His works revealed in the gospel. The particular gifts sent to each man, though they seem dramatically opposed, are all sent for salvation: wealth for mercy, poverty for patience, health for helping, and feebleness for humility. His life ended in martyrdom.
Glory be to God forever, Amen.