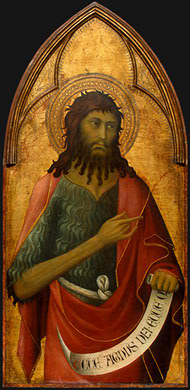 On this day we celebrate the feast of the holy prophet John the Baptist and Forerunner as well as the coming of his most holy hand to Constantinople. We celebrate the feast of the holy Forerunner and Baptist John one day after Holy Epiphany because John served at the mystery of the Lord's Baptism.
It happened that on the evening of Epiphany which has just passed the arrival of the holy hand of the Forerunner to Constantinople took place. This happened thus: Luke the Evangelist went to the city of Sebaste, in which as they say the holy body of the Forerunner was buried, and, after he had received the right hand of the prophet's body, he brought it to Antioch, his home city, where it performed miracles. One of these miracles is the following. Just outside the city of Antioch there lurked a dragon who was deified by the Greeks living in Antioch. They honored him every year with a human sacrifice. Eventually, the lot fell upon a Christian to give his daughter to the dragon.
The father of the girl prayed with deep sighs and tears to God and the holy Forerunner to free his country from such a bitter killer. As he was praying, he came up with an idea: he asked to venerate the holy hand of the Forerunner and, as he was kissing it, he secretly cut with his teeth the thumb. When he got what he wanted he came out of the church. When the day on which his daughter was expected to be sacrificed came, all the people of the city gathered to watch the sacrifice. In front of them all the father holding his daughter approached the dragon. When he saw the dragon opening his mouth to devour his daughter, the father threw into the dragon's throat the holy finger of the Forerunner and, what a miracle! The dragon was immediately killed. When this had happened, the father took away his daughter alive and went back home rejoicing and relating the miracle. The gathered crowd were amazed and gave thanks to God and the holy Forerunner and built a great church in his name.
The following is also said about this holy hand: On the day of the Exaltation of the Holy Cross, (September 14), this holy hand of the Baptist was also raised and it would sometimes spread its fingers while some other times it would keep them together. When the fingers were spread, there was to be an abundance of fruits, while, when the fingers were kept together, there was to be a poor crop and misery. That is why many kings loved and desired to have this holy treasure, especially Constantine and Romanos, who reigned in 912 and 959 respectively. When these two were reigning, a deacon from Antioch called Job brought this holy hand to Constantinople on the the eve of Epiphany. Constantine kissed it passionately and kept it reverently. (It is today kept at the Holy Monastery of Dionisiou in Mount Athos.)