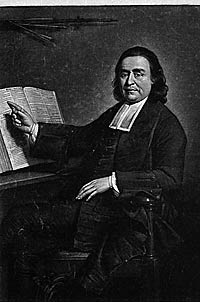 The Reverend Samson Occom (1723 – 1792) (also spelled as Occum) was a Native American Presbyterian clergyman and a member of the Mohegan nation near New London, Connecticut. He has the distinction of being the first Native American person to ever publish documents and pamphlets in English.
Born to Joshua Tomacham and his wife Sarah, Occom is believed to be a direct descendant of the famous Mohegan chief, Uncas. In 1740, at the age of sixteen, Occom was exposed to the teachings of Christian evangelical preachers in the Great Awakening. He began to study theology at the "Lattin School" of Eleazar Wheelock in 1743 and stayed for four years until leaving to begin his own career.
Occom served as a missionary to Native American people in New England and Montauk, Long Island, where he married a local woman. It was also on Long Island where he was officially ordained a minister on August 30, 1759, by the presbytery of Suffolk.
Wheelock established an Indian charity school (which became Dartmouth College) with a benefaction from Joshua Moor in 1754, and he persuaded Occom to go to England in 1766 to raise money for the school, along with the Rev. Nathaniel Whitaker. Occom preached his way across the country from February 16, 1766, to July 22, 1767. He delivered in total between three and four hundred sermons, drawing large crowds wherever he went. By the end of his tour he had raised over twelve thousand pounds for Wheelock's project. King George III himself donated 200 pounds, and William Legge, Earl of Dartmouth subscribed 50 guineas. The friendship between Occom and Wheelock dissolved when Occom learned that Wheelock had neglected to care for Occom's wife and children while he was away. Occom also took issue with the fact that Wheelock put the funds toward establishing Dartmouth College for the education of Englishmen rather than of Native Americans.
Upon his return from England, Occom lived at Mohegan, then moved in 1786 with some New England and Long Island Indians to Oneida territory in what is known today as New York. He then helped to found Brothertown, and lived among the Brothertown Indians. Occom died on July 14, 1792, in New Stockbridge, New York.
— from Wikipedia