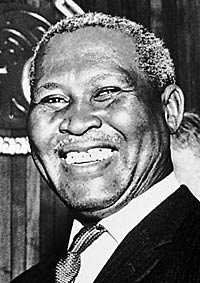 (commonly spelled Luthuli), also known by his Zulu name "Mvumbi" (c. 1898 – 21 July 1967), was a South African teacher and politician. Lutuli was elected president of the African National Congress (ANC), at the time an umbrella organisation that led opposition to the white minority government in South Africa. He was awarded the 1960 Nobel Peace Prize for his role in the non-violent struggle against apartheid.
The third son of Seventh-day Adventist missionary John Bunyan Lutuli and Mtonya Gumede, Albert Lutuli was born near Bulawayo in what was then called Rhodesia, around 1898. His father died, and he and his mother returned to her ancestral home of Groutville in KwaDukuza (Stanger), Natal, South Africa.
Luthuli was confirmed in the Methodist church and became a lay preacher. He joined the Adams College, staff and in 1928 he became secretary of the African Teacher's Association and in 1933 its president. He was also active in missionary work.
In 1944 Lutuli joined the African National Congress (ANC). In 1945 he was elected to the Committee of the KwaZulu Province Provincial Division of ANC and in 1951 to the presidency of the Division. The next year he joined with other ANC leaders in organizing nonviolent campaigns to defy discriminatory apartheid laws.
A month later Lutuli was elected president-general of ANC. Responding immediately, the government imposed two two-year bans on Lutuli's movement. When the second ban expired in 1956, he attended an ANC conference only to be arrested and charged with treason a few months later, along with 155 others. In December 1957, after nearly a year in custody during the preliminary hearings, Lutuli was released and the charges against him and sixty-four of his compatriots were dropped. Another five year ban confined him to a fifteen-mile radius of his home. The ban lifted in March 1960, to permit his arrest for publicly burning his pass following the Sharpeville massacre. In the ensuing state of emergency he was arrested, found guilty, fined, given a suspended jail sentence and returned to Groutville. One final time the ban was lifted, this time for ten days in early December 1961 to permit Lutuli and his wife to attend the Nobel Peace Prize ceremonies in Oslo.
In December 1961, without Lutuli's sanction, Nelson Mandela of the Provincial ANC publicly launched Umkhonto we Sizwe at the All In Conference, where delegates from several movements had convened to discuss cooperation. Mandela's charisma and the global publicity surrounding his trial and imprisonment upstaged Lutuli, who grew increasingly despondent in isolation.
In 1962 he was elected Rector of the University of Glasgow by the students, serving until 1965. Since he was banned from travelling to Glasgow the Luthuli Scholarship Fund was setup by the Student Representative Council to enable a black South African student to study at Glasgow University.
A fourth ban to run for five years confining Lutuli to the immediate vicinity of his home was issued in May 1964, to run concurrently with the third ban.
In July 1967, at the age of 69, he was fatally injured in an accident near his home in Stanger.
— more at Wikipedia
More information may be found at South African History Online, the Dictionary of African Christian Biography, and the Nobel Prize website. Perhaps his most famous speech is The Road to Freedom is via the Cross, an early (1953) statement on non-violence.