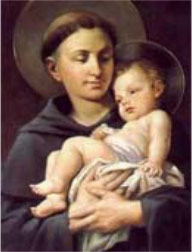 Antony was born in Lisbon in 1195, and spent the first twenty-five years of his life in Portugal. Desiring to become a missionary, he joined the Franciscans and was sent to Morocco to preach to the Muslims. His health failed, and he returned almost immediately and was sent to Italy, where he seemed headed for an uneventful obscurity. However, a conference of Dominicans and Franciscans was scheduled, at which each group thought that the other was about to provide the preacher, and so no one was prepared. For some reason, Antony was thrust forward and told to say something, and he astonished his hearers with the grace and power of his exhortation. He was told that he must speak more often, and he devoted the last nine years of his life to preaching. He had a thorough knowledge of the Scriptures, and his sermons reflect that knowledge. He was noted for his refutations of heresies, and for his denunciations of clergy who did not live dedicated lives and of wealthy and powerful persons who oppressed the common people.
It is said that Antony in his private prayers was accustomed to direct his devotion to Jesus as an infant, and to meditate on the Divine Humility that stooped to accept, not merely the limitations of being human, but the limitations of being a helpless baby, utterly dependent on others. For this reason, artists often portray Antony in a Franciscan robe, carrying a lily and the child Jesus.
Background note: In many countries, it is widely believed that Antony, now in heaven, makes a special point of praying on behalf of his fellow Christians who have lost or misplaced items and wish to find them. He also prays on behalf of women who wish to marry. I have a book (My Heart Lies South, by Elizabeth Borton de Trevino, Thomas Y Crowell Co., New York, 1953) by a woman from California who married a Mexican and moved to Mexico. She tells (p 240) of a friend of hers there who repeatedly asked Antony to pray for her that she might find a suitable man to marry. After a considerable time with no results, she became discouraged and in a fit of temper threw her statue of Antony out the window. It fell to the sidewalk below, hit a pedestrian on the head, and knocked him out cold. Other pedestrians at once came to his aid, carried him into the nearest house (her parents' house, of course), and laid him on the couch before sending someone for the doctor. He awoke to find the girl fanning him and putting cold cloths on his brow. Soon they were betrothed, and then they got married and lived happily ever after. Take that, you skeptics!
written by James Kiefer