Erik, King of Sweden, Martyr, 17 May 1160
Seleccionar idioma español/Choisissez la langue français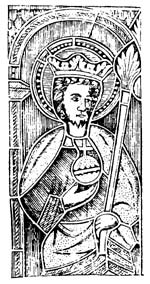 Erik IX Jedvardsson was ruler of much of Sweden from 1150 to 1160. He was the head of a Christian kingdom with nearby pagan kingdoms, all sharing an old tradition of fighting. Around 1155, he headed an expedition into Finland, then loosely under Swedish rule, to consolidate Swedish authority there and to establish a protected Christian mission, headed by Henry of Uppsala, now considered the founder of the Church in Finland. Erik is also known for undertaking to provide Sweden with fair laws and fair courts, and for measures designed to assist the poor and the infirm.
As he was in church on 18 May 1160, the day after Ascension Day, he was told that a pagan Danish army was approaching to kill him. He replied, "Let us at least finish the sacrifice. The rest of the feast I shall keep elsewhere." As he was leaving the church, the pagans rushed upon him and killed him.
Erik was honored both as an upholder of the Christian faith and as a national hero, the ancestor of a long line of Swedish kings. Within thirty years after his death his name appeared on the Swedish Calendar, and he is accounted the principal patron of Sweden, as (for example) Patrick is of Irelend. The silver casket with his remains still rests in the cathedral at Uppsala.
written by James Kiefer
see also The Church of Sweden