John Eliot
Seleccionar idioma español/Choisissez la langue français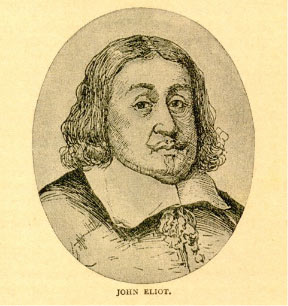 John Eliot was born in Hertfordshire, England, in 1604 and graduated from Cambridge in 1622. He taught school for a while, came under Puritan influence, and determined to become a minister. In 1631 he went to New England and was ordained to preach at Roxbury. He developed an interest in Indian language and customs, and began to preach to the Indians in 1646, at first in English but within a year in their own tongue, Algonkian. He published a catechism for them in 1654 and by 1658 translated the Bible into Algonkian, the first Bible to be printed in North America. A revised edition was published in 1685. Eliot also wrote The Christian Commonwealth (1659), Up-Bookum Psalmes (1663), The Communion of Churches (1665), The Indian Primer (1669), and The Harmony of The Gospels (1678), and was a major contributor to the Bay Psalm Book.
Eliot planned towns for Indian converts, away from the white towns, in areas where they could preserve their own language and culture and live by their own laws. He prepared Indians to be missionaries to their own people. Daniel Takawambpait was the first Indian minister in New England, being ordained at Natick, Massachusetts, in 1681. Eliot's Indian towns grew to fourteen in number, with thousands of inhabitants, but they were scattered in King Philip's War in 1675 (King Philip was an Indian leader who undertook to drive the English out of New England), and although four communities were restored, they did not continue long.
Eliot died after a long illness on 21 May 1690.
written by James Kiefer