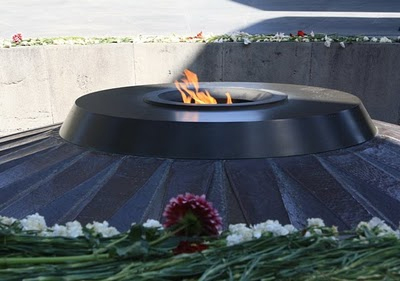 Armenia is located at the east end of modern Turkey, with some of its traditional territory now in Turkey and some across the border in the former Soviet Union. The Armenians were converted to Christianity around 280 or 290, and are accounted the first country to become predominantly Christian. Their country is located at a spot where empires have clashed for centuries, and they have often been caught in the middle. For centuries they have been dominated by their Moslem neighbors, most recently the Turks of the Ottoman Empire.
The Turks were concerned about the possibility of an Armenian revolt. In 1895 and 1896 the Turkish Army killed about 100,000 Armenian civilians. Then in 1915, early in World War I, with Turkey fighting on the side of Germany and Austria-Hungary, and Russia fighting in alliance with the British and French on the other side, the Turkish government accused the Armenians of plotting with the Russians to assist a Russian invasion of Turkey. That spring, around 600,000 Armenians were killed by the Turkish Army in an attempt to exterminate the Armenians completely. Much of the slaughter took place on 24 April 1915. The survivors were driven eastward and escaped into Russia. On 29 November 1920, most of Armenia was annexed by the Soviet Union.
It is sometimes said that the issues here were national, political, and ethnic rather than religious, and that the victims therefore do not qualify as martyrs. However, many of the Armenians, when about to be killed, were given the option of saving their lives by converting to Islam. Few did.
written by James Kiefer