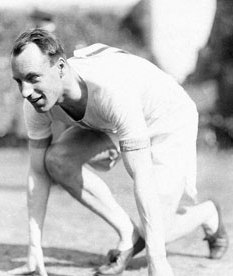 Eric Henry Liddell was a Scottish athlete, rugby union international, and missionary. Liddell was the winner of the Men's 400 metres at the 1924 Summer Olympics held in Paris. He was portrayed in the film Chariots of Fire. Born in China, Liddell returned there as a Protestant missionary in later life.
Eric Liddell, often called the "Flying Scotsman", was born in Tianjin (formerly transliterated as Tientsin) in North China, second son of the Rev. and Mrs. James Dunlop Liddell who were Scottish missionaries with the London Missionary Society.
Eric Liddell became well-known for being the fastest runner in Scotland while at Eltham College. He withdrew from the 100 meter race 1924 Olympics in Paris as he refused to run on a Sunday. Liddell spent the intervening months training for the 400 metres, an event in which he had previously excelled. Even so, his success in the 400m was largely unexpected. He not only won the race, but broke the existing world record with a time of 47.6 seconds.
Liddell returned to Northern China where he served as a missionary, like his parents, from 1925 to 1943 - first in Tianjin and later in the town of Xiaozhang. Liddell's first job as a missionary was as a teacher at an Anglo-Chinese College (grades 1-12) for wealthy Chinese students. It was believed that by teaching the children of the wealthy that they themselves would later become influential figures in China and promote Christian values.
During his first furlough in 1932, he was ordained as a minister of religion. On his return to China he married Florence Mackenzie of Canadian missionary parentage in Tianjin in 1934.
In 1941 life in China was becoming so dangerous that the British Government advised British nationals to leave. Florence and the children left for Canada to stay with her family when Liddell accepted a new position at a rural mission station in Shaochang, which gave service to the poor. Meanwhile, the Chinese and the Japanese were at war. When the fighting reached Shaochang the Japanese took over the mission station. In 1943, Liddell was interned at the Weihsien Internment Camp with the members of the China Inland Mission Chefoo School. He died there of a brain tumor on 21 February 1945, five months before liberation.
from Wikipedia