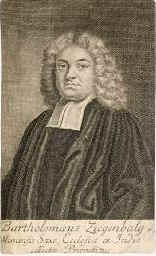 Bartholomaeus Ziegenbalg was born in Saxony in 1682. He studied at the University of Halle, then the center for the Piestistic movement in the Lutheran Church. He responded to an appeal from the King of Denmark for missionaries, and in September 1706, he and Heinrich Pluetshau arrived in Tranquebar on the southeast coast of India, the first Protestant missionaries in that country.
They began preaching, and baptized their first converts about ten months later. Their work was opposed both by Hindus and by the local Danish authorities, and in 1707-8, Ziegenbalg spent four months in prison on a charge that by converting the natives he was encouraging rebellion.
The Copenhagen Missionary Society wanted to encourage an indigenous Christian Church, not one which simply imitated European cultural patterns, and accordingly instructed its missionaries simply to preach the Gospel, and not concern themselves with other matters. Ziegenbalg replied that a concern for the physical welfare of others is implicit in the gospel.
He set up a printing press, and published studies of the Tamil language and of Indian religion and culture. His translation of the New Testament into Tamil in 1715, and the church building that he and his associates constructed in 1718, are still in use today.
His close cooperation with the Society for the Propagation of Christian Knowledge (an Anglican group) was an early exercise of harmony between Christian communities in the mission field.
He married in 1716, and about that time a new and friendly governor arrived, and he was able to establish a seminary for the training of native clergy. When he died on 23 February 1719, he left a Tamil translation of the New Testament and of Genesis through Ruth, many brief writings in Tamil, two church buildings, the seminary, and 250 baptized Christians. Today the Tamil Evangelical Lutheran Church carries on his work.
Other missionaries commemorated with Ziegenbalg include the following:
Christian Frederik Schwartz, born in 1726, spent 48 years in India at the Tranquebar Mission. His quality of life deeply impressed the people, and was a powerful witness for the Christian Faith. He worked closely with the Anglicans, and was appointed an Anglican chaplain, but remained a loyal Lutheran throughout. He died 12 February 1798
Hans Egede, born in 1686 in Norway, was a pastor who read in his history books that the Norse had settled Greenland, but that there had been no word from them since the 1400's. Finding that no one else was interested, he raised money himself, bought a ship, and sailed to Greenland in 1721 with his wife, Gertrude Rask. They found that the colony had completely died out, but set to work to preach the Gospel to the Eskimos. Their progress was slow at first, but prospered as the people came to know them. Gertrude died in 1735, and in 1736 Hans returned to Denmark to train missionaries, living his son Poul behind to continue the mission. Hans Egede died 5 November 1758.
Thomas von Westen was sent by the Copenhagen Mission Society to preach to the Lapps, a semi-nomadic people of Northern Scandinavia who follow the caribou (reindeer) in their annual migrations. He died 9 April 1727.
written by James Kiefer