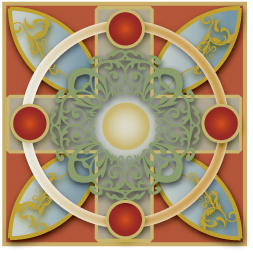 indicates a definition. Hold your cursor over the symbol.
Note that most links also have brief definitions. Hold your cursor over the link and wait a moment.
---
Voukolos, Bishop of Smyrna
On this day we celebrate the memory of our venerable father Voukolos, Bishop of Smyrna. The Apostle John the Divine found Voukolos good and worthy and consecrated him Bishop and shepherd of the Church in Smyrna. Voukolos was enlightened by the Holy Spirit and in his turn he also enlightened those Greeks who were in the darkness of unknowing. Through holy baptism he made them sons of light and day (1 Thessalonians 5:4-5). When Voukolos was about to go to the Lord, he consecrated St. Polycarp as his successor, making him shepherd and teacher there. Thus, Voukolos departed to the Lord. When his body was buried, God made a tree sprout from his grave, which did and still does grant healing to those who turn to it with faith.
---
The Martyrdom of Julian of Emesa
St. Julian came from the city of Emesa which lies in Coele Syria. He was young, pious, and a physician both of souls and bodies. When Julian the Bishop of Emesa, Luke the Deacon, and Mokios the Reader (whose memory we celebrate on January 29) were arrested by the Greeks during the reign of King Numerianus in 284 and were all condemned to be torn to pieces by the wild beasts, Julian's heart ached. So, he ran, caught up with them and kissed them. That is why he, too, was arrested after they had been killed. They nailed his head, his hands and feet and then, being thus nailed, Julian lay in a cave, where he commended his soul to the hands of God.
---
Barsanuphios
Barsanuphios left his home in Egypt and in the sixth century worshipped at the Holy Sepulchre and the other shrines and became a monk under elder Marcellos.
Shortly after Marcellos died, Barsanuphios decided to live alone as an anchorite, but many monastics sought his advice. However, when Barsanuphios finally joined the Monastery of Abba Seridos (outside Tawatha in Gaza), he lived alone in a cell there 18 years, seeing no one other than the abbot who would bring him Holy Communion and letters from his spiritual children, which he would answer.
When people began to doubt if he existed, he came out of his cell once to wash the feet of the brotherhood.
He was given the gift of healing, and his prayers healed the abbot and another monk. Other monastics would ask him to wear their outer garment and return it so that they might receive his protection, or even to receive a blessing by eating a morsel of his bread.
Another, a prophet John, heard of Barsanuphios and moved there to labor nearby. Their joint letters of communication with the faithful became a book called "Guidance Towards Spiritual Life: Answers to the Questions of Disciples" (Part I, Part II, Part III). Barsanuphios wrote that all that happens with confusion and bustle is of the devil.
Once, during a plague that struck Rome (Roma) , the brotherhood asked Barsanuphios to plead with God, but he answered that only three men alive had that particular power, and he named them.
After John and the abbot died, a week apart, Barsanuphios lived another 50 years in his cell, seeing no man. When the patriarch of Jerusalem and those with him opened the monk's cell door, fire nearly consumed the group. Even later, he was believed alive in his cell, even though no one brought him food.
---
The Martyrdom of St. Clement
Clement was the son of a faithful mother named Euphrosyne (Euphrasia) from the City of Angora (Ankara). When he grew up, his mother taught him the teachings of the church and reared him with Christian ethics. From the time that he was twelve years old, he walked in the way of virtue, and he practised ascetic life. He only dry vegetables, imitating "the three saintly young men" did at the time of Daniel.
When he was ordained deacon, the spirit of God was upon him. His fame spread out until it reached Emperor Diocletian. Diocletian brought the Clement before him to entice and to promise Clement that he would adopt him as a son if Clement agreed to worship idols. When Clement did not give in to these demands, Diocletian tortured him. But, God strengthened Clement and exposed His enemies. At last they beheaded him and he was granted the crown of martyrdom. His body was taken by a faithful woman, whose name was Sophia, who buried him with great honour.
---
The Martyrdom of St. Kaou
Kaou was from the City of Bamway (Bimay) near Fayoum. At that time, Emperor Diocletian issued an edict for the people to worship idols. Kaou resided in a home, which he had built for himself outside of his city, where he worshipped God. The angel of the Lord appeared to him in a vision saying, "Why are you sitting here, while the martyrdom is available and easy to get? Arise now, and go to El-Lahoon (El Lahun (Illahun)) where you will find the messenger of the Governor of Alexandria. Go and confess the Name of Christ before him and you will be granted the crown of martyrdom."
Kaou rose from his sleep with great joy and he went to El-Lahoon and found the messenger at the seashore. When the messenger saw him, he marvelled at his respectable old age. He honoured him greatly. The the messenger took out an idol made of gold and precious stones, and said to Kaou, "This is the gift of the Emperor to the Governor of Ansena." Kaou took the idol and admired its wonderful workmanship. Then he cast it to the ground and smashed it. The messenger became very angry, ordered him to be bound, and took him to the Governor of Ansena and told the Governor what Kaou had done. The Governor tortured Kaou, then sent him to the Governor of Bahnasa, who also tortured him.
When Kaou did not surrender and worship idols, he was beheaded. Some believers took his body to the place where he used to worship and buried him there. They later built a church after his name in the same place, and God revealed many miracles there.
Glory be to God forever, Amen.