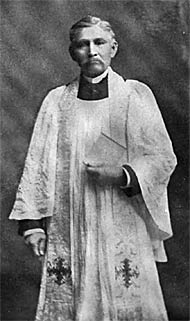 Cornelius Hill [commemorated on January 25 in Indigenous Calendar on Episcopal website. 1843-1907; ordained to diaconate June 27, 1895, to priesthood in 1903] Last of the old Oneida chiefs in Wisconsin, he successfully resisted government attempts to move the tribe further west. Having been an "interpreter" for Episcopal services, he was ordained by Bishop Grafton. His wisdom and sanctity are still revered by the Oneida and there are several shrines to him.
from Holy Women, Holy Men
Further information may be found Chapter 25 of the book The Oneida, by Julia Keen Bloomfield.