C. S. Lewis, 22 November 1963
Seleccionar idioma español/Choisissez la langue français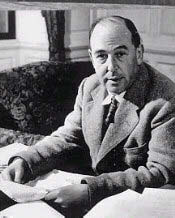 Clive Staples Lewis ("Jack" Lewis to his friends) was a tutor and lecturer at Oxford University, and later Professor of Medieval and Renaissance English Literature at Cambridge University. In the judgement of many, he is the most popular and most effective explainer and defender of the Christian faith writing in English in this century. He tried to make a point of avoiding disputes on matters where Christians disagree, and defending those beliefs which they hold in common. His work was valued by many Christians of widely differing backgrounds: Anglican, Baptist, Methodist, Pentecostal, Presyterian, Roman Catholic, etc.
written by James Kiefer
Almighty God, whose servant C S Lewis received of your grace Singular gifts of insight in understanding the truth in Christ Jesus, and of eloquence and clarity in presenting that truth to his readers: Raise up in our day faithful interpreters of your Word, that we, being set free from all error and unbelief, may come to the knowledge that makes us wise unto salvation: through Jesus Christ your Son our Lord, who lives and reigns with you and the Holy Spirit, one God, now and for ever. Amen.