Margery Kempe, 9 November 1440?
Seleccionar idioma español/Choisissez la langue français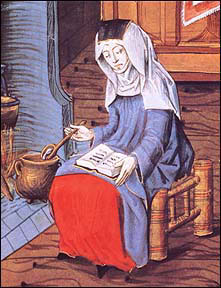 Born at Lynn in Norfolk in about 1373, Margery married and had fourteen children. After she had received several visions, she and her husband went on a pilgimage to Canterbury. Her fervent denunciations of all pleasure aroused stiff opposition and she was accused of Lollardy. In 1413 she and her husband took vows of chastity before the Bishop of Lincoln. She also made a pilgrimage to the Holy Land. The Book of Margery Kempe, which is almost the sole source of information about the author, describes her travels and mystical experiences. It also shows her closeness to the passion of Christ for the sins of the world. The last reference to her is on a pilgrimage to Danzig in 1433.
Almighty God, you have surrounded us with a great cloud of witnesses: Grant that we, encouraged by the good example of your servant Margery, may persevere in running the race that is set before us, until at last we may with her attain to your eternal joy; through Jesus Christ, the pioneer and perfecter of our faith, who lives and reigns with you and the Holy Spirit, one God, for ever and ever Amen.